Dallas Mavericks:

Matt Bonner
April, 18, 2014
Apr 18
8:00
AM CT
A look at the matchups in the
Dallas Mavericks
-
San Antonio Spurs
series:
POINT GUARD
Jose Calderon vs. Tony Parker:
This is the biggest mismatch of the series. Calderon, a subpar defender, struggles to guard a lot of point guards. He really gets exploited by Parker, who averaged 23.3 points on 54.2 percent shooting in three games against the Mavs this season. That was Parker's highest scoring average against any team he faced more than once this season. Parker loves pushing the pace and running pick-and-rolls, both of which present major problems for Calderon, whose plus-minus was minus-40 in the Mavs' four losses to the Spurs, including minus-25 in 86 minutes with Parker on the floor. If Calderon isn't lighting it up from long range, coach Rick Carlisle should seriously consider giving
Devin Harris
a bigger share of the minutes.
EDGE:
Spurs
[+] Enlarge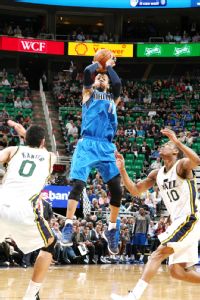 Melissa Majchrzak/NBAE via Getty ImagesThe Mavericks probably wouldn't be in the playoffs without Monta Ellis, who gives them the edge at shooting guard.
SHOOTING GUARD
Monta Ellis vs. Danny Green:
On paper, this is the Mavs' best matchup. It hasn't worked out that way on the floor, however. Green is a lethal 3-point shooter who has especially lit it up against the Mavs, going 12-of-20 from long distance against Dallas this season. The numbers indicate he has also done a good job defending Ellis, who has shot only 38.9 percent from the field when Green is in the game. The Mavs have been outscored by 60 points in the 81 minutes in which Ellis and Green have both been on the court. The Mavs probably wouldn't be in the playoffs without Ellis, a better fit than the Dallas front office believed even when they signed him to a three-year, $25 million deal. They'll need a huge series from Ellis -- who seems to thrive under pressure -- to have a chance to pull off a stunning upset over the Spurs.
EDGE:
Mavs
SMALL FORWARD
Shawn Marion vs. Kawhi Leonard:
Leonard looks a lot like a young Marion -- a freakish, 6-foot-7 athlete who is a versatile defender and efficient offensive weapon. That's an awfully tough matchup for the 35-year-old version of "The Matrix." Leonard gets overshadowed by the Spurs' living legends on the roster, but he's a 22-year-old rising star. His all-around skills were on full display during the Spurs' recent trip to Dallas, on which Leonard stuffed the box score for 16 points, 16 rebounds, 5 assists and 2 steals. By comparison, Marion had a total of 21 points, 13 rebounds and two assists in three games against San Antonio this season.
EDGE:
Spurs
POWER FORWARD
Dirk Nowitzki vs. Tim Duncan:
The two all-time greats don't actually match up with each other much these days, but it will be a treat to watch a pair of surefire Hall of Famers compete in a playoff series for the sixth time in their careers. The 37-year-old Duncan's numbers have dipped in recent seasons, but that's primarily because the priority for him is being as fresh as possible for the playoffs. He's still a dominant defensive presence and capable of putting up a 20-point, 15-rebound line, the way he did in the Spurs' last win over the Mavs. Nowitzki, an All-Star again this season after a one-year, injury-related hiatus, remains one of the most distinct and effective offensive threats in the league. However, Nowitzki has averaged only 15.4 points against the Spurs in the past three seasons, during which San Antonio has won 10 of 12 meetings.
EDGE:
Even
June, 27, 2013
6/27/13
9:58
AM CT
The fourth in ESPNDallas.com's position-by-position series previewing the free agency market that opens July 1:
The only certainty about the Mavericks' roster next season is that
Dirk Nowitzki
will start at power forward.
That means the Mavs aren't in the market for established power forwards such as
Josh Smith
,
Paul Millsap
and
David West
. (No, they aren't interested in Smith as a small forward. Especially not for the kind of money that he wants.)
The Mavs will explore budget-friendly possibilities to back up Nowitzki, preferably a guy with pick-and-pop ability. Some potential fits:
Matt Bonner:
He's an elite 3-point shooter, shooting 41.7 percent from long range in his career and better than that during his last three seasons in San Antonio. He'll never be described as athletic and certainly isn't a one-on-one defensive stopper, but he's better than you might think on that end of the floor because he grasps team concepts so well. As a rebounder, he makes Dirk look like
Dennis Rodman
. The Spurs need to make a decision on Bonner by Saturday. That's the deadline for buying out his $3.95 million salary for next season. He might be a fit for the Mavs in the $2 million range.
PODCAST
Tim MacMahon joins Galloway and Company to discuss the NBA draft and the possibility of Dwight Howard joining the Mavericks.

Listen

Andray Blatche:
He was a renowned knucklehead in Washington, prompting the Wizards to dump Blatche via the amnesty clause, but the 26-year-old was productive as a minimum-salary guy in Brooklyn, averaging 10.3 points and 5.1 rebounds in 19 minutes per game. He could also serve as a backup center. The Mavs have shown some interest in the 6-foot-11, 260-pound Blatche in the past. He could make sense for the room midlevel ($2.65 million).
Earl Clark:
The 6-foot-10, 225-pound Clark has decent size and athleticism and showed the ability to at least be a streaky 3-point shooter last season. But the chances of him coming to Dallas are awfully slim. The Mavs don't have enough interest in him to pay more than what the Lakers can give Clark.
June, 11, 2013
6/11/13
11:30
PM CT
By
Bryan Gutierrez
| ESPNDallas.com
With the NBA Finals in full swing, the Mavericks are watching two familiar foes -- the San Antonio Spurs and the Miami Heat -- battle it out for the chance to hoist the Larry O'Brien Trophy. Both teams have key components that established them as championship contenders. Let's point out those components and how the Mavericks can learn from them.
Both Miami and San Antonio have depth at their disposal. On top of that, their depth is versatile. Whether it is
Kawhi Leonard
,
Ray Allen
,
Matt Bonner
or
Shane Battier
, each team has multiple options who are solid at multiple facets of the game.
PODCAST
ESPN senior NBA analyst Marc Stein joins Fitzsimmons & Durrett to discuss the NBA Finals and latest Mavericks news.

Listen

Each team's respective big three carry the load, but the role players can step up in big situations. If
LeBron James
has to be relied upon to bring more offense, Miami has someone in Battier who can take on a larger defensive responsibility and still be viewed as a threat from beyond the arc. San Antonio's
Boris Diaw
can bring versatility as a big man if the Spurs have to adjust to a shrinking lineup Miami might throw at them.
Mavs coach Rick Carlisle isn't very fond of judging players by the old, by-the-book way of thinking. "He's a basketball player" is a phrase that often comes out of the coach's mouth. The game is shifting away from defined labels for players based on position. Carlisle, as well as the two coaches involved in the NBA Finals, have recognized this and often try to find the best lineups that can be placed out on the floor, regardless of the traditional positions.
[+] Enlarge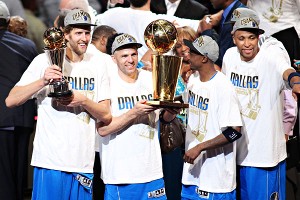 Marc Serota/Getty ImagesThe Mavs have to choose wisely with their open roster spots if they want to make a return Frinals trip.
Neither Miami nor San Antonio rely on a dominant big man down on the block. Both teams faced challenges in their respective conference finals against clubs that had menacing big men. If either team lost, that might have shifted the balance in the future in regards to teams trying to gear more towards a traditional big man down on the low post. With San Antonio and Miami in the Finals, "small ball" prevails.
Now, Dallas has to try to find the right pieces that can bring true depth. The pieces they had this season didn't amount to much, as they were depleted at the point guard and center positions. They have a relatively clean slate to work with. You have
Dirk Nowitzki
as the focal point and
Shawn Marion
and
Vince Carter
as the veterans. Those two could easily be moved in the offseason, but they also work perfectly in what the Mavs would need to do if they're building a roster based on depth and versatility.
The championship team of 2011 provides an additional example of how the depth can be advantageous. The Mavs had players such as
DeShawn Stevenson
and Brian Cardinal who could provide tough defense and perimeter shooting. While
Tyson Chandler
was seen as the major big man,
Brendan Haywood
was a solid rim protector who could hold his own in the rebounding department. Like the Heat and the Spurs, the Mavs' title squad had enough depth to withstand whatever challenges came their way.
Depth has delivered success to Miami and San Antonio. It clearly delivered to Dallas back in 2011. With a roster full of holes, the front office must choose wisely with their open spots.
Bryan Gutierrez currently covers the Dallas Mavericks for The Two Man Game, an ESPN affiliate blog on the TrueHoop Network. Gutierrez, who has covered the Mavs since 2010, studied journalism and psychology at Texas Tech University.
January, 29, 2012
1/29/12
10:44
PM CT
By
Jeff Caplan
| ESPNDallas.com
DALLAS --
Jason Terry
has long deemed the Spurs-Mavericks matchup as a big brother-little brother brawl with the Mavs serving as the younger sibling.
At 34, Terry doesn't face many opponents that can truly be called a big brother and that was especially true in the final 20 minutes of regulation and overtime Sunday. The Spurs exclusively relied on a crop of four unheralded youngsters with a combined nine NBA seasons under their belts -- plus
Matt Bonner
-- in place of an ineffective starting five to rally from 18 down and take a nine-point lead and nearly pull off the win.
Terry tied it up at 91-91 with a clutch, 16-foot pull-up jumper with 0.5 seconds showing on the clock to give him 30 in regulation. Danny Green's apparent game-winner at the buzzer was overruled and we went to overtime. Terry had four of Dallas' 10 points in OT, all in the final 42 seconds for just enough cushion to secure a wild, 101-100, victory in which Spurs coach Gregg Popovich stuck with his hot-shooting reserves from the 2:44 mark of the third quarter on (only little-known starter Kawhi Leonard checked in for about a second late in OT).
"No, not all," Terry said when asked if he was surprised Popovich didn't go back to his starters. "Again, that's just him being him."
And so Terry also said he wasn't surprised that Popovich chose to defend him in the same fashion that he did in the Spurs' 93-71 romp in San Antonio on Jan. 5, and that was to run Terry off the 3-point arc and force him to make plays off the dribble.
Terry hit for 12 of his 34 and 12 of the Mavs' 22 points in the near-fatal fourth. He hit the lone 3-pointer he took, which remarkably was just his third 3-ball attempted on the night. He took what the defense presented to him and that meant putting the ball on the floor, being aggressive, taking the shot when it was there and also dishing four assists.
"I was locked in," Terry said. "The first time we played San Antonio, I was very disappointed and I watched the film. There were some shots that I know that I make, and I said if I continue to get those same looks and opportunities then I will be aggressive and take them, and they gave me the same looks. That's Popovich, man. He's a mastermind, but with him he's very consistent in his approach and tonight he gave me the same looks I had in Game 1."
Only in that game, Terry had 14 points on 4-of-14 shooting. He also made just one 3 on five attempts.
"They ran me off the [3-point] line and when a team does that to you you have to make that adjustment on the fly," Terry said. "You have to know how they're going to play you and I got to the paint. I got a couple of short mid-range shots to go for me."
His game-tying, mid-range shot was a thing of beauty.
Rodrigue Beaubois
blocked
Gary Neal
's driving attempt and it landed in
Dirk Nowitzki
's hands. A sure sign that the big fella is feeling better came when he broke from the crowd and dribbled up court. Once he got to around mid-court, it looked like he tried to call timeout, all the while bobbling the ball and maybe even traveling before he got rid of it to Terry.
"No, he didn't travel," Terry assured. "I was worried about the over-and-back call, he was getting close to halfcourt. But I didn't think he traveled. Smart play on his part."
Apparently so as Terry dribbled to the elbow, pulled up and hit the shot that prevented an awful loss and one long, quiet flight to Phoenix.
"I took a glance at the clock and time was running down," Terry said. "I wanted to get to my spot where I knew I could get a shot off and the rest, I guess, was history."
January, 5, 2012
1/05/12
9:47
PM CT
By
Jeff Caplan
| ESPNDallas.com
SAN ANTONIO --
How it happened:
The Dallas Mavericks didn't have a chance from the start and for the third time in eight games were blown out by halftime.


This time it was against the rival San Antonio Spurs, who were on the run from the start and buried five of their first six 3-pointers and 11 in the first half for a 33-0 edge beyond the arc that had Dallas dragging a 55-29 deficit to the locker room. The Mavs' shooting percentage was even lower (28.9). Dallas trailed 3-0 and never sniffed the lead.
The Spurs managed this dismantling with leading scorer Manu Ginobili sidelined after undergoing hand surgery Wednesday to repair a broken bone in his hand.
Making matters worse, the Mavs played the final three quarters without floor general Jason Kidd, who left after the first quarter with a lower back injury. His status is uncertain at the moment, but updates will follow after the game.
For this to happen now, after two wins fueled optimism -- at least among the players, if not coach Rick Carlisle -- is an unsettling proposition and was completely unexpected.
Carlisle's motto in this shortened season is "No excuses," but this was the Mavs' fourth game in five nights and sixth in eight nights. But then you look at the Spurs' schedule and, well, it was their fifth game in eight nights. Both teams played and won Wednesday night. Both teams ultimately played without a key starter, but when the Mavs had theirs on the floor they were outscored 31-17.
No Mavs player scored in double-figures until Jason Terry finally dropped a 3-pointer to give Dallas 40 points with 2:55 left in the third quarter.
Dirk Nowitzki was 1-of-7 in the first half and finished the game 3-of-11 with six points. That's right, six points. He didn't play at all in the fourth quarter and tried to encourage the troops the best he could with his sweat gear on. Dallas' starters combined for 22 points. It wasn't until a garbage-time fourth quarter that the Mavs barely elevated their shooting percentage above 30.
Amazingly, if Dallas had been able to find any kind of flow, they might have actually had a chance. The Spurs went to sleep in the second half. They scored 11 points in the third quarter, yet still led by 24.
It's not often that a team can shoot below 40 percent and coast to victory. The Spurs, who did finish 16-of-33 on 3s -- did just that.
Matt Bonner led the Southwest Division-leading Spurs (5-2) with 17 points. Richard Jefferson scored 13 of his 16 in the first half. Gary Neal, who started in Ginobili's spot, scored nine of his 12 points in the first quarter -- all on 3-pointers. Tim Duncan finished with 10 points and Tony Parker had 11 with eight assists.
For the Mavs, Lamar Odom, coming off an encouraging 15-point performance, was 3-of-10 from the floor for six points. Vince Carter had two.
But this game wasn't about any one individual. It was about a team that clearly wasn't ready to play when the ball was tossed up at the AT&T Center.
It was 19-4 early on when there was plenty of time to get things together. It just never happened.
And now Carlisle and the players have to figure out why.
What it means:
Dallas drops to 3-5 after gaining a measure of optimism and momentum after consecutive wins for the first time this season. To lose like this to a division rival playing without its leading scorer is especially demoralizing as the Mavs fall to 0-1 in the division with another division game coming up Saturday night at home against the New Orleans Hornets.
Play of the game:
At the 3:33 mark of the first quarter, Odom's bad pass was picked by Jefferson, who got it to Parker, who swooped in for the layup and drew a foul on Kidd. Parker converted the 3-point play and with 3:30 to go, the Spurs led 29-11 and that was that.
Stat of the day:
In the first half, the Mavs' starters went a combined 4-of-17 from the floor and 0-of-1 from the free throw line for eight points. The Spurs' starters went 14-of-33 from the floor and 3-of-7 from the free throw line for 37 points.
November, 25, 2010
11/25/10
2:30
PM CT
By
Jeff Caplan
| ESPNDallas.com
Weird doings are going down with the
San Antonio Spurs
and
Dallas Mavericks
.
The Spurs won championships boring legions of NBA fans with defense and fundamental offense. So what in the name of Gregg Popovich is going on this season with the Spurs second in the league in scoring, fast-breaking and 3-point-shooting their way to 108.0 points a game? As for that agitating defense the Spurs are so known for? Well, they can still lock down, but the quickened pace is making for more possessions and the Spurs are giving up an unheard of 98.9 points a game.
It has added up to a 12-game win streak an NBA-best 13-1 record.
"They've got a bunch of guys that can score, spread the floor, shoot and they play regular Spurs defense still,"
Dirk Nowitzki
said. "They look really, really good."
Meanwhile, the Mavericks (10-4) enter Friday night's anticipated first matchup of the season in San Antonio practically having traded places with their rivals. Put the 'D' in Dallas because the Mavs rank in the top eight in scoring defense (92.4) and field-goal percentage defense (43.8).
The Spurs, possessing an interesting mix of young players surrounding the original Big Three plus a rejuvenated
Richard Jefferson
, have made a living beyond the 3-point arc. They're second in the NBA in 3-point percentage (43.0), third in 3s made per game (9.0) and sixth in 3s attempted per game (20.9). Five Spurs are shooting the long ball better than 39 percent, led by
Matt Bonner
, who has hit 20-of-32.
The Mavs aren't shy with the long ball either, not by a long shot. They're 10th in both attempts per game (19.0) and 3s made per game (6.6).
In the last two games alone, Dallas has launched 47 from beyond the arc and has made just 15 (31.9 percent). But, the key for the Mavs has been timing. Wednesday at Oklahoma City they made 4-of-8 in the final period after entering the fourth quarter having made just 5-of-19. A night earlier against Detroit, the Mavs made 2-of-3 in the decisive fourth quarter after having made just 4-of-17.
Jason Terry
, stone-cold throughout Wednesday's comeback win at Oklahoma City, bounced in 3-pointer that gave the Mavs a 93-90 win. Nine 3s (albeit on 27 attempts) boosted the Mavs to 111 points, just the fourth time in 14 games they've scored in the 100s.
"That was huge. It was that kind of night for me, though, personally," Terry said. "I haven't shot the ball particularly well the last two games, but just hanging in there, my teammates picked me up, talking to me, and to hit a timely basket like that, it's huge for your confidence."
Jason Kidd
, equally cold, suddenly swished just his second 3-pointer on nine attempts to make 98-93. Nowitzki is also resurrecting his 3-point shot, having made 6-of-8 in the last two games after making just 2-of-11 in the first 10 games.
A shootout in San Antone. It's not only possible, it's likely.
April, 24, 2010
4/24/10
2:39
AM CT
By
Jeff Caplan
| ESPNDallas.com


UPDATE: League spokesman Tim Frank said Saturday that Erick Dampier's comments are under review.

SAN ANTONIO --Mavericks center Erick Dampier played 27 minutes and managed to accrue more fouls (five) than points and rebounds combined (four). He said he was miffed at the overall officiating and how Spurs forward Tim Duncan can play more than 43 minutes and get whistled for just two fouls.

Dampier didn't mince words in criticizing an officiating crew that included one of Mark Cuban's least favorite referees, Danny Crawford. By Cuban's count, the Mavs have lost 16 of 17 playoff games with Crawford on the floor.

"When we play defense we're under a magnifying glass, but when we're on offense, there's no magnifying glasses," Dampier said. "You've got to call it both ways. Dirk [Nowitzki] drives, he doesn't get fouled. They drive on the other end and they get the little ticky-tack fouls. So keep it consistent, that's all. Don't be one way or the other."

The Mavs had a decided free throw edge in Game 1, 34-14, but since, the Mavs have been whistled for 43 fouls and the Spurs 31.

"It's on us, too," Dampier said. "We got to take the ball to the basket, make contact, draw the foul and go to the free throw line."

The Spurs were decidedly the more aggressive team in Games 2 and 3, however Dampier took particular issue Friday with a charge call whistled on Nowitzki by Dick Bavetta. With the game tied, 73-73, with 9:05 left to go, Nowitzki drove the right baseline and made a strong move to the rim as Spurs forward Matt Bonner positioned himself to take the charge. As soon as Bavetta outstretched his arm to call the offensive foul, Nowitzki jumped up in disbelief.

"I'm not even going to comment on that foul. What did you think, it was a foul or what?" Dampier said, believing the call should have been a block on Bonner. "All of us thought that. It's funny, though, they get the same call on the other end, it's ridiculous, one of the refs called the foul from halfcourt. It's almost like they can't even see it. But when he [Nowitzki] drives, 'Oh I saw he was outside the circle, it was a charge.' How can you see that? You can't even see that far.

"Hey, we ain't going to make any excuses. We're going to be ready to play the next game, that's all that matters to us. The next one, biggest game of the year."

On Thursday, NBA commissioner David Stern warned coaches primarily, but players too, about publicly criticizing officials. Stern said he's grown tired of meaningless fines and is prepared to levy suspensions. Dampier said he was unaware of Stern's edict.
April, 21, 2010
4/21/10
4:17
PM CT
A shot-by-shot look at
Dirk Nowitzki
's Game 1 offensive dominance:
FIRST QUARTER
Catches the ball on the left wing after a pick-and-pop with
Caron Butler
. Spurs had doubled Butler, leaving
Richard Jefferson
to rotate to Dirk, who ball-fakes before driving left and drawing a foul on Jefferson as he goes up for a layup (2 points, 0-0 FG, 2-2 FT)
Catches ball with back to the basket, a bit below and a few feet extended from the right elbow with
Antonio McDyess
defending him. After reverse pivoting to face up, he ball-fakes, jab steps and launches a fadeaway that falls short. (2 points, 0-1 FG, 2-2 FT)
Grabs rebound over
Manu Ginobili
, who matched up with Dirk in transition, and went right back up for a layup. (4 points, 1-2 FG, 2-2 FT)
Catches ball with back to the basket a couple of feet above the right elbow against McDyess. Drives left down the lane and knocks down one-legged leanaway, planting his right foot just above the charge circle and getting easy separation against single coverage. (6 points, 2-3 FG, 2-2 FT)
Catches ball with back to basket just above right block against McDyess.
Tony Parker
pretends to come on the double-team, but wasn't convincing enough to get Dirk to get rid of the ball. After a few dribbles, fakes baseline and pivots other way to launch a high-arching 11-foot fadeaway that rattles in. (8 points, 3-4 FG, 2-2 FT)
SECOND QUARTER
Catches the ball with back to the basket midway between the right block and 3-point line against
Matt Bonner
. Backs Bonner down before pivoting toward baseline for 7-foot bank shot. (10 points, 4-5 FG, 2-2 FT)
Catches the ball with back to basket a few feet off the right block against McDyess. Jefferson comes with a soft double, bailing without forcing Dirk to give up the ball. Dirk, who thought he was fouled, threw up a wild turnaround after pivoting inside and got what he later called a "lucky" bounce off the glass. (12 points, 5-6 FG, 2-2 FT)
Catches the ball facing the basket just outside right elbow and hits a wide-open jump shot. J.J. Barea created the play by penetrating down the middle and dishing to Dirk. (14 points, 6-7 FG, 2-2 FT)
Catches the ball with back to basket a few feet inside the 3-point line on right side of the floor against
Tim Duncan
, who was called for a foul on Dirk's baseline drive. (16 points, 6-7 FG, 4-4 FT)
Catches the ball a few feet below the right elbow with the Spurs caught in a poor rotation. With Parker the only player within five feet, Dirk immediately goes up for an easy 12-foot jumper that he misses. (16 points, 6-8 FG, 4-4 FT)
Catches the ball facing the basket a few feet above the left elbow against
Roger Mason
Jr. after a pick-and-roll with
Jason Kidd
. After two strong dribbles with his left toward the basket, Dirk goes up for an and-1 fadeaway. Parker's double came too late. (19 points, 7-9 FG, 5-5 FT)
THIRD QUARTER
Catches the ball 16 feet from the basket by the left baseline after pick-and-pop with Kidd and goes straight up for a wide-open jumper. (21 points, 8-10 FG, 5-5 FT)
Catches the ball 19 feet from the basket with McDyess closing after another pick-and-pop with Kidd. After getting McDyess to bite on a shot fake, Dirk takes one dribble to his left and hits a wide-open jumper from the right elbow. (23 points, 9-11 FG, 5-5 FT)
Catches the ball at 3-point arc on left wing against Bonner, who is called for a foul while trying to recover after Dirk beats him with a drive to the left. (25 points, 9-11 FG, 7-7 FT)
Catches the ball between the right block and elbow on a re-post against Bonner. Manu Ginobili doesn't double again, so Dirk faces up and hits a 13-foot jumper. (27 points, 10-12 FG, 7-7 FT)
Catches the ball in pretty much the same spot as the previous possession. Faces up and takes his time with no double-team coming before hitting an and-1 jumper over Bonner. (30 points, 11-13 FG, 8-8 FT)
Gets mugged without the ball by
Keith Bogans
while trying to set up high pick-and-roll with Kidd. (32 points, 11-13 FG, 10-10 FT)
FOURTH QUARTER
Catches the ball above the left elbow against McDyess, who is whistled for a foul when Dirk drives hard to his left. (34 points, 11-13 FG, 12-12 FT)
Catches the ball with back to basket between the left block and elbow, a few feet outside the paint, against Jefferson, who got matched up with Dirk in transition. No double comes, and Dirk hits a baseline turnaround fadeaway after a couple of dribbles. (36 points, 12-14 FG, 12-12 FT)
April, 21, 2010
4/21/10
3:20
PM CT
By
Jeff Caplan
| ESPNDallas.com
DALLAS -- In Game 1 both defenses did a good job of limiting the offenses' looks from the 3-point arc.
San Antonio Spurs
average 18.9 3-pointers a game, but were just 4-of-11, while the
Dallas Mavericks
shoot 18.3 a game and finished 5-of-14.
"The 3 is a big factor in every playoff series going on. The teams that are making eight or 10 are winning their games," Mavs coach Rick Carlisle said. "If you're making more than 10 you're really in a strong position. Our series is no different than any other. We've got to do a good job defending it. The Spurs are talking about the same thing. They will want to shoot more than 11 tonight and we're going to have to defend well to keep them at another reasonable number."
Only
Manu Ginobili
had success from long range for the Spurs in Game 1, making 3-of-7. Only
Matt Bonner
, something of a 3-point specialist, even got off as many as two 3-balls.
For the Mavs,
Jason Kidd
continued his assualt from the arc, hitting 3-of-6, while
Caron Butler
and
Jason Terry
combined to go 2-of-7.
Shawn Marion
(0-of-1) was the only other Mavs player to attempt one.
That's the key for the whole entire series. Regardless of what we do, we have to win the battle at the 3-point line. And we have to win the battle of points in the paint. So our emphasis tonight is get back in transition and not allow them to get easy 3-point shots.
"That's the key for the whole entire series," Terry said. "Regardless of what we do, we have to win the battle at the 3-point line. And we have to win the battle of points in the paint (50-34 Spurs in Game 1). So our emphasis tonight is get back in transition and not allow them to get easy 3-point shots."
April, 20, 2010
4/20/10
9:28
AM CT
DALLAS --
Kevin Garnett
's suspension for Game 2 of the Celtics-Heat series served as a valuable reminder for the rest of the league.
"You want to play physical and want to set the tone,"
Dirk Nowitzki
said, "but you don't want to do anything stupid."
There can be a fine line between playoff intensity and stupidity, especially in a series with a heated history, such as Mavs-Spurs.
Dirk goes by some pretty simple rules: Don't flail your arms, be careful following through on hard fouls and keep all contact below the neck.
Nowitzki got mixed up with San Antonio's
Matt Bonner
in Game 1, when Dirk thought Bonner was pushing him in the back. But that situation didn't escalate beyond a quick exchange of words, with both guys letting the other know they weren't going to give up an inch.
Jason Terry
clearly crossed the line -- and violated man code -- with his below-the-belt jab at
Michael Finley
's family jewels during the 2006 Western Conference semifinals. The Mavs won the series despite Terry's Game 6 suspension, but that's the kind of incident that can kill a playoff run.
"A suspension can be tough during the playoffs," Nowitzki said. "It can really change the momentum of a series. You want to play hard and you want to play physical, but you've got to be smart, too."
April, 19, 2010
4/19/10
2:12
AM CT
By
Jeff Caplan
| ESPNDallas.com
DALLAS -- San Antonio shot 50 percent from the field, outscored Dallas 50-34 in the paint, won second-chance points 14-12 and surprisingly finished with a 16-11 edge in fastbreak points.

Sounds like a winning formula. But, it wasn't. The Spurs lost two critical areas: The Mavs shot 20 more free throws for a 13-point advantage at the foul line, and 10 Mavs steals and four blocked shots were part of 17 San Antonio turnovers that led to 20 Dallas points.

But, the real killer -- besides 36 points from Dirk Nowitzki -- was the production, or lack of it, outside of the Spurs' Big Three -- Tim Duncan, Manu Ginobili and Tony Parker. Those three combined for 71 of the Spurs' points in Wednesday's 100-94 loss in Game 1 of the their first-round series.

Antonio McDyess finished with 10 points, but no other Spurs players scored more than five points. Richard Jefferson had four points in 32 points. Matt Bonner had five in 19 minutes. George Hill, playing on a sprained right ankle, was scoreless in 18 minutes.

Popovich's assessment was harsh.

"We've got to have a few more people step up and play worth a damn," he said. "I thought we had a lot of guys that played like dogs."
April, 16, 2010
4/16/10
3:57
PM CT
By
Jeff Caplan
| ESPNDallas.com
DALLAS --
Dirk Nowitzki
was being asked a question about the how he thinks the
San Antonio Spurs
will try to defend him now that Bruce Bowen is no longer there to...
"Trip people?" Nowitzki interrupted.
Um, well, sure. Or as Avery Johnson said during the great 2006 series, to put a "bear hug" on Nowitzki.
The
Dallas Mavericks
power forward and leading scorer has put up big numbers against the Spurs this season, averaging 28.8 points a game. Yet, the Spurs have made him work for it. Nowitzki's 40.4 percent field-goal percentage in four games against San Antonio is his second-lowest shooting percentage against any Western Conference team this season (
Denver
, 36.7).
"I've got to be ready for anything with Pop," Nowitzki said, referring to Spurs coach Gregg Popovich. "He's a defensive genius and he comes up with a lot of coverages and I've basically seen it all over the last couple of years facing them. So, I just got to take whatever they give me, see how they start off. You know they're going to adjust during games sometimes and switch it up in timeouts, and I've just got to be ready for it."
Judging much off of the regular-season series is difficult. Because of key Spurs injuries and then the Mavs' All-Star break trade, the first three games were played with radically different lineups than will be seen when Game 1 tips at 7 p.m. Sunday at the American Airlines Center.
And, nothing can be made of the regular-season finale earlier in the week when Popovich at the last minute scratched
Tim Duncan
and
Manu Ginobili
.
The Spurs forward/centers
Antonio McDyess
and
Matt Bonner
will see the most time on Nowitzki, but at times
Tim Duncan
gets the call and even the smaller
Richard Jefferson
took Nowitzki in smaller lineups.
"They didn't have McDyess the last couple of years," Nowitzki said. "He's a long, crafty defender, but I'm sure he's [Popovich] going to throw a lot of bodies like he already did in the regular season. Popovich comes up with a lot of schemes. I think I've seen it all over the last couple years. Last year even, anywhere I caught the ball on the 3-point line they were double-teaming me so I'm sure he's going to look at some schemes this year."
April, 16, 2010
4/16/10
1:30
PM CT
ESPNDallas.com will break down the matchups in the Mavericks-Spurs series throughout the day.
CENTER
JEFF CAPLAN:
The Mavs have a definite size and athleticism advantage inside with the addition of
Brendan Haywood
. He's coming off the bench, but typically playing starter's minutes with the more plodding
Erick Dampier
seeing a reduction in minutes. As a pair, they should hold up well against ageless
Antonio McDyess
and perimeter-oriented
Matt Bonner
. The main concern for the Mavs could be how much they can use their centers depending how often Spurs coach Gregg Popovich employs 3-point specialist Bonner to draw his defender away from the basket. Bonner shoots 39 percent from the arc and if he's in and McDyess is out, it likely will force Mavs coach Rick Carlisle to go small. But, all-in-all, the Dampier and Haywood pairing should enjoy a significant rebounding advantage. They must provide good help defense to keep
Tony Parker
and
Manu Ginobili
from making a living in the lane. Take the Mavs' true centers over the Spurs' hybrids.
EDGE:
Dallas
TIM MACMAHON:
The Mavs have two big bangers to throw at
Tim Duncan
in Brendan Haywood and Erick Dampier. But it's not a question about whether they can shut down Duncan, arguably the best big man of this generation. It's a matter of how much they can limit his damage. The Mavs can live with Duncan getting 20 and 10. They've got problems if he's going for 30 and 15. Dampier has defended Duncan relatively well over the years, including last season's series, when Duncan averaged 19.8 points and 8.0 rebounds. Duncan has averaged 18.5 points and 10.1 rebounds in 14 career meetings against Haywood.
EDGE:
San Antonio
JEFF "SKIN" WADE:
Yes, don't listen to the lies. Tim Duncan is a center. When Bonner jumps tip and covers Erick Dampier and Brendan Haywood all series long, then we'll talk. Until then, the Big Fundamental will dominate this matchup the same way Dirk dominates his. Look for 20 and 10 every night. Damp and Haywood's biggest impact will come as help defenders on drives. If they get to the right spot in time and help limit the opportunities for second chance points, then they'll hold their own.
EDGE:
San Antonio
SPURS 2, MAVS 1