June, 10, 2013
6/10/13
11:30
PM CT
By
Bryan Gutierrez
| ESPNDallas.com
With the NBA Finals in full swing, the Mavericks are watching two familiar foes -- the San Antonio Spurs and the Miami Heat -- battle it out for the chance to hoist the Larry O'Brien Trophy. Both teams have key components that established them as championship contenders. Let's point out those components and how the Mavericks can learn from them.
Miami and San Antonio aren't one-trick ponies. It's been established that they are skilled and efficient on the offensive end of the floor, but both teams are equally skilled on the defensive end. The "defensive rating" is an advanced statistic that measures a team's points allowed per 100 possessions.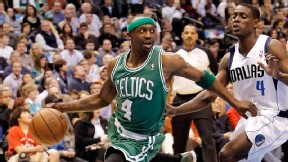 AP Photo/Brandon WadeWith Darren Collison and O.J. Mayo as the Mavs' perimeter defenders, opposing teams often had a clear path to the basket this year.
Out of all NBA teams, there were only three that were ranked in the top 10 in both offensive and defensive efficiency in the regular season. Oklahoma City was one of the teams. The other two are in the Finals.
Miami ranked first in offensive efficiency with a rating of 110.3 and seventh in defensive efficiency with a rating of 100.5. San Antonio was seventh in offensive efficiency with a rating of 105.9 and third in defensive efficiency with a rating of 99.2.
When it comes to defense, neither team has a dominant big man in the post who collects all of the rebounds or anchors the middle, so they mask that weakness by putting a stronger emphasis on contesting shots. The downside is that fouls tend to add up and fewer rebounds are collected. The risk is worth the reward because the opposing offense is disrupted with contested shots.
This season, Dallas had the 10th worst defensive efficiency in the league with a rating of 104.0. That rating was the third worst defensive mark for the Mavericks in the last 10 years.
PODCAST
Dirk Nowitzki joins Fitzsimmons & Durrett live in studio to discuss the moves he expects the Mavericks to make this summer, what his pitch would be to Dwight Howard and Chris Paul, and his upcoming Heroes Celebrity baseball game.

Listen

With
O.J. Mayo
and
Darren Collison
as the perimeter defenders, the opposing team often had a clear path to the basket. The two guards being beaten by back cuts and off-ball screens that contributed to the Mavs' lackluster defensive effort.
During the 2011 title run, Dallas showed the defensive disposition that coach Rick Carlisle craves. The Mavs had the seventh best defensive efficiency with a rating of 102.3, their best during the last five seasons. While there were only three teams in the top 10 in both offensive and defensive ratings this season, there were only two teams in the top 10 in both categories in 2011: Dallas and Miami.
The Mavs had a true defensive anchor in
Tyson Chandler
. He was a solid last line of defense as his teammates gambled on the perimeter. The Mavs also played together on a string. By doing that -- which requires teamwork, coordination, trust and synchronicity -- they were a team with only one premiere defender but became a roster full of team defenders. It came down to the five players on the floor doing their job, being in position and being accountable.
Dallas' flow offense is predicated on its ability to get stops. If the front office finds players who believe in playing on a string and bringing a strong defensive disposition, it will open things up on the offensive end of the floor. The Mavs don't need a roster full of All-NBA defenders. They just need a set of players who will buy in to playing defense together as a team.
Bryan Gutierrez currently covers the Dallas Mavericks for The Two Man Game, an ESPN affiliate blog on the TrueHoop Network. Gutierrez, who has covered the Mavs since 2010, studied journalism and psychology at Texas Tech University.
November, 19, 2009
11/19/09
8:40
AM CT
By
Jeff Wade
| ESPNDallas.com
The Mavericks are feeling pretty good about themselves these days. That's the kind of thing a coach hates to hear and will quickly pick you apart for sheepishly mentioning after a practice, but it's impossible to deny. You can see it on the faces of the players and team employees.
Despite a tiring stretch that saw Dallas play five games in seven nights, folks 'round AAC way have a little bit of a bounce in their step. And an overtime victory against those hated Spurs on ESPN last night makes a lovely lead-in for a promising weekend with a young and inexperienced Sacramento team heading in Friday.
Good vibes, my people. Good vibes.
And why not? Considering the injuries and offensive inconsistency we've seen to start the season, 9-3 is a rather tasty treat. Much of early campaign Mav talk centered on what the identity of this team will be with
Shawn Marion
and
Josh Howard
running the wings and filling the lanes on a potentially potent offense that experienced some significant grindage last year.
Thing is, that hasn't really materialized. Josh has played a total of 66 minutes thus far and is back on the shelf indefinitely with ankle pain. And Marion, who had yet to really find that ballin-outta-control groove he displayed in the preseason before his calf started going funky on him, twisted his ankle right out the gate in The Good Land and didn't return for the second half.
That's an MIA list that also includes a uniquely hush-hush
Erick Dampier
ailment that is requiring the attention of unidentified specialists and test results that won't be seen for another week. And that means 60 percent of your "starting lineup" ain't available.
So how extra-tasty is 9-3 is sounding now?
We can go on and on about Dirk once again carrying this team's offensive fortunes on his shoulders -- 73 points and a ridiculous array of clutch fourth quarter and OT buckets in a 48-hour span has pretty much come to be expected with that dude. If he's not bringing the big-time these days, wins will be tough to come by. That's a given.
But these Mavs are winning despite not finding the basket. The Mavs lead the league in winning games in which they shot below 44 percent. That'd be six lucky lotto tickets for a team that isn't too accustomed to getting it done when the shots aren't dropping.
A little deductive reason tells you that good things are happening on the defensive end of the floor. The Mavericks are bringing energy, effort and smarts to their defensive approach and it's paying off while the basket stays tiny for them. That won't be the case when they have all their guys. Others besides Dirk will start making some shots.
The really intriguing question is what happens to the minutes when everyone does come back -- assuming they do. The electric performances of French rookie Roddy Beaubois and offseason free-agent acquisition
Drew Gooden
seems to indicate that they need to be an important part of the rotation.
Not that we expect Gooden to consistently put up numbers like the absurd stretch of these last three starts of almost 17 points and 11 boards. But if he brings the type of intensity and effort we've seen here lately to the party every night -- then Damp and Drew is a center rotation worth getting excited about.
And as for the current Roddy lovefest that's gripping Mavs Nation? Well, I'd like to be cautiously optimistic. But the more I see of him, the more my reality becomes clouded with dreams of something special with this guy. And he hasn't even scratched the surface.
Now that's a 9-3 that is magically delicious.