Dallas Mavericks:

Mike Brown
November, 9, 2012
11/09/12
5:55
PM CT
NEW YORK -- Mavericks coach Rick Carlisle isn't one bit happy that the preseason West favorite Lakers fired his former assistant
Mike Brown
after five games.
PODCAST
Mavericks head coach Rick Carlisle weighs in on the team's hot start, his former assistant Mike Brown losing his job and more.

Listen

"I think it sucks," Carlisle said Friday afternoon on ESPN Dallas 103.3's "Galloway and Company."
Mavericks owner Mark Cuban, on the other hand, takes a little pleasure in the Lakers' misery.
Cuban is the man who publicly questioned this summer whether the Lakers' star-studded chemistry experiment would work. Before the Mavs' season-opening win in LA, Cuban added, "I hope they suck." He's certainly not crying about the Lakers' chaos now.
"That's a quick trigger," Cuban said while chatting up the media courtside at Madison Square Garden. "That is a quick trigger. But, hey, it's the same thought I have all the time. I hope they have to do it again this season. A couple times. Five times, maybe."
Cuban mentioned later that he'd never jump to any grand conclusions, good or bad, after just five games. The Lakers management obviously doesn't share that opinion.
"Don't you hate when that happens?" Cuban said with a smirk. "Nothing surprises me. Every team is different. Every team has its own approach.
"I just hope it was a huge mistake and they continue to make them."
August, 24, 2012
8/24/12
12:01
AM CT
By
Jeff Caplan
| ESPNDallas.com
Last in a series looking at the five teams ahead of the Dallas Mavericks in our early 2012-13 Western Conference rankings and how the revamped Mavs match up.
No. 1 Los Angeles Lakers
Move along, nothing here to see. Yeah, right. Luxury tax be damned, the Lakers are must-see TV this season with their retooled roster that reads like an All-Star team or an Olympic squad or, if you will, a future Hall of Fame roll call. General manager Mitch Kupchak, who in 2008 acquired
Pau Gasol
from Memphis -- a deal long-ridiculed as thievery although the Grizzlies did get
Marc Gasol
-- finagled
Steve Nash
for draft picks. He then landed the most dominant defensive big man in the league,
Dwight Howard
, who has also averaged 20 points or more in four of the last six seasons. So the Lakers will roll out a starting five of Nash,
Kobe Bryant
,
Metta World Peace
, Pau Gasol and Howard. The Lakers were a middle-of-the-pack defensive team last year and that should begin to change the moment Howard returns from back surgery. Offensively, this should be a lot of fun with Nash running the show and making life super easy for Kobe, Pau and Howard. Move over
Chris Paul
and
Blake Griffin
, a new Lob City might be taking up residence at Staples Center.
[+] Enlarge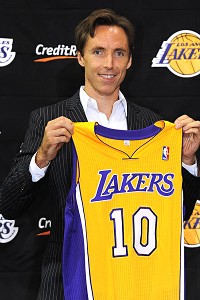 Andrew D. Bernstein/NBAE/Getty ImagesThe Lakers acquired Steve Nash (above) and Dwight Howard in the offseason, but it's the reinforced bench that will vault L.A. to the top.
Last season's results (Lakers won, 4-0)
@Lakers 73, Mavs 70
Lakers 96, @Mavs 91
Lakers 109, @Mavs 93
@Lakers 112, Mavs 108 (OT)
This season's games
Oct. 30: @ Lakers
Nov. 24: vs. Lakers
Feb. 24: vs. Lakers
Apr. 2: @ Lakers
What's changed?
Obviously, the marquee moves the Lakers made with Nash and Howard have everyone talking. But it's the ancillary acquisitions to bolster the bench that pushed me to hand L.A. my No. 1 ranking ahead of West champion Oklahoma City. Bringing in veteran forward
Antawn Jamison
and 3-point specialist
Jodie Meeks
to join guard
Steve Blake
and energetic young forward
Jordan Hill
gives the Lakers' second unit proven scoring and some muscle. There's lots of talk that the Lakers could challenge the 1995-96
Chicago Bulls
' record 72 wins, but considering Howard will probably miss the beginning of the season recuperating from back surgery, the age of key stars such as Nash and Kobe and time needed to jell, that feat doesn't seem terribly likely. That's not the goal anyway. The end-game is fitting Kobe for a sixth ring to match
Michael Jordan
and getting Nash and Howard their first. The intriguing aspect is how second-year Lakers coach Mike Brown will handle this gift of talent and how he'll adjust offensively. For instance, Mavs coach Rick Carlisle, as time went on with
Jason Kidd
, relinquished most of the play-calling and allowed the offensive to "flow" from Kidd. Nash's presence as the primary ball handler will also be a major adjustment for Bryant, who can take on the role of a more traditional shooting guard playing off the ball. It should greatly benefit Bryant, who turned 34 on Thursday.
How the Mavs match up
The Mavs will get an early look when they open the season in L.A. in what should be quite a Hollywood scene. This Lakers squad brings just about everything: Star power, size, skill, strength, savvy and doses of athleticism that will be difficult for any team to match. Howard probably won't be ready to go just yet, but Nash will be primed for a big opener with his new club. As big a problem as
Andrew Bynum
was for the Mavs to handle defensively and on the boards (he averaged 17.0 points and 13.0 rebounds last season vs. Mavs) and as difficult as Howard will be, Gasol was a killer last season.
Dirk Nowitzki
is often saddled with guarding Gasol, arguably the most skilled 7-foot low-post player in the league. Gasol averaged 19.8 points and 8.5 boards in four games against Dallas and shot 55.9 percent from the field. Against teams Gasol played more than two times last season, he shot a higher percentage against only Houston and Minnesota.
Chris Kaman
will probably get Gasol in the opener, but when Howard's in the lineup, Kaman will have that nasty assignment with Nowitzki on Gasol.
Shawn Marion
will be happy to get help from newcomers
Dahntay Jones
and
O.J. Mayo
when it comes to guarding Bryant. Any way you slice it, this is going to be a tough matchup -- and the Mavs are lucky enough to try it four times this season.
Previous entries
No. 5:
Denver Nuggets
No. 4
San Antonio Spurs
No. 3
Los Angeles Clippers
No. 2
Oklahoma City Thunder
July, 24, 2012
7/24/12
4:53
PM CT
By
Jeff Caplan
| ESPNDallas.com
Delonte West
, one of a dwindling number of guards on the free-agent market, might have picked a bad time to seek a multiyear deal.
Judging by recent signings, West might be out of luck in his desire to end two seasons of playing for one-year contracts, although he can still avoid a veteran-minimum deal. He signed such a deal last December with the Mavs hoping to earn the security of a multiyear contract this summer by proving he's just entering his prime and
that he's trustworthy off the floor
.
West, who turns 29 on Thursday, can't be encouraged by what's going on around him, starting with the Mavericks. Dallas signed combo guard
O.J. Mayo
to a cut-rate contract that will pay him around $4 million next season, about $1.5 million less than he made last season with the
Memphis Grizzlies
, who opted not to make Mayo a qualifying offer of $7.3 million.
Mayo's deal is technically for two years, but the second year is a player option and Mayo will almost assuredly opt out next summer to seek a larger deal. The Mavs, who are heavy on unproven combo guards beyond Mayo and light on proven point guards behind projected starter Darren Collison, might not be as generous with West as they seek maximum cap space next summer.
Other recent signings also don't bode well for West, who the Mavs continue to say they have interest in bringing back and can do so with their $2.5 million "room" exception. That figure is actually looking better by the day.
Randy Foye
, who made $4.25 million with the Clippers last season agreed to a one-year, $2.5 million deal with Utah.
Marco Belinelli
made $3.4 million with the Hornets last season and is taking the Bulls' bi-annual exception of one year and $1.98 million.
Ronnie Brewer
, who made $4.7 million last season with the Bulls is joining the Knicks on a veteran-minimum deal of one year and $1.4 million.
So go ahead and scratch those teams as potential West destinations.
Who's left? How about the team that has courted West in the past and now employs his former head coach, Mike Brown? The
Los Angeles Lakers
certainly aren't in the market for a starting guard with
Steve Nash
and
Kobe Bryant
now teammates. However, West would give the Lakers excellent depth, feisty defense and needed scoring punch off the bench at either guard position.
L.A. does have its taxpayer exception of $3.09 million available, although it might not be willing to hand it over to West and it also might not be willing to go beyond one year.
If the Lakers are prepared to offer West only the veteran minimum
, his best option, if dollars rule the day, might still be in Dallas.
January, 18, 2012
1/18/12
9:00
AM CT
LOS ANGELES --
Kobe Bryant
played 38 minutes in Monday's game, which is nothing new for the
Los Angeles Lakers
star, who has averaged 37.7 minutes a game through the first 15 games played over 23 days.
Dirk Nowitzki
logged 33 minutes in the 73-70 loss, a game that went down to the wire. It was actually more than the 7-footer is used to playing this season. Mavs coach Rick Carlisle has limited Nowitzki to 30.3 minutes through 14 games in 23 days.
"I mean, when has Dirk ever played this few minutes?" Carlisle asked.
But, is that necessarily a good thing?
Clearly, Lakers coach Mike Brown believes he must have Bryant on the floor for heavy minutes on a nightly basis. After a 4-4 start, L.A. has improved to 10-5, coinciding with Bryant's four-game tear in which he scored 40 or more points while shooting better than 50 percent -- a streak snapped by the Mavs.
Carlisle is not interested in pushing Nowitzki -- who is 33 like Bryant -- or at least not yet. But, the Mavs' leading scorer, at just 17.9 points a game, has yet to slip into a consistent rhythm and continues to struggle from the floor. Nowitzki, who continues to wear a sleeve over his right knee (the same one he sprained last season) and had it on ice after Tuesday's practice, missed his first six shots Monday night before getting hot. In the third quarter, he stayed hot and scored nine of his team-high 21 points on 4-of-5 shooting in barely six minutes.
He lifted Dallas from a 39-35 halftime deficit to a 47-45 lead, hitting a jumper with 7:19 to go in the quarter. One minute later, Nowitzki took a seat and the Mavs didn't score over the next four minutes. A worse drought for the Lakers still allowed Dallas to take a 51-46 lead into the fourth, but would it have been larger, maybe double digits, had Nowitzki returned for another couple minutes?
"Each team is going to do things differently," Carlisle said. "Going forward, it's a positive thing. My opinion is that going forward it's a positive situation for us. Our top players are going to be playing more minutes as this goes on for sure, but the fact that we aren't burning anybody out now is a plus."
The Lakers, who do not have as much quality depth as the Mavs (and Carlisle noted that former Lakers forward
Lamar Odom
, who used to spell
Pau Gasol
, has allowed him to sit Nowitzki longer) have three starters averaging 35 minutes or more. Center
Andrew Bynum
is at 34.8 with Gasol joining Bryant at more than 37 a game. Carlisle is using his depth to take an opposite approach with his veteran starters because of the compressed nature of the schedule and the desire to be as fresh as possible come April.
But, has playing more minutes out of the gate enabled Bryant, Bynum and Gasol, all of whom are shooting 45.6 percent or better (with Bynum and Gasol over 52 percent -- and part of that is the nature of their positions and shot placement) to become better conditioned quicker and to find a more consistent rhythm after an abbreviated training camp?
Nowitzki, Terry and
Jason Kidd
are logging minutes well below their typical averages. Nowitzki and Kidd have struggled to shoot high percentages. Nowitzki is below 20 percent from 3-point range and has hit at least 50 percent of his overall attempts in just four games. Kidd is shooting 30 percent overall. Terry is right at his career average for field goals and actually better from 3-point range.
As Carlisle said, each team will decide on an approach they think is best for their personnel and judge later.
"We don't have anybody that's averaging more than 31 minutes," Carlisle said. "Jet is at 30, but that's it. Our minutes are very manageable and the key is to make sure guys are getting enough run in the games to facilitate the conditioning getting better."
January, 16, 2012
1/16/12
2:40
PM CT
By
Jeff Caplan
| ESPNDallas.com
EL SEGUNDO, Calif. -- First-year
Los Angeles Lakers
coach Mike Brown never got a chance to coach
Lamar Odom
, but he certainly had big plans for the 6-foot-10 forward who was traded to the
Dallas Mavericks
just a couple days into training camp.
Odom never stepped foot on the Lakers practice court after the lockout because he was so upset about being packaged by the Lakers in a deal for
Chris Paul
that ultimately collapsed and sent Odom to the Mavs.
"Yeah, he was definitely going to be a part of what I was hoping to do with this team," Brown said. "He's a very good player and we've got guys that are going to step up, and they can't be him, but they'll step up and try to fill the void that he left when he got traded. We just kind of go from there. It's no secret, I don't think anybody would say that having Lamar Odom off your team is better than having him on your team."
Odom has struggled to mesh with the Mavs so far for a variety of reasons, one being a position switch from power forward to small forward. Odom rarely if ever saw the floor with Paul Gasol and
Andrew Bynum
and was almost exclusively locked into the power forward position.
Brown said he was entertaining the idea of a massive front line that would have included the 6-foot-10 Odom and 7-footers Bynum and Gasol.
"It's probably something I would have experimented with. Big, long, it would have been fun to take a look at," Brown said. "[Odom] would have been the third big, but he's a starter, too, so he could easily have started at times for us and/or finished games for us. He would have been a big part of what we're trying to do."
January, 16, 2012
1/16/12
2:01
PM CT
By
Jeff Caplan
| ESPNDallas.com
EL SEGUNDO, Calif. -- Revenge and a renewed rivalry as the
Dallas Mavericks
face the
Los Angeles Lakers
tonight for the first time since the playoff sweep, are not high on anybody's agenda.
Both teams lost key players from last season's teams and the Lakers are breaking in new a new coach in Mike Brown, who has the unenviable task of following up Phil Jackson. After the Lakers' Monday morning shootaround, Brown said he has watched last season's Mavs playoff sweep, but a good while ago and therefore not in the context of playing this game.
He said getting some quick revenge, as seemed to be a major factor for the
Miami Heat
in the Christmas Day opener, has barely been a topic of conversation.
"Fish [
Derek Fisher
] had said something to the group," Brown said. "There's some guys on this team that are playing that weren't part of it, like myself, I wasn't part of it, so it's a little hard for us to probably feel it -- does that make sense? – in terms of the motivation. But, maybe for Fish and some of the guys that were here last year, they might feel it a little bit."
The Dallas-L.A. rivalry has been dominated by the by purple-and-gold for so long that
Dirk Nowitzki
downplayed the notion of a bona fide rivalry between the two franchises.
"Well, you know, usually when you're a rival you've got to beat them more than once in the playoffs," Nowitzki said. "I mean, they've got five rings; we beat them one time in the playoffs. So, I don't know about all that. We did play a great playoff series last year and were able to beat them and move on and get ourselves a first ring, but I don't know. It's always fun games to play there, a great atmosphere and great stadium, so we've got to be ready."