Dallas Mavericks:

Mike Conley
April, 16, 2014
Apr 16
2:17
PM CT
MEMPHIS -- From the Dept. of Misleading Statistics: The
Dallas Mavericks
are 3-0 this season against the
Memphis Grizzlies
with an average margin of victory of 13.4 points.
Memphis was at full strength for only one of those games, and that was way back on Nov. 2, when the Grizzlies were stumbling out of the gates at the beginning of the season.
The Mavs had the good fortune to face the Grizzlies while Memphis was missing one of its stars in the other two meetings. Center
Marc Gasol
missed the Grizzlies' Dec. 18 loss in Dallas. Point guard
Mike Conley
sat out when the Mavs won at FedExForum on Feb. 5.
"This time around, they look like a playoff team," Mavs coach Rick Carlisle said. "It's going to be a tough game. That's all right. The more tough games we can play headed into the playoffs, that should help us. We're going to have to be ready."
The Grizzlies have had to be one of the best teams in the league since the calendar flipped to 2014 to earn a playoff spot in the West. Memphis was 13-17 on Dec. 31, including 10-13 without Gasol. Since then, the Grizzlies are 36-15, with only the
San Antonio Spurs
and
Los Angeles Clippers
posting a better record in that span.
February, 5, 2014
Feb 5
8:00
AM CT
Never mind what the calendar says.
This is not a run-of-the-mill game midway through the regular season. The Dallas Mavericks' visit to Memphis on Wednesday is a game that could loom large in the middle of April, when the Western Conference's final two or three playoff bids will probably be determined.
"It's a big game," Mavs star
Dirk Nowitzki
said. "You don't really want to say in February it's a playoff game, but it definitely will be that kind of intensity."
All it takes is a quick glance at the West standings to figure out what this game might mean a few months from now. At the moment, the Mavs are a game ahead of the Grizzlies in eighth place and even in the loss column. They've both within striking distance of Golden State and Phoenix.
"They're a motivated team," Mavs coach Rick Carlisle said. "We're another motivated team. We'll lace 'em up and get ready to go."
An argument can be made that this game means more for Memphis than it does Dallas. That's because the Mavs won a couple of home games against the Grizzlies earlier this season, so Dallas can claim the tiebreaker by winning one of its two trips to Memphis.
Just don't try telling that to the Mavs, who are determined to get back in the playoffs after their 12-year postseason streak was snapped last season.
"All the games are big,"
Shawn Marion
said.
This is one the Mavs have been anticipating for some time. Nowitzki's prediction of the Grizzles getting hot once
Marc Gasol
returned from knee surgery has come true. Memphis has won nine of 11 games with their big man back in the lineup, getting within breath-on-neck distance from the Mavs.
"He's a huge key to their success," Nowitzki said of Gasol, who missed one of the Mavs' wins over the Grizzlies. "They've been playing great since he's been back. They're a different animal again. They've been holding teams to 80s, 90s and that's how they win games.
"It's going to be a slugfest. We know that. We've got to rebound well. That's always a big key against them, and it's going to be a slow-pace, grind-it-out kind of game and we'll see if we're ready for it."
Memphis will be missing point guard
Mike Conley
, whom Marion calls "the head of the snake" and is sidelined with a sprained ankle. That makes it even more in the Grizzlies' interest to make this game as gritty and physical as possible.
This is a midseason game with major potential playoff implications. The next Mavs-Grizzlies meeting just might be a win-and-get-in game. It's scheduled for April 16, the final night of the regular season.
Then again, depending on how the standings shake out, that game might not mean anything. But there's no doubt about how this one will feel.
"It's going to be a playoff-type atmosphere," Nowitzki said. "For sure."
April, 7, 2012
4/07/12
11:08
PM CT
By
Jeff Caplan
| ESPNDallas.com
MEMPHIS, Tenn. -- It took 11 minutes for the
Dallas Mavericks
to fall behind by 20 points.
"It happens when one team is struggling, the other team made shots, it can go quick,"
Dirk Nowitzki
said. "We were down 20 in a heartbeat. Sometimes that's not a bad thing to be down 20 early and you still have a lot of time to fight back and that's what we did. I'm proud of the guys how we battled, but it wasn't enough."
In a game even the players billed as critical coming in, how could the Mavs cough up such a terrible first quarter, going 2-of-15 from the field, against a team playing its seventh game in nine nights?
"Oh man, it's just frustrating in all aspects,"
Shawn Marion
said. "I thought we were playing good defense at first, it's just we couldn't hit no shots. It seemed like everything that could go wrong went wrong."
Memphis jumped out to an 8-0 lead and built a 19-5 lead despite shooting just 36.8 percent to that point. Marion's putback was Dallas' lone field goal among its first 12 shots. With one minute left in the quarter, Memphis led 26-6 and ended it up, 29-10.
It was just two quarters earlier, the nightmarish third in Friday's embarrassing collapse against the Trail Blazers, that the Mavs were outscored 30-10.
"The first quarter we had our share of good shots; didn't go down," coach Rick Carlisle said. "At one point we were shooting 10 percent. Guys kept battling, we defended and rebounded the whole game. We actually outrebounded these guys again, which is saying something."
But, as Carlisle added, a loss is a loss.
And the Mavs have lost three of four since the comeback win against the
Orlando Magic
. In fact, in both of their wins over these last five games, Dallas had to rally from double-digit deficits. The last two nights, horrific turnovers killed them. The Mavs had six in each the first and fourth quarters.
In the fourth,
Rodrigue Beaubois
couldn't inbound the ball on the sideline and got hit with a five-second violation.
Jason Terry
threw away an inbounds pass from nearly the same spot when he and
Delonte West
crossed signals.
In a one-minute span just as the game got below the two-minute mark with Memphis leading, 92-87, Nowitzki got a defensive rebound and threw away the outlet pass. He missed a 10-foot jumper, then grabbed another defensive rebound and threw that one away to
Mike Conley
with 55.5 seconds to go. It was his third outlet pass that got away going back to Friday's final 20 seconds of overtime.
"I had a 3 at the top of the key to cut it to two with like three minutes to go. That would have been a nice shot," said Nowitzki, who finished 5-of-16 with 17 points and with three of the team's 17 turnovers. "We still had some chances. Turnovers are hurting us lately. I had two right there in the last minutes.
"That's tough."
April, 7, 2012
4/07/12
6:39
PM CT
By
Jeff Caplan
| ESPNDallas.com
MEMPHIS -- By now everyone knows that
Delonte West
is his own man. He's also apparently his own athletic trainer.
While most guys will get their ankles and various bruised or swollen body parts taped by head athletic trainer Casey Smith, West is a do-it-yourself kind of guy. In preparation for tonight's game against the
Memphis Grizzlies
, West had plenty of black medical tape with him to handle his multiple injuries.
With his Beats rocking his eardrums, his head slowly bobbing and lyrics sporadically escaping his lips, West methodically wrapped tape around each ankle, taking extreme care with the left one that he twice twisted Friday, once during the morning shootaround and then again during the game against Portland.
"I think he's sore, but I believe he's going to play," Mavs coach Rick Carlisle said. "Again, the fact that he was out there last night was big."
Watching West then shift his attention to his still-healing right ring finger, wrapping it tight to his middle finger and then both over padding, that he mangled in mid-February only to return to action last week, Mavs strength and conditioning coach Robert Hackett was asked how many guys tape their own body parts.
"None," Hackett said.
Smith, who said
Steve Novak
used to tape his own ankles, joked that West likes to call himself a D-League athletic trainer. Smith would give West a final check-over in the training room before West donned his head band and headed to the court for pre-game warmups.
Carlisle is just happy the feisty combo guard sucked it up and played Friday night against the Blazers and will do so tonight in an important game against the Grizzlies.
Jason Kidd
, of course, will miss his fourth consecutive game with a strained right groin. Carlisle said they'll know more about Kidd, who is not with the team in Memphis, when they reconvene for practice Monday.
As for Saturday, the Mavs need West at his best against Memphis guards
Mike Conley
and
O.J. Mayo
.
April, 7, 2012
4/07/12
11:00
AM CT
By
Jeff Caplan
| ESPNDallas.com
MEMPHIS -- Here's the bad news about finishing up a back-to-back at Memphis:
"It feels like we haven't won in Memphis in years,"
Dirk Nowitzki
said following Friday's improbable, 99-97 overtime home loss to the
Portland Trail Blazers
.
The Portland loss basically nullified Dallas' feel-good win against the Grizzles on Wednesday. And now the
Dallas Mavericks
, 11-15 on the road, walk -- er, limp -- into Memphis knowing that a loss could prevent them from moving beyond the sixth spot in the West standings.
Nowitzki's claim is sort of right on, too. The Mavs have lost five of the last seven games played in Memphis, and he has some bad personal memories there. In the first meeting this season, he lasted less than 10 minutes before his lower back stiffened up to the point that he couldn't play. Dallas then got blown out.
Last season, he got tossed in the third quarter after playing just 15 minutes in his return from a knee injury -- and Dallas got blown out.
The good news is that Dallas, despite its advanced age, has been very good in the second night of a back-to-back, going 12-6. Although in the case of a home-and-road scenario, the Mavs are just 1-3. The Grizzlies beat up the Heat in Miami on Friday night and will be playing their seventh game in nine nights, so fatigue should be a factor in the Mavs' favor, as it was Wednesday night in Dallas.
Then again, the Grizzlies will be smelling blood. They know a win tonight will put them three games ahead of Dallas in the loss column with the Mavs down to single-digit games left on the schedule.
"It's an important game for us,"
Shawn Marion
said. "We can't afford to lose two."
Records:
Mavs (31-25); Grizzlies (31-23)
Where:
FedEx Forum
TV:
KTXA/Ch. 21
Radio:
ESPN Dallas 103.3 FM/1270 AM (Spanish)
What to watch:
Pride. Can the Mavs muster it up after Friday night's embarrassment? In this strangely inconsistent season, one good game has often led to a stinker and vice-versa. The defending champs over the years have been very good with their backs against the wall. Well, here's another one of those unfortunate situations. A loss and the Mavs drop to just four games over .500 and seriously put their playoff hopes in jeopardy. The sixth-seeded Mavs enter tonight's game with the same number of losses as the No. 7 Rockets and No. 8 Nuggets -- although they do hold the tie-breaker over both teams -- and just two fewer losses than Utah and Phoenix.
Key matchup: Mike Conley vs. Delonte West
The Mavs' fill-in starter at point guard gave the team two scares Friday when he twisted his left ankle during the morning shootaround and then again during the game when he landed awkwardly after making a nice drive to the bucket. The Grizzlies get a lot of points in the paint and not just from their powerful front line. Conley is a quick and shifty point guard who can get to the cup. West is going to have to be on his toes and even a small gimp in his step could spell the difference between preventing Conley from a free path to the lane and forcing him to make a different decision.
Injuries:
Mavs -- G Jason Kidd (strained right groin) is out; C
Ian Mahinmi
(personal reasons) is out. Grizzlies -- F
Darrell Arthur
(torn ACL) is out; G
Tony Allen
(facial laceration) is questionable.
Up next:
Sacramento Kings
at Mavs, 7:30 p.m. Tuesday
April, 5, 2012
4/05/12
9:00
AM CT
By
Jeff Caplan
| ESPNDallas.com
DALLAS -- Rest assured that
Delonte West
's absence from fourth-quarter action Wednesday night was not a result of him hurting his still-healing right ring finger.
Mavericks coach Rick Carlisle first put that speculation to rest and then West did the same in the locker room. To prove it he showed the progress he's made by slightly bending the digit at the knuckle. Yes, that's progress.
And so was West's hot-shooting performance in the 95-85 win over the
Memphis Grizzlies
. Coming off a disappointing start at point guard Monday as
Jason Kidd
's replacement, West bounced back by draining six of his seven shots for 14 points. He hit a couple of pull-up jumpers during a key 11-5 close to the second quarter. He knocked down two 3-pointers in the third quarter, so who knew when he exited with 2:18 to go in the third and the Mavs trailing 66-63 that his night was over?
His backup, Roddy Beaubois, was having such an impact in the fourth quarter on both ends of the floor that Carlisle never made a move back to West as the Mavs pulled away in the final five minutes. And West, who still logged 26 minutes with just one turnover, was more than happy to let Beaubois take care of business.
"It was a big game for Roddy because that shows a lot of trust coach has in our players, letting him finish out the game with an impressive third and fourth (quarters)," West said. "And he needs to know this team is counting on him and pushing for him, too, so he responded in a good way."
Beaubois needed a solid outing after another down spell low-lighted by another DNP-CD last Friday at Orlando. That was followed by a less-than-stellar outing Monday against the Clippers. The lanky guard had his own bounce back with eight points, five assists, a steal and two blocks, including a beauty on
Mike Conley
's 3-point attempt at the point of release in a one-point game in the fourth quarter.
"Any time you finish the game; everybody wants to be on the floor so I just tried to make a difference on defense," Beaubois said. "Coaches told me now that Delonte is back I have to be more aggressive defensively, so I focus on that and just try to help the team this way."
Until Kidd returns, and it appears that won't be until next Tuesday at the earliest, the Mavs will rely on West and Beaubois to run the show.
"That's what we're here for and I think (Wednesday) was a good rough draft for how we've got to play moving forward," West said. "We have to be that energizer when we get out there."
Here's three more items to consider as the Mavs take Thursday off, literally, with no practice scheduled.
1. Long-distance Jet:
Jason Terry
insisted he'd take 30 shots if that's what was needed to get the offense moving, but against the Grizzlies he settled for 14. He made six with one coming from downtown and in perfect Jet fashion he hit it during the big fourth quarter run to extend a three-point lead to six. The 3-pointer also tied Terry with
Peja Stojakovic
on the NBA's all-time 3-point field goals made list with 1,760. Terry is 23 away from tying
Chauncey Billups
for fourth.
2. Brandan Wright grounded:
The lanky skywalker logged just two minutes against Memphis and its burly front line featuring 7-foot-1, 265-pound center
Marc Gasol
. It's becoming clear that in a playoff series against a team with big, skilled centers, Wright could find plenty of bench time.
Against Orlando and
Dwight Howard
, the 6-10, 210-pound Wright played less than three minutes. Against the Lakers and
Andrew Bynum
, he played 16 minutes, but
Brendan Haywood
was out with a sprained knee. In the Feb 22 meeting against L.A., Wright played 10 minutes. Wright did log 21 minutes in the Feb. 29 game at Memphis and Gasol went for 22 points, 11 rebounds and five assists.
3. Rare hot shooting:
The Mavs shot 50 percent (40-of-80) from the floor against Memphis, hitting the mark for the first time in eight games (53.6 percent at Denver, March 19) and for just the fourth time in the last 34 games. They're 4-0 in those games and 8-0 overall.
April, 4, 2012
4/04/12
11:43
PM CT
By
Jeff Caplan
| ESPNDallas.com
DALLAS -- Wednesday night's battle against the
Memphis Grizzlies
reached the crossroads at the 10-minute mark of the fourth quarter when little-used, 6-foot-6 forward
Quincy Pondexter
blew by
Lamar Odom
, stole the rebound and scored as Odom lazily fouled him.
Before Pondexter could finish his fist pump, Mavs coach Rick Carlisle yelled for
Shawn Marion
off the bench, ending yet another curious night for Odom, who earlier failed to get a pretty, uncontested finger roll above the front of the rim and also airballed a free throw by a half-foot.
Pondexter made his attempt to give the Grizzlies a 73-68 lead.
"Look, it was a bad play," Carlisle said. "Lamar was there and he needed to put a body on him and didn't do it and so Pondexter gets a three-point play."
Back from a stomach illness that left him sleepless and unable to eat all weekend, and sidelined him for Monday's lifeless loss to the Clippers, Odom acknowledged that his tank was on empty when he flat-out blew the block out, allowing Pondexter to collect his only rebound and only points in his 11 minutes of action.
"There's times when you're tired," Odom said, "you make a lazy play and that one play I didn't box out the kid Pondexter because I was tired, fatigued."
Carlisle, sensing that moment of the game to be the tipping for either team, yanked the 6-10 Odom, who finished with five points and five rebounds in 19 minutes.
"The thing is, potentially that can be such a big momentum play for the other team if you allow it to and our guys just didn't allow it to," Carlisle said. "We hung in and we just kept fighting and it was the kind of game where you had to keep fighting."
As Pondexter lined up for the free throw, a general sentiment swelled in the Mavs.
The typically mild-mannered
Rodrigue Beaubois
summed it up.
"Obviously, when you see a perimeter player just come in to get an offensive rebound, that kind of pissed off everyone," Beaubois said. "So for sure, that action got a reaction out of us and I think we did a good job after that. I'm happy the way we competed at the end. We need to play like this more often."
The reaction was a 21-2 blitzing over the next seven minutes as the weary Grizzlies melted under the Mavs' increased defensive pressure. For the Grizz, it was the final quarter of their fifth game in six nights and third in a row. For the Mavs, who trailed by 10 in the second quarter, the 95-85 victory was practically of the must-have variety. They didn't show up two nights earlier against the Clippers to fall to just .500 since Feb. 1 with still multiple teams nipping at their heels at the bottom of the West playoff standings.
Beaubois was as responsible as anyone for the late surge, playing the entire fourth quarter and scoring four of his eight points, two on an assertive drive with 2:33 to go, grabbing both of his rebounds and dishing an assist to
Dirk Nowitzki
for a 20-foot jumper that put Dallas up 80-75 with 5:58 to go.
Beaubois' aggression came through at the other end, too, with a steal and two blocks. After Marion cut the Memphis lead to 73-72, Beaubois rose up and blocked
Mike Conley
's 3-point attempt at the point of release and 37 seconds later the Mavs had a 74-73 lead.
Marion scored 12 of his 16 points in the final quarter, taking advantage of fastbreaks for transition dunks and layups. Dirk Nowitzki had six of his 23 in the fourth as he matched Beaubois and
Jason Terry
(five points in the fourth, including his lone 3-pointer) in playing the entire fourth frame.
Odom watched the final 10 minutes from the bench.
"I'm about winning. That's the way it is," Odom said. "This a deep team. Right now it's about finding a way to help the team and just win games."
Perhaps in a most inadvertent way, Odom did just that.
November, 30, 2009
11/30/09
8:18
AM CT
By
Jeff "Skin" Wade
| ESPNDallas.com
It's Monday, and that means it's time for "The Come Up" -- we look ahead at how the week lays out for the
Dallas Mavericks
.
Will
Erick Dampier
get the clearance to put the mystery illness behind him and take the floor? When will the mystery of Josh Howard's ankle pain be solved? Three sub-.500 squads followed by one of the beasts of the East on this week's schedule -- and it go a 'lil summin' like this …
Is The Answer the answer?
On Monday night, the Mavericks will host a Sixers team mired in a mountain of controversy, injuries and losing. The controversy, of course, is about whether or not the Sixers should bring
Allen Iverson
back into the fold. One report that surfaced last week had Sixers coach Eddie Jordan flying out to meet with A.I. immediately following tonight's game against Dallas.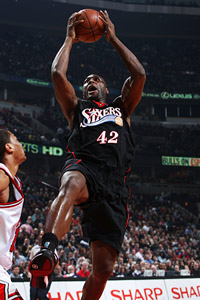 Gary Dineen/NBAE/Getty ImagesElton Brand
The reason the A.I. question is being posed is because the Sixers have been slowed early by injuries.
Marreese Speights
was off to a great offensive start before a partial MCL tear in his left knee sidelined him until sometime in early 2010.
Lou Williams
was good for 17 a night on 50 percent shooting before a broken grill put him on the shelf for eight weeks. Early reports are that
Elton Brand
will return tonight after missing three games with a sore hammy.
As you may have suspected, the injuries have been followed by the losing. At 5-12, Philly is one of the worst teams in the East and roll into town for the second night of a back-to-back after San Antonio dropped them for their sixth consecutive loss last night.
Andre Iguodala
stuffs the stat sheet every night (last night he delivered 21/8/7 with 5 steals and 3 blocks) but there's just not enough help right now.
Then again, if things were going well would anyone have even remotely entertained the idea of The Answer? Exactly.
Historic night
Remember last year when the Mavs went to Jersey in December and
Devin Harris
dropped 41 and 13 as The Nets rolled by 24? It'll be a pretty different vibe this year.
On Wednesday night, the Nets will be playing to avoid the worst start by any team in league history at 0-18. And the Mavs will be playing to not be
that
team -- you know, the one that lost to the Nets.
How bad are they? Heading into last night's loss to the Lakers, the Nets were averaging an NBA-low 85.6 points and shooting an also league-worst 40.3 percent from the field.
The good news is that
Brook Lopez
is really emerging as a nice inside presence going for 18 and 9 a night with 2.5 blocks for good measure. I also think
Chris Douglas-Roberts
and
Terrence Williams
have nice futures in the NBA. It just must seem so far off in the distant, distant future for those two dudes.
Both teams will put enormous pressure on themselves not to lose -- way more than normal. If the Mavs drop this one, it'll make the Golden State loss last week seem respectable by comparison.
Friday night BBQ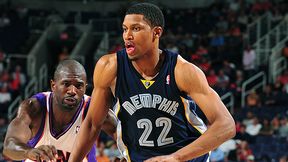 Barry Gossage/NBAE/Getty ImagesRudy Gay
The Mavs head to Memphis for the first time this season Friday night. They have no excuse to look past the Grizz towards Saturday night's game against Hotlanta considering they dropped both of their roadies at Memphis last year.
Memphis is actually a pretty salty offensive team with scoring machines
Rudy Gay
and
Zach Randolph
dropping a combined 40 a night. The problem is that both of those dudes hate playing defense like it was going to keep them from feeding their families. But that's a team-wide issue as well. Grizz opponents shoot a shade under 50 percent from the field, a shade under 40 percent from behind the arc, and score a shade under 107 a night.
Marc Gasol
and
O.J. Mayo
are outstanding young players.
Mike Conley
is still an enormous question mark and actually seems to be trending down. And surely I'm not the only one amused by the Grizz parting ways with A.I. only to replace him with
Jamaal Tinsley
. Now that's leadership. Good luck kids.
One of the elite?
Dallas and Atlanta came into this season in similar positions -- teams that were regarded as good but a tick or two below the so-called best teams in their conference. And while it's early, both teams have spent some time in first place in their respective conferences so far.
The Hawks are absolutely loaded with dudes who can stick the ball in the basket. Their only major difference at the top of their regular rotation of guys is that
Jamal Crawford
has replaced Flip Murray as designated bench scorer and he is second on the team in that department to Joe Johnson's 21.7 with 16.8 of his own.
They are extremely long and athletic along their frontline with
Marvin Williams
,
Josh Smith
and
Al Horford
-- which affords them the opportunity to competently "switch" screen situations on defense.
Assuming Josh isn't back by Saturday, Carlisle might lean towards giving
Quinton Ross
the start ahead of
Rodrigue Beaubois
so that Dallas can have the extra length in defending Johnson. Both teams will be on the second nights of a back-to-backs and both teams will be eager to throw down the gauntlet against a quality opponent. Get ready for a little Uptown Saturday Night action -– this is easily the best game of the week.