Dallas Mavericks:

Mikhail Prokhorov
January, 24, 2014
1/24/14
8:58
AM CT
Nobody got what they wanted from the
Deron Williams
sweepstakes in the summer of 2012.
The
Dallas Mavericks
are still hoping to acquire a bona fide superstar to pair with
Dirk Nowitzki
during the big German's golden years.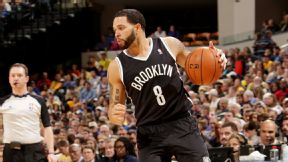 Ron Hoskins/NBAE/Getty ImagesChronic ankle problems have limited Deron Williams to 24 games this season, and he's averaging only 13.4 points and 6.8 assists for arguably the most disappointing team in the NBA.
The
Brooklyn Nets
are stuck paying a superstar price for a player who hasn't been able to perform at that level since signing a max deal.
Williams' numbers dipped to 18.9 points and 7.7 assists per game last season, when his streak of five consecutive All-Star appearances ended and he dealt with nagging ankle pain. Those chronic ankle problems have limited Williams to 24 games this season, and he's averaging only 13.4 points and 6.8 assists for arguably the most disappointing team in the NBA.
That's far from the production Nets owner Mikhail Prokhorov planned on getting when Williams signed a five-year, $98.8 million deal to be the face of the franchise as it moved from New Jersey to Brooklyn.
The Mavs attempted to sign Williams to a max deal despite owner Mark Cuban's reservations. As Williams noted last fall, maybe he would have signed with his hometown team had Cuban bothered to meet with him face to face instead of filming "Shark Tank" on the opposite coast.
Those comments were in response to Cuban claiming the Mavs were better off without Williams, a remark that came across as sour grapes and spin and looked especially silly when Nowitzki's .500 beard made him look like a "Duck Dynasty" reject.
More than a year later, a case could be made that the Mavs ended up being better off after having settled for a pair of mid-tier free agents (
Jose Calderon
and
Monta Ellis
) to make up their backcourt, given Williams' injury issues. But the reality remains that the Mavs have no chance of competing for a championship as long as the 35-year-old Nowitzki is by far the best player on the roster.
Williams wasn't the ideal option in the Mavs' grand rebuilding plan. When they made their post-lockout move to create financial flexibility, a phrase that prompts eye rolls from Mavs fans,
Chris Paul
and
Dwight Howard
were the prime targets with Williams an attractive fallback plan.
But Paul and Howard didn't opt out of their contracts that summer, making Williams the lone big fish in the market. He ended up being strike one for the Mavs. Dallas didn't even get a chance to swing at CP3 last summer and whiffed when Howard opted to head to Houston.
Maybe the Mavs are better off without Williams, but they'll be stuck on the mediocrity treadmill as long as the in-his-prime superstar void exists on their roster. Brooklyn is in worse shape with its bloated payroll, but that doesn't do anything to help the Mavs' title hopes.
May, 15, 2012
5/15/12
11:49
AM CT
By
Jeff Caplan
| ESPNDallas.com
From now until the start of NBA free agency on July 1, there will be enough tea leaves to read regarding
Deron Williams
' future to build a tea-leaf bridge stretching from Dallas to Brooklyn to Moscow.
Moscow?
PODCAST
Mavs C Brendan Haywood discusses flopping and the foul called at the end of the Sixers-Celtics game, updates us on the latest with Deron Williams and more.

Listen

That's where the perennial All-Star point guard and his wife Amy are this week (and they tweeted their Ritz-Carlton room view of the Kremlin to prove it) after a brief stop in Turkey, where Williams played for Besiktas prior to the lockout. The couple was accompanied in Turkey by Nets owner/Russian billionaire Mikhail Prokhorov and Nets general manager Billy King, the
New York Post
reported.
While in Istanbul, Williams watched former Jazz teammate and Russian native
Andrei Kirilenko
-- who has a relationship with Prokhorov -- suffer a devastating last-second defeat playing for CSKA Moscow in the Euroleague title game. Now it appears that Kirilenko and his wife, Masha, are playing host to the Williamses in their home country.
According to Nets Daily, Masha Kirilenko said last week that the two couples would be going to Russia together.
Tea leaves anyone?
"Last I heard he was partying overseas with Nets management, with Prokhorov and them," Mavs center
Brendan Haywood
said of Williams on Tuesday morning during an appearance on ESPN Dallas 103.3 FM's Ben & Skin Show. "If he's leaning towards Dallas, he's got a funny way of showing it. So we don't know what D-Will's doing. I think that's the million-dollar question everybody wants to know. I don't even know if he knows right now. He has a very interesting summer ahead of him."
So is Kirilenko on the Nets' radar as part of a plan to keep Williams? King recently denied reports that the team is close to agreeing on a deal for Kirilenko. King's main purpose for being in Turkey was to watch Nets 2011 second-round draft pick Bojan Bogdanovic, who plays in the Turkish League.
The Nets will surely spin the Williams couple's European vacation as a positive sign as Brooklyn desperately attempts to keep the North Texas native. The Mavs will be desperate to woo Williams back home -- he grew up in the Dallas suburb The Colony -- to pair with
Dirk Nowitzki
after owner Mark Cuban dismantled the title team to create cap space to make a run at a prized free agent such as Williams.
We'll see where the tea leaves -- and Williams and his wife -- land next.
April, 11, 2012
4/11/12
10:00
AM CT
You think Mark Cuban is afraid of the big, bad Russian billionaire?
Think again.
New Jersey Nets
owner Mikhail Prokhorov
took a joking jab at Cuban
while discussing
Deron Williams
with reporters Tuesday. Recognizing that the Mavericks are the primary competition to sign the Nets' superstar free agent-to-be, Prokhorov threatened to inflict pain if Cuban convinces Williams to come home.
"Let the best man win," Prokhorov said, joking about his competition with Cuban to sign Williams. "If he wins, I will crush him in a kickboxing throwdown."
The 6-foot-9 Prokhorov has a significant reach advantage over Cuban, but it wouldn't be Cuban's first brawl with a much bigger foe.
"He obviously didn't see me be the first in WWE history to put Sheamus on the mat," Cuban replied via email, referring to his
guest host appearance on "Monday Night Raw" in 2009
. "He knows not what he gets himself into."
Of course, Cuban doesn't mention that he ended up being slammed back-first through a table by Sheamus. But that'd be a small price to pay for an All-Star point guard in his prime.
January, 22, 2011
1/22/11
11:47
PM CT
By
Jeff Caplan
| ESPNDallas.com
NEWARK, N.J. -- Mavericks Mark Cuban visited Nets owner Mikhail Prokhorov in his suite at halftime of Saturday night's game and told the Russian billionaire he's a lot like himself.

"He's great for the NBA. That's what I told him," Cuban said. "He's ballsy, he's smart, he does it his way and doesn't give a [expletive] what other people think and doesn't mind [expletive] with people. That's a perfect combination. I told him we'd get along great."

Perhaps Prokhorov's invite to his suite was a goodwill gesture to his American counterpart after Cuban made a crude, albeit playful, comment about Prokhorov's ownership style when the Nets played in Dallas last month.

Prokhorov doesn't attend many Nets home games and unlike, Cuban, keeps a low profile in the privacy of a suite.

"We didn't bring it up," Cuban said smiling. "He's a good guy, a nice guy. He's having a good time. He's excited about it. He's excited about the move to Brooklyn."

Cuban, who sits on the baseline at nearly every Mavs home game and is visible seated behind the bench or, as in Saturday's case, at times seated courtside near the bench, said Prokhorov told him that he is 5-1 when he attends Nets home games.

"That's good," Cuban said after watching his Mavs win. "I'm glad he's 5-2 now."
December, 23, 2010
12/23/10
11:15
PM CT
The
Mavericks'
not-so-secret hopes of forcing their way into the
Carmelo Anthony
sweepstakes and corresponding willingness to trade for him without Melo signing an extension as part of the trade have been addressed numerous times in this cyberspace (
here
and
here
) and even on the air in a recent
interview
on 103.3 FM with Mavs owner Mark Cuban.
The concept, in other words, is hardly new.
The reality for the Mavs, furthermore, is that essentially nothing has changed over the past few weeks with regard to their chances of emerging as a feared factor in the Melo bidding.
The subject nonetheless received a significant (and overstated) amount of national attention this week until things came to deeply sad halt Wednesday, when the
Nuggets
began to inform teams that Anthony trade talks were being placed on an indefinite hold out of respect to their All-Star forward after the death of his 36-year-old sister caused by a pre-existing medical condition.
The following five-point update is where a variety of trade issues stood from the Mavericks' perspective before the sudden and tragic halt to the Melo trade chase, which is expected to put all Anthony-related discussions on hold until after Christmas:
* The Nuggets, according to sources briefed on the teams' discussions to date, have greeted the Mavericks' inquiries with "nothing but pushback" every time they've called to check on the status of Anthony's availability. Reason being: Dallas can't come close to the package the
New Jersey Nets
can assemble, which includes two probable lottery picks in addition to prized rookie
Derrick Favors
. One source close to the process says Denver remains "heavily" focused on trying to complete a deal with New Jersey, while
New York
obviously continues to rank as the other standout team in the Melo chase because the Knicks are overwhelmingly regarded around the league as Anthony's favored destination. Most GMs agree that, at this point, there is no No. 3 option … Dallas or otherwise.
* There's really only one way that the Melo landscape can change sufficiently for Dallas (or
Houston
,
Charlotte
and anyone else willing to "rent" Melo) to get seriously involved: New Jersey would have to pull completely out of the bidding. And that would only happen if Melo tells the Nets face to face that he is refusing to sign a three-year, $65 million contract extension as part of an "extend-and-trade," which is what Boston pulled off in July 2007 when it acquired
Kevin Garnett
from Minnesota and got his signature on a new deal in the process. ESPN.com's Chris Sheridan reported Dec. 12 that Anthony plans to do just that if the Nuggets and Nets finally reach terms on a trade -- which might or might not involve other teams as facilitators -- because of his deep desire to join
Amare Stoudemire
with the Knicks. The Nets, though, continue to believe that Anthony's stated determination to sign the extension before the next labor deal kicks in (June 30 is the deadline) and the ability of Nets owner Mikhail Prokhorov and part owner Jay-Z to sell him on the team's future in Brooklyn will sway him when the time comes.
[+] Enlarge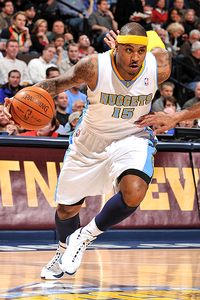 Garrett W. Ellwood/NBAE via Getty ImagesCarmelo Anthony is a hot commodity, but as it stands, the Nets still have the upper hand if the All-Star gets moved.
* It is generally assumed that the Mavericks' best offer for Melo would feature the expiring contracts of
Caron Butler
and
DeShawn Stevenson
, multiple future first-round picks (albeit none of them projected to be in the lottery), $3 million (which is the league max for cash sweeteners) and prized youngster Roddy Beaubois. That, again, will only be enough to get in the game if the Nets pull out and the Nuggets are forced to start seriously looking at trade partners from the "rent-a-player" list, as Cuban described it in his radio interview with 103.3 FM on Nov. 30. Bear in mind, though, that Beaubois' biggest fan in the organization happens to be Cuban. So it should be noted that Cuban giving up on Beaubois for a Melo rental can
not
be regarded as an automatic surrender without some background work first. The odds would certainly strongly favor Dallas surrendering Beaubois if the talks ever get that far, given how much trouble they've had over the years trying to acquire a second star on
Dirk Nowitzki
's level. Yet you can rest assured that Mavs officials would want to talk directly with Anthony before pulling the trigger to find out how much of a chance he'd legitimately be willing to give Dallas -- with Nowitzki and Team USA pal
Jason Kidd
heading the welcoming party -- to win him over long-term during whatever's left of the season after a trade.
* Even the Mavericks' appetite for smaller deals, according to sources with knowledge of the team's thinking, has lessened somewhat thanks to a scorching 23-5 start that has made it Dallas' growing priority to preserve the team's current chemistry. Reserve center
Alexis Ajinca
, for example, has been available since Dallas acquired him as a throw-in from Charlotte in the
Tyson Chandler
deal and remains the most likely Mav to be dealt. The Mavs, though, are said to be getting more choosy about what they'd expect in exchange for Ajinca, since there will always be a premium on a still-developing young big man in the NBA.
* You probably won't be surprised to hear that there is essentially no external interest bubbling for
Brendan Haywood
, given that this is Year 1 on a contract with $41.7 million guaranteed over five years and the swiftness with which Haywood (shooting 25.5 percent from the free-throw line) has fallen behind Tyson Chandler in the Mavs' pecking order. Orlando just proved no one is untradeable with the
Rashard Lewis
-for-
Gilbert Arenas
deal, but Haywood is high on the list of
trade improbables
with so many teams out there averse to taking on long-term contracts when they don't know how restrictive the next collective bargaining agreement will be. I've likewise been assured in the strongest terms that Houston, even after losing
Yao Ming
to a potentially career-ending setback, is not looking at Haywood as a potential replacement and has made that clear to the Mavs, despite what has been reported in some precincts locally. "Less than zero interest" is the way one source with knowledge of the Rockets' thinking jokingly described it. Which is why the similarly reported notion that offering up Haywood could somehow put the Mavs in play for longtime Mavs favorite
Kevin Martin
-- whom Dallas pursued unsuccessfully last season before the Rockets acquired Martin from Sacramento -- has been politely ignored here.
(PS -- For those of you who love NBA contract minutiae, Haywood's $10,522,500 salary in 2015-16 is fully unguaranteed as long as he is waived on or before Aug, 1, 2015.)
December, 8, 2010
12/08/10
4:34
PM CT
By
Jeff Caplan
| ESPNDallas.com
DALLAS -- With Avery Johnson's return, inevitably talk of the failed 2006 Finals remains a topic of intrigue. Johnson made peace long ago with the blown 2-0 lead, one that was five minutes away from becoming a commanding 3-0 margin before
Dwyane Wade
took over and the
Miami Heat
won four in a row.
Still, making peace doesn't mean Johnson doesn't think about how close he came to leading the
Dallas Mavericks
to its first NBA title. And it doesn't mean it still doesn't sting either.
"More than anything [I think about] that 10-point lead with about five minutes to go and we just could not get a bucket. We couldn't get stops, could not get a bucket and Miami had a guy [Wade] that averaged 20 free throws a game," Johnson said. "I just felt awfully bad for our team. You know I would do anything to have that moment back again. Because anytime you get in the Finals, you're one of the last two teams standing and I'd do anything to have that chance back again, and I know Dallas would love to get back to the Finals after that."
Johnson took over the Mavs late in the 2004-05 season from Don Nelson,who stepped down after acknowleding that he had lost his desire to coach the team.
"That first day was still kind of surreal," Johnson said. "Nellie at 9 a.m. informed me that I was going to be the head coach. The next thing you know we had shootaround at 11, and he passed me a whistle and said, 'Boys, so long, here's the next coach.' That's typical Nellie."
The Finals trip came in Johnson's first full season as head coach and he won the NBA's Coach of the Year Award. As fast as the ride up was -- including a franchise-best 67-win season in 2006-07 -- the bottom fell out quickly as well -- including a six-game playoff loss to Golden State following the 67 wins. It all came to end in May 2008 after the Mavs feebly lost a five-game first-round playoff series to the
New Orleans Hornets
.
After spending the next two seasons in the ESPN studious as an NBA analyst, Johnson was hired as head coach of the rebuilding
New Jersey Nets
under new Russian billionaire owner Mikhail Prokhorov
.
Here's more of Johnson's thoughts on a variety of topics after the Nets wrapped up practice Wednesday afternoon at the American Airlines Center:
On staying in contact with Mavs players and personnel:
Mark [Cuban] and I text every three weeks or so. [Jason] Terry is good. I get a lot of messages from
Dirk Nowitzki
through [Nets assistant coach] popeye [Jones], [assistant general manager] Keith Grant and I are still close. I'm really good with everybody here."
On having regrets from time in Dallas:
"Oh no, none, no regrets, no way, not one. I would say as you go back, I was 39 years old when I got this job, maybe a lineup change here or there, or a situation here or there, but I wouldn't say as a regret. It's something I learn from."
On how he's changed:
"I'm a different person in some ways. Not from discipline or accountability or details, just teaching a lot more, I got younger guys. I inherited a [Dallas] team that didn't have a lot of playoff experience, but had quite a bit of regular-season experience and basketball players that could work themselves out of some jams. I'm teaching a lot more now than I did then at that point.
On what caused Josh Howard's downfall:
"I talked to him one or two times in the offseason. Josh is recovering from an ACL injury and he's 30 now and it's going to be interesting to see what happens with his career. Obviously, there were some setbacks here, but Josh played awfully well for me. Josh was the best first-quarter player that I coached and I had seen in a long time. His versatility at the 3-spot really was a huge asset for us. Josh got better, became an All-Star. Obviously, there was a setback here and there, but I'm interested to see what type of player he's going to be post-ACL injury, because if he can get back to playing the way he played when he was an All-Star he's going to be an asset for any franchise."
On being fired despite owning the best winning percentage (.735) in franchise and league history:
Time for me to go. That was it. Time for me to go. Like we say sometimes in professional sports, teams need a new voice and a coach needs a new audience, no matter what his record is. That's why, again, you see me still in contact with Mark Cuban. That's why he still gets one of my beautiful Christmas cards every year. I don't think when a guy gets fired it's always got to be a bad thing and there has to be animosity. When I left San Antonio, [coach Gregg] Popovich helped me pack when I went to Denver, and he's one of my closest friends. So, again, it's the same thing here. Because I got fired it [doesn't] always got to be a bad thing. Everybody just needed to go in a different direction. I needed a two-year break and it was fantastic, on a personal level and on a professional level."
On reuniting with point guard Devin Harris:
"It's been good. I'm glad to be back with Devin. He's playing awfully well. The two games he missed here recently [with a knee injury] we definitely missed him. He came back and had 18 [points] and 13 [assists] last night. When he's on the floor and he's playing well we're a pretty good team. And he's got a lot of pressure on him because when he's not playing well, we're not as good."
On if he still hears Mark Cuban's voice in his head screaming at officials from his baseline seat:
Not at all. That was a good thing because that actually got me hired because he was so close to the bench. [Prokhorov] sits in the suites and I barely even see him sometimes after the games."
June, 9, 2010
6/09/10
2:54
PM CT
By
Jeff Caplan
| ESPNDallas.com
As news comes down that former
Dallas Mavericks
coach Avery Johnson is likely to become the next head coach of the
New Jersey Nets
and reunite with former Mavericks point guard
Devin Harris
, I decided to revisit a crucial point in their relationship.
After the debilitating 2007 first-round playoff loss to Golden State, Johnson determined the only way the team would progress was to tab Harris as the starting point guard over
Jason Terry
.
That July in Las Vegas, the transition began. Harris met Johnson in the desert during summer league for something of a one-on-one workout camp. I sat down with both separately to talk about the progression of their relationship. To that point, their relationship was very much teacher-pupil in the strictest sense, and seemingly often times contentious.
Johnson often criticized Harris for needing to look to the bench for guidance too often, while Harris felt as though Johnson didn't trust him to make the right calls on the floor.
Here's some excerpts from my discussions with them.
Harris on dealing with Johnson's iron-fist control of the offense as well as relating to him on a daily basis:
"He's still head of command, but I have to take on some of that responsibility as a point guard. Yes, he does push me. Yes, I don't think that's ever going to change. Yes, I probably get yelled at the most. But, I've learned to deal with it. I've learned to cope with it, and it's good."
Johnson on Harris' biggest problem as a point guard:
"The problem with him is he was born a point guard and he has a former point guard [as his coach] who has played at all levels and has won at all levels. That's a big problem for him because I see plays before they happen. I see things develop and that's a big problem for him, me being his coach and having played the position. I'm always going to stay [on him]. I like to ride him."
Harris on in-game issues:
"Sometimes we have disagreements on what play we should run. Sometimes I have to remind him that after we just scored on a play, I'll be like, 'Hey, let's run that again.' He'll call something else, and we'll get into an argument...But he is the General. I don't think at any point in time he's not going to stand there and point and bark orders because that's what he does."
Johnson on his realization of how to best utilize Harris' skills:
"The experiment with me trying to make him Jason Kidd, that's not his game, that's not his game. We have an idea now exactly who he is and I think we can maximize him being a certain type of point guard."
When the Mavs traded Harris to New Jersey later that season for Jason Kidd, Harris acknowledged that he looked forward to a new start in an offense that promised to remove any shackles, real or perceived: "I have a new future to look forward to," Harris told me the night before the trade was made official. "I'm looking forward to having a little bit more control, a little bit more freedom over there. I love my teammates here, so it's mixed emotions, but I'm excited about the new challenge."
Harris, now 27, became an Eastern Conference All-Star the next season, but he's also been dogged by nagging injuries and this season suffered through the Nets' misery that led to the early firing of Lawrence Frank. Johnson now has the unique perspective of looking in from the outside as an ESPN analyst over the past two seasons.
Who would have figured that they'd be reunited? But, they are and under an owner in Mikhail Prokhorov, who is not so unlike Mark Cuban -- a billionaire who's willing to spend big to fulfill big ideas to make the Nets relevant again.
Clearly, Harris and Johnson have respect for each other and both have matured as player and coach. Most of all, both want to succeed.
We'll see if Harris and Johnson will both be long-term fixtures in a New Jersey renaissance.