Dallas Mavericks:

Mitch Kupchak
July, 4, 2013
7/04/13
7:42
PM CT
As far as Mark Cuban is concerned, the Dallas Mavericks' silence about their meeting with
Dwight Howard
is simply smart business.
The Mavs' silence isn't just by design in this instance. It's team policy.
PODCAST
ESPN's Marc Stein joins Fitzsimmons and Durrett to discuss the latest news on the Mavericks' meeting with Dwight Howard.

Listen

"This is always our approach," Cuban said Thursday in an email to ESPNDallas.com. "We never talk about what we do. We don't test the waters in the media. We don't troll on twitter.
"The approach I learned from Donnie [Nelson] is that more teams will talk to you and be more open with you when they know they won't read about it. Same with players.
"The two things I hate the most are leaks to the media and the wave."
Officials, players and others from the
Houston Rockets
and
Los Angeles Lakers
have commented publicly about their meetings with the free-agent All-Star center.
The moment that the free agency period officially began a minute after midnight Eastern Monday, Houston general manager Daryl Morey created a "#dwighttohouston" Twitter hashtag and requested that Rockets fans send messages to Howard's account. After the Rockets' meeting with Howard ended hours later, Morey tweeted about
Hakeem Olajuwon
and
Clyde Drexler
telling Howard how he could form the "next gr8 big/wing combo" with
James Harden
. Many details of those closed-door sessions with Howard and his representatives have been leaked to the media.
The
Houston Chronicle
quoted anonymous Rockets representatives and
reported intricate details of the team's presentation
, such as video visits from former Houston centers
Yao Ming
and
Dikembe Mutombo
and pushing the marketing potential of playing for a franchise with great popularity in China.
Lakers general manager Mitch Kupchak released a statement after L.A.'s meeting with Howard, while point guard
Steve Nash
talked to reporters on his way out of the building. ESPNLosAngeles.com and other media outlets, citing sources, have reported
specific details about Howard's conversations
with Nash and
Kobe Bryant
during the meeting.
Meanwhile, the Mavs' only comment thus far about their meeting -– on or off-the-record -- was the usually outspoken Cuban mumbling, "It was fun," when encountered by ESPN's Shelley Smith and camera crew on the way out of Tuesday's meeting with Howard. Dallas superstar
Dirk Nowitzki
, part of the Mavs' six-man recruiting contingent, joked that he wasn't in the meeting when asked for comment.
Cuban had been upfront about the Mavs' plan to pitch prospective free agents, particularly Howard, on a two-year plan to rebuild a championship contender. It's been widely known that the Mavs would sell the franchise's championship pedigree and the ability to add more talent next summer, when Nowitzki's contract expires and he intends to re-sign for a drastically reduced salary.
The details of the Mavs' pitch to Howard, however, have successfully been kept a secret. That could be appealing to a superstar whose dirty laundry was aired publicly during the latter stages of his tenure with the
Orlando Magic
, most memorably when then-coach Stan Van Gundy told the media after a shootaround that Howard went to the front office in an attempt to get him fired. The ensuing group interview of Howard, who was unaware of Van Gundy's revelation moments earlier, was off-the-charts awkward.
Cuban, Nowitzki, president of basketball operations Nelson and coach Rick Carlisle headlined the Mavs' recruiting contingent. They were joined by Dallas athletic trainer Casey Smith, who has a relationship with Howard from their time together with Team USA, and director of analytics Roland Beech.
The only reason Smith and Beech are known to have participated in the meeting is because they were filmed by the ESPN camera crew leaving with the rest of the Mavs' representatives. If Cuban had his way, their presence wouldn't even be public knowledge.
May, 27, 2013
5/27/13
10:40
AM CT
ESPNDallas.com will compare the Mavericks, Lakers and Rockets in five facets -- other than money -- that could play a role in Dwight Howard's free agency decision in a one-per-day series: owners/front office, coaches, co-stars, supporting casts and franchise tradition. We focused on Chris Paul last week.
A strong argument can be made that glitzy Jerry Buss, who oversaw 10 of the Lakers' titles, was the greatest owner in NBA history.
PODCAST
Mark Cuban joins ESPN Dallas GameDay to discuss the Mavericks' plans, the free-agent market and what possibilities there are for Dallas.

Listen

It remains to be seen how well Buss' adult children can fill his shoes after his death in February.
Six Buss siblings share the family's majority stake in the Lakers, but there are two power brokers. Jim Buss runs the basketball operations; Jeanie Buss is in charge of the business side.
The brother and sister certainly didn't see eye to eye when the Lakers had to hire a coach following Mike Brown's firing five games into the season. Jeanie Buss was reportedly stunned that Phil Jackson, the 11-time champion coach who happens to be her fiance, wasn't hired after he expressed a strong interest in returning to the Lakers bench. Jim Buss opted for Mike D'Antoni, a decision that seemed worse with every "We want Phil!" chant at the Staples Center throughout the Lakers' disappointing season.
The Lakers' ownership situation, a strength for so many years, now has at least some sense of uncertainty, although it's a safe bet that they continue spending as big as they see fit, especially with massive TV money coming. Mark Cuban is a sure thing, at least when it comes to being an owner with an intense dedication to basketball and winning.
General manager Mitch Kupchak remains in the role he has filled for more than a decade after being groomed by the legendary
Jerry West
. He's one of the few GMs in the league who can match the Mavs' brain trust when it comes to creativity.
The deal that brought
Pau Gasol
to L.A. – and essentially made the Lakers' last two titles possible – resulted in so many grumbles around the league that it probably played a role in the infamous "basketball reasons" veto of the
Chris Paul
-to-the-Lakers trade.
And, while the
Steve Nash
deal hasn't paid dividends for the Lakers so far, it was pretty impressive for Kupchak to create it essentially out of thin air. The Lakers gave up two first-round picks, two second-rounders and the trade exception from the deal that shipped the basketball corpse of
Lamar Odom
to Dallas. Oh, and Kupchak also orchestrated the four-team deal to acquire Howard.
After July, Kupchak was the frontrunner for Executive of the Year. The Lakers' mediocre season – maybe the most disappointing in NBA history, given the hype – messed that up, but the man has quite a track record as a GM.
Of course, the Cuban/Donnie Nelson combo has pulled off some pretty big blockbusters, too. Just not under this collective bargaining agreement.
In hindsight, a strong argument can be made that Rockets general manager Daryl Morey did the best job remodeling his team between the last two seasons.
Morey, an MIT-educated stats geek given leeway to do his job by relatively anonymous two-time championship owner Leslie Alexander, did a phenomenal job collecting assets and pouncing when
James Harden
became available.
Morey doesn't have the skins on the wall that the Lakers' and Mavs' decision-makers do, but there's no doubt he's one of the brightest up-and-coming basketball minds.
EDGE:
Mavs. There's no threat of front office tug-of-wars in Dallas, and they've proven they can sustain success.
May, 13, 2013
5/13/13
10:08
AM CT
For the Mavericks to make the
Chris Paul
/
Dwight Howard
combo pipedream a reality, they'd have to hire a hypnotist.
How else would they be able to convince Lakers general manager Mitch Kupchak to agree to a sign-and-trade deal that would ship Howard to Dallas for a couple of veterans with expiring contracts and spare parts?
For the sake of argument, let's say that Howard forces the Lakers' hand by saying that he's leaving Los Angeles, no matter what. If the Lakers don't agree to the sign-and-trade that would allow Howard to join Paul in Dallas – for the sake of argument, we're making the huge assumption that Mark Cuban and Co. have successfully recruited CP3 – the big man will just sign with Houston or Atlanta.
Better for the Lakers to get something for Howard instead of letting him leave for nothing, right? Not really.
Let's be real. If Howard leaves while
Kobe Bryant
is in the early stages of his comeback from a torn Achilles tendon, the Lakers have no chance to win a championship next season.
That wouldn't change if they accepted a sign-and-trade deal that sent every player on the Mavs' roster not named Nowitzki to Los Angeles. All that would do is prevent the Lakers from avoiding a massive luxury tax bill.
If the Lakers added
Shawn Marion
,
Vince Carter
and Mavs filler to a roster that features rehabbing Kobe, ancient
Steve Nash
and
Pau Gasol
, they'd be fighting just for a shot to sneak into the playoffs again while paying a luxury-tax bill in the neighborhood of $28 million, assuming they'd use the amnesty clause on
Metta World Peace
.
What about that would possibly appeal to L.A.?
If Howard leaves, the Lakers might as well unofficially tank the season. They could avoid the luxury tax altogether by using the amnesty clause on Gasol. Kobe could take his sweet time with his comeback.
In this scenario, the Lakers could be looking at a high lottery pick in a loaded 2014 draft, when they'll also have a ton of cap space. Why would they want to end up with a middle-of-the-road pick after putting together a mediocre team with a nine-figure price tag?
Perhaps you could argue that the biggest obstacle blocking the Mavs from acquiring a CP3/D12 duo is the Lakers agreeing on a sign-and-trade deal.
You could also argue that the only hurdle between the Mavs from acquiring
LeBron James
is the
Miami Heat
agreeing on a trade. That doesn't make it a legitimate possibility.
August, 24, 2012
8/24/12
12:01
AM CT
By
Jeff Caplan
| ESPNDallas.com
Last in a series looking at the five teams ahead of the Dallas Mavericks in our early 2012-13 Western Conference rankings and how the revamped Mavs match up.
No. 1 Los Angeles Lakers
Move along, nothing here to see. Yeah, right. Luxury tax be damned, the Lakers are must-see TV this season with their retooled roster that reads like an All-Star team or an Olympic squad or, if you will, a future Hall of Fame roll call. General manager Mitch Kupchak, who in 2008 acquired
Pau Gasol
from Memphis -- a deal long-ridiculed as thievery although the Grizzlies did get
Marc Gasol
-- finagled
Steve Nash
for draft picks. He then landed the most dominant defensive big man in the league,
Dwight Howard
, who has also averaged 20 points or more in four of the last six seasons. So the Lakers will roll out a starting five of Nash,
Kobe Bryant
,
Metta World Peace
, Pau Gasol and Howard. The Lakers were a middle-of-the-pack defensive team last year and that should begin to change the moment Howard returns from back surgery. Offensively, this should be a lot of fun with Nash running the show and making life super easy for Kobe, Pau and Howard. Move over
Chris Paul
and
Blake Griffin
, a new Lob City might be taking up residence at Staples Center.
[+] Enlarge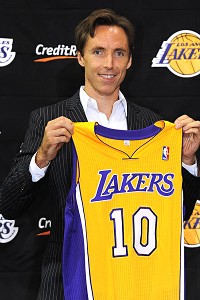 Andrew D. Bernstein/NBAE/Getty ImagesThe Lakers acquired Steve Nash (above) and Dwight Howard in the offseason, but it's the reinforced bench that will vault L.A. to the top.
Last season's results (Lakers won, 4-0)
@Lakers 73, Mavs 70
Lakers 96, @Mavs 91
Lakers 109, @Mavs 93
@Lakers 112, Mavs 108 (OT)
This season's games
Oct. 30: @ Lakers
Nov. 24: vs. Lakers
Feb. 24: vs. Lakers
Apr. 2: @ Lakers
What's changed?
Obviously, the marquee moves the Lakers made with Nash and Howard have everyone talking. But it's the ancillary acquisitions to bolster the bench that pushed me to hand L.A. my No. 1 ranking ahead of West champion Oklahoma City. Bringing in veteran forward
Antawn Jamison
and 3-point specialist
Jodie Meeks
to join guard
Steve Blake
and energetic young forward
Jordan Hill
gives the Lakers' second unit proven scoring and some muscle. There's lots of talk that the Lakers could challenge the 1995-96
Chicago Bulls
' record 72 wins, but considering Howard will probably miss the beginning of the season recuperating from back surgery, the age of key stars such as Nash and Kobe and time needed to jell, that feat doesn't seem terribly likely. That's not the goal anyway. The end-game is fitting Kobe for a sixth ring to match
Michael Jordan
and getting Nash and Howard their first. The intriguing aspect is how second-year Lakers coach Mike Brown will handle this gift of talent and how he'll adjust offensively. For instance, Mavs coach Rick Carlisle, as time went on with
Jason Kidd
, relinquished most of the play-calling and allowed the offensive to "flow" from Kidd. Nash's presence as the primary ball handler will also be a major adjustment for Bryant, who can take on the role of a more traditional shooting guard playing off the ball. It should greatly benefit Bryant, who turned 34 on Thursday.
How the Mavs match up
The Mavs will get an early look when they open the season in L.A. in what should be quite a Hollywood scene. This Lakers squad brings just about everything: Star power, size, skill, strength, savvy and doses of athleticism that will be difficult for any team to match. Howard probably won't be ready to go just yet, but Nash will be primed for a big opener with his new club. As big a problem as
Andrew Bynum
was for the Mavs to handle defensively and on the boards (he averaged 17.0 points and 13.0 rebounds last season vs. Mavs) and as difficult as Howard will be, Gasol was a killer last season.
Dirk Nowitzki
is often saddled with guarding Gasol, arguably the most skilled 7-foot low-post player in the league. Gasol averaged 19.8 points and 8.5 boards in four games against Dallas and shot 55.9 percent from the field. Against teams Gasol played more than two times last season, he shot a higher percentage against only Houston and Minnesota.
Chris Kaman
will probably get Gasol in the opener, but when Howard's in the lineup, Kaman will have that nasty assignment with Nowitzki on Gasol.
Shawn Marion
will be happy to get help from newcomers
Dahntay Jones
and
O.J. Mayo
when it comes to guarding Bryant. Any way you slice it, this is going to be a tough matchup -- and the Mavs are lucky enough to try it four times this season.
Previous entries
No. 5:
Denver Nuggets
No. 4
San Antonio Spurs
No. 3
Los Angeles Clippers
No. 2
Oklahoma City Thunder
May, 16, 2012
5/16/12
12:18
PM CT
By
Jeff Caplan
| ESPNDallas.com
Mavericks coach Rick Carlisle is one of three NBA head coaches on the newly restructured competition committee announced by the league Wednesday.

Carlisle, the current president of the NBA Coaches Association, joins Boston Celtics coach Doc Rivers and Memphis Grizzlies coach Lionel Hollins. Also on the committee are team owners Dan Gilbert (Cleveland Cavaliers) and Joe Lacob (Golden State Warriors) and general managers Bryan Colangelo (Toronto Raptors), Mitch Kupchak (Los Angeles Lakers), Kevin O'Connor (Utah Jazz) and Sam Presti (Oklahoma City Thunder).

Previously, the committee included the general manager from each of the 30 teams. That committee has been reconstituted as the new general managers committee. The league says it streamlined the competition committee because it wanted broader input on issues that could potentially improve the game.

One issue that could come up when the committee convenes for the first time during the NBA Finals is basket interference situations in the final two minutes of regulation and overtime. Mavs owner Mark Cuban requested that the league immediately make such instances eligible for replay review following a late-season loss at the Los Angeles Lakers in which Cuban and Carlisle believe Lakers forward Matt Barnes touched the ball in the cylinder but was not called for offensive goaltending.

The play counted as a 3-point basket for Pau Gasol and could have changed the course of the overtime finish.