July, 23, 2013
7/23/13
2:41
PM CT
Mark Cuban considers the biggest misconception about the
Dallas Mavericks
to be the belief that
Dirk Nowitzki
is no longer a superstar.
PODCAST
Mark Cuban joins Galloway and Company to discuss the Mavericks' new GM Gersson Rosas and much more.

Listen

Nowitzki had his streak of 11 consecutive All-Star appearances snapped last season, when he missed 29 games and averaged 17.3 points, his fewest since his rookie year in 1998-99, and the Mavs failed to make the playoffs for the first time since 1999-2000. However, Cuban considers the down year to be an aberration that can be attributed to the arthroscopic knee surgery Nowitzki underwent in October and the Mavs' subpar point guard play.
"If there's one missing piece between what everyone is saying and what we're doing, everybody, I think, has dismissed Dirk, like Dirk is done and he's on the downside and he can't play anymore and he's not the type of contributor that he was," Cuban said during an appearance on ESPN Dallas 103.3 FM's Galloway and Company.
For more, click here.
January, 13, 2011
1/13/11
3:25
PM CT
By
Jeff Caplan
| ESPNDallas.com
SAN ANTONIO -- No hard evidence emerged from Thursday's practice that
Dirk Nowitzki
is on the verge of returning for Friday night's game at the
San Antonio Spurs
, who own the NBA's best record at 33-6 and have opened a six-game bulge over the
Dallas Mavericks
during Nowitzki's eight-game absence.
Nowitzki did not participate in team drills Thursday and was limited to working up a hearty sweat by shooting, running laps around the basketball court at Trinity University where the team practiced and one-on-one stretching and agility work with head athletic trainer Casey Smith.
While coach Rick Carlisle offered that there is a chance Nowitzki could play against the Spurs, he also said they are going to continue to be extraordinarily cautious with their leading scorer, MVP candidate and face of the franchise.
"There are different phases of the rehab process. He's making progress. I mean he's making real progress, I think you guys see that," Carlisle said. "We'll let you know when he's going to play. Hey, it could be very soon or it could be a while."
Nowitzki has been listed as day-to-day since he sprained his right knee on Dec. 27 at Oklahoma City. While he hoped to return during the previous homestand and then at some point on this four-game road trip, it is not certain at all that his return will come in game two Friday night against the rival Spurs.
More to come soon on Nowitzki's situation.
May, 17, 2010
5/17/10
11:59
PM CT
By
Jeff Caplan
| ESPNDallas.com
Seventh in a series chronicling the Dallas Mavericks' streak of 10 seasons with 50 or more wins (previous installments).
[+] Enlarge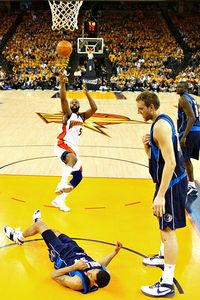 AP Photo/Marcio Jose SanchezBaron Davis and the eighth-seeded Warriors delivered a first-round knockout punch to Devin Harris and the top-seeded Mavs.
The debate of rust vs. rest will forever vex head coaches of every sport and especially every NBA coach whose team has locked up the division title and still has a week or so to go in the regular season. Avery Johnson faced the dilemma as the most successful regular season in
Dallas Mavericks
history wound down.
Johnson chose to rest his players down the stretch and he rarely deployed a lineup that would play together once the No. 1 seed Mavericks opened their first-round series against Don Nelson's feisty, but hardly worrisome, No. 8 seed
Golden State Warriors
.
Dallas had clinched its first outright division title since 1986-87 and had won 65 games by Game No. 78. With the Chicago Bulls' 72 wins out of reach, Johnson took his foot off an accelerator that had been mashed all season. The Mavs started 0-4, the anticipated hangover after the Finals flop the prior season. But, motivated by it and their driven head coach, the Mavs proved to be the class of the league.
It will never be known for certain what happened in the first-round loss. Was it rust? Was the team burned out from Johnson's hard-charging style? Did Johnson's starting lineup switch to match the Warriors' smaller starters send the wrong signal? Was the Little General, just in his second full season as head coach, outcoached by Nellie the mad scientist? Were the Mavs simply outplayed?
All that is known is the Mavs followed up their epic Finals failure with the franchise's greatest regular season and then a humiliating postseason. It forced the NBA to celebrate the league's MVP after he had been eliminated.
Dirk Nowitzki
solemnly picked up his award and then vanished into the Australian outback.
Despite the setbacks, it hardly seemed plausible at the time that Johnson's tenure was fragile and that the entire future of the organization would soon change again.
Coach:
Avery Johnson
Record:
67-15 (1st, Southwest Division)
Playoffs:
Lost to Golden State (4-2)
Team payroll:
$88.1 million*
Highest-paid player:
Michael Finley ($16.1**); Dirk Nowitzki ($15.1)*
[+] Enlarge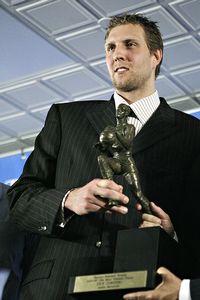 AP Photo/Matt SlocumBy the time Dirk Nowitzki picked up his 2006-07 MVP award, the Mavericks were out of the playoffs.
Offseason transactions:
Drafted G
Maurice Ager
(first round, 28th pick); signed G
J.J. Barea
(rookie free agent); signed G
Greg Buckner
(free agent); signed G/F
Devean George
(free agent); signed F Pops Mensah-Bonsu (free agent); traded G/F
Marquis Daniels
to Indiana for F
Austin Croshere
; traded G
Darrell Armstrong
, F
Rawle Marshall
and F
Josh Powell
to Indiana for G
Anthony Johnson
.
In-season transaction:
Feb. 22, 2007: Traded Anthony Johnson to Atlanta for a 2007 second-round draft pick (
Nick Fazekas
); April 2, 2007: Signed F
Kevin Willis
.
The high:
The season was all about the regular season. The 67 wins was a franchise best and earned the Mavs the West's No. 1 seed. Their .817 winning percentage was the sixth-best in NBA history, and they were the sixth-fastest team in league history to reach the 50-win mark (59 games), and that was after an 0-4 start. The season included win streaks of 12, 13, eight, 17 and nine games.
Dirk Nowitzki
completed his best all-around season. He averaged 24.6 points, 8.9 rebounds and a career-high 3.4 assists. He set career-bests in field goal percentage (50.2), 3-point percentage (41.6) and free throw percentage (90.4). Nowitzki was rewarded by becoming the first player in franchise history to earn the league's MVP award. He was also a first team All-NBA selection. Nowitzki joined
Josh Howard
, an injury replacement, on the West All-Star team, marking the first time two Mavs were named to the team since Nowitzki and
Steve Nash
in 2003.
The low:
This is all about the postseason. It was strange from the start when former Mavs coach Don Nelson brought his undersized Warriors to the American Airlines Center for Game 1. Mavs coach Avery Johnson decided to match small-for-small and deferred from his usual starting lineup by sitting center
Erick Dampier
. Golden State stole Game 1, a precursor of things to come as Dallas lost all three games in Oakland and became the first No. 1 seed to lose to a No. 8 seed since the first-round expanded to best-of-7 in 2003. In the 111-86 Game 6 debacle that clinched the series for the Warriors, Dirk Nowitzki was frustrated by constant trapping defense and went 2-of-13 from the field. It set up a most uncomfortable MVP ceremony back in Dallas, one in which Nowitzki had a terrible time finding solace among Mavs owner Mark Cuban and NBA commissioner David Stern. Later, as part of a lawsuit between Cuban and Nelson, Cuban would contend that his former head coach used insider information to beat the Mavs.
The roster:
F Dirk Nowitzki (24.6 ppg, 8.9 rpg)
F/G Josh Howard (18.9 ppg, 6.8rpg)
G Jason Terry (16.7 ppg, 43.8% 3FG)
G/F Jerry Stackhouse (12.0 ppg, 38.3% 3FG)
G Devin Harris (10.2 ppg, 3.7 apg, 26.0 mpg)
F Erick Dampier (7.1 ppg, 7.4 rpg)
G/F Devean George (6.4 ppg, 21.4 mpg)
G Greg Buckner (4.0 ppg, 18.1 mpg)
G Anthony Johnson (3.8 ppg in 40 games with Dallas)
F Austin Croshere (3.7 ppg, 3.0 rpg, 11.9 mpg)
F Pops Mensah-Bonsu (2.4 ppg in 23 games)
F Kevin Willis (2.4 ppg in five games)
G J.J. Barea (2.4 ppg in 33 games)
C DeSagana Diop (2.3 ppg, 5.4 rpg, 18.3 mpg)
C DJ Mbenga (0.8 ppg in 21 games)
G Maurice Ager (2.2 ppg in 32 games)
*Source: Basketball-Reference.com
**The Mavericks waived Michael Finley on Aug. 15, 2005, taking advantage of a one-time amnesty provision that allowed them to avoid luxury taxes on the $51.8 million owed him over the next three years. Finley became an unrestricted free agent and joined the San Antonio Spurs, although the Mavs remained on the hook to pay his full salary.
May, 2, 2010
5/02/10
7:40
PM CT
January, 5, 2010
1/05/10
12:23
PM CT