Dallas Mavericks:

Nazr Mohammed
July, 18, 2012
7/18/12
12:08
PM CT
By
Jeff Caplan
| ESPNDallas.com
Delonte West
's unique personality, his, ahem, avant-garde appearance and on-court toughness quickly endeared him to
Dallas Mavericks
fans as much as to
Dirk Nowitzki
and fellow
Boston Celtics
draft pick coach Rick Carlisle.
[+] Enlarge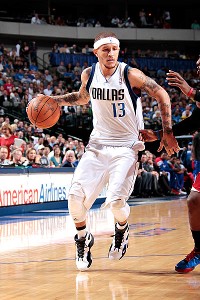 Danny Bollinger/Getty ImagesThe Mavs have expressed interest in bringing Delonte West back, but there might not be enough cap space.
Mavs president of basketball operations Donnie Nelson has maintained the club's interest in bringing West back. Yet, as the current roster stands, combo guards aren't lacking, bolstered by Monday's signing of
O.J. Mayo
. Financially, Dallas has exhausted its cap space. The options available to sign players are a $2.5 million "room" exception and veteran minimum contracts.
Nelson has also maintained that West, 28, has other options on the table. Those options might include multiyear offers, something West made a high priority and something Dallas, at this point, is doubtful to provide.
As worthwhile as it might be -- not to mention a load of fun -- to have the hard-nosed, two-way guard on the team, would the Mavs be wiser to focus attention elsewhere, such as acquiring additional frontline help, and specifically an above-average rebounder?
Dallas was not a good rebounding team last season, and most teams aren't when their small forward leads the category.
Shawn Marion
did that, in the regular season and postseason, and by a decently substantial margin.
Consider:
* The Mavs ranked 11th in the league in rebounds per game last season, averaging 42.8 a game. Not terrible, right? Well, not compared to ranking 26th in boards allowed, 43.9, and thus 21st in rebound differential, -1.1.

* Particularly late in the season, Dallas was brutalized by opponents' second-chance points. They gave up too many and rarely scored their own, ranking 27th in offensive rebounding.

* The Mavs' revamped frontline of Nowitzki, Chris Kaman and Elton Brand all appear to have seen their best rebounding days pass them by. Nowitzki has been on a steady decline, from 7.7 in 2009-10 to 7.0 in 2010-11 to a career-low 6.8 last season; Kaman has dropped from 9.3 in 2009-10 to 7.0 in 2010-11 and 7.7 last season; and Elton Brand hasn't reached his 9.4 career average since 2006-07 (9.3, close enough) and has posted career-lows in two of the last three seasons.

* Injury concerns also must be considered, particularly in regard to Kaman, 30, who has had his troubles staying on the court throughout his career. Brand, 33, has been quite durable over the last three seasons and Nowitzki, despite his brief right knee issue last season, rarely misses time. Still, all three players are getting older and only frail Brandan Wright and rookie Bernard James serve as reinforcement.
If Dallas wants to add some free-agent brawn, quality role players specializing in board work remain on the market. Here's a look at a half-dozen:
[+] Enlarge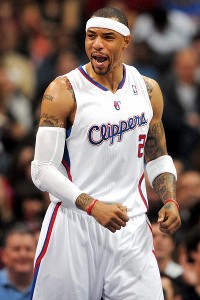 Kelvin Kuo/US PresswireDallas Bryan Adams product Kenyon Martin has averaged 7.1 rebounds for his career.
Kenyon Martin --
If the Mavs aren't bringing home local products
Deron Williams
or
C.J. Miles
(it would appear), why not the former Dallas Bryan Adams star? He's averaged 7.1 rebounds for his career. His return from China landed him with the Clippers where he put up a career-low 4.3 boards a game, but also played with
Blake Griffin
and
DeAndre Jordan
. However, it might take more than $2.5 million to nab the 12-year vet. Then again, in this market, it might not.
Ronny Turiaf --
Dallas had interest in him when Denver waived him in March, but the 6-10, 249-pound power forward signed with the
Miami Heat
instead. The Mavs still have interest in the veteran who could eat up six or 10 or 12 minutes a game as necessary, simply to rebound. When his career stats are extrapolated over 36 minutes per game, the average minutes of a starter, he's averaged 7.7 rebounds and 9.4 in 13 games with the Heat.
Louis Amundson --
One of the more under-the-radar players in the league, this six-year vet of five NBA teams simply knows how to get position to rebound. In 60 games last season for the
Indiana Pacers
, the 6-9 forward averaged 10.6 boards per 36 minutes and his career mark is 10.0.
Nazr Mohammed --
The 6-10 center has bounced around the league a long time and Oklahoma City's drafting of Baylor's
Perry Jones
and signing of disappointing, but young big Hasheem Thabeet made Mohammed expendable. Still, as a career backup, he's averaged 10.7 rebounds per 36 minutes and averaged 9.7 and 8.8 rebounds per 36 minutes in his two seasons with the Thunder.
Joel Przybilla --
Dallas had interest him last season when he made his return and eventually signed up with Portland. The rugged, 7-1 center might be a health risk at this stage, but he'd provide physical minutes at center and his 11.1 rebounding average per 36 minutes shows he can still pound the glass. He could also possibly be had on a veteran minimum deal.
Jordan Hill --
Signs point to this athletic youngster signing somewhere on the West Coast, but he is certainly an energetic talent that would be a strong addition to a plodding front line on the down side of its rebounding prowess. Hill gave the Lakers a spark on the boards after arriving from Houston in the
Derek Fisher
trade, averaging 12.2 rebounds and 12.7 points per 36 minutes.
Honorable mention --
Darko Milicic
, Andray Blatche (must clear amnesty bidding process), Chris "Birdman" Andersen (must clear amnesty bidding process).
July, 10, 2012
7/10/12
11:30
AM CT
By
Jeff Caplan
| ESPNDallas.com
After a big-money flurry during free agency's first week, things have slowed down considerably in week two, and those players still left on the market might be looking at lesser deals they didn't think they'd have to take.
With the coming crunch of the new tax penalty, teams are becoming increasingly wary of handing out multiyear contracts. As
Dallas Mavericks
fan have quickly come to realize, the local plan is to sign up players preferably on one-year deals. Dallas might be able to hand out a higher salary for the one year than a player might be able to make in the first year of a multiyear deal with another team, then setting the player up to become a free agent again in 2013.
That's the type of decision with which a player such as point guard
Ramon Sessions
is likely to grapple. He wants to start, and the security of a multiyear was initially high on his priority list. The Mavs can offer a starting job, but not the security.
Over the last few days, some players have been taken off the board and others added.
Here's a look at five players at each position who remain on the board. Some are realistic options for the Mavs and some might not be. Dallas, still with just seven players under contract -- plus three draft picks -- needs reinforcements just about everywhere.
Point guard
Ramon Sessions
Raymond Felton
Randy Foye
Leandro Barbosa
C.J. Watson
Shooting guard
Lou Williams
O.J. Mayo
C.J. Miles
Courtney Lee
Marco Belinelli
Small forward
Josh Howard
Sam Young
Anthony Tolliver
Donte Green
Matt Barnes
Power forward
Kenyon Martin
Carl Landry
Anthony Randolph
Jordan Hill
Ronny Turiaf
Center
Chris Kaman
Mehmet Okur
Daniel Orton
Nazr Mohammed
Tony Battie
May, 17, 2011
5/17/11
8:00
AM CT
By
Jeff Caplan
| ESPNDallas.com
DALLAS -- Is the best way for the
Oklahoma City Thunder
to deal with
Dirk Nowitzki
during the Western Conference finals to just leave him open?
Don't laugh. It's based on intensely researched information.
As ESPN Stats and Information has dug up, Nowitzki's lowest shooting percentage against individual Thunder defenders this season -- still a worthy 44.4 percent on 4-of-9 shooting -- falls under the category "unguarded/others," meaning he was either, well, unguarded, or that someone other than
Serge Ibaka
or Thunder-turned-Celtic
Jeff Green
was on him.
Nowitzki had his way with those two, going 8-of-11 for 26 points combined. Having been traded to Boston for the physical presence of center
Kendrick Perkins
, it's no longer Green's problem. The athletic, 6-foot-10, 235-pound Ibaka, the top shot-blocker this postseason, might have a big problem. It's tough to swat fallaways, step-backs and one-legged step-backs taken 15 feet and out.
Behind Ibaka, gritty and determined veteran
Nick Collison
, a solid 6-10, will have to take a few shifts.
Nazr Mohammed
, the 6-10, 13-year vet, can give it a go if Thunder coach Scott Brooks so chooses. If desperate, the long arms of lanky 6-9 star
Kevin Durant
could be called to action, but that scenario seems entirely unlikely. Green was never a sure-fire answer, but he was another option.
Nowitzki played just five quarters and change against OKC this season. The lengthiest injury absence of his career, but short in retrospect spanning Dec. 27 to Jan. 15, occurred at hostile Oklahoma City. Early in the second quarter, Nowitzki twisted his right leg landing a fallaway. Ibaka fouled Nowitzki on the 8-foot shot, it went down for his third bucket of the opening 2:50 of the quarter, and Nowitzki managed to get to the free throw line and convert the 3-point play before his night ended in the training room.
In 11 minutes of action he had scored 13 points. A month earlier, Nowitzki went for 34 against the Thunder. The injury kept him out of the finale just two weeks later. His season totals are impressive: 47 points in 51 minutes, 13-of-21 shooting and 3-of-6 on the kind of 3s he likes to step into when the pace of the game is up.
How will the Thunder attack Dirk? One-on-one, hope for the best, and sell out on the Mavs' jump shooters? Double-team him? Triple-team? Box-in-one?
"I don't know," Nowitzki said of OKC's potential tactics, although having been asked the question prior to Sunday's Thunder clinching, he was reluctant to discuss matchups without a winner.
"He's going to play his game, and after 13 years he's seen just about every coverage that there is," Mavs coach Rick Carlisle said. "People will continue to be creative to try to come up with things to neutralize him. But, the reality is we need him to play his game and if teams commit two or three guys to him, other guys have to be ready to step up and make shots and make plays."
Players are echoing the latter statement: "other guys have to be ready to step up and make shots and make plays." They lived it in the sweep of the
Los Angeles Lakers
.
Jason Terry
is hot, a major directional shift from the past two postseasons. The threat alone of
Peja Stojakovic
is providing even greater spacing for Nowitzki to operate.
Still, it all starts with the attention defenses pay to Nowitzki, Stojakovic said. In years past swarming him proved a good option when jump-shooting failed. It was Nowitzki or nothing, and that's bad odds even for a future Hall-of-Famer playing at the peak of his game.
"The answer really is what the other guys do around him," Terry said. "When we're playing well around him it frees him up. Obviously, they can't draw a lot of attention to him because everybody else is doing their thing positively so he doesn't have to take over as much."
It doesn't help the Thunder that Nowitzki discovered his touch between the Portland and L.A. series. He blistered the Lakers and enters tonight's Western Conference finals averaging 26.5 points on 49.7 percent shooting and 60 percent from 3-point range.
While Nowitzki is mixing in a fair amount of strong driving, he's still taking care of business from his sweet spots and dominating from 15 feet and out. According to ESPN Stats and information, Nowitzki shot 64.7 percent from 15-plus feet (22-of-34) against L.A., best of any player in the conference semifinals.
Terry, Nowitzki's lone remaining teammate from the 2006 Finals team, is not surprised.
"His growth and development has come because he's accepted double teams, he's read defenses, he's made plays," Terry said. "And then when [teams] do cover him one-on-one, a matchup he likes, he's not hesitant, he's aggressive and goes at it. I think that's what makes him most dangerous."
The Blazers had few answers for him. The Lakers had none. The Thunder are on the clock.
May, 16, 2011
5/16/11
3:34
PM CT
By
Jeff Caplan
| ESPNDallas.com
DALLAS -- On the eighth consecutive day without playing a basketball game, the
Dallas Mavericks
continue to sound like a football team in training camp waiting for that first preseason game and salivating to finally smack somebody in a different colored jersey.
PODCAST
Mavs assistant coach Dwayne Casey dishes on the team's defensive game plan against Oklahoma City.

Listen

"Yesterday the scrimmage got a little chippy," center
Tyson Chandler
said. "So, it was obvious that we're ready to play somebody else."
The Mavs are saying all the right things about their long layoff when it comes to the rest vs. rust debate. Let's just be clear, idling for nine days as Game 1 finally arrives Tuesday night at the American Airlines Center is just too long. Expect some rust. The question is just how quickly it will come off. If the Mavs keep the score close through the first half, it would certainly bode well for them.
Dallas made a living during the regular season and in the playoffs of hanging close for three quarters and then letting their defense take over in the final six minutes, typically leading to transition offense.
Mavs coach Rick Carlisle certainly is expecting the
Oklahoma City Thunder
's just-completed seven-game series to set them back after just one day of rest.
"Most of their guys are 22 years old," Carlisle said.
That's true.
Russell Westbrook
and
Kevin Durant
are 22.
James Harden
is 21. You've got to go to
Nazr Mohammed
, 33, and
Nick Collison
, 30, to find a couple of guys whose age starts with the number three.
This is easily the longest break between games this season for Dallas. The All-Star break wast just five days, or one day less than what would have been the Mavs' rest had the Western Conference finals started Sunday. After the All-Star break, Dallas dismantled the
Utah Jazz
by 19 points and won five in a row.
Game 1 is obviously a huge target for the visitors. Since 1964, 18 teams that have had eight more days off between series and are 9-9 in Game 1, but have won 11 of the series.
"I think the big thing is we feel good," point guard
Jason Kidd
said. "We're happy we're starting the series. We would have liked to have started it on Sunday, but now it starts here. The rest that we've had is over with. We've got to start playing basketball."
May, 16, 2011
5/16/11
11:17
AM CT
It's dangerous to draw conclusions based on the Mavericks' 2-1 record against the Thunder during the regular season.
The West final foes haven't played since Jan. 6. The Thunder made a roster-renovating trade since then, shipping center Nenad Krstic and power forward Jeff Green to Boston to get big man Kendrick Perkins. They also added a proven banger in backup big man Nazr Mohammed and promoted high-flying power forward Serge Ibaka to a starting role.
The Mavs won't have Caron Butler, who played a major role in their two wins in Oklahoma City, for this series. But the Thunder hasn't seen sharpshooter Peja Stojakovic this season.
As much as the teams have changed since the budding Red River rivals last met, there could be some value in studying the individual matchups. Using NBA.com Stats Cube, here's a look at how the Mavs fared when on the floor at the same time as their Thunder counterparts this season. (All averages, including plus-minus, are per 36 minutes.)
Jason Kidd vs. Russell Westbrook
Westbrook:
14.9 points on 32 percent shooting, 9.1 assists, 4.0 rebounds
Kidd (+9.1):
6.5 points on 25 percent shooting (4-of-17 3-pointers), 9.5 assists, 6.9 rebounds.
Analysis:
This one will probably surprise people who didn't watch the Mavs-Thunder games or have a foggy recollection of them. Westbrook's quickness is a major weapon, but he still wasn't effective against a man 16 years older than him. The Mavs' big men deserve a large share of the credit for containing the All-Star. The majority of Westbrook's shots against Kidd came in the paint, but he was only 10-of-26 on those attempts, including 8-of-18 at the rim.
DeShawn Stevenson vs. Thabo Sefolosha
Sefolosha:
5.1 points on 60 percent shooting (3-5 in 56 minutes), 4.5 rebounds, 3.2 assists
Stevenson (+1.3):
13.5 points on 50 percent shooting (6-10 3s), 1.9 rebounds, 1.9 assists.
Analysis:
Neither of these defensive-minded role players are expected to put up big numbers, but Stevenson ranked among the NBA's best 3-point shooters early in the season. He knocked down 6-of-10 3s when on the floor against Sefolosha. It's a big bonus for the Mavs if Stevenson can shoot anywhere near that well in the West finals.
Shawn Marion vs. Kevin Durant
Marion (+3.6):
23.2 points on 65 percent shooting, 7.7 rebounds, 1.8 assists.
Durant:
23.7 points on 53 percent shooting, 4.6 rebounds, 3.2 assists.
Analysis:
The Mavs' biggest mismatch problem in this series was surprisingly even. However, a lot of Marion's minutes came at power forward, especially in the win when Dirk Nowitzki sprained his knee during the first half. The Mavs will need to make Durant work on defense, which means they'll need to get Marion involved as a cutter and slasher in their halfcourt sets.
Dirk Nowitzki vs. Serge Ibaka
Nowitzki (+4.9):
40.9 points on 70 percent shooting, 3.3 rebounds, 1.6 assists.
Ibaka:
22.9 points on 67 percent shooting, 9.8 rebounds, no assists.
Analysis:
The 21-year-old Ibaka is one of the NBA's best shot blockers, but the crafty Nowitzki uses that against him with an assortment of pump fakes Ibaka has to respect due to Dirk's shooting ability. Nowitzki averaged 16.4 free throw attempts per 36 minutes against Ibaka, who will probably spend a lot of the series in foul trouble.
Dirk Nowitzki vs. Nick Collison
Nowitzki (+15.2):
32.2 points on 56 percent shooting, 5.7 rebounds, 1.9 assists
Collison:
3.8 points on 100 percent shooting, 5.7 rebounds, 3.8 assists
Analysis:
Collison, a savvy veteran, played most of Game 7 against the Grizzlies and did a solid job defending Zach Randolph. Based on these numbers, however, Collision doesn't appear to be the answer defending Dirk.
Tyson Chandler vs. Kendrick Perkins
Chandler (+9.0):
10.3 points on 57 percent shooting, 18.0 rebounds, 1.3 assists.
Perkins:
11.6 points on 80 percent shooting, 14.1 rebounds, no assists.
Analysis:
These stats are from Perkins' days with the Celtics. Neither big man should be judged solely on individual numbers. They have similar mindsets, but Perkins is much bulkier and Chandler much more athletic. Perkins has problems catching and finishing and isn't a shooting threat, so Chandler won't hesitate to help off him on defense.
Jason Terry vs. James Harden
Terry:
16.6 points on 43 percent shooting, 5.5 assists, 1.1 rebounds.
Harden (+4.4):
13.3 points on 38 percent shooting, 5.5 rebounds, 3.3 assists.
Analysis:
The battle of the sixth men shooting guards is a tough matchup for Terry. The 6-foot-5, 220-pound Harden is a versatile player who will have a huge size advantage. Of course, if Terry hasn't cooled off during the long layoff since his record-setting Game 4 shooting exhibition, size won't matter.
J.J. Barea vs. Eric Maynor
Barea:
18.5 points on 50 percent shooting, 7.6 rebounds, 2.2 assists
Maynor (+6.5):
12.0 points on 36 percent shooting, 9.8 assists, 3.3 rebounds
Analysis: There aren't many backup point guards who I'd take over Barea, but Maynor is one of them. He's a mid-first round pick who fell in the Thunder's laps because the Jazz wanted to avoid the luxury tax. Maynor is a pure point guard, while Barea is an explosive scorer who embarrassed the Lakers with his penetration off of pick-and-rolls.
Brendan Haywood vs. Nazr Mohammed
Haywood (+36.0):
9.0 points on 50 percent shooting, 15.0 rebounds, no assists
Mohammed:
12.0 points on 50 percent shooting, no rebounds, 3.0 assists
Analysis:
These numbers are from a sample of only 12 minutes, but the Mavs should have a significant edge when the backup big men are on the floor. Mohammed has a championship ring from his time in San Antonio, but he's no longer a starting-quality center. Haywood is, as he's proven during the playoffs.