Dallas Mavericks:

Nick Young
June, 24, 2014
6/24/14
8:00
AM CT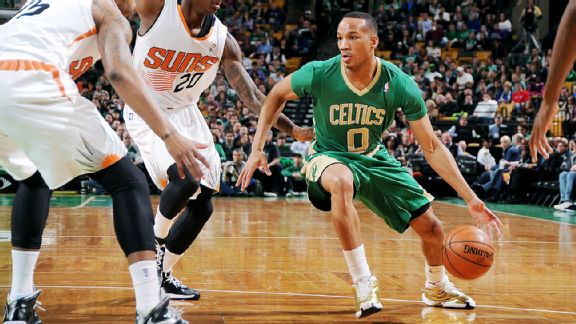 Brian Babineau/NBAE/Getty ImagesAvery Bradley could fill a hole for the Mavericks. But would the rebuilding Celtics let him go?
Shooting guard is not a priority position for the
Dallas Mavericks
.
It's a safe bet that
Monta Ellis
will lead the Mavs in minutes for the second consecutive season.
Wayne Ellington
, a solid perimeter shooter and defender who played sparingly this past season, also remains on the roster.
There's a good chance the Mavs re-sign both
Devin Harris
and
Vince Carter
. They get most of their minutes at other positions -- Harris at point guard, Carter at small forward -- but they'll probably split most of the shooting guard minutes not logged by Ellis.
The Mavs have zero interest in Indiana's
Lance Stephenson
, arguably the most talented unrestricted free agent in this summer's crop. He could easily slide to small forward, but the Mavs simply aren't interested in making a significant investment in a known knucklehead, particularly one who tends to dominate the ball by over-dribbling.
Dallas president of basketball operations Donnie Nelson often says you can never have enough shooting, but the Mavs don't intend to get in on the bidding for gunners
Nick Young
and
Jordan Crawford
, either.
There are, however, a handful of shooting guards who might fit the Mavs, if they fall through the cracks in free agency:
Avery Bradley:
As one of the best on-ball defenders in the NBA, Bradley would directly address one of the Mavs' most glaring weaknesses. But he's a restricted free agent, and it's hard to imagine Boston letting a 23-year-old contributor go if all the Celtics have to do to keep him is match a bargain offer.

Rodney Stuckey:
Remember when he was one of the NBA's best young guards? His production for the Pistons plummeted the past couple of seasons (13.9 ppg, 2.1 apg, .436 FG in 2013-14), and he lost his starting job, but the 6-foot-5, 205-pound Stuckey is still only 28 years old and versatile enough to play multiple positions. He might benefit from a change of scenery.
Jodie Meeks:
He's a shooter who averaged a career-best 15.7 points per game for a terrible Lakers team this past season and made 46.3 percent of his field goal attempts and 40.1 percent from 3-point range. He's never been confused for a lockdown defender, but he's not awful on that end of the floor either.
C.J. Miles:
The Mavs had talks with Miles, a 6-foot-6 lefty who grew up in Dallas, when he was a free agent two summers ago. He's a nine-year veteran but only 27 years old, he can play both wing positions, and he is a good perimeter shooter. He hit 39.3 percent of his 3-pointers this past season, when he averaged 9.9 points for the Cavaliers.
Thabo Sefolosha:
The 6-foot-5 Sefolosha could be considered a bigger, more physical and more experienced version of Ellington. He lost his 3-point touch in 2013-14 (31.6 percent) after shooting better than 40 percent from long distance the previous two years. He's a 3-and-D player who is strictly a spot-up shooter on offense, but he's among the NBA's better wing stoppers.
February, 26, 2014
2/26/14
11:20
PM CT
DALLAS -- Want a sleeper candidate for Sixth Man of the Year? Take a look at the
Dallas Mavericks
' old man.
If 37-year-old Vince Carter's February foreshadows the rest of his regular season, the 1998-99 Rookie of the Year and eight-time All-Star should be considered for the award that recognizes the league's most impactful reserve.
After all, the race is wide open if the Clippers'
Jamal Crawford
ends up ineligible for the award because he plays more games as a starter than he does coming off the bench.
[+] Enlarge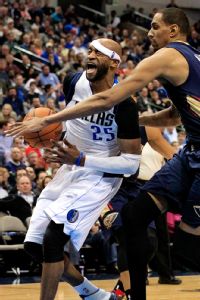 John Rhodes/Fort Worth Star-Telegram/MCT via Getty ImageVince Carter followed a season-high, 23-point outing Monday in New York with a 17-point effort against the Pelicans on Wednesday.
The next leading bench scorers -- the Lakers'
Nick Young
, Utah's
Alec Burks
, Cleveland's
Dion Waiters
and Detroit's
Rodney Stuckey
-- are putting up numbers on poor teams.
Despite Carter's slow start to the season, a case can be made that his name be included on a list of candidates, along with Phoenix's
Markieff Morris
, Oklahoma City's
Reggie Jackson
, Chicago's
Taj Gibson
, Houston's
Jeremy Lin
and San Antonio's
Manu Ginobili
.
His case will be stronger if the Mavs, who stand in sixth place in the Western Conference at the moment, keep winning.
"I'll leave it to you guys to push that for me," Carter said, chatting with a few reporters after scoring 17 points on 6-of-9 shooting in 22 minutes during Wednesday's 108-89 win over the
New Orleans Pelicans
. That all came on the heels of his season-high 23-point performance in Monday's win against the
New York Knicks
at Madison Square Garden.
Carter has got a deal, as long as he holds up his end of the bargain.
He has to keep producing and contributing to the Mavs' success like he has this month, when Carter has averaged 12.9 points, 4.4 rebounds and 2.7 assists during an 11-3 run by Dallas.
The Mavs have outscored opponents by an average of 8.7 points per game with Carter on the floor during that stretch. That gives Carter, who has flourished since a healthy
Brandan Wright
and
Devin Harris
were added to the Mavs' bench, a plus-minus that's the best on the team by almost two points per night during the team's hot streak.
"Vince has been looking great,"
Dirk Nowitzki
said. "Really just coming in being instant offense, like he was last year, when he was probably our best player all season. Just having great rhythm.
"He's been playing well, and you know we need him to score. He's a playmaker for us, not only a shot-maker. We want him to run screen-and-rolls. We post him. He makes plays for other out of the pick-and-rolls, gets other guys open. We rely on him a lot, and he knows that. He's been great."
Can "Old Man, Occasionally Amazing" sustain that level of play?
"I can handle that," said Carter, who replaced
Jason Terry
as the Mavs' sixth man and embraced the role before last season. "I can do that. No problem, I can do that. I feel comfortable.
"When I get in the game, I know what's expected of me, and I think more than anything, our chemistry is what's elevating everyone's game. It can happen."
If Carter keeps rolling, he might have a Sixth Man of the Year case. And the Mavs will have a playoff berth.
June, 25, 2013
6/25/13
9:53
AM CT
The second in ESPNDallas.com's position-by-position series previewing the free agency market that opens July 1.
How much is
O.J. Mayo
worth to the Mavericks?
Probably not enough to get into a bidding war with the
Minnesota Timberwolves
and other teams who will pursue Mayo during the free-agency period.
PODCAST
Chuck Cooperstein joins the show to talk about the Dallas Mavericks and how he thinks the NBA draft will turn out.

Listen

Mayo was the Mavs' best player before the All-Star break last season, looking like a bargain after signing a one-year, $4 million deal with a player option for next season that he declined to exercise. His 2012-13 numbers (15.3 points, 4.4 assists, 3.5 rebounds, .449 FG, .407 3s) look pretty good as a whole. But Mayo faded badly in the final quarter of the season, and his defensive issues, inconsistent intensity and mental lapses were sources of great frustration to the Mavs' coaching staff and front office.
Coach Rick Carlisle is on record saying he'd like Mayo back in Dallas, but it will come down to money. If the offers for Mayo exceed $6 million per year, expect the Mavs to shop elsewhere for a shooting guard. They might need to look at other, less expensive alternatives anyway, depending on how the rest of their free agency shopping goes.
Some other shooting guard options on the market this summer:
J.J. Redick:
You can make a strong case that Redick would be a better fit than Mayo for the Mavs, who are putting a high premium on basketball IQ.
Redick isn't exactly an explosive athlete. (Remember Mayo's "It's just J.J. Redick" comment after his critical chase-down block keyed the Mavs' home win over Orlando?) But the 6-foot-4, 190-pound Redick is a good shooter (.390 on 3s in his career) with great savvy. He doesn't commit many turnovers, has a firm understanding of floor spacing and ball movement and is a solid team defender because he's rarely out of position.
The market for Redick could be in the $6 million-per-year range.

Kevin Martin:
He'd have to take a huge pay cut from the $12.4 million he made last season – like half of that, at least -- to fit into the Mavs' plans. Of course, the same is probably true for Martin to stay in Oklahoma City.
The 30-year-old Martin remains a knockdown 3-point shooter, having hit 42.6 percent from long distance last season. Martin's ability to draw fouls has been his best attributes over the years, but his free throws attempted have plummeted in the last two years (8.4 per game to 4.5 to 3.2), a trend that started when he was the Rockets' primary scoring threat.
The 6-foot-7, 185-pound Martin has never been anything more than an average defender and passer.
J.R. Smith:
I have it on high authority that the Mavs aren't interested in the reigning Sixth Man of the Year no matter the price due to his knucklehead tendencies. So we'll skip the analysis of how his athleticism, ability to create and long-range shooting could give the Mavs an offensive boost.
Tyreke Evans:
The 6-foot-5 combo guard is expected to return to Sacramento after signing an offer sheet, allowing him to test the market as an unrestricted free agent next summer. We might re-visit this name as a potential midseason trade target.
Tony Allen:
The NBA's most dominant defensive shooting guard is such a part of the Grizzlies' fabric that it's extremely difficult to imagine Memphis management letting him get away. He's very limited offensively, but his tenaciousness and toughness would certainly be appreciated by Rick Carlisle if for some unforeseen reason he doesn't stay in Memphis.
Nick Young:
The 6-foot-7 Young is a relatively intriguing talent at 28 years old, but he's pretty much just be a shooter without a conscience so far in his career. Could Carlisle get more out of him? Maybe we'll find out if he's cheap enough ($3 million per?) to be an option for the Mavs.
Marco Belinelli:
The 27-year-old Italian is a pretty good perimeter shooter (.387 career 3s) and ballhandler who made $1.957 million for the Bulls last season. He's not a bad buy at that price, but he'll likely return to the Bulls if he can't get more money elsewhere.
Wesley Johnson:
The 25-year-old Corsicana native was a major bust as the fourth overall pick in the 2010 draft. (Picking him over guys like
DeMarcus Cousins
,
Greg Monroe
and
Paul George
is a pretty good way for a GM to get fired.) Could he be a
Brandan Wright
-type of minimum-salary reclamation project for the Mavs? It'd be worth a shot for a 6-foot-7, 215-pound athlete who can at least be a solid defender off the bench.
Gary Neal:
If you're looking for a bargain, it's probably best not to go with a guy who had big games on the Finals stage. The Mavs could use Neal's perimeter shooting, but he'll either be overpaid or return to the Spurs.
November, 12, 2011
11/12/11
7:52
PM CT
By
Jeff Caplan
| ESPNDallas.com
DALLAS -- A crowd of about 2,000 watched from wooden bleachers as 18 NBA players got together at the old-school P.C. Cobb Complex in Fair Park for a little fun during this frustratingly long lockout.
As expected, defense was left at the door and players like
Kevin Durant
,
LaMarcus Aldridge
, Howard and others put on a high-flying show complete with every requisite dunk and long-distance 3-pointer. The final five minutes turned into a dunk-a-thon with each possession basically going up against no defense to see which side could come up with a better dunk.
The Blue Team, headlined by Aldridge, Mavs forward
Corey Brewer
and
Nick Young
outscored Howard's White Team that featured Durant and shot-happy
Damon Jones
, 139-128.
No stats were kept at the game, unlike at some of these exhibition games where the scores have reached the 160s. So there was no way to tell if Durant actually did set a career-high in assists as he claimed when seeking out a nonexistent official box score.
If there was one disappointing aspect to the night was that exciting
Washington Wizards
point guard
John Wall
was in the building, but did not suit up.
It was a fun and semi-entertaining event, but it also revealed just how much everyone is yearning for the NBA to get back on the court.
The NBPA will meet Monday in New York. Perhaps then, the 2011-12 season will gain some traction.
November, 11, 2011
11/11/11
12:25
PM CT
By
Jeff Caplan
| ESPNDallas.com
November, 11, 2011
11/11/11
8:00
AM CT
By
Jeff Caplan
| ESPNDallas.com
Josh Howard
is bringing basketball to Fair Park on Saturday night with his Celebrity All-Star Game at the Cobb Athletic Center (6 p.m.). At least there he knows he'll play for the White Team and his coach will be
Dallas Mavericks
guard
Jason Terry
.
That's about all that's clear with Howard's basketball future -- and that of other NBA free agents -- as the lockout grinds on (although perhaps crawling toward resolution).
"I'm just hoping to get the opportunity to continue where I left off at when I left Dallas, and that's starting and contributing to whatever team and whatever they need me to do," Howard said in a phone conversation earlier this week. "I haven't really thought about who I would fit in well with. I'm just going out there for the love of the game and, hopefully, I'll get on the right team with the right players that will accept me."
Josh Howard sounds like a man -- and he is 31 now and he turns giddy talking about his 3-year-old son Bryson, aka B.J. -- who gained a measure of perspective during a difficult year-and-a-half dominated by rehabbing from an ACL injury. In fact, he said he did broaden his outlook during that time as he prepares for a comeback in his -- believe it -- ninth NBA season.
Here's one bit of perspective that Howard shared:
"For me, it's just about playing the game and having fun. The money is not an aspect for me," said Howard, who still resides in Dallas when not in his native North Carolina. "I've been blessed. [Mavs owner Mark] Cuban signed a deal for me, so that was just a blessing in itself, so now I just want to go out there and have fun with the game and get back to that point we were at in '06 when I was here, just try to get to the Finals."
That is one form of perspective.
But so was his juvenile final two seasons with the Mavs, followed by a career-changing injury. The Mavs finally traded Howard in February 2010 to the
Washington Wizards
for
Caron Butler
,
Brendan Haywood
and
DeShawn Stevenson
. Four games into his Washington stint, Howard blew out his left knee and missed the rest of the season.
He didn't return until December of last season, missed a month, and then never could get things going. He played just 18 games last season and 53 in the last two seasons. Along with his rehab, Howard did a lot of watching from the bench and he began to analyze the game more and take an interest in talented, young Wizards, two which --
John Wall
and
Nick Young
-- will be in action Saturday night.
"It was just frustrating knowing I couldn't contribute like I wanted to," Howard said. "Overall, it helped me out just thinking the game mentally, from a coach's aspect. I've been watching a lot of the young guys that are going to be the next talents in the NBA and coaching those guys, actually using some advice that I got from the guys when I first got to Dallas from like
Dirk [Nowitzki
], [
Michael] Finley
, [
Steve] Nash
and even
Jason Kidd
before I left.
"It helped me grow, I guess as a player-coach and even venture off into things I want to do after basketball, which is coaching. I had the opportunity to expand and it was cool, even though the season wasn't as great as I would have liked it to be."
If that's the case, good for Josh Howard.
October, 24, 2011
10/24/11
11:23
AM CT
By
Jeff Caplan
| ESPNDallas.com
Dallas Mavericks
guard
Jason Terry
is billed as a headliner in next month's
Josh Howard
Celebrity All-Star Basketball Game,
an exhibition that the former Mavs forward is bringing to Dallas on Nov. 12
.
But, Terry said he won't be in uniform. He will be there, but he said he's planning on coaching up some of the NBA young guns that will take the court at the P.C. Cobb Athletic Complex. The exhibition game is being organized by the Josh Howard Foundation and follows the lead of other NBA players that have organized recent exhibition games in various cities to pass the time during the lockout.
"I'm just coaching," Terry said via text message. "I'm ready to play a real game, but I will be there to support a good cause. Now, if J-Kidd and Dirk play, I'm in all day."
Mavs point guard
Jason Kidd
and NBA Finals MVP
Dirk Nowitzki
are not on the billing. NBA players who will suit up include
Washington Wizards
former first round-pick
John Wall
, plus Howard's other Wizards teammates
Nick Young
and
Andray Blatche
, Mavs forward
Corey Brewer
, plus former Mavs
DeSagana Diop
and
Marquis Daniels
and Seagoville's own
LaMarcus Aldridge
of the
Portland Trail Blazers
, among others.
As for when Terry will finally get to lace up his sneakers for a real NBA game and begin the defense of Dallas' title, well, the Mavs' player representative is only sure of one thing when it comes to the lockout.
"Can't wait for the season to start," Terry said.
For now, he'll just have to stick to coaching.
The game starts at 6 p.m. Tickets can purchased at
www.joshhowardfoundation.com
or by calling 214-466-9983.