Dallas Mavericks:

Nowitzki one-on-one 2014
June, 20, 2014
Jun 20
10:00
AM CT
By
Bryan Gutierrez
| Special to ESPNDallas.com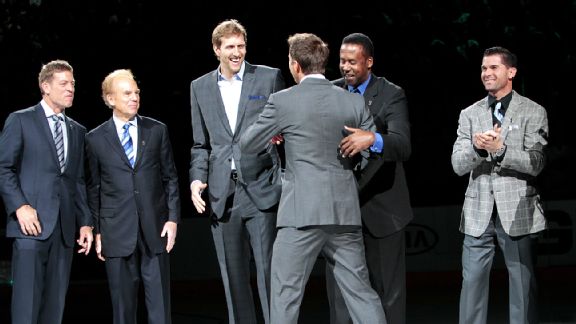 Glenn James/NHL/Getty ImagesDirk Nowitzki, center, smiles at Stars legend Mike Modano during his jersey retirement ceremony in March. Nowitzki has built relationships with many metroplex athletes during his time in Dallas.
ESPN Dallas recently held court with Dirk Nowitzki. In this series, Nowitzki shares thoughts about his past, present and future.
Mortality and immortality often go hand in hand in the world of sports. Some say legendary athletes suffer two deaths -- their natural one, and the earlier one when it's time to call it a career. When athletes realize they are in the golden years of their careers, when they realize the end is far closer than the beginning, it can take a mental toll.
This year, Dirk Nowitzki has attended retirement ceremonies for metroplex legends Michael Young of the Texas Rangers and Mike Modano of the Dallas Stars. His presence there shows the relationships he has built with stars across sports during his time in Dallas. Those special and emotional ceremonies have crystallized the notion that while Nowitzki can still play at a high level, his end as an athlete is near.

"Me going all to the ceremonies makes it hard not to think about the ceremony that will be for me one day, which will be bittersweet," Nowitzki said. "I know it's going to come eventually. As long as I'm out there, I just want to have fun. That's the main thing for me. I'm still having fun working out."
That will be the ultimate test for him as the months and years go by. If he's able to still enjoy the cardio workouts as he prepares for basketball activities late in the summer, then he'll know that playing the game is still for him.
There's one recent example that let Nowitzki know that the work can be challenging now but still be entertaining.
"Last year in September, I ran around the track with some of the young guys. I was doing that, looking like an idiot out there," Nowitzki said with a laugh. "Those things, if they become work, then you're in trouble. As long as I still have fun playing and competing, not having great pain, then that's good.
"I still feel good and it's still fun. I don't have to take any meds or any anti-inflams to play. Once all of this goes away, it's time to step aside."
Knowing Nowitzki, he won't waste an extra second when he realizes it's time to stop. There are milestones within reach, such as reaching 30,000 points and climbing up the NBA's all-time scoring list, but he won't drag himself around the court only for those milestones.
June, 19, 2014
Jun 19
10:00
AM CT
By
Bryan Gutierrez
| ESPNDallas.com
ESPN Dallas recently held court with Dirk Nowitzki. In this series, Nowitzki shares thoughts about his past, present and future.
As time moves on,
Dirk Nowitzki
will be remembered as one of the most special and unique players to ever play in the NBA. Among his contemporaries, he is held in extremely high regard. We've seen the league's best --
Kobe Bryant
,
Kevin Durant
and
LeBron James
-- pay their respect to Nowitzki by copying his patented one-footed fadeaway jumper.
In addition, he's earned the respect of some legends. In February 2013, ESPN.com's Wright Thompson wrote a feature on
Michael Jordan
for ESPN the Magazine in which Jordan stated Nowitzki was one player who made the short list of stars who could be nearly as successful as he was in his era. Also included were James, Bryant and
Tim Duncan
.
[+] Enlarge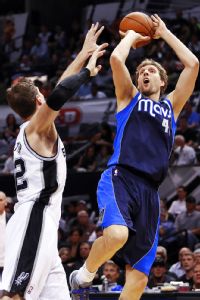 Soobum Im/USA TODAY Sports
A set of fortunate circumstances led Dirk Nowitzki to change the shooting game in favor of big men.
Over years and years of blood, sweat, tears and jumpers, Nowitzki has established a legacy that will live on for generations. When asked about his impact, he couldn't quite put his finger on what kind of mark he's left on the game he loves so much.
"I don't know. I kind of let others do that," Nowitzki said. "I came in as a little kid, and I wasn't sure what was going to happen. I was just working hard, had some talent and came into the right situation with the right kind of guys with [Don Nelson] and [Mark] Cuban. I got better and better.
"A lot of guys come in with talent and never reach their max. Me having a great surrounding, work ethic and coaching and teammates, it just happened."
With all of that in his favor, Nowitzki has left his mark in the NBA. Based on his body of work and uniqueness, Nowitzki should be considered a revolutionary player of the modern game.
If you look at the past, the likes of
Charles Oakley
,
Charles Barkley
,
Karl Malone
and even Duncan and
Kevin Garnett
defined the power forward position in the traditional manner we knew long ago. Fast-forward to when Nowitzki was starting to gain confidence in the NBA and you see the power forward position being shaped into a position known as the stretch-4.
The idea of a stretch-4 sounded like a gimmick at the time: Stick a big man on the perimeter and present him as a shooting threat to stretch the floor. Players such as
Sam Perkins
, Kiki VanDeWeghe and Larry Bird were paving the way. Nowitzki took the concept of the stretch-4 and ran with it. The concept of having a stretch-4 is a component every team craves. Nowitzki's size and shooting are the reason for that.
International scouting already was taking place before Nowitzki joined the league, but his impact forced general managers and scouts to increase the deployment of assets to focus on finding the next international gem. Over the past decade, a goal for front offices has been to find the next Nowitzki.
He came into the league with size and skills no one else had. Time has been his ally when one compares today's game to that of the late 1980s and early 1990s. The physicality of the past gave way to the fluidity of today's game, allowing players like Nowitzki to thrive.
"When I first came in, the rules were a little different," Nowitzki explained. "Now, there's less handchecking and zone defenses. More of a free-flowing game helped me. I don't know if the rules were kept the same where there was pounding and one-on-one back-downs for 10 seconds. I'm not sure if I ever would have had the same impact if the rules were the same. There are a lot of circumstances in play that had a role in me succeeding."
Meshing the rule changes with that next generation of shooter's like Nowitzki allowed more of a free game. Players now have to respect everyone on the floor as a legitimate scoring threat from anywhere and no matter their size.
"I'm happy now that most of the 5s and 4s can face up and shoot and drive," Nowitzki said. "It's fun to watch. Everybody now can score. I think that's where this game is fun to watch and unbelievable. If all five guys are dangerous, you've got to guard everyone. That's when the game really begins to become fun."
Though he'll never admit it, his rise in status as an elite scorer provided a key component for those added doses of excitement in today's game. Still, he almost sounds like a proud dad in seeing the league filled with a variety diverse weapons on offense.
Nowitzki's career -- and legacy -- has been the equivalent of a pebble being thrown into the body of water that creates a ripple effect, leading to a wave of shooting big men to arrive after him.
June, 18, 2014
Jun 18
10:00
AM CT
By
Bryan Gutierrez
| Special to ESPNDallas.com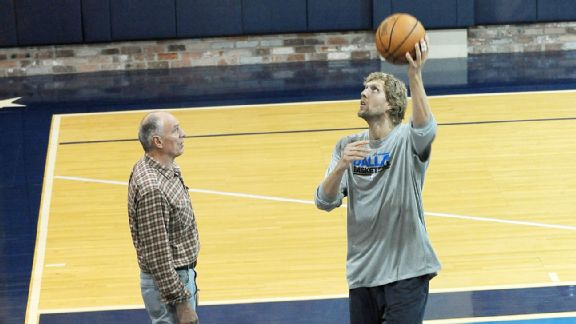 Andrew D. Bernstein/NBAE via Getty ImagesDirk Nowitzki says he could see himself being a personal coach, like his mentor, Holger Geschwindner.
ESPN Dallas recently held court with Dirk Nowitzki. In this series, Nowitzki shares thoughts about his past, present and future.
While there's still expected to be at least a few years left in his career, Dirk Nowitzki has begun to consider what the next stage of his life will bring. While he isn't exactly sure what he'll do when he decides that he can no longer play basketball, he understands it will be hard to hang up his sneakers.
"Basketball has given me so much over my career that I'm sure that I can't just walk away and never do anything with basketball for the rest of my life," Nowitzki said. "That's just not going to happen. It's been my life all the way until I got married and had a kid. It was definitely the biggest thing in my life."
Maybe he has a life in front of the camera.
Former teammate
Steve Nash
ran a series of documentaries for Grantland titled "The Finish Line." As part of the series, Nash reconnected with Nowitzki near the end of this season, and they reflected on their past as former teammates. Over the years Nowitzki has noticed that Nash has done quite a bit with his own production company. Nowitzki joked that Nash could help him once basketball is over.
"I always told Nash that he's got to get me a job once I'm done," Nowitzki said with a laugh.
Realistically, it wouldn't surprise anyone if
Dallas Mavericks
owner Mark Cuban wanted Nowitzki to stay with the organization in some capacity. We've already seen that former Mavs great player/_/id/242/michael-finley">Michael Finley is a fixture around the team and front office. Cuban already has mentioned it's possible someone such as
Jason Terry
could return to the organization once he retires.
While something like that always is going to be on the table, Nowitkzi knows he doesn't have to make a decision now. The biggest thing for him is ensuring that the game he loves remains fun. For him, as long as he's playing and having fun, he still has time to contemplate what his future holds.
One intriguing thought for him is the possibility of coaching.
"Some of the stuff Holger has done with me, I'd love to keep that going," Nowitzki said of his mentor and personal coach, Holger Geschwindner. "Holger mentioned it to me before, 'What you have learned from me, I want you to give to someone else someday.' Maybe I'll do that a little bit later -- individual coaching."
While coaching could theoretically be in his future, Nowitzki doesn't figure to follow in the footsteps of former teammate Jason Kidd, now coach of the
Brooklyn Nets
.
"I don't think I'll ever be a team coach," Nowitzki said. "I saw with J-Kidd how he's interested in plays and thinking ahead. That doesn't interest me. I don't care how you get me the ball. Just get the ball to me.
"Plays and stuff like that never interested me. It was just the skill level that interested me. I'm sure if I'm a coach one day I'll do what Holger did for me, or what coach [Tim] Grugrich did here for us in the championship year, where you take the younger guys and work out every night. We'll just have to wait and see."
Grugrich was instrumental in aiding the Mavs en route to their title during the 2010-11 season. Known as something of a basketball guru, Cuban hired Grugrich to be an assistant/consultant for the team.
It's becoming a very common trend in today's NBA to have individual coaches work with star players.
Miami Heat
guard
Dwyane Wade
has Tim Grover. And
Kobe Bryant
at one time had Mike Procopio, who now works as a director of player development for the Mavs.
In addition, centers or low-post players now request to spend time with
Hakeem Olajuwon
during the summer so he can help work on their game. If Olajuwon can work with the low-post players, it's not out of the realm to see Nowitzki working with the shooters for the next generation.
Nowitzki is known as a gym rat, spending late nights on the court getting up shots or early mornings to do the same thing. Encouraging younger players to take time for extra shots and teaching what Geschwindner taught him could be the perfect transition for Nowitzki when the time comes for him to move to the next stage of his life.
As scouts and general managers travel the world to find the next Dirk to take care of their needs on the court, it wouldn't hurt to have the real Dirk there to guide some of those newcomers through the rigors of the NBA.
June, 17, 2014
Jun 17
10:00
AM CT
By
Bryan Gutierrez
| ESPNDallas.com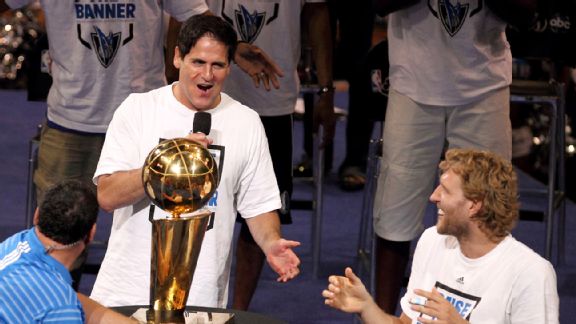 Kevin Jairaj/USA TODAY SportsMavericks owner Mark Cuban and Dirk Nowitzki savored the team's 2011 NBA title.
ESPN Dallas recently held court with Dirk Nowitzki. In this series, Nowitzki shares thoughts about his past, present and future.
Dirk Nowitzki's negotiations for a new contract will be the first free-agency domino for the
Dallas Mavericks
this summer. Potential spoiler alert: He'll re-sign with Dallas.
"We've still got a few weeks left," Nowitzki said of coming to an agreement. "I'm sure there will be some conversations [with owner Mark Cuban]. We'll just go from there. We'll find a way where both parties are satisfied and respected and give us a lot of cap room to make this franchise better."
Nowitzki's deal with the Mavs could be the final one he signs, signifying the potential for him to stay in Dallas his entire career. With the 2013-14 season complete, Nowitzki joins five players who have spent an entire career of at least 16 seasons with one franchise:
John Havlicek
(Boston, 16),
Tim Duncan
(San Antonio, 17 and counting),
Kobe Bryant
(
Los Angeles Lakers
, 18 and counting),
Reggie Miller
(Indiana, 18) and
John Stockton
(Utah, 19).
Duncan has one more year left on his deal with the Spurs, though it is a player option. Bryant is locked in with the Lakers for at least two more seasons, meaning he could pass Stockton on the list. Nowitzki, too, could climb. With players moving frequently, Nowitzki has been a constant figure in Dallas. Why?
"I don't know. I think from the get-go, Dallas was ready and almost waiting for me," said Nowitzki, who turns 36 this week. "I'm not sure why. Obviously we know that the '90s were tough. Maybe they had a lot of hope in me, I'm not sure. The fans were great to me. Maybe they liked what I brought. I don't know if they liked my kind of shy personality at the beginning."
June, 16, 2014
Jun 16
10:00
AM CT
By
Bryan Gutierrez
| ESPNDallas.com
The
San Antonio Spurs
lost just four postseason games against the
Portland Trail Blazers
,
Oklahoma City Thunder
and
Miami Heat
en route to their fifth NBA championship. With that fact in mind, many wonder how the
Dallas Mavericks
were able to force San Antonio into a Game 7 in the first round of the playoffs. Some would say the Mavs gave the Spurs their best challenge throughout the playoffs.

"I'm not sure if that was it or they hit their stride in Game 7 because they've been playing so well since then," Nowitzki said. "I actually think our coverages kind of caught them off guard and they weren't ready for it."
After the Spurs secured the NBA crown with Sunday's Game 5 win over the Heat, Nowitzki congratulated them on their achievement:
Congrats to the spurs. Amazing team work. Great coach. Well deserved...

— Dirk Nowitzki (@swish41) June 16, 2014
The playoffs allowed Dallas to commit its undivided attention to slowing down San Antonio, which certainly helped its cause. It allowed the Mavs to catch the Spurs off guard, but there were other factors in play. The Spurs were able to clinch home-court advantage throughout the playoffs in the final week of the season. With that in the Spurs' back pocket, coach Gregg Popovich could rest key players, essentially taking his foot off the gas. Even if that took place in a span of three to five games at the end of the regular season, it was enough time for them to lose their edge, causing them to look lethargic against Dallas.
"I just wanted to say what a great series it was and how difficult it was. I am certainly glad it is over," Popovich said after the series against Dallas. "It kept many of us up night after night trying to figure those guys out. [Coach] Rick [Carlisle] did a great job with his game plan. His coaches confounded us. The players were great. It is a really good veteran team that was playing its best basketball here at the end of the year.