November, 22, 2013
11/22/13
8:00
AM CT
DALLAS -- The shooting guard who slipped through the cracks of free agency and signed a deal with the Mavericks for a lot less money than he hoped looked like a legitimate star for the first few weeks of the season.
Sound familiar?
Or have you forgotten how good
O.J. Mayo
was at the beginning of last season? As is the case with
Monta Ellis
now, there was discussion in Dallas as Thanksgiving neared a year ago about Mayo possibly making his first All-Star team and emerging as a competent co-star for
Dirk Nowitzki
.
Mayo at the 12-game mark: 21.8 points per game on 49.4 percent shooting from the field.
Ellis at the 12-game mark: 23.3 points per game on 49.5 percent shooting from the field.
[+] Enlarge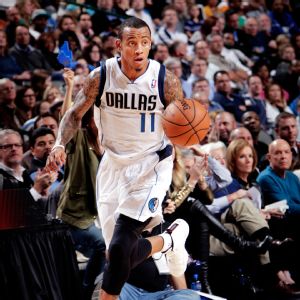 Glenn James/NBAE/Getty ImagesWith a better roster of teammates surrounding him, Monta Ellis figures to be able to continue producing for the Mavs the way he has shown so far.
Mayo couldn't sustain his early success, finishing the season with an average of 15.3 points. Ellis, however, is extremely confident he can keep rolling.
"I will. I will," Ellis said after his spectacular 37-point, eight-assist performance in Wednesday's comeback win over the
Houston Rockets
. "Only thing I've got to do is continue to make the right plays and don't try to force anything."
The statistics are awfully similar in a limited sample size. What makes Ellis different than Mayo? Why do the Mavs believe this shooting guard can keep it going?
Let's look at a few of the biggest factors:
Dirk dynamic:
Mayo put up big numbers while
Dirk Nowitzki
was watching from the bench or his couch while recovering from arthroscopic knee surgery. As strange as it sounds, Mayo never meshed with the sweetest-shooting 7-footer in NBA history who happens to be as unselfish a superstar as you'll find.
In fairness to Mayo, Nowitzki wasn't himself for the majority of last season. He really didn't resemble a premier power forward until the final 30 games. But a big part of the problem was Mayo's struggles as a pick-and-roll ballhandler.
Ellis relishes that role and ranks among the NBA's most explosive, effective pick-and-roll initiators, especially when he gets the extra space that typically comes when Nowitzki is setting a pick and popping to one of his sweet spots.
Ellis has a sense of timing and feel for spacing, traits Mayo simply doesn't possess. Ellis' ability to facilitate (5.7 assists per game) has impressed the Mavs as much as his ability to finish in the lane.
"Even on nights when he's not scoring that well, his ability to make plays for everyone else is what sets him apart," Nowitzki said. "His decision-making has been great. What I've seen so far, sometimes his shot might not be going so well, but he can give us [penetration] every night."