Dallas Mavericks:

Patty Mills
April, 22, 2013
Apr 22
7:02
AM CT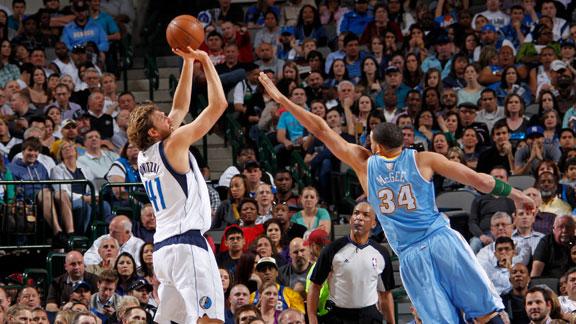 ESPNDallas.com will estimate the market value for each of the Mavericks' eight free agents and examine their worth to the Mavs in a once-per-day series.
Rodrigue Beaubois
Remember after
Rodrigue Beaubois
' rookie year, when there was such strong hope that he could be part of the Mavericks' foundation for years to come?
That, unfortunately, was the peak of the slight combo guard's career.

Beaubois had more than his share of bad breaks. He fractured his foot while practicing with the French national team the summer after his rookie year, an injury that required two surgeries to fix and essentially wiped out his second season. His Mavs tenure most likely ended when he broke his hand in mid-March.
There were flashes of brilliance the last few seasons, but Beaubois mostly floated around the fringe of the Mavs' rotation when he was healthy enough to play. He struggled to handle the mental responsibilities of playing primarily point guard and never was nearly as efficient scoring as he was as a rookie, when he played mostly shooting guard alongside
Jason Kidd
.
Beaubois never developed the type of toughness required to earn coach Rick Carlisle's trust. His lack of development was a major disappointment in Dallas, where draft picks have rarely become contributors over the last decade.
Maybe Beaubois can benefit from a change of scenery. It's probably in everybody's best interest if he moves on from the Mavs.
2012-13 stats:
Averaged 4.0 points, 1.9 assists, 1.3 rebounds in 12.2 minutes per game. Shot 36.9 percent from the floor and 29.2 from 3-point range in 45 games.
Age:
25
Comps:
John Lucas
– Averaged 5.3 points, 1.7 assists and 1.0 rebounds in 13.1 minutes per game for Raptors, shooting 38.6 percetn from the floor and 37.7 percent from 3-point range. Made $1.5 million last season with a team option to pay him $1.57 million next season.
Patty Mills
– Averaged 5.1 points, 1.1 assists and 0.9 rebounds in 11.3 minutes per game for the Spurs, shooting 46.9 percent from the floor and 40 percent from 3-point range. Paid $1.09 million this season with a team option for $1.13 million next season.
Darius Morris
– Averaged 4.0 points, 1.6 assists and 1.2 rebounds in 14.2 minutes per game for the Lakers, shooting 38.8 percent from the floor and 36.4 percent from 3-point range. Made $962,195 in second season of rookie contract.
Nando de Colo
– Averaged 3.8 points, 1.9 assists and 1.9 rebounds as a 25-year-old rookie for the Spurs, playing 12.6 minutes per game and shooting 43.6 percent from the floor and 37.8 percent from 3-point range. Has two-year, $2.86 million deal.
Jamaal Tinsley
– Averaged 3.5 points, 4.4 assists and 1.7 rebounds in 18.5 minutes per game for Jazz, shooting 36.8 percent from the floor. Played on one-year deal for $1.35 million (10-plus-year veteran's minimum).
Estimated contract:
A short-term deal for the veteran's minimum, which will be $1.03 million for a fifth-year player.
April, 26, 2011
4/26/11
2:00
PM CT
By
Jeff Caplan
| ESPNDallas.com
DALLAS --
Dallas Mavericks
reserve forward
Brian Cardinal
doesn't see why Patty Mills and the
Portland Trail Blazers
are bent out of shape regarding the strong screen he set that sent the 170-pound Mills careening to the sideline.
PODCAST
Mavericks forward Brian Cardinal talks about the pick he set on Patty Mills in Game 5.

Listen

J.J. Barea and the Mavs were just trying to inbounds the ball and run out the final 18.1 seconds in their 93-82 Game 5 victory Monday. But, the Blazers decided to full-court press and as Barea rushed the ball upcourt, Mills ran smack into the broad side of the 6-foot-8, 240-pound Cardinal, who successfully freed up Barea to get into the frontcourt.
"I wasn't trying to hurt him, just playing hard, smart basketball. That's what they were doing," Cardinal said. "I'm just kind of surprised that they're so mad about it. They picked up J.J. full- court and they're going to double team him and they're playing hard, they're playing aggressive, you know, just like I am. They say there was no time on the clock or the game's over, but yet they're going to play hard, full court and press?"
The Blazers did take exception. Here's
Wesley Matthews
after the game to
The Oregonian
: "I know it's the playoffs and everything, but come on. With four seconds left in the game? But that's cool. I'm not going to forget it, that's for sure."
Cardinal said if Portland would not have employed full-court pressure, he wouldn't have felt inclined to set the strong screen.
"No, I'm going to be standing on the court waiting for the clock to run out and the buzzer to sound," the little-used, yet fundamentally sound Cardinal said. "If they would have stolen the ball from [Barea] they would have ran down and scored a layup. They're playing the game of basketball just like I am. If Patty or if they're mad, they should be made at Earl [Barron] or [Nicolas] Batum or whoever else was in the game. They should have called out that screen."
Mills, though, told
The Oregonian
that he soon realized why Barea was rushing the ball upcourt: "I found out why. He [Barea] set it up [with Cardinal]. He set it up."
Cardinal was asked if he thinks the Rose Garden crowd will give him a hard time Thursday in Game 6.
"No, shoot. No," Cardinal said. "You know, it doesn't matter to me. I've played a total of what two minutes this series? If they're worried about me and my screens…"
Cardinal didn't finish the sentence, unlike his game-ending screen.
April, 26, 2011
4/26/11
11:35
AM CT
DALLAS – A legal pick has apparently caused an outcry – or a lot of crying, at least – in Portland.
The Trail Blazers have beef with
Brian Cardinal
, who might be the nicest bad guy in NBA history. He had the gall to set a textbook screen with seconds remaining that flattened Portland backup point guard/unofficial team mascot Patty Mills.
The Blazers' bench went wild.
Wesley Matthews
mouthed off to Cardinal, leading to a brief postgame confrontation with
DeShawn Stevenson
, who could be considered the Mavs' enforcer. The Blazers blogs are worked into a tizzy. Oh, and Mills is mad.
"Pick on the little bro and deal with the rest of the family," Mills tweeted after the game, a statement that might be much more menacing if it didn't come in the wake of the Blazers getting their butts whipped.
Let me offer a pair of suggestions if Mills doesn't want to be flattened by a pick on the final possession of the game. First, he could opt not to play full-court, in-your-face defense on J.J. Barea during garbage time. Second, you can kindly request that somebody from "the rest of the family" inform you that a pick has been set.
Cardinal watched his teammates blow a 23-point lead the previous game after they started coasting 13 minutes too early. How can you criticize him for playing hard until the final buzzer sounds?
Mavs fans should have a ton of fun with this situation. The mean, ol' Mavs are being portrayed as bullies. If anything, the pick is a sign of progress, and perhaps a statement to Portland.