Dallas Mavericks:

Patty Mills
June, 23, 2014
Jun 23
8:00
AM CT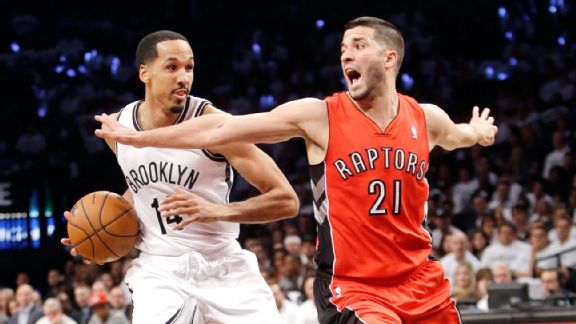 AP Photo/Frank Franklin IIShaun Livingston, left, can ably fill both guard spots; Greivis Vasquez is a proven assists man.
The
Dallas Mavericks
' plan is to re-sign
Devin Harris
as
Jose Calderon
's change-of-pace backup at point guard for 2014-15.
The mutual interest between the Mavericks and Harris is strong, so there is a high probability that he will return. The negotiations have a natural starting point of a three-year deal worth a little more than $9 million. Harris and the Mavs originally agreed to the offer last summer before the discovery that he needed complicated toe surgery, which led to Harris signing a one-year contract for the veteran's minimum salary and missing the first half of the season.
The Mavs want Harris back because he's one of the league's better backup point guards, is a high-character fit for their culture, has excellent chemistry with his teammates and has corporate knowledge of coach Rick Carlisle's schemes. However, if for some reason the Mavs can't hammer out a deal for Harris, there should be several quality backup point guards available with similar or perhaps even lower price tags.
The Mavs, who are pleased with Calderon as their starter, will not be in the market for Toronto's
Kyle Lowry
. They'd love to land Phoenix's
Eric Bledsoe
, a dynamically athletic 24-year-old with star potential, but the Suns are expected to match any offer the restricted free agent receives.
Some point guards who could be fits for the Mavs if Harris heads elsewhere:
Shaun Livingston:
The fourth pick in 2004 has seen his career derailed by a devastating knee injury, but he's worked his way into being a quality role player, averaging 8.3 points and 3.2 assists in 26 minutes per game for the
Brooklyn Nets
last season. Like Harris, the 6-foot-7 Livingston, 28, is capable of providing quality minutes at both guard positions.
Steve Blake:
The 34-year-old Blake's intelligence and competitiveness made him a
Kobe Bryant
favorite during his time with the
Los Angeles Lakers
, but he's declined as an athlete. He's a decent 3-point shooter and passer, but he's not nearly the off-the-dribble threat that Harris is. Heck, he might not even be the off-the-dribble threat that Calderon is.
Patty Mills:
In his fifth NBA season, Mills emerged as a lethal shooter off the Spurs' bench, playing an important role in their title season. But unless another team overpays him, why wouldn't Mills re-sign with San Antonio and try to help them repeat for the first time in franchise history?
[+] Enlarge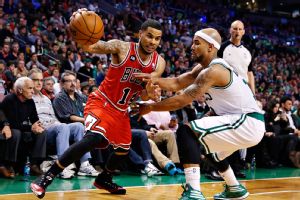 AP Photo/Michael DwyerD.J. Augustin, a former Longhorn, likely earned a big raise with last season's performance; Jerryd Bayless, right, brings athleticism but is lacking defensively and as a playmaker.
Mario Chalmers:
His Miami tenure might come to an end after he played so poorly in the Finals that he was benched for Game 5. He's still a solid point guard with career averages of 8.6 points and 3.8 assists in 27.5 minutes per game. Would he accept a reserve role after recently starting for two title teams?
Mo Williams:
Williams has career averages of 13.3 points and 4.9 assists per game and has performed well as a sixth man for teams that have made the Western Conference semifinals -- the Clippers and Trail Blazers -- in two of the past three seasons. The 31-year-old is capable of running an offense and playing off the ball. But he's looking for a raise after declining an option to make $2.8 million in Portland next season.
Kirk Hinrich:
He's a less-athletic, better-perimeter-shooting version of Harris and a smart veteran capable of playing both guard spots. Hinrich averaged 9.1 points and 3.9 assists per game for the Bulls last season, serving primarily as a starter due to
Derrick Rose
's injury. He's earned a reputation as a good defender, but at 33 with a long injury history, how much tread is left on his tires?
Ramon Sessions:
Sessions has put up pretty good numbers (11.7 PPG, 4.7 APG) mostly for bad teams throughout his career, having made the playoffs only once in his seven years. The Mavs had discussions with his agent two summers ago but weren't willing to make more than a one-year offer.
Greivis Vasquez:
The 6-foot-6 Vasquez has played for four teams in four seasons despite leading the league in assists in 2012-13, averaging 13.9 points and 9.0 assists per game for a 27-55 New Orleans team. Vasquez, a restricted free agent, has made it clear that he hopes to return to Toronto.
Jordan Farmar:
A reserve on the Lakers' two most recent title teams, Farmar was out of the NBA for a year before returning to L.A. last season and averaging 10.1 points and 4.9 assists in 41 games. He's a decent defender and has the quickness to create off the dribble plays.
Jerryd Bayless:
The 6-foot-3, 200-pound Bayless is a big point guard with explosive athleticism and can occasionally score in bunches, but he's bounced around to five teams during his six-year career. He's not much of a playmaker (2.9 assists per game in his career) and doesn't defend as well as a guard with his physical gifts should.
Brian Roberts:
Roberts, a 28-year-old with only two seasons of NBA experience after playing overseas for several years, averaged 9.4 points and 3.3 assists per game as a part-time starter in New Orleans last season. He's a good spot-up shooter but doesn't penetrate well and is challenged defensively due to his size (6-foot-1, 180 pounds).
D.J. Augustin:
A lottery pick in 2008, the 26-year-old former Texas star rejuvenated his career coming off the Bulls' bench last season. Averaging 14.9 points and 5.0 assists in 30.4 minutes per game after signing in mid-December, Augustin was one of the league's best minimum-salary bargains. How big of a raise will he get?
Beno Udrih:
The veteran lefty, who turns 32 in July, has come up in trade talks with the Mavs a few times over the years. He averaged 7.9 points in 16.4 minutes per game in the playoffs for the Grizzlies after
Nick Calathes
' suspension forced Memphis to give backup minutes to a midseason addition. If the Mavs miss out on other veterans, Udrih could be a fit for the veteran's minimum.
June, 11, 2014
Jun 11
10:00
AM CT
By
Bryan Gutierrez
| ESPNDallas.com
As the NBA Draft approaches on June 26, ESPN Dallas examines the draft through the Dallas Mavericks' perspective this week.
The No. 51 pick in the draft usually ends in one of two places: Europe or out of the game within two or three years. There are a few exceptions to the trend this late in the draft, which are mentioned later on, but the Mavericks likely will be grabbing a convenient scratch-off ticket when they make their last pick in the second round.
[+] Enlarge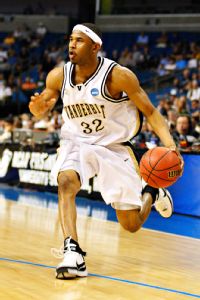 Kim Klement/USA TODAY SportsVanderbilt's Shan Foster was pick No. 51 by the Mavs in the 2008 draft.
As an aside, Shan Foster was pick No. 51 by the Mavs in the 2008 draft.
It's appropriate to offer a look back at the five most recent players selected 51st overall in the draft. It should also be noted that every draft class is different, especially in this portion of the second round, and the players below don't necessarily reflect the kind of player Dallas will select in the draft.
Note:
A True Shooting Percentage is a shooting percentage that is adjusted to include the value of 3-pointers and free throws. The intention is to show a more accurate calculation of a player's shooting percentage rather than field goal percentage, free throw percentage and 3-point percentage taken individually.
2009
Player:
Jack McClinton
Team:
San Antonio Spurs
Rookie stats:
N/A – Never played in the NBA
Career stats:
N/A – Never played in the NBA
Notes:
McClinton is a Spurs project that has yet to pan out. He was waived by San Antonio, then played overseas in Turkey, Israel and Ukraine. Interestingly enough, current Spur
Patty Mills
was selected by the
Portland Trail Blazers
four picks after McClinton.
2010
Player:
Magnum Rolle
Team:
Oklahoma City Thunder
Rookie stats:
N/A – Never played in the NBA
Career stats:
N/A – Never played in the NBA
Notes:
Rolle was subsequently traded to the
Indiana Pacers
on draft night. He was competing with fellow rookie
Lance Stephenson
for a roster spot. Rolle lost the competition. He played in the D-League until the
Atlanta Hawks
signed him to a deal late in the season. He did not play in a game with the Hawks. He went on to play in Japan.
April, 23, 2014
Apr 23
12:00
PM CT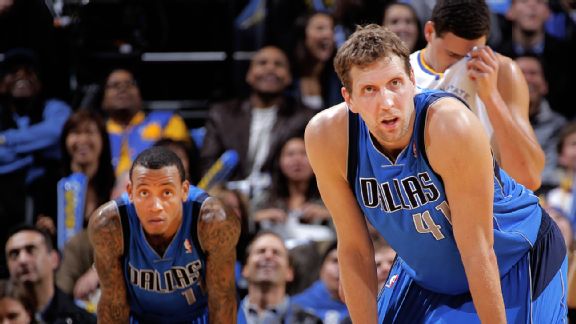 Rocky Widner/NBAE/Getty ImagesThe Mavericks need more from Monta Ellis and Dirk Nowitzki in Game 2.
ESPNDallas.com columnist Jean-Jacques Taylor and MavsOutsider.com editor-in-chief Bryan Gutierrez will join me each week to run a three-man weave on a few questions on the minds of Mavs fans.
Is the 11-point, 4-of-14 performance in Game 1 by Dirk Nowitzki or Monta Ellis more concerning?
Gutierrez:
It has to be Ellis. Nowitzki has seen everything in terms of defensive schemes, especially from the Spurs. He got looks from his favorite spots. Sunday's opening tilt just provided a game where the ball didn't go in the basket. The Spurs attempted to make Ellis settle for the dreaded long two-point shots rather than getting to the rim. The Mavericks will have to continue to find ways to get him to the rim. A byproduct of him getting to the rim is manufacturing more trips to the free throw line. Dallas only had 13 more free throw attempts. Easy points come at a premium and Ellis can help in that department. If opportunities aren't created for that to happen, the concern will continue to grow.
Taylor:
Ellis' poor game is definitely more disturbing because he has no real playoff track record. We know what Dirk can do and we've seen it 10,000 times. He's played in 129 playoff games and won an NBA Finals MVP; Ellis has played in 16 playoff games and only started 11. Ellis had a really nice regular season, but we all know playoff basketball is different. We can assume he'll bounce back and play well, but there's no guarantee.
MacMahon:
Ellis has never had it all during the playoffs. It's not much of a track record -- and most of it is from his second NBA season, when he was the fourth or fifth option on the "We Believe" Warriors -- but it's butt ugly. His averages from 16 career playoff games: 9.8 points, 39.7 field goal percentage, 2.1 assists, 2.0 turnovers. Nowitzki, on the other hand, has a Finals MVP and is one of four players in NBA history with career playoff averages of at least 25 points and 10 rebounds. We know Dirk delivers during the playoffs much more often than not. Ellis has to prove he can perform in the postseason.
Should Rick Carlisle change the starting lineup for Game 2?

Gutierrez:
MacMahon noted on Twitter that Dallas' starting five is minus-40 in 33 minutes of action against San Antonio this season. The only logical move I see making is inserting
Devin Harris
as the starting point guard for
Jose Calderon
. I don't think it is the wisest decision, though. There are no assurances that Harris would bring a better start to the games. What we do know is that he's a vital cog in the dynamic bench Dallas has. Even if he still is on the floor with some of them, moving him to the starting lineup disrupts the cohesion that has been established with the bench. The more reasonable option is shifting the workload of minutes in favor of Harris.
Taylor:
No. No. No. A thousand times no. This team won 49 games and pretty much achieved as much as it could with this roster of players who struggle to defend and rebound. Changing the lineup now would be a panic move. The Mavs have spent the season creating roles for players, so that guys are comfortable with what they're supposed to and when they should expect to get into the game. Changing the lineup for a streaky guy like Harris makes no sense. If he's hot, he'll play more. If not, he'll get his usual minutes.
MacMahon:
I remember a couple of "panic moves" that worked out pretty well for the Mavs -- starting Harris for Game 2 against the Spurs in the 2006 West semis and starting
J.J. Barea
in Game 4 of the 2011 Finals. I just don't think the Mavs benefit from this potential lineup switch, because it'd break up the best thing they have going, which is the chemistry of the bench. Plus, Harris did the vast majority of his damage when matched up with backup point guard
Patty Mills
in Game 1. The Mavs want that matchup again.
Did the Mavs pick the right poison by deciding that defending the Spurs' 3-point threats was a bigger priority than stopping Tim Duncan and Tony Parker?
Gutierrez:
Nowitzki is one of the best basketball players to ever play the game. In his spare time, he also doubles as a mathematician. He stated that they got killed on 3-point shots in the regular season against the Spurs, so the better prospect was to give up twos instead of threes by switching on most of the screens. It's likely that the Mavericks will continue to sacrifice twos for threes, maybe just with tweaks along the way. There's danger looming with
Kawhi Leonard
being another big benefactor of the switching. There were multiple times where he had a smaller guard switched onto him. An adjustment the Spurs can make is taking advantage of those mismatches. While it just presents another problem, Dallas will trade twos for threes every day.
Taylor:
Absolutely. They held the Spurs to 90 points and stopped the crowd from getting really engaged by making the Spurs' litany of catch-and-shoot players essentially non-factors. You can't stop everything. Let Duncan get his and contain everyone else is a sound strategy. The problem wasn't on the defensive end, it was Nowitzki and Ellis making only 8 of 28 shots.
MacMahon:
The Spurs averaged 112.5 points in their four regular-season meetings against the Mavs. They scored 90 Sunday. I'd say Dallas' defensive strategy was pretty darn smart. San Antonio torched the Mavs from the perimeter during the regular season, going 42-of-97 from 3-point range. The Spurs were 3-of-17 from long distance in Game 1. Great adjustment by Carlisle. The concern now: Will the Spurs exploit the mismatch of Leonard posting up Ellis, assuming
Shawn Marion
opens up on Parker again?
April, 18, 2014
Apr 18
8:00
AM CT
A look at the matchups in the
Dallas Mavericks
-
San Antonio Spurs
series:
POINT GUARD
Jose Calderon vs. Tony Parker:
This is the biggest mismatch of the series. Calderon, a subpar defender, struggles to guard a lot of point guards. He really gets exploited by Parker, who averaged 23.3 points on 54.2 percent shooting in three games against the Mavs this season. That was Parker's highest scoring average against any team he faced more than once this season. Parker loves pushing the pace and running pick-and-rolls, both of which present major problems for Calderon, whose plus-minus was minus-40 in the Mavs' four losses to the Spurs, including minus-25 in 86 minutes with Parker on the floor. If Calderon isn't lighting it up from long range, coach Rick Carlisle should seriously consider giving
Devin Harris
a bigger share of the minutes.
EDGE:
Spurs
[+] Enlarge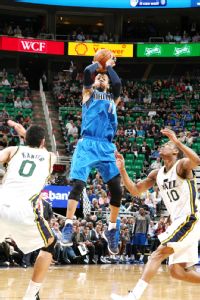 Melissa Majchrzak/NBAE via Getty ImagesThe Mavericks probably wouldn't be in the playoffs without Monta Ellis, who gives them the edge at shooting guard.
SHOOTING GUARD
Monta Ellis vs. Danny Green:
On paper, this is the Mavs' best matchup. It hasn't worked out that way on the floor, however. Green is a lethal 3-point shooter who has especially lit it up against the Mavs, going 12-of-20 from long distance against Dallas this season. The numbers indicate he has also done a good job defending Ellis, who has shot only 38.9 percent from the field when Green is in the game. The Mavs have been outscored by 60 points in the 81 minutes in which Ellis and Green have both been on the court. The Mavs probably wouldn't be in the playoffs without Ellis, a better fit than the Dallas front office believed even when they signed him to a three-year, $25 million deal. They'll need a huge series from Ellis -- who seems to thrive under pressure -- to have a chance to pull off a stunning upset over the Spurs.
EDGE:
Mavs
SMALL FORWARD
Shawn Marion vs. Kawhi Leonard:
Leonard looks a lot like a young Marion -- a freakish, 6-foot-7 athlete who is a versatile defender and efficient offensive weapon. That's an awfully tough matchup for the 35-year-old version of "The Matrix." Leonard gets overshadowed by the Spurs' living legends on the roster, but he's a 22-year-old rising star. His all-around skills were on full display during the Spurs' recent trip to Dallas, on which Leonard stuffed the box score for 16 points, 16 rebounds, 5 assists and 2 steals. By comparison, Marion had a total of 21 points, 13 rebounds and two assists in three games against San Antonio this season.
EDGE:
Spurs
POWER FORWARD
Dirk Nowitzki vs. Tim Duncan:
The two all-time greats don't actually match up with each other much these days, but it will be a treat to watch a pair of surefire Hall of Famers compete in a playoff series for the sixth time in their careers. The 37-year-old Duncan's numbers have dipped in recent seasons, but that's primarily because the priority for him is being as fresh as possible for the playoffs. He's still a dominant defensive presence and capable of putting up a 20-point, 15-rebound line, the way he did in the Spurs' last win over the Mavs. Nowitzki, an All-Star again this season after a one-year, injury-related hiatus, remains one of the most distinct and effective offensive threats in the league. However, Nowitzki has averaged only 15.4 points against the Spurs in the past three seasons, during which San Antonio has won 10 of 12 meetings.
EDGE:
Even
April, 10, 2014
Apr 10
12:05
PM CT
DALLAS – The
Dallas Mavericks
have caught a break, as All-Star point guard
Tony Parker
is staying in San Antonio to nurse a sprained back (the Mavericks host the Spurs on Thursday night).
But that certainly doesn't mean the Mavs can breathe easily, however.
[+] Enlarge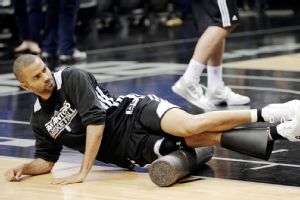 AP Photo/David J. PhillipThe Spurs are 10-3 when Tony Parker sits out this season, thanks in part to contributions from Patty Mills and Cory Joseph.
"They're not as good, obviously, because he's a great player, but they still win a ton of games when he misses," coach Rick Carlisle said. "The thing you can't do is look at the guys who step in for him and say these guys aren't capable, because they've proved time and time again that they are. Both
[Patty] Mills
and
[Cory] Joseph
play extremely hard and play to their strengths extremely well. It's a hard game regardless."
That's not just empty coachspeak. This season, the Spurs are 10-3 when Parker sits, matching their league-best winning percentage for the season. Some of those games were planned rest against inferior competition, but the Spurs clearly aren't pushovers without Parker.
"San Antonio is more about a team than who's missing or who's not playing that night, so it doesn't matter," Mavs point guard
Jose Calderon
said. "It doesn't matter if it's Mills or
Cory Joseph
or
[Manu] Ginobili
or whoever's got to play at the 1. It's more about the whole team. That's what they've been doing for the whole season, the last I don't know how many seasons.
"We've all got to be ready. It's going to be a big challenge."
Joseph typically starts when Parker sits, but Mills tends to cause more problems for opposing defenses. It's been a breakout season for Mills, a five-year veteran who averages 10.0 points on 47 percent shooting off the San Antonio bench, including 16.5 points on 46.6 percent shooting when the Spurs went 5-1 during Parker's midseason rest for a variety of maladies.
"He's always been a very, very good shooter, but it just looks like this year his conditioning is at a higher level," Carlisle said. "He's just been making shots. He's a great outside shooter, and he picks up full court and causes problems that way. He brings a relentless energy to the game that you've got to deal with."
Injury report:
Spurs sixth man
Manu Ginobili
(calf) will play, according to San Antonio coach Gregg Popovich. ... Mavs forward
Shawn Marion
(foot) and guard
Monta Ellis
(tailbone) underwent treatment Wednesday and will start.
April, 22, 2013
4/22/13
7:02
AM CT
ESPNDallas.com will estimate the market value for each of the Mavericks' eight free agents and examine their worth to the Mavs in a once-per-day series.
Rodrigue Beaubois
Remember after
Rodrigue Beaubois
' rookie year, when there was such strong hope that he could be part of the Mavericks' foundation for years to come?
That, unfortunately, was the peak of the slight combo guard's career.

Beaubois had more than his share of bad breaks. He fractured his foot while practicing with the French national team the summer after his rookie year, an injury that required two surgeries to fix and essentially wiped out his second season. His Mavs tenure most likely ended when he broke his hand in mid-March.
There were flashes of brilliance the last few seasons, but Beaubois mostly floated around the fringe of the Mavs' rotation when he was healthy enough to play. He struggled to handle the mental responsibilities of playing primarily point guard and never was nearly as efficient scoring as he was as a rookie, when he played mostly shooting guard alongside
Jason Kidd
.
Beaubois never developed the type of toughness required to earn coach Rick Carlisle's trust. His lack of development was a major disappointment in Dallas, where draft picks have rarely become contributors over the last decade.
Maybe Beaubois can benefit from a change of scenery. It's probably in everybody's best interest if he moves on from the Mavs.
2012-13 stats:
Averaged 4.0 points, 1.9 assists, 1.3 rebounds in 12.2 minutes per game. Shot 36.9 percent from the floor and 29.2 from 3-point range in 45 games.
Age:
25
Comps:
John Lucas
– Averaged 5.3 points, 1.7 assists and 1.0 rebounds in 13.1 minutes per game for Raptors, shooting 38.6 percetn from the floor and 37.7 percent from 3-point range. Made $1.5 million last season with a team option to pay him $1.57 million next season.
Patty Mills
– Averaged 5.1 points, 1.1 assists and 0.9 rebounds in 11.3 minutes per game for the Spurs, shooting 46.9 percent from the floor and 40 percent from 3-point range. Paid $1.09 million this season with a team option for $1.13 million next season.
Darius Morris
– Averaged 4.0 points, 1.6 assists and 1.2 rebounds in 14.2 minutes per game for the Lakers, shooting 38.8 percent from the floor and 36.4 percent from 3-point range. Made $962,195 in second season of rookie contract.
Nando de Colo
– Averaged 3.8 points, 1.9 assists and 1.9 rebounds as a 25-year-old rookie for the Spurs, playing 12.6 minutes per game and shooting 43.6 percent from the floor and 37.8 percent from 3-point range. Has two-year, $2.86 million deal.
Jamaal Tinsley
– Averaged 3.5 points, 4.4 assists and 1.7 rebounds in 18.5 minutes per game for Jazz, shooting 36.8 percent from the floor. Played on one-year deal for $1.35 million (10-plus-year veteran's minimum).
Estimated contract:
A short-term deal for the veteran's minimum, which will be $1.03 million for a fifth-year player.
April, 26, 2011
4/26/11
2:00
PM CT
By
Jeff Caplan
| ESPNDallas.com
DALLAS --
Dallas Mavericks
reserve forward
Brian Cardinal
doesn't see why Patty Mills and the
Portland Trail Blazers
are bent out of shape regarding the strong screen he set that sent the 170-pound Mills careening to the sideline.
PODCAST
Mavericks forward Brian Cardinal talks about the pick he set on Patty Mills in Game 5.

Listen

J.J. Barea and the Mavs were just trying to inbounds the ball and run out the final 18.1 seconds in their 93-82 Game 5 victory Monday. But, the Blazers decided to full-court press and as Barea rushed the ball upcourt, Mills ran smack into the broad side of the 6-foot-8, 240-pound Cardinal, who successfully freed up Barea to get into the frontcourt.
"I wasn't trying to hurt him, just playing hard, smart basketball. That's what they were doing," Cardinal said. "I'm just kind of surprised that they're so mad about it. They picked up J.J. full- court and they're going to double team him and they're playing hard, they're playing aggressive, you know, just like I am. They say there was no time on the clock or the game's over, but yet they're going to play hard, full court and press?"
The Blazers did take exception. Here's
Wesley Matthews
after the game to
The Oregonian
: "I know it's the playoffs and everything, but come on. With four seconds left in the game? But that's cool. I'm not going to forget it, that's for sure."
Cardinal said if Portland would not have employed full-court pressure, he wouldn't have felt inclined to set the strong screen.
"No, I'm going to be standing on the court waiting for the clock to run out and the buzzer to sound," the little-used, yet fundamentally sound Cardinal said. "If they would have stolen the ball from [Barea] they would have ran down and scored a layup. They're playing the game of basketball just like I am. If Patty or if they're mad, they should be made at Earl [Barron] or [Nicolas] Batum or whoever else was in the game. They should have called out that screen."
Mills, though, told
The Oregonian
that he soon realized why Barea was rushing the ball upcourt: "I found out why. He [Barea] set it up [with Cardinal]. He set it up."
Cardinal was asked if he thinks the Rose Garden crowd will give him a hard time Thursday in Game 6.
"No, shoot. No," Cardinal said. "You know, it doesn't matter to me. I've played a total of what two minutes this series? If they're worried about me and my screens…"
Cardinal didn't finish the sentence, unlike his game-ending screen.
April, 26, 2011
4/26/11
11:35
AM CT
DALLAS – A legal pick has apparently caused an outcry – or a lot of crying, at least – in Portland.
The Trail Blazers have beef with
Brian Cardinal
, who might be the nicest bad guy in NBA history. He had the gall to set a textbook screen with seconds remaining that flattened Portland backup point guard/unofficial team mascot Patty Mills.
The Blazers' bench went wild.
Wesley Matthews
mouthed off to Cardinal, leading to a brief postgame confrontation with
DeShawn Stevenson
, who could be considered the Mavs' enforcer. The Blazers blogs are worked into a tizzy. Oh, and Mills is mad.
"Pick on the little bro and deal with the rest of the family," Mills tweeted after the game, a statement that might be much more menacing if it didn't come in the wake of the Blazers getting their butts whipped.
Let me offer a pair of suggestions if Mills doesn't want to be flattened by a pick on the final possession of the game. First, he could opt not to play full-court, in-your-face defense on J.J. Barea during garbage time. Second, you can kindly request that somebody from "the rest of the family" inform you that a pick has been set.
Cardinal watched his teammates blow a 23-point lead the previous game after they started coasting 13 minutes too early. How can you criticize him for playing hard until the final buzzer sounds?
Mavs fans should have a ton of fun with this situation. The mean, ol' Mavs are being portrayed as bullies. If anything, the pick is a sign of progress, and perhaps a statement to Portland.