Dallas Mavericks:

Peja Stojakovich
February, 16, 2011
2/16/11
11:40
AM CT
By
Jeff Caplan
| ESPNDallas.com
DALLAS -- Have no fear,
J.J. Barea
, the hottest
Dallas Mavericks
player of the month, has bucked the flu bug (and an apparent slight groin issue), participated in Wednesday's shootaround and is a go for tonight's game against the
Sacramento Kings
.
The long-awaited, highly anticipated season debut of
Roddy Beaubois
is also on tap for tonight, meaning the Dallas Mavericks will have their full complement of players -- with the notable exception of
Caron Butler
-- for the first time all season.
That alone should excite coach Rick Carlisle.
"Well, listen, we made progress with our health for sure," Carlisle said. "I don't have a good feeling about anything because I think when you start feeling good is when you get into a dangerous situation. We've got to continue to push forward. Even though we have guys that have become healthier there's more ground to cover."
Having Barea available does allow Carlisle to insert Beaubois into the starting lineup if he so chooses and keep his bench, which has played brilliantly of late, unchanged. Had Barea not been able to play, Beaubois could have slid into Barea's slot. Now Beaubois can assume the starting role that he was projected to fill at the start of the season. The lone change, obviously, would be moving
DeShawn Stevenson
, to a reduced role on the bench whether he deserves such a demotion or not.
Will Carlisle insert Beaubois into the starting lineup in his first game a la
Peja Stojakovic
? Only Carlisle knows that right now. But, when he rattled off praise for his bench, Beaubois was conspicuously not mentioned. Intentional? (add suspense music here).
"We've got one of the best benches in the league and J.J. is a big part of it, so is Jet [
Jason Terry
], so is [
Shawn] Marion
, so is [
Brian] Cardinal
and [
Brendan] Haywood
, [
Ian] Mahinmi
and all these guys," Carlisle said. "In the last eight or nine days, everybody that's going to be on our active roster tonight has played a significant role at some point during that period of time. I think that speaks to the kind of team we have. We have a lot of important components."
All will be dressed and ready. The Mavs have 12 healthy players so no one will be made inactive.
January, 22, 2011
1/22/11
1:16
PM CT
By
Jeff Caplan
| ESPNDallas.com
NEWARK, N.J. --
Alexis Ajinca
, the
Dallas Mavericks
' 7-foot-1, usually upbeat, fourth-string center, arrived at United Center Thursday in Chicago and walked through the concourse headed to the locker room as he always does with his head phones on and his head gently bobbing atop his long, lanky body.
But, this day would be like no other in his three-year career. The Mavs were in the process of acquiring a verbal commitment from
Peja Stojakovic
to join the team after he was waived by the
Toronto Raptors
on Thursday. To make room on the 15-man roster, Dallas would have to shed a player and it was working on a
trade to send Ajinca to the Raptors
, as reported by ESPN.com's Marc Stein.
Ajinca was getting ready for the game when TNT, which was broadcasting the game, caught Mavs coach Rick Carlisle breaking the news to Ajinca, a Frenchman who is quite friendly with French-speaking teammates
Ian Mahinmi
and
Roddy Beaubois
. Because of the ongoing nature of the trade mechanics, Ajinca was sent back to the team hotel and presumably he figured he would soon be told when he would be leaving to join his new team.
Only
a snag has held up the trade
, as Stein reported, leaving Ajinca a man essentially without a team. Ajinca did not travel to New Jersey on Friday with the team. Instead he is back in Dallas waiting to be informed where he'll go next and when.
January, 20, 2011
1/20/11
12:45
PM CT
This just in from ESPNDallas.com's good friend, Marc Stein ...
The
Toronto Raptors
and
Peja Stojakovic
are close to completing a buyout that will put the former All-Star sharpshooter on the open market Thursday, according to sources close to the situation.
The Mavericks, sources say, are considered the favorite to land Stojakovic. They have minutes to offer at small forward and a well-chronicled need for perimeter shooting. And joining the Mavericks would enable Stojakovic to live within short flying distance of his wife and children, who remained in New Orleans after he was dealt to the Raptors.
For more, click here
November, 15, 2010
11/15/10
7:30
AM CT
By
Jeff Caplan
| ESPNDallas.com
DALLAS --
Tyson Chandler
doesn't have to think real hard to recall the exciting 2007-08 season when he,
Chris Paul
and the
New Orleans Hornets
broke onto the Western Conference scene with flash and dash.
The Hornets won a franchise-record 56 games, shared the Southwest Division championship, earned the No. 2 seed in the playoffs and dusted off the
Dallas Mavericks
in the first round with a flurry of Paul-to-Chandler alley-oops.
[+] Enlarge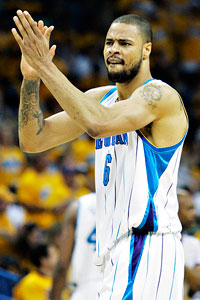 AP Photo/Bill HaberTyson Chandler averaged a career-best 11.8 points and 11.7 rebounds in '07-'08 with Chris Paul and the New Orleans Hornets.
"It seems like yesterday," Chandler said Sunday, the day before his Mavs take on Paul and the undefeated Hornets at the American Airlines Center. "I've got some fond memories of those guys. I still keep in contact with a lot of them, know their families, know their kids. So, we're definitely still close and they're on a bit of a run right now."
Yes, they are. The most surprising team in the NBA is 8-0 under first-year coach Monty Williams, and they've beaten a slew of good teams to get there. The 7-foot-1 Chandler is now two seasons and two teams removed from the Hornets. While battling through ankle injuries, he was dealt to Charlotte in the summer of 2009, and was nearly traded to Toronto this summer before it was called off, opening the door for the Mavs.
Chandler said that even during the franchise's breakout year, the team knew it wouldn't last.
"It was a financial situation," said Chandler, who averaged a career-best 11.8 points and 11.7 rebounds in '07-'08. "We had our opportunity to win that one year and if we didn't go all the way we kind of had it in the back of our head that they would break things up. I kind of knew I was going to be the one to go because teams were inquiring and my contract made sense."
The Hornets didn't win it all. They lost to the
San Antonio Spurs
, going down in a Game 7 in New Orleans. The core of the team remains with Paul, power forward
David West
and 3-point specialist
Peja Stojakovic
.
Emeka Okafor
is now handling the middle and averaging 12.5 points, 8.6 rebounds and 2.3 blocks. Newcomers
Marco Belinelli
and
Trevor Ariza
are playing key roles and the bench is deep and so far productive.
"They're actually deeper than when I played there," Chandler said. "They've got some athletic wings. That's what we lacked when I was there, athletic wings that can get out, take some pressure off Chris, handle the ball and move side to side well defensively. I think they've upgraded in those positions and they're playing well."
Chandler, who is working on the $12.6 million final year of that contract, has been a breath of fresh air at the center position for the Mavs, who traded the aging
Erick Dampier
for Chandler's 28-year-old and fully healthy legs. His stats are steadily on the climb, up to 8.1 points and 8.6 rebounds. He's shooting 74.1 percent from the floor, thanks to swapping Paul alley-oops for lobs from
Jason Kidd
, and he's hitting 86.2 of his free throws, more than 25 points better than his career average. He's also bringing a demeanor to the Mavs' defense, which leads the NBA in opponent shooting percentage.
Tonight's meeting is the first of two in three days. They teams will meet again Wednesday night in New Orleans. But, first comes tonight's anticipated game when the Hornets will put their perfect record on the line against the Mavs (6-2). Chandler said he plans to send them back to his old home with a first 'L' of the season.
"Trust me, it's definitely on my mind and I'll make it be known in the locker room that this will be huge for us," Chandler said. "They're the only undefeated team in the league and everybody's got to lose at some point. It would be good for them to get that loss here."