Dallas Mavericks:

Raja Bell
March, 27, 2011
3/27/11
12:38
AM CT
By
Jeff Caplan
| ESPNDallas.com
SALT LAKE CITY --
Dallas Mavericks
coach Rick Carlisle called Saturday's 94-77 win against a depleted
Utah Jazz
team that led 70-68 with 6:21 to play a "great game."
In this case, great is relative.
"I felt like we were watching the NCAA tournament. At the end of the third quarter, it was 60-58," forward
Shawn Marion
said. "I was like, 'Whoa.' But, at least we hit 90."
But even Marion went on to say that it was a great win and a great way to start a six-game road trip that continues Sunday night at the
Phoenix Suns
.
"I thought we looked good. Besides the turnovers, we did good," Marion said. "It was a halfcourt game. It was a grind. It was a possession game throughout the whole time until we got that last six-minute stretch and we just opened it up. We did what we had to do to get the win."
The Mavs finally looked like a team serious about starting the playoffs in three weeks with a whirlwind final 6:21. It took shape with a lineup that may not have played together all season, and might never hit the floor together in a playoff game. Yet the three-guard lineup of
Jason Kidd
,
Jason Terry
,
J.J. Barea
, plus Marion and
Tyson Chandler
, finally fuel-injected the Mavs, who weren't thrilled by being pushed at home by the
Minnesota Timberwolves
just two nights earlier.
Playoff ready? Well, Carlisle and the Mavs, who are 6-5 in their last 11 games with three straight wins over lottery-bound teams, touted Saturday's game as a playoff-type slog -- physical, grinding and tight -- that they can carry forward.
"This is what we need," Carlisle said. "I mean this is a playoff-style game and very emotional. It's all about hanging in there."
If the 26-7 finishing kick is what Carlisle had in mind when he preached the importance of persistence heading into this season-long road trip, then chalk this one up as a momentous step forward. And maybe it will be a springboard to better basketball for a team trying to re-discover its edge and identity as the playoffs creep closer.
But it certainly wasn't pretty. There were 19 more turnovers -- five in the first half on offensive fouls -- that Utah only managed to turn into 12 points. The good news is only seven came in the second half when the Mavs played better defense, held the Jazz to 30 points and 30.8 percent shooting.
The pessimist will point out that the Jazz started a lineup of
Earl Watson
,
Raja Bell
,
C.J. Miles
,
Paul Millsap
and
Al Jefferson
.
Devin Harris
and
Andrei Kirilenko
were out with injuries as Utah fell for a fifth consecutive time and dropped their 17th home game at what was once one of the most intimidating venues in the NBA.
The Mavs again could not seize a lead and continually fell behind against an undermanned opponent, and managed just 15 points in a brutal third quarter in which the Jazz scored only 13. Both teams combined for 10 field goals and nine turnovers.
The optimist will point out that the Mavs (51-21) found a way to win when they didn't have it going offensively much of the night. Dallas won for only the 12th time this season when scoring less than 100 points (12-27). The Mavs hadn't held a single opponent under 80 points all season and now have done it twice in the last three games (holding Golden State to 73 points a week ago). And, it is the first time in franchise history to sweep a four-game season series from the Jazz. Energy Solutions Arena has been a house of horrors in the past.
"Tonight the level of intensity was like the playoffs, but as far us just getting out and getting a good lead on them, it wasn't happening for us, so that was kind of frustrating," said Jason Terry, who had a game-high 22 points on just seven shots. "But, there in the fourth quarter we locked in on both ends of the floor and did what we had to do to get the win."
Against better teams it might have been too late to salvage. For now, the Mavs have a game at Phoenix, an off-day Monday and a practice Tuesday in the desert, then a game at the
Los Angeles Clippers
on Wednesday to straighten out issues before another huge test against
Los Angeles Lakers
on Thursday. Again, that game could ultimately give the Lakers the No. 2 seed, or put Dallas on the brink of taking it back.
But before then, the fact of the matter is Dallas is finally fully healthy and just now working in another new lineup with Marion starting and
Peja Stojakovic
coming off the bench.
Rodrigue Beaubois
continues to try to find a comfort level and Carlisle is searching for stability with the rotation and roles.
That was blown out of the water early because of foul trouble to multiple players.
"We've got 10 games left and we've got to work through that," Kidd said. "But, we're a veteran ballclub and we understand that, again, we put ourselves in that position [against the Jazz] by turning the ball over. But, once we took care of the ball and got shots, we started to push forward and got a little breathing room."
The only problem is it took 41 1/2 minutes to do it.
December, 3, 2010
12/03/10
9:44
AM CT
By
Jeff Caplan
| ESPNDallas.com
The
Utah Jazz
have undergone some changes.
Carlos Boozer
and
Kyle Korver
defected to Chicago. But, in came big
Al Jefferson
and veteran agitator
Raja Bell
, and the Jazz might be better than ever.
With arguably the league's best point guard,
Deron Williams
, running the show, the Jazz are off to a 15-5 start, have won seven in a row and are always one of the most difficult road games for the
Dallas Mavericks
to leave a winner.
Also riding a seven-game win streak, the Mavs (14-4) will shoot for their first win at Utah in six games tonight in what should be an action-packed showdown at 9:30 p.m. (ESPN). Utah has won four straight at home. The Mavs are 6-1 on the road.
"They're winning games and we are, too," Mavs forward
Caron Butler
said, "so it should be a good one."
Utah has won 10 of the last 13 over Dallas at home and have had a habit of breaking out to fast starts, working their crowd into a lather while putting the Mavs on their heels. And, of course, strange things seem to happen in Utah. In successive years,
Dirk Nowitzki
left Salt Lake City with a one-game suspension. In 2007, a rough takedown of
Andrei Kirilenko
under the basket got Nowitzki suspended, but not ejected. The next season, an incident with
Matt Harpring
got him ejected and suspended.
Harpring no longer plays for the Jazz, but the always antagonistic Kirilenko does, although his new-look, long, stringy hairy makes him difficult to recognize.
'"They're always one of the best teams in the West, obviously well-coached," Nowitzki said. "They always play hard there, their fans are great, so it's definitely a great test for us. But, if we can just keep doing what we're doing we should be all right. If we defend well, get the rebounds and then spread the ball around, let everybody touch it, let everybody score, we're a tough team to beat."
The Mavs had serious interest during the offseason in dealing for the 6-foot-10 Jefferson, but the
Minnesota Timberwolves
preferred the Jazz's offer that included no salary dumps. The Mavs were determined to ship
Matt Carroll
and his overpriced salary in any trade. So Jefferson is with the Jazz and is averaging 16.8 points and 8.7 rebounds. He and
Paul Millsap
(18.4, 8.5) form a tough-to-handle combo at the 4-5 positions.
Dallas ended up trading Carroll's salary and
Erick Dampier
to
Charlotte
for 7-foot-1 center
Tyson Chandler
, and the Mavs are pretty happy with how that's worked out.
The Jazz make their first visit to Dallas in eight days, but in this first of four meetings, the Mavs are expecting a Jazz team to be at their high-energy, agitating best.
"They make you play on every single possession and in many cases they make you play 22, 23 seconds," Mavs coach Rick Carlisle said. "You can never relax against this team."
July, 6, 2010
7/06/10
11:39
PM CT
Raja Bell
hasn't quite created a LeBron-level free agency frenzy, but several teams have expressed interest in the veteran shooting guard.
The Mavs are one of them, Bell said during
Tuesday's appearance on Galloway & Company
. The feeling is mutual.
"Dallas is definitely in the top three for me," said Bell, who mentioned that Miami and Orlando are also among his preferred destinations due to having so much family in Florida.
Bell, who turns 34 in September, has fond memories of spending the 2002-03 season with the Mavs. He said he and his wife enjoyed the city, and he has a lot of respect for the way Mark Cuban runs the franchise. He also wants to play for a winner after not participating in the last two postseasons.
NBA front-office sources told ESPN.com's Marc Stein that Bell has been contacted by several other contending teams, including Boston, San Antonio and Portland. He has also been personally lobbied by longtime former nemesis
Kobe Bryant
, who reached out to Bell recently urging him to join forces with Bryant with the Lakers. But sources say L.A.'s recent agreement to sign guard
Steve Blake
as well as its intention to re-sign perennial playoff stalwart
Derek Fisher
leaves Bryant's team with little spending money to compete with so many suitors.
Bell missed almost all of last season after undergoing surgery on his left (non-shooting) wrist, but he reports that it feels fine. He's taken hits on it during workouts without any problems, and it doesn't limit his weight training.
Bell has started for the last several years but said it's not important for him to retain that status as long as he has a role. If he comes to Dallas, he'd be joining a crowded wing mix that includes
Caron Butler
,
Shawn Marion
,
Jason Terry
,
Rodrigue Beaubois
and Dominique Jones, although it's possible that one or two of those players could be moved in trades.
"Where I'm at now, it's not so much whether I start or not," Bell said. "I've had that conversation with myself and with my wife. Sometimes that means more to your family and your friends than it does to you. It's not about starting necessarily. It's about being able to contribute and being a piece of the puzzle that they need."
It's easy to see why several contenders have touched base with Bell. Who couldn't use a career .411 3-point shooter who prides himself on playing lockdown D? He's basically a combination of the best attributes of Mavs benchwarmers
Matt Carroll
and
DeShawn Stevenson
.
"The good thing about what I do, I think, is that there are not a whole lot of guys who do it," Bell said. "I can always hang my hat on if there are 100 shooters on the team, I can be the one shooter who will go out there and just try to die to keep my man from getting a bucket."
Bell sidestepped a question about what kind of money it'd take for him to return to Dallas. If the answer is the bi-annual exception of a little more than $2 million, he'd make a nice addition for the Mavs.
May, 12, 2010
5/12/10
12:54
AM CT
By
Jeff Caplan
| ESPNDallas.com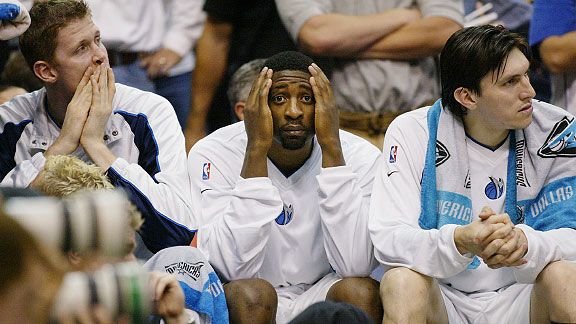 AP Photo/Donna McWilliamFrom left, Shawn Bradley, Adrian Griffin and Eduardo Najera had a hard time watching the Mavs' playoff run end against the Spurs in the 2003 Western Conference finals.
Third in a series chronicling the Mavericks' streak of 10 seasons with 50 or more wins (previous installments).
Coach:
Don Nelson
Record:
60-22 (T1st, Midwest Division)
Playoffs:
Defeated Portland (4-3); defeated Sacramento (4-3), lost to San Antonio (4-2)
Team payroll:
$72.9*
Highest-paid player:
Michael Finley
($11.95 million)*
Offseason transactions:
G
Walt Williams
(free agent); G
Raja Bell
(free agent); F
Popeye Jones
(free agent); G
Adam Harrington
(free agent, then released in January)
Major transaction:
G
Antoine Rigaudeau
(free agent, signed Jan. 17, 2003)
The high:
The Mavs posted a second consecutive franchise record for wins. They started the season 14-0, falling one win shy of tying the NBA record. Dallas led the NBA in scoring for a second straight season (103.0) and committed an NBA record-low 11.6 turnovers a game.
Dirk Nowitzki
averaged a career-best 25.1 points a game, finishing sixth in the league, and joined
Mark Aguirre
as the only Mavericks player to score 2,000 or more points in a single season. Nowitzki finished with 2,011. He and
Steve Nash
(17.7 points, 7.3 assists) made the West All-Star team again. After taking a 3-0 lead over Portland in the first year of the first-round being expanded to best-of-7, the Mavs had to pull out a Game 7 to advance. Dallas then slayed Sacramento in seven games, a series that included a thrilling 141-137 double overtime win in Sacramento and a 112-99 Game 7 win in Dallas in which Nowitzki scored 30 points and had 19 rebounds. It put the Mavs in the West finals for just the second time in franchise history and first since 1988.
[+] Enlarge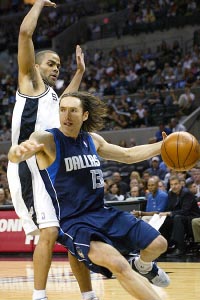 AP Photo/Donna McWilliamSteve Nash couldn't lead the Mavericks past the Spurs in the 2003 Western Conference quarterfinals, although helped the Suns do it this year.
The low:
On Dec. 6, 2002, the Mavs suffered one of the franchise's worst losses to their most hated nemesis. Playing in Los Angeles, the Mavs blew a 30-point lead to the Lakers, who trailed 88-61 at the end of the third quarter. But, the biggest letdown came in Game 3 of the Western Conference finals when Dirk Nowitzki went down with a sprained knee. The Mavs lost the game to trail San Antonio, 2-1, and the news wasn't good: "The news is not good," Mavericks coach Don Nelson said. "His knee is very sore. I don't expect he'll play [in Game 4], and I'm not sure if he'll play in this series." Nowitzki didn't play the rest of the series. The Spurs won Game 4 in Dallas, but Michael Finley's 31 points in Game 5 extended the sreies to Game 6 back at the American Airlines Center. The Mavs were giving the Spurs all they could handle. That is until
Steve Kerr
popped off the bench and took over. Kerr put on a 3-point blitz and the Spurs outscored the Mavs, 34-9, in the fourth quarter. The series began the falling out process between Nelson and Mark Cuban, who wanted Nowitzki to play in the late stages of the series. Nelson insisted Nowitzki sit, unwilling to risk the health of the knee of the franchise player. Had Nowitzki played and the Mavs won the series, they had to like their chances against the
Jason Kidd
-led
New Jersey Nets
in the NBA Finals. The Spurs certainly did.
The roster:
F Dirk Nowitzki (team-leading 25.1 ppg, 9.9 rpg and 111 steals)
G Michael Finley (19.3 ppg, 37.0% 3FG)
G Steve Nash (17.7 points, team-high 7.3 assists and 41.3% 3FG)
G
Nick Van Exel
(12.5 ppg, 4.3 apg, 27.8 mpg as sixth man)
F/C
Raef LaFrentz
(9.3 ppg, 4.8 rpg, 91 blocks in 69 games)
C
Shawn Bradley
(6.7 ppg, 5.9 rpg, 170 blocks in 21.4 mpg)
F
Eduardo Najera
(6.7 ppg, 4.6 rpg in 48 games)
F Walt Williams (5.5 ppg, 37.4% 3FG)
G/F
Adrian Griffin
(4.4 ppg in 18.6 mpg)
F
Tariq Abdul-Wahad
(Played in just 14 games)
G
Avery Johnson
(3.3 ppg in 48 games)
G Raja Bell (3.1 ppg in 75 games)
F Popeye Jones (2.0 ppg, 2.3 rpg in 26 games)
G Antoine Rigaudeau (1.5 ppg, 0.5 apg in 11 games)
F/C
Evan Eschmeyer
(1.0 ppg, 1.4 rpg in 17 games)
*Source: Basketball-Reference.com
November, 23, 2009
11/23/09
7:47
AM CT
By
Jeff "Skin" Wade
| ESPNDallas.com
Monday means "The Come Up" – our weekly look at the week ahead on the Mavs schedule. Lots of travel for Turkey week. Hopefully
Shawn Marion
can get back in the mix sometime during this swing. It go a 'lil summin' like this…
Tuesday - Warriors, Come Out To Play
Wow, talk about low-hanging fruit. The mood emanating from The Bay Dubs feels downright Post-Apocalyptic. From the outside, it appears that nobody wants to be there. Those on the inside are probably wishing they were afforded the luxury of being a speculating outsider. I imagine the vibe on the bench during a timeout feels
something like this
.
The Warriors traded
Stephen Jackson
, their best and most disgruntled player, for
Raja Bell
– who immediately opted for surgery. He was going to have the surgery anyway, but I'm saying... They've been decimated by unhappiness and injuries.
Andris Biedrins
and
Ronny Turiaf
have both been on the shelf and
Kelenna Azubuike
, one of their few great values on a roster loaded with over-priced dudes who all do the same stuff, is likely out for the season.
So far this year has been an unmitigated disaster for The Warriors; which leads me to wonder if anyone uses "unmitigated" without following it with "disaster". By my calculations Golden State has exactly one quality win – last Friday night's home victory over Portland. In that game
Monta Ellis
, the current most vocal malcontent on the roster, played all 48 and dropped 34 to go with eight assists and six steals. He's fun to watch no matter how unfun his current situation is. I stand by "unfun" as a real word. However, I wouldn't stand by this team unless you were hoping to get struck by lightning.
Wednesday – Is NASA open on Thanksgiving?
When the Mavericks last played the Rockets two weeks ago they were lifeless for the first 18 minutes and looked like they were going to get run in their own gym by a high energy team playing with no fear. Thirty game minutes later the Mavericks had annihilated the Rockets to the tune of 121-103 in one of the few games this season that they actually got their shots to drop (55%).
If The Mavericks don't get the blood flowing from the jump on the second night of a back-to-back the day before a holiday they will get drilled. Houston is above .500 because of energy, effort and heart – not high-profile scorers. They spread the floor and go for broke.
Trevor Ariza
is going for 18 a night, but he's shooting a poor percentage at a shade under 39%. If rookie Roddy Beaubois is still in the starting line-up Wednesday night, he'll no doubt draw the assignment of trying to keep lightning-quick
Aaron Brooks
out of the paint. Have fun with that, rook.
Friday - First one to 100 wins
The Pacers have one of the League's truly great players in
Danny Granger
– unfortunately for him nobody is paying attention and he doesn't have much support. Mikey Dunleavy has yet to play this year and
Troy Murphy
is just working his way back. So that means the Pacers' second leading scorer is defensive-minded free-agent signee
Dahntay Jones
who at 17 a night is 12 over last year's average of 5 - also his career scoring average.
The Pacers shoot around the same as their opponents from the field and from the line, have the exact same number of turnovers per game at 16 and average the exact same total of points per game as who they're playing at 99.8. They are the epitome of middle of the road, playing ordinary basketball with mostly innocuous dudes (for NBA standards at least). I do like Roy Hibbert's future and I'm also wowed by rookie Psycho Hansbrough's massive social network of people who
couldn't possibly allow a pet dog to go missing
.
Uptown Saturday Night: LeBron-style
Great early season test on the road as both teams will be playing the second night of a back-to-back (The Cavs play at Charlotte the night before). Put me in the seemingly dwindling camp of people who thinks this is the best team in the east. I don't get the "Cleveland will suffer because Shaq bogs down the offense" argument since his half-a-game minutes per night replaces one-man offensive clinic Ben Wallace's half-a-game minutes per night. They were able to score with Ben on the floor and when it's all said and done they'll be able to score with the far superior offensive player on the floor as well.
Cleveland did lack movement in the first few games of the season when they looked out of sorts, but second-year rip-the-rim-off jumping jack
J.J. Hickson
was inserted into the starting lineup and his ability to finish at the rim has made it more difficult for opposing bigs to lose sight of their man on their way to mugging LeBron. On draft night in 2008 I declared that 19th pick Hickson was going to be the perfect fit for The Cavs and that he'd be the steal of the draft. I also said
Russell Westbrook
was a reach at No. 4, since he was the second best point on his college team, but let's not worry about that so much right now.
This Cleveland team will be dominant because they got deeper and bigger and they have the best player in the world not named Kobe. This game is the crown jewel of the week ahead and hopefully Dallas has worked back toward health and regained that elusive shooting touch by the time Saturday rolls around.