Dallas Mavericks:

Rasheed Wallace
February, 16, 2012
2/16/12
2:06
PM CT
A six-pack of Mavs statistical nuggets following Wednesday night's home rout of Denver:
*With 15 points in the 102-84 win,
Vince Carter
passed
David Robinson
(20,790 points) for 33rd place on the NBA's all-time scoring list.
*Dallas scored the first five points in the win and never relinquished that lead. It's the third time already this season, according to the Elias Sports Bureau, that the Mavericks never trailed or were even tied. The Mavs had only one such game during the 2010-11 regular season and only one during its postseason run to the championship (Game 3's 93-87 victory over Oklahoma City in the West finals.)
*The Mavericks have held their last nine opponents under 100 points and rank No. 5 in the league in scoring defense at 91.3 points per game allowed. Even without
Tyson Chandler
, Dallas ranks fourth in the league in defensive efficiency, allowing just 96.2 points per 100 possessions.
*Going back to Monday night, Dirk Nowitzki's 11 points in the fourth quarter marked the first time all season he scored in double digits in the final period. Dirk did that 12 times last season. Yet over the past seven games, Nowitzki has averaged 23.7 points on 50.8-percent shooting, compared to 16.2 points per game on 43.0-percent shooting in the Mavs' first 19 games.
*With one more block, Nowitzki will have 1,000 for his career, making him just the third player in league history to rack up 1,000 career 3-pointers and 1,000 career swats, joining
Clifford Robinson
and
Rasheed Wallace
.
Jason Kidd
, meanwhile, is five steals away from tying
Michael Jordan
for second place on the NBA's all-time thefts list (2,14) behind
John Stockton
(3,265). At 38 days and 331 years old, Kidd is the fourth-oldest active player in the league behind Portland's
Kurt Thomas
(39 years, 136 days old), Phoenix's
Grant Hill
(39-135) and Miami's
Juwan Howard
(39-10).
March, 25, 2010
3/25/10
3:57
PM CT
Remember the public clamor around town for Philadelphia's
Andre Iguodala
before last month's trading deadline?
You won't hear any regret now -- from Mavs fans or the Mavs themselves -- after Dallas managed to acquire two front-line players (
Caron Butler
and
Brendan Haywood
) and some additional depth (
DeShawn Stevenson
) in the trade they did end up swinging with Washington.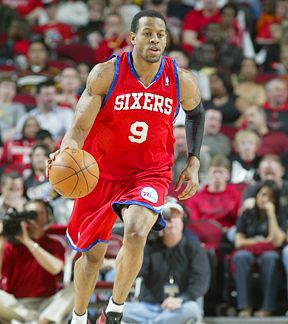 Bill Baptist/Getty ImagesAndre Iguodala has attempted 274 3-pointers this season, but is shooting only 28.5 percent -- including only 3 of 33 from beyond the arc in the past 10 games.
The Mavs might be in the midst of a 2-3 funk since their 13-game winning streak, but Iguodala is in the midst of the sort of shooting slump -- making just 3 of 33 attempts from 3-point range over the past 10 games -- that from the start had at least a few local observers (hello!) questioning the wisdom of Dallas taking on the four years and $56 million remaining on the Philly swingman's contract after this season.
Iguodala's defensive potential is considerable. Ditto for his versatility. There's also little doubt he'd get better looks from the perimeter than he's ever seen playing alongside
Dirk Nowitzki
, just as
Jason Kidd
has discovered.
Yet the question persists whether he shoots the ball well enough at his position to justify that contract, especially since the Mavs have at times been punished in recent years for their lack of floor-spreading options outside of Nowitzki beyond
Jason Terry
and the ever-improving Kidd. The Sixers have been imploring Iguodala for years to attack the rim more, but he: (A) continues to hoist; and (B) insists his overall game has been hampered by a worsening case of plantar fasciitis in his right foot.
Seventy-one players have attempted at least 200 triples this season ... but Iguodala is one of just five such players shooting less than 30 percent from 3. Those five:
Rasheed Wallace
(Boston) 27.8 percent
Baron Davis
(
Los Angeles Clippers
) 28.4 percent
Andre Iguodala (Philadelphia) 28.5 percent
Dwyane Wade
(Miami) 29.3 percent
Mike Dunleavy
(Indiana) 29.7 percent
March, 20, 2010
3/20/10
10:53
AM CT
DALLAS --
Rasheed Wallace
whined about the officiating and vowed to get "retribution" the last time he saw
Dirk Nowitzki
and the
Dallas Mavericks
.
Wallace gets a chance to back up his words Saturday night, when the
Boston Celtics
visit American Airlines Center.
Wallace already paid for popping off after the Mavs' 99-90 win in Boston. The NBA fined him $35,000 for the following comments:
"You know, they don't like no tough defense on [Nowitzki] so of course I get a whole lot of [expletive] calls, but that's how the story goes," he said. "I ain't worried about it. We'll see them again. Honestly, I can't remember which one the fourth foul was, there were so many bogus [calls]. I ain't worried about it. Like I said, we'll see them again. We go down there in about a month or so. There will be retribution."
Nowitzki, who shrugged off the comments at the time, didn't make himself available for comment after the Mavs' practice Friday. Teammate
Jason Terry
and coach Rick Carlisle weren't concerned in the least about Wallace's ref critique or retribution vow.
"Anytime you're playing against a star player, hey, the referees are going to call it tight," Terry said. "You can't put your hands on guys like Dirk, Kobe, Durant."
Added Carlisle: "The referees are going to call it the way it is. And if they don't, they get in trouble with the league office."
Whether the refs were right or wrong, it was Wallace who got in hot water with the league office after the last Mavs-Celtics meeting. If anything, his words then might make this officiating crew a bit quicker with the whistle when he's defending Dirk or complaining about calls.
January, 18, 2010
1/18/10
11:17
AM CT
By
Jeff "Skin" Wade
| ESPNDallas.com
Monday means The Come Up, and Dallas is currently reeling in the East. It's confusing because those aren't the actual Steely Dan lyrics; it just sounds like they're singing that. But Dallas really is reeling right now and on an East Coast road trip. See how problematic this is? Hard to make sense of it really. But we'll all try, starting with Boston. And it go a 'lil summin' like this:
MLK Day matchup of two struggling division leaders
The Celts are a healthy 27-11, but it's somewhat deceiving. They are 8-1 against the tepid competition in the Atlantic Division and have struggled in their last 10 games, winning only four and losing their last two home games to Chicago and Atlanta.
Injuries are the primary culprit.
Kevin Garnett
has missed time recently with a hyper-extended knee but isn't expected back until Friday.
Rasheed Wallace
has missed the last three games with a foot sprain, but is expected back for tonight's tip.
Paul Pierce
banged his previously hurt knee in practice yesterday.
Doc Rivers
must be praying he's OK.
Brian Scalabrine
has started the last three games. Seriously.
The Mavericks had some huge individual milestones in the last week as The Big German passed the 20,000 mark in points and
Jason Kidd
entered the top five in NBA history in three-pointers made. They're both chasing
Ray Allen
.
Dirk enters Monday's game 231 points behind Allen, who is also 804 3-pointers up on Kidd. Dirk will eventually catch Allen and leave him in the dust. If he stays healthy, Allen will pass
Reggie Miller
as the all-time downtown champ sometime late next season (he needs 198 more to pass Miller's 2,560).
Did I mention that the Mavs were reeling? Out East?
And sometimes they play basketball, too
The Mavs play The Wiz on Wednesday night, but it's hard to find any news on what's been going on with these guys lately.
What are you supposed to write here? Even the most casual of hoops fan is completely aware of what a toxic situation exists in Washington right now. These dudes have won eight games since Dec. 1.
Gilbert Arenas' legal situation is less murky than his future playing status, and he won't get sentenced until March 26. That's so inconsiderate considering the mid-February trade deadline.
Here's hoping Arenas doesn't have to spend any significant time behind bars (if any at all), and he and Washington can come to some sort of a sensible buyout that allows him to go somewhere else and start over while minimizing the utter devastation his contract has imposed on the Wiz's roster flexibility.
Surely Washington will be big players at the trade deadline regardless of Arenas' uncertain status. Their play can most kindly be described as "uninterested," and they're surrounded by worse vibes than a leasing office at one of Donald Sterling's properties. They have plenty of expiring contracts and two very desirable players in
Caron Butler
and
Antawn Jamison
, even if Jamison's contract is pretty dicey (about 28.5 million for the two seasons following this one).
So when you watch a Washington game it's kind of like one big audition to "get off the island." And these guys rolled the Mavs on opening night at AAC. Did I mention Brian Scalabrine started the last three games for the Celtics? I'm serious. About all this.
Basketball is a team game, kids
Remember what a ridiculous circus the whole
Allen Iverson
retirement charade was? I watch a lot of NBATV -- a definitive sign that I don't have much going for me -- and everyday there was somebody else in AI's circle on the league's network carrying on about what a tragedy it was that Allen Iverson was forced into retirement.
John Thompson was indignant,
Eric Snow
was stoically displeased, Cheryl Miller was crying without tears and, of course, Rick Kamla was there through it all to assure everyone that he truly loved AI. Yet I couldn't figure out who was behind this outlandish plot seeing as he was on a roster and active just weeks before this awful tragedy.
Thankfully, Philly had absolutely nothing going on and a disintegrating fan base so that they could provide safe harbor for a man, who despite being a completely unrestricted free agent just months earlier, couldn't find a team with a role to suit his liking. Society owed Iverson a starting role and whatever minutes he desired and had Philly not stepped up and delivered, civilization might have completely unraveled. It didn't matter that he had a role and a paycheck in Memphis -- that spot was a complete injustice and an affront to the spirit of the sport.
The 76ers are 6-8 in the 14 games that Iverson has played with them, which is way better than the 7-18 they've tallied without him (and all the other dudes who were hurt early in the season). Iverson was an amazing individual player who goes hard and is still very talented.
But if you remove the names of everyone involved and just look at the situation for what it is without bias, this whole scenario is about an aging player who has no interest in being part of a team unless that team wants to acquiesce to what it is he wants. And if a team does revolve around him, it will be, best-case scenario, mediocre and out of the playoff picture. What is there to like about that?
By the way, a Memphis team that everyone wrote off as a horrible mess is 19-10 since they waived Iverson. Not that it's related. I just enjoy pointing out random asides.
I like
Andre Iguodala
. I like Thad Young -- reminds me of a heyday '80s scoring forward. I like Lou Williams' name -- sounds like he'd be a heyday '80s scoring forward.
This is another bad team the Mavs struggled to barely beat at home earlier in the season. What age is too young to be a Steely Dan fan?