Dallas Mavericks:

Reggie Evans
March, 21, 2013
3/21/13
9:00
AM CT
DALLAS – The Mavericks have lost only two games during
Dirk Nowitzki
's career when he has shot at least 80 percent from the floor with more than one attempt.
The Mavs are 14-2 in such games. The exceptions just happen to be their last two losses.
Nowitzki was 8-of-10 from the floor in Wednesday's loss to the
Brooklyn Nets
, when he scored 16 points. He was also 8-of-10 in Sunday's loss to the
Oklahoma City Thunder
, when he scored 23 points.
This leads to a logical question: With Nowitzki locked in, why the heck isn't he getting more than 10 looks in a game?
"They don't leave me much anymore," Nowitzki said, referring to opposing defenders hugging up on him at virtually all times. "It's up to other guys to make plays. It's as simple as that.
"I can't wrestle every time to get the ball. You can't do that for 48 minutes. I've got to pick my spots, take open shots when it's there. I think we've been running pick-and-roll pretty well. Because guys are not really leaving me much, guys are pretty much walking in the lane, getting stuff out of that. I'm going to keep picking my spots and be aggressive when I need it."
While Nowitzki doesn't see it as a problem, it's still unsettling to see 37-year-old journeyman guard
Mike James
get more shots than the 18th leading scorer in NBA history. That happened in both of the Mavs' last two losses.
However, with the Mavs' offense becoming less and less reliant on the longtime staple of Dirk isolation plays, that will probably happen again a few more times in the final 14 games.
"If you really watch the game, he's touching it," coach Rick Carlisle said. "It's just teams work to take his shots away. That's why balance is so important to us. That's why we don't want to get in a situation where we're just pounding it to him every single time. That takes a big toll on him.
"That's why we work toward movement and balance and tempo. When we have to go to him, we go to him."
A few more notes from the loss to start the Mavs' critical six-game homestand:
1. Lopez lights it up:
Deron Williams
has made it known that he loves shooting the ball at the American Airlines Center. Brooklyn big man
Brook Lopez
can surely relate.
Lopez scored a season-high 38 points Wednesday night, matching his scoring total from last year's visit to Dallas. He was 15-of-22 from the floor, with all but three of his buckets coming in the paint.
"
Chris (Kaman)
did a good job guarding him in the post, but then there were residual things," Carlisle said. "There were penetrations, there were breakdowns, there were other things that led to him being able to get into openings and cracks. Some of the stuff is just that we've got to be more solid individually within our system. Hey, tough night."
2. Dreadful D:
Allowing 113 points per game isn't the kind of trend the Mavs want to continue.
"The irony is this is the same number of points we gave up the other night in Atlanta, but we scored 127, so it all seemed like it was OK," Carlisle said. "But this is an ongoing challenge for us being able to keep teams at or under 100. We've got to keep going and keep working at it."
The Nets shot 50.6 percent from the floor and scored 52 points in the paint.
"Our defense just wasn't good enough," Nowitzki said.
3. One-man rebounding machine:
Another frequent problem for the Mavs popped up against the Nets. They got dominated on the glass, getting outrebounded by a 45-34 margin.
Brooklyn power forward
Reggie Evans
did a lot of the damage, grabbing 22 rebounds. He had eight rebounds in the second quarter, matching the Mavs' team total for the frame.
May, 14, 2012
5/14/12
12:01
AM CT
By
Jeff Caplan
| ESPNDallas.com
First in a 15-part series ranking the Mavericks' 2011-12 roster in importance of bringing back next season.
The offseason certainly arrived much sooner than anyone could have predicted, just like
Lamar Odom
's premature exit from the
Dallas Mavericks
.
The 6-foot-10 forward kicks off our offseason blog series that ranks the 2011-12 Mavericks roster in order of importance for the front office to bring back. Four of last season's six free agents found new homes with the exception of
Peja Stojakovic
, who called it a career after winning his first championship, and
Brian Cardinal
, who re-signed but made virtually no impact on the season.
Eleven months ago, the title team proved difficult to rank in importance and I started the Countdown with
DeShawn Stevenson
as the least important. It drew quite a few raised eyebrows from those wondering how I could possibly consider the defensive bulldog and surprisingly valuable 3-point shooter the least important member of the title team to bring back.
In retrospect, the choice probably violated the spirit of this series. I chose Stevenson not because I didn't think he was an asset and worthy of returning for a chance to repeat, but because the Mavs traded for shooting guard
Rudy Fernandez
, a move that, to me, signaled that Stevenson wouldn't be back. Who would have figured that neither Stevenson nor Fernandez would start the season with the Mavs?
This time around the lead-off man in these rankings is a no-brainer. Odom's career-worst season has to go down as the most disappointing season in the league and one of the more frustrating ones for a franchise in recent memory.
With that, on with the series:
LAMAR ODOM

Pos:
SF/PF
Ht/Wt:
6-10, 230
Experience:
13 years
Age:
32 (Nov. 6, 1979)
2011-12 stats:
6.6 ppg (35.2 FG%), 4.2 rpg
Contract status:
Signed through 2012-2013
2011-12 salary:
$8.9 million
2012-13 salary:
$8.2 million ($2.4 million guaranteed)
[+] Enlarge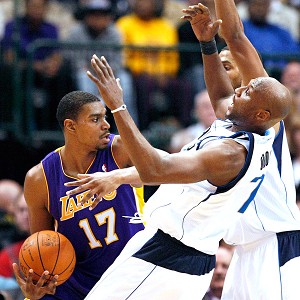 AP Photo/Brandon WadeLamar Odom was a flop with the Mavs after they acquired him from the Lakers.
His story:
There's a certain reality TV show on a certain entertainment channel starring a certain Kardashian sister and her basketball-playing husband that can provide the background of what went wrong in Odom's four short months with the Mavs. What didn't go wrong? Dallas thought it was getting a versatile forward who would help ease the pain of losing
Tyson Chandler
by supplying his unique skills that had helped the Lakers win back-to-back titles. Owner Mark Cuban says he'd make the trade all over again that brought the emotionally bogged-down Odom to Dallas for a draft pick and a trade exception. And hey, when the stunning trade went down Dec. 11, most thought the Mavs had just pulled off a coup and wondered why in the world the Lakers would seemingly just hand over last season's Sixth Man of the Year to the team that swept them out of the playoffs. Now we know.
His outlook:
Odom is actually under consideration for a spot on Team USA for the London Games because of the rash of injuries that have taken out star players like
Derrick Rose
and
Dwight Howard
. Cuban actually said he'd love to see it, but only because he has such disdain for Olympic basketball, so he figures the two were meant to be together. Where Odom lands next season will be a far more intriguing story to follow. For starters, Dallas will try everything it can to dump him off on a team with loads of salary cap space such as Toronto or Sacramento and throw in $3 million to offset the $2.4 million guaranteed on Odom's deal next season. If the Mavs can't dump him in a trade, they'll waive him and be responsible for the $2.4 million, which will eat into their cap space this summer. Such a result will not please Cuban. No matter what, Odom will be long gone from this organization. A return to the Lakers is not likely since they can't add him to the roster for a full year after the date he was traded, Dec. 11. Could he land with the
Miami Heat
, one of his former teams that obviously will be a contender for years to come? Well, if he wants to sign for a fraction of his actual 2012-13 salary, then it's possible. Of course, no team might risk much more than a couple million anyway. How about the team with which he started his career, the
Los Angeles Clippers
? Possible.
Caron Butler
is signed for two more years at small forward, but
Kenyon Martin
and
Reggie Evans
are free agents.
The Countdown
No. 15 Lamar Odom
No. 14 Coming Tuesday