Dallas Mavericks:

Richard Hamilton
November, 23, 2010
11/23/10
1:20
PM CT
By
Jeff Caplan
| ESPNDallas.com
DALLAS -- Here are the defensive assignments this week for
DeShawn Stevenson
,
Jason Terry
,
Shawn Marion
and anybody else coach Rick Carlisle feels inclined to throw into the mix:
Richard Hamilton
,
Kevin Durant
,
Manu Ginobili
and
Dwyane Wade
.
"There are tons of great players in this league and we'll see a lot of them this week," Carlisle said. "That's one of the challenges you've got to love. Dealing with those guys, both individually and as a team, is what it's all about."
Tonight's opposing shooting guard, the
Detroit Pistons
' Hamilton is not off to a great start. He's averaging 13.5 points on 41.9 percent shooting, which includes just 28.6 percent from beyond the 3-point line. Still, the masked man is always dangerous. He's coming off a 27-point game in the Pistons' overtime win Sunday.
On the back end of this four-games-in-five-night stretch is the curiously struggling Wade and the 8-6 Heat. Wade injured his hamstring in the preseason and more recently hurt his wrist. In his return from the wrist injury on Monday, Wade scored three points on 1-of-13 shooting and is 5-of-26 in his last two games.
Wade averaged 26.0 points in his first eight games and just 14.0 in his last five.
There are no such struggles in the middle two games. The Thunder's Durant is averaging 28.0 points, although the Mavs have a history of slowing him down. The Spurs' Ginobili is having a phenomenal start to the season, averaging more than 20 points and nearly five assists as the Spurs have gotten off to an NBA-best 12-1 start.
July, 13, 2010
7/13/10
12:14
AM CT
Remember the rumblings from inside the American Airlines Center that the
Mavs might not use
their vaunted
Erick Dampier
trade chip?
Well, that looks a lot more likely now that the
Utah Jazz
have apparently swooped in to swipe
Al Jefferson
, as
ESPN.com's Marc Stein reported.
"We're not just looking for reasons to get players that aren't going to help us," Donnie Nelson told us on
ESPN 103.3's Galloway & Company last week
. "It wouldn't make sense if we all of a sudden got some fossil at the end of his career and it cost us $10 million, plus tax, and he didn't crack the rotation.
"We've got that [Dampier] chip. It's a valuable one. We're actively in discussions, but we'll pull that trigger [only] if it makes sense and we can take a significant step forward."
Now what do the Mavs do with Dampier's evaporating contract?
They can hold their breath and hope that the Hornets finally change their mind about trading
Chris Paul
. Kinda like you can plan for retirement by buying lottery tickets.
The Mavs want to package the contracts of
DeShawn Stevenson
(one season left at $4.1 million) and
Matt Carroll
($11.7 million over the next three seasons) with Dampier's $13 million salary that would be wiped off the other team's books moments after the NBA approved the trade.
Here are a handful of potential options (remaining contract in parentheses):
Richard Hamilton
($37.5 million over three years, final season is partially guaranteed): The Pistons are reportedly willing to dump their three-time All-Star shooting guard for future salary cap relief. Hamilton might be the Mavs' best shooting guard since
Michael Finley
, but Rip has some red flags. He is 32 and his shooting percentages have plummeted the last two seasons, when he missed a total of 51 games.
Monta Ellis
($44 million over four years) He's only 24 and averaged 25.5 points and 5.3 assists for Nellie's run-and-gun Warriors last season. Does
Rodrigue Beaubois
have that type of potential? The excitement about Beaubois – and the fact that he comes at a fraction of Ellis' price – might prevent the Mavs from considering a combo guard.
Danny Granger
($50.9 million over four years): He's a versatile go-to guy who can defend and is in his prime at 27. The problem: The Pacers might not part with him for financial relief. Granger's name came up in trade rumors before the draft, but the return would have been
Devin Harris
and the No. 3 overall pick.
Andre Iguodala
($56.5 million over four years): The Mavs and Sixers had serious discussions before the deal with Washington went down last season. He's a poor perimeter shooter, but he does a lot of other things well (17.1 points, 6.5 rebounds, 5.8 assists and 1.7 steals last season). But he' s not an elite player, although he has that sort of price tag. The Sixers want to pair
Elton Brand
(three years, $51.2 million) with Iguodala in a mega salary dump, but Brand's contract is a deal-killer.
Gilbert Arenas
($80.2 million over four years): Forget all the off-court drama for a moment. It's difficult to see the Mavs paying a gunner (so to speak) with a scary injury history more than
Dirk Nowitzki
. And, once again, the Mavs hope that Beaubois will become a prolific combo guard at a fraction of the price.
Andris Biedrins
($36 million over four years): That's a lot of money to pay a guy who would be a backup center, especially since Biedrins' offensive skill set consists of finishing around the basket. But the 24-year-old runs the floor and rebounds well, and the Mavs need somebody to pair with
Brendan Haywood
.
June, 23, 2010
6/23/10
12:01
AM CT
By
Jeff "Skin" Wade
| ESPNDallas.com
For Part VI of our fantasy offseason series, we'll do some pre-draft wheeling and dealing. It involves a couple of Texas two-steps, a couple of Eastern Conference teams, and it requires Dallas taking on a lot of salary. But I'd argue that it makes the Mavs much better with a chance to score in the lottery. And it go a 'lil summin' like this.
The Basics:
There are three teams involved here (Dallas, Detroit and Miami) and two separate transactions to make it all happen. Detroit and Miami will get varied degrees of salary relief and Dallas will get an aging player at a position of need but it'll also net a lottery pick.
The How:
In move No. 1, Dallas will use the trade exception from the
Kris Humphries
deal to acquire
Daequan Cook
and his $2.1 million dollar salary. Miami can obtain Dallas' No. 50 pick or $1 -- who cares? Make it what you want. This will make more sense after the ensuing transaction, but the obvious motivation for Miami is to shed more salary for the summer of 2010 and Dallas' motivation is because they're about to get other cool stuff. Move No. 2 is convoluted, but it goes down like this:
[+] Enlarge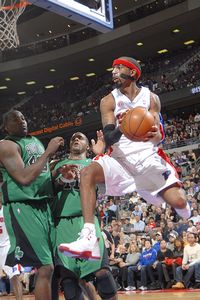 Allen Einstein/Getty ImagesThe Pistons might be willing to give up a lottery pick in a deal to get rid of Richard Hamilton's contract.
Dallas acquires
Richard Hamilton
and his $37.5 million over the next three seasons as well as the No. 7 pick in this year's draft from Detroit and Miami point
Mario Chalmers
.
Miami acquires
Eduardo Najera
and J.J. Barea
Detroit acquires
Matt Carroll
,
DeShawn Stevenson
and
Michael Beasley
plus the No. 18 pick in this year's draft and $1 million from Dallas.
The Why:
For Dallas it's a lot of money to take on softened by the blow of moving Matt Caroll's contract (almost $12 million over the next three seasons). But they get a lottery pick to try and acquire a young big and they get a usable two in Rip Hamilton. I'll be honest: At this point I'm not a big Hamilton fan whatsoever and fully expect him to be a complete financial disaster by the end of his contract. I do think, however, that he gives the team some flexibility at the two if Mr. Cuban can absorb the dough. It also makes moving
Caron Butler
a lot more palatable if he helps you net another key transaction this summer. The real excitement here is getting the No. 7 pick where there are plenty of tantalizing young players that provide athleticism and youth. And Chalmers will be a suitable replacement for Barea.
Miami gets all that cap space to go chase the dream team. By moving Cook, Chalmers and Beasley for Barea and Najera they'll add another $3.1 million in cap space. If they choose to release Najera immediately it'll be $3.6 million. Plus they won't have the $1.2 million they'd have to allocate towards the No. 18 pick. That means they'll have upwards of $45 million in cap space. Wow.
Detroit gets to unload Hamilton's contract. The difference between the combined total of Carroll and Stevenson's contract over the life of the deals is about $20 million dollars. Dallas throws in $1 million this season so Detroit's bottom line is about the same for 2010-11. So the logic for the Pistons is that they trade the No. 7 pick for Beasley and the No. 18 pick and then they save an additional $20 million by parting with a player in Hamilton who doesn't fit their plans whatsoever. They'll be way younger and have the chance to score a lot of points while spending way less money over the long haul. If the cap were the same for 2011, this move would put them under the cap in the neighborhood of $15 million or so.
The Bottom Line:
For Dallas this is a way to get better while also adding a crucial lottery pick. They'll also have several super-valuable trade chips in Erick Dampier's expiring contract, Butler's productivity/expiring contract and a potential sign-and-trade with
Brendan Haywood
if they don't want to keep him. These moves are pricey, but they add youth and veteran production, and Dallas still maintains tremendous flexibility for other moves. Me says, make it happen.
June, 1, 2010
6/01/10
5:03
PM CT
By
Jeff "Skin" Wade
| ESPNDallas.com
For Part IV of our fantasy GM offseason series, we go the route of the Mavericks knowing for certain that
Erick Dampier
's non-guaranteed contract will not aid them in netting one of the big-name free agents via a sign-and-trade maneuver. Would Dallas feel compelled to try and squeeze some value out of that contract even if it meant taking on an overpaid player for one season just to get a late lottery pick?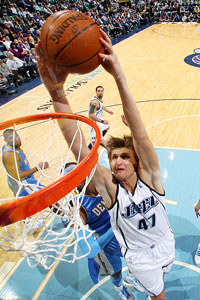 Melissa Majchrzak/NBAE/Getty ImagesUtah's Andrei Kirilenko is owed $17.8 million in the final year of his contract.
The Basics:
This one is worthy of some lively debate, even if Mav fans would be disappointed that Damp brings back no immediate dividends. Could Mark Cuban stomach
Andrei Kirilenko
's massive contract for one season? The Mavericks would look to take on a contract that prohibits the Jazz from signing their own free agents in exchange for a youth injection from the draft and a little long-term financial flexibility. Some would say it's a waste of Dampier's contract, but if there are no other options I think I like the idea. I think.
The How:
The play would be Damp's contract,
Shawn Marion
(Owed $7.3 million next season/$33 million over the next four) and Dallas' 2011 first-round pick for Kirilenko (owed $17.8 million in his final year) and the No. 9 pick in this year's draft. The tricky part of this deal is when it would happen. Unless agents are giving up the goods before they're supposed to, Dallas wouldn't know it's not in play for a big free agent until after the draft. This is only valid if Utah were to draft a guy at No. 9 that Dallas coveted. But we all agree that Dallas needs blue-chip youth, so for the sake of conversation we'll assume Dallas likes the guy Utah has drafted.
The Why:
For Utah it's obvious: The Jazz are at $60 million in payroll before they even consider resigning
Carlos Boozer
,
Kyle Korver
or
Wes Matthews
-- three major playoff contributors while Kirilenko looked on, hurt. This move would take Utah down around $50 million in salary and afford them the opportunity to either sign all three or keep Matthews and Korver while entertaining some sign-and-trade possibilities with Boozer that entailed them getting lower-salaried players who could help. The Jazz would hate the length of Marion's contract, but it would give them the current flexibility to not take a huge step back in talent. Marion's and Kirilenko's stats are a wash and they're the same type of player, but Marion is three years older where Kirilenko stays hurt. For the Mavs, they take a financial hit this year to add some youth and not have to worry about Marion's productivity three years from now.
The Bottom Line:
It's not splashy and I'm sure Mav fans have much bigger dreams for Damp's contract as a trade asset, but in my estimation it beats the alternative of simply releasing him if all other options fail. Dallas would still have over $30 million in 2011 expirings and the possibility of an Avery Bradley, Al-Farouq Aminu or (knowing Utah) Cole Aldrich. For Utah, I'd say losing Boozer and Korver is a pretty major step backwards. Maybe whomever they draft at No. 9 is a good enough replacement. I doubt it. Or maybe Rip Hamilton and the No. 7 pick for Big Damp is more your cup of tea. Surely the Pistons wouldn't give you a lottery pick just to escape Rip's deal, would they? Or maybe you do the Utah deal and also the Detroit deal with
Caron Butler
replacing Damp in the Detroit scenario? What just happened? Did we just net Dallas two lottery picks and an aging two-guard with a bad contract? Is it possible to get older and younger at the same time? Freelance fantasy wheeling and dealing is intoxicating. I feel like Nellie.