Dallas Mavericks:

Ronny Turiaf
July, 18, 2012
7/18/12
12:08
PM CT
By
Jeff Caplan
| ESPNDallas.com
Delonte West
's unique personality, his, ahem, avant-garde appearance and on-court toughness quickly endeared him to
Dallas Mavericks
fans as much as to
Dirk Nowitzki
and fellow
Boston Celtics
draft pick coach Rick Carlisle.
[+] Enlarge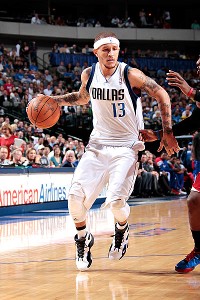 Danny Bollinger/Getty ImagesThe Mavs have expressed interest in bringing Delonte West back, but there might not be enough cap space.
Mavs president of basketball operations Donnie Nelson has maintained the club's interest in bringing West back. Yet, as the current roster stands, combo guards aren't lacking, bolstered by Monday's signing of
O.J. Mayo
. Financially, Dallas has exhausted its cap space. The options available to sign players are a $2.5 million "room" exception and veteran minimum contracts.
Nelson has also maintained that West, 28, has other options on the table. Those options might include multiyear offers, something West made a high priority and something Dallas, at this point, is doubtful to provide.
As worthwhile as it might be -- not to mention a load of fun -- to have the hard-nosed, two-way guard on the team, would the Mavs be wiser to focus attention elsewhere, such as acquiring additional frontline help, and specifically an above-average rebounder?
Dallas was not a good rebounding team last season, and most teams aren't when their small forward leads the category.
Shawn Marion
did that, in the regular season and postseason, and by a decently substantial margin.
Consider:
* The Mavs ranked 11th in the league in rebounds per game last season, averaging 42.8 a game. Not terrible, right? Well, not compared to ranking 26th in boards allowed, 43.9, and thus 21st in rebound differential, -1.1.

* Particularly late in the season, Dallas was brutalized by opponents' second-chance points. They gave up too many and rarely scored their own, ranking 27th in offensive rebounding.

* The Mavs' revamped frontline of Nowitzki, Chris Kaman and Elton Brand all appear to have seen their best rebounding days pass them by. Nowitzki has been on a steady decline, from 7.7 in 2009-10 to 7.0 in 2010-11 to a career-low 6.8 last season; Kaman has dropped from 9.3 in 2009-10 to 7.0 in 2010-11 and 7.7 last season; and Elton Brand hasn't reached his 9.4 career average since 2006-07 (9.3, close enough) and has posted career-lows in two of the last three seasons.

* Injury concerns also must be considered, particularly in regard to Kaman, 30, who has had his troubles staying on the court throughout his career. Brand, 33, has been quite durable over the last three seasons and Nowitzki, despite his brief right knee issue last season, rarely misses time. Still, all three players are getting older and only frail Brandan Wright and rookie Bernard James serve as reinforcement.
If Dallas wants to add some free-agent brawn, quality role players specializing in board work remain on the market. Here's a look at a half-dozen:
[+] Enlarge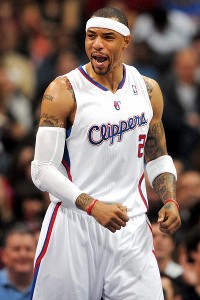 Kelvin Kuo/US PresswireDallas Bryan Adams product Kenyon Martin has averaged 7.1 rebounds for his career.
Kenyon Martin --
If the Mavs aren't bringing home local products
Deron Williams
or
C.J. Miles
(it would appear), why not the former Dallas Bryan Adams star? He's averaged 7.1 rebounds for his career. His return from China landed him with the Clippers where he put up a career-low 4.3 boards a game, but also played with
Blake Griffin
and
DeAndre Jordan
. However, it might take more than $2.5 million to nab the 12-year vet. Then again, in this market, it might not.
Ronny Turiaf --
Dallas had interest in him when Denver waived him in March, but the 6-10, 249-pound power forward signed with the
Miami Heat
instead. The Mavs still have interest in the veteran who could eat up six or 10 or 12 minutes a game as necessary, simply to rebound. When his career stats are extrapolated over 36 minutes per game, the average minutes of a starter, he's averaged 7.7 rebounds and 9.4 in 13 games with the Heat.
Louis Amundson --
One of the more under-the-radar players in the league, this six-year vet of five NBA teams simply knows how to get position to rebound. In 60 games last season for the
Indiana Pacers
, the 6-9 forward averaged 10.6 boards per 36 minutes and his career mark is 10.0.
Nazr Mohammed --
The 6-10 center has bounced around the league a long time and Oklahoma City's drafting of Baylor's
Perry Jones
and signing of disappointing, but young big Hasheem Thabeet made Mohammed expendable. Still, as a career backup, he's averaged 10.7 rebounds per 36 minutes and averaged 9.7 and 8.8 rebounds per 36 minutes in his two seasons with the Thunder.
Joel Przybilla --
Dallas had interest him last season when he made his return and eventually signed up with Portland. The rugged, 7-1 center might be a health risk at this stage, but he'd provide physical minutes at center and his 11.1 rebounding average per 36 minutes shows he can still pound the glass. He could also possibly be had on a veteran minimum deal.
Jordan Hill --
Signs point to this athletic youngster signing somewhere on the West Coast, but he is certainly an energetic talent that would be a strong addition to a plodding front line on the down side of its rebounding prowess. Hill gave the Lakers a spark on the boards after arriving from Houston in the
Derek Fisher
trade, averaging 12.2 rebounds and 12.7 points per 36 minutes.
Honorable mention --
Darko Milicic
, Andray Blatche (must clear amnesty bidding process), Chris "Birdman" Andersen (must clear amnesty bidding process).
July, 10, 2012
7/10/12
11:30
AM CT
By
Jeff Caplan
| ESPNDallas.com
After a big-money flurry during free agency's first week, things have slowed down considerably in week two, and those players still left on the market might be looking at lesser deals they didn't think they'd have to take.
With the coming crunch of the new tax penalty, teams are becoming increasingly wary of handing out multiyear contracts. As
Dallas Mavericks
fan have quickly come to realize, the local plan is to sign up players preferably on one-year deals. Dallas might be able to hand out a higher salary for the one year than a player might be able to make in the first year of a multiyear deal with another team, then setting the player up to become a free agent again in 2013.
That's the type of decision with which a player such as point guard
Ramon Sessions
is likely to grapple. He wants to start, and the security of a multiyear was initially high on his priority list. The Mavs can offer a starting job, but not the security.
Over the last few days, some players have been taken off the board and others added.
Here's a look at five players at each position who remain on the board. Some are realistic options for the Mavs and some might not be. Dallas, still with just seven players under contract -- plus three draft picks -- needs reinforcements just about everywhere.
Point guard
Ramon Sessions
Raymond Felton
Randy Foye
Leandro Barbosa
C.J. Watson
Shooting guard
Lou Williams
O.J. Mayo
C.J. Miles
Courtney Lee
Marco Belinelli
Small forward
Josh Howard
Sam Young
Anthony Tolliver
Donte Green
Matt Barnes
Power forward
Kenyon Martin
Carl Landry
Anthony Randolph
Jordan Hill
Ronny Turiaf
Center
Chris Kaman
Mehmet Okur
Daniel Orton
Nazr Mohammed
Tony Battie
November, 23, 2009
11/23/09
7:47
AM CT
By
Jeff "Skin" Wade
| ESPNDallas.com
Monday means "The Come Up" – our weekly look at the week ahead on the Mavs schedule. Lots of travel for Turkey week. Hopefully
Shawn Marion
can get back in the mix sometime during this swing. It go a 'lil summin' like this…
Tuesday - Warriors, Come Out To Play
Wow, talk about low-hanging fruit. The mood emanating from The Bay Dubs feels downright Post-Apocalyptic. From the outside, it appears that nobody wants to be there. Those on the inside are probably wishing they were afforded the luxury of being a speculating outsider. I imagine the vibe on the bench during a timeout feels
something like this
.
The Warriors traded
Stephen Jackson
, their best and most disgruntled player, for
Raja Bell
– who immediately opted for surgery. He was going to have the surgery anyway, but I'm saying... They've been decimated by unhappiness and injuries.
Andris Biedrins
and
Ronny Turiaf
have both been on the shelf and
Kelenna Azubuike
, one of their few great values on a roster loaded with over-priced dudes who all do the same stuff, is likely out for the season.
So far this year has been an unmitigated disaster for The Warriors; which leads me to wonder if anyone uses "unmitigated" without following it with "disaster". By my calculations Golden State has exactly one quality win – last Friday night's home victory over Portland. In that game
Monta Ellis
, the current most vocal malcontent on the roster, played all 48 and dropped 34 to go with eight assists and six steals. He's fun to watch no matter how unfun his current situation is. I stand by "unfun" as a real word. However, I wouldn't stand by this team unless you were hoping to get struck by lightning.
Wednesday – Is NASA open on Thanksgiving?
When the Mavericks last played the Rockets two weeks ago they were lifeless for the first 18 minutes and looked like they were going to get run in their own gym by a high energy team playing with no fear. Thirty game minutes later the Mavericks had annihilated the Rockets to the tune of 121-103 in one of the few games this season that they actually got their shots to drop (55%).
If The Mavericks don't get the blood flowing from the jump on the second night of a back-to-back the day before a holiday they will get drilled. Houston is above .500 because of energy, effort and heart – not high-profile scorers. They spread the floor and go for broke.
Trevor Ariza
is going for 18 a night, but he's shooting a poor percentage at a shade under 39%. If rookie Roddy Beaubois is still in the starting line-up Wednesday night, he'll no doubt draw the assignment of trying to keep lightning-quick
Aaron Brooks
out of the paint. Have fun with that, rook.
Friday - First one to 100 wins
The Pacers have one of the League's truly great players in
Danny Granger
– unfortunately for him nobody is paying attention and he doesn't have much support. Mikey Dunleavy has yet to play this year and
Troy Murphy
is just working his way back. So that means the Pacers' second leading scorer is defensive-minded free-agent signee
Dahntay Jones
who at 17 a night is 12 over last year's average of 5 - also his career scoring average.
The Pacers shoot around the same as their opponents from the field and from the line, have the exact same number of turnovers per game at 16 and average the exact same total of points per game as who they're playing at 99.8. They are the epitome of middle of the road, playing ordinary basketball with mostly innocuous dudes (for NBA standards at least). I do like Roy Hibbert's future and I'm also wowed by rookie Psycho Hansbrough's massive social network of people who
couldn't possibly allow a pet dog to go missing
.
Uptown Saturday Night: LeBron-style
Great early season test on the road as both teams will be playing the second night of a back-to-back (The Cavs play at Charlotte the night before). Put me in the seemingly dwindling camp of people who thinks this is the best team in the east. I don't get the "Cleveland will suffer because Shaq bogs down the offense" argument since his half-a-game minutes per night replaces one-man offensive clinic Ben Wallace's half-a-game minutes per night. They were able to score with Ben on the floor and when it's all said and done they'll be able to score with the far superior offensive player on the floor as well.
Cleveland did lack movement in the first few games of the season when they looked out of sorts, but second-year rip-the-rim-off jumping jack
J.J. Hickson
was inserted into the starting lineup and his ability to finish at the rim has made it more difficult for opposing bigs to lose sight of their man on their way to mugging LeBron. On draft night in 2008 I declared that 19th pick Hickson was going to be the perfect fit for The Cavs and that he'd be the steal of the draft. I also said
Russell Westbrook
was a reach at No. 4, since he was the second best point on his college team, but let's not worry about that so much right now.
This Cleveland team will be dominant because they got deeper and bigger and they have the best player in the world not named Kobe. This game is the crown jewel of the week ahead and hopefully Dallas has worked back toward health and regained that elusive shooting touch by the time Saturday rolls around.