Dallas Mavericks:

Ryan Hollins
November, 26, 2010
11/26/10
4:04
PM CT
By
Jeff Caplan
| ESPNDallas.com
Get ready for a marquee Saturday night at the American Airlines Center as the
Miami Heat
and their Big Four make their one and only visit to Dallas.
Big Four? Sure. You know,
Dwyane Wade
,
LeBron James
,
Chris Bosh
and, of course, big
Erick Dampier
.
[+] Enlarge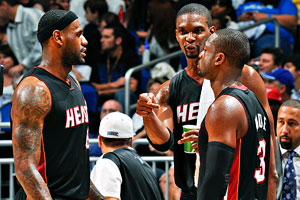 Fernando Medina/NBAE/Getty ImagesThe Heat of LeBron James, Chris Bosh and Dwyane Wade -- underwhelming so far -- are trying to make room for Erick Dampier.
Yes, the longtime
Dallas Mavericks
center is officially a Super Friend, signed on Tuesday, weeks after an agreement with the
Houston Rockets
fell through. Dampier finally became a priority for the Heat after blue-collar forward
Udonis Haslem
went down indefinitely with a foot injury.
Dampier, however, isn't joining a smiling, barnstorming, Harlem Globetrotters-type team that most envisioned. The Heat are 9-7 after Friday's 99-90 win at the
Philadelphia 76ers
. Wade's had injury issues, James hasn't possessed the same electricity he showed nightly in Cleveland, Bosh's inside game has been criticized and there's constant chatter that team Godfather Pat Riley is breathing down the neck of young coach Erik Spoelstra, plotting another return to the bench.
The 6-foot-11 Dampier, who averaged 6.0 points and 7.3 rebounds in his last of six seasons with the Mavs, seemed to be intent on joining the Heat once he knew he wouldn't be back with the Mavs.
"I'm looking forward to it. It's going to be an experience," Dampier said during a phone conversation this week. "They're [Wade and James] arguably two of the best players in the league. It's going to be an experience to play alongside those guys. They have the opportunity to have something special in Miami. I know they've gotten off to a bit of a rocky start, but it's a learning process. Once they learn how to play with each other they're only going to get better."
Certainly no one expected the Heat to get off to the kind of start in which the
Indiana Pacers
could blow out such talents on South Beach. If some of the luster has diminished, it remains a spotlight game at every arena in the NBA. The Mavs are no different. They raised ticket prices for the game and created a ticket package in which fans had to buy seats to two other games in order to purchase tickets to see the Heat (the Mavs did the same with the
Los Angeles Lakers
and
San Antonio Spurs
).
As for Dampier, he said he's remained in good physical condition with the help of a personal trainer in his home state of Mississippi. He didn't play Wednesday night against the
Orlando Magic
, the Heat's third consecutive loss to that point, but said he could be acclimated enough to get in against his former team Saturday. However, he was a DNP in the win over Philadelphia.
"It will take a couple of days to pick up some of their stuff and get to know the guys," Dampier said. "I've been working out. I was getting my work in because I knew something would happen."
Dampier's time in Dallas was often an exercise in frustration for fans. Owner Mark Cuban paid him handsomely after Dampier averaged a double-double for the
Golden State Warriors
. But Dampier never really came close to matching that one free-agent-to-be season, and fans often were left flinging their arms in the air because of his excruciating inability to consistently catch and finish around the rim.
Yet both former coach Avery Johnson and current coach Rick Carlisle continually praised the lead-footed Dampier for performing those harder things to quantify, such as setting screens and anchoring the defense.
He called his end of the line with the Mavs "business" -- a non-guaranteed final year that eventually saw him traded to the
Charlotte Bobcats
in the offseason for starting center
Tyson Chandler
-- and he described his time in Dallas as "an experience of a lifetime." The Bobcats released Dampier to reap the instant financial savings and Dampier had been without a team until the Heat called.
"When I came to Dallas the thing was to have a chance to win a championship," Dampier said. "We were in the playoffs every year, 50-plus wins. Unfortunately, we just didn't win it all that year (2005-06 to, of course, Wade and the Heat)."
Although challenged, Dampier, 35, never relinquished his starting job with the Mavs for long, whether it be
DeSagana Diop
,
Ryan Hollins
or
Brendan Haywood
. If Dampier, who now will team with veteran center and longtime James teammate
Zydrunas Ilgauskas
as well as
Joel Anthony
, plays against the Mavs, he'll go up against the new Mavs center tandem of Chandler and Haywood.
"Dallas got younger," Dampier said. "They signed Haywood and that pretty much locked up their center position for years to come."
July, 13, 2010
7/13/10
6:03
AM CT
By
Jeff Caplan
| ESPNDallas.com
Yes, big
Al Jefferson
comes with a price tag to match, $42 million over the next three seasons. Not to mention the cost to get him: The $13 million
Erick Dampier
trade chip and two conditional first-round draft picks.
A reasonable arguement exists that it is too steep a price to pay for a 25-year-old, 6-foot-10, 265-pound power forward/center that can dominate the low block, score, rebound and perhaps, even with a past knee injury, prove to be a perennial All-Star. To that end, patience will be preached by the
Dallas Mavericks
in hopes of using the Dampier trade chip down the road to commit
Pau Gasol
-like thievery and fleece a financially desperate franchise of its star.
Mavericks owner Mark Cuban is hailed, and rightly so, as a big spender and a risk-taker. He will absorb unsightly contracts in the name of winning and winning now. He proved it with the 2008 Jason Kidd trade and again in 2009 with the
Caron Butler
-
Brendan Haywood
-
DeShawn Stevenson
deal.
Yet, in 2004, the heart of the franchise,
Steve Nash
, walked without a fight. Now what must Dirk Nowitzki be thinking? He recently preached caution to Cuban about doling out unwarranted contracts and becoming trapped under them. His new four-year deal, Nowitzki rationalized, affords time to acquire heavy hitters, if not this summer. But, how welcoming would Big Al on the blocks be to Nowitzki; a dominant, young scorer and rebounderwho could relieve responsibility from Nowitzki's broad shoulders as he heads into the latter years of his career? Never has the Mavs' unconventional power forward played with such a low-post force.
The shame is past decisions to take on salary has hindered the franchise as opportunity knocked. Two summers ago, the Mavs spent their entire mid-level exception on happy-go-lucky center DeSagana Diop not long after they traded him to New Jersey. A couple months into the season, the Mavs shipped the underwhelming 7-footer to Charlotte for 3-point shooter Matt Carroll and his suprisingly large, long-term contract, plus skinny, developmental center Ryan Hollins.
Hollins is long gone. The affable Carroll, meanwhile, remains a fixture, in full sweats, at the end of the Mavs' bench despite being due $4.3 million next year. That's actually $8.6 million when figuring the dollar-for-dollar luxury-tax penalty and a whopping $23.4 million total over his remaining three seasons (Carroll is owed $11.7 million in salary) if the Mavs continue to remain north of the luxury tax.
Cuban played hardball with Minnesota Timberwolves general manager David Kahn, demanding Kahn absorb Carroll and Stevenson if the Mavs were to agree to relinquish two first-round draft picks. Carroll's albatross of a contract ultimately made a deal for Jefferson unpalatable for Kahn, a man who just signed Darko Milicic to a four-year, $20-million contract. It's possible that Kahn would have agreed to take Stevenson's expiring contract ($4.1 million), but Carroll's money was too much. Both parties stood firm.
The
Utah Jazz
, armed with a valuable trade exception, was capable of completing the trade without forcing bad contracts on the Wolves. Deal. Utah essentially replaced the departed free agent
Carlos Boozer
with Jefferson, and a main Western Conference competitor got better than it was the day before.
Jefferson's flimsy defense and the health of his knee are real concerns. So is the fact that former 15th overall draft pick might be a luxury-priced reserve in Dallas, playing behind Nowitzki and Haywood, who was promised the starting job at center before signing his six-year, $55-million deal.
Picking starters and divvying up playing time is coach Rick Carlisle's challenge, one he just might have enjoyed with a frontcourt of Nowitzki, Haywood and Jefferson, who averaged 17.1 points and 9.3 rebounds last season. Carlisle will have to sit tight. Suddenly, a franchise that bills itself as living in the moment, always prepared to drop the hammer, is preaching patience and frugality, from Cuban to Nowitzki, at a time when going all in would have been completely -- and enthusiastically -- justified.
May, 20, 2010
5/20/10
12:07
AM CT
By
Jeff Caplan
| ESPNDallas.com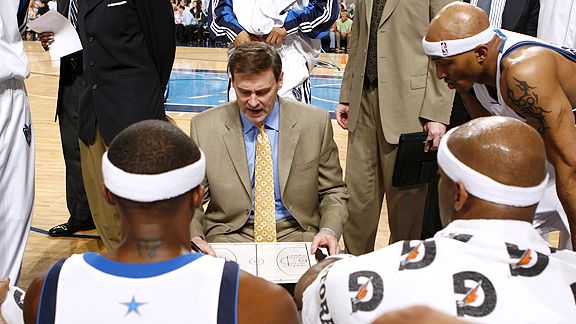 Tim Heitman/NBAE via Getty ImagesThe Mavs barely kept their 50-win streak alive in Rick Carlisle's first year as coach.
Ninth in a series chronicling the Dallas Mavericks' streak of 10 seasons with 50 or more wins (previous installments).
Avery Johnson was out, and owner Mark Cuban told reporters during the club's media day that a handful of players came to him and told him they wanted to play elsewhere if the head-strong Johnson was coming back.
Cuban wasted little time in hiring the quirky, yet successful Rick Carlisle, who had taken the Detroit Pistons and Indiana Pacers to the Eastern Conference finals in rather short order. Carlisle was the Mavs' lone candidate granted an interview.
[+] Enlarge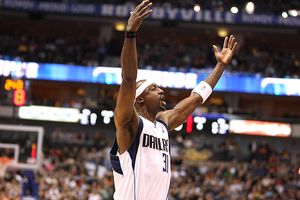 Matthew Emmons/US PresswireJason Terry thrived coming off the bench and was named Sixth Man of the Year.
Known more for a structured offensive philosophy and a strong defensive disposition, Carlisle came in with the directive to allow
Jason Kidd
, in his first full season back in Dallas, to do his thing. Yet, things didn't get off to a rousing start as the Mavs dropped seven of their first nine and seemed headed for an early internal showdown before
Dirk Nowitzki
had a huge fourth quarter and overtime for a come-from-behind win at New York to avoid a 2-8 start.
Dallas would become the first team in the NBA to start 2-7 and go on to post 50 wins. But, make no mistake, it was a struggle. The Mavs never won more than five in a row and that streak started with the early-season rally against the lowly Knicks.
Jerry Stackhouse
played just 10 games due to a mixture of injury, overall conditioning and attitude.
Josh Howard
, coming off his dubious end to the 2007-08 season and the ensuing summer, played just 52 games due to a wrist injury, but mostly a sprained ankle that wouldn't go away.
Nowitzki put up MVP-type numbers for a team that had to have him go for big numbers every night just to have a chance to win. When Howard didn't play, which was often, the Mavs were the only team in the NBA that featured just two players averaging double-digit scoring. Even with Howard in the lineup, the Mavs never knew when a fourth scorer might emerge.
Still, the Mavs managed to snap a two-year skid of first-round defeats, dusting off a beat-up San Antonio team that was without
Manu Ginobili
. But, Dallas was no match for the Denver Nuggets in the second round, losing 4-1.
Coach:
Rick Carlisle
Record:
50-32 (3rd, Southwest)
Playoffs:
Defeated San Antonio (4-1); lost to Denver (4-1)
Team payroll:
$95.05 million*
Highest-paid player:
Jason Kidd ($21.4 million)*
Offseason transactions:
Signed C
DeSagana Diop
(free agent); signed G
Gerald Green
(free agent); signed F
James Singleton
; traded G/F
Eddie Jones
, a 2009 second-round draft pick (
A.J. Price
) and a future 2nd round draft pick to Indiana for F
Shawne Williams
.
In-season transaction:
Jan. 16, 2009: Traded C DeSagana Diop to Charlotte for C
Ryan Hollins
and G
Matt Carroll
.
The high:
With Jerry Stackhouse out of the picture early on,
Jason Terry
gladly accepted the sixth-man role and thrived, averaging 19.6 points, his best as a Maverick. It earned him the league's Sixth Man of the Year award. Terry and Dirk Nowitzki made up the third-highest scoring duo in the NBA at 45.5 points.
[+] Enlarge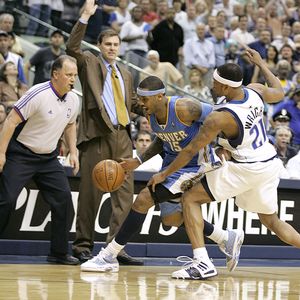 AP Photo/Donna McWilliamAntoine Wright tried to foul Carmelo Anthony at the end of Game 3, but the refs didn't call it and Anthony sank the game-winner for the Nuggets.
The low:
It's doubtful it would have changed the outcome of the second-round series against Denver, but the non-call as
Antoine Wright
tried to wrap up -- but more like flailed at --
Carmelo Anthony
, who then buried a 3-pointer at the end of Game 3, goes down as another one of those "what-if" playoff moments for the Mavs. In the offseason, rather than use their mid-level exception to try to sign a much-needed scorer, the Mavs overpaid to bring back DeSagana Diop. His production was so poor that the Mavs traded him midseason to Charlotte for center Ryan Hollins and guard Matt Carroll. Hollins is no longer on the team and Carroll never plays. The Jerry Stackhouse situation was unfortunate. One of the team's prouder players and a key cog in getting the franchise to its first NBA Finals had a foot issue, but as the season wore on either Stackhouse or the organization decided to shut him down. The facts there are still fuzzy, but Stackhouse's days as a Mav were over.
The roster:
F Dirk Nowitzki (25.9 ppg, 8.4 rpg)
G Jason Terry (19.6 ppg, 3.4 apg)
F/G Josh Howard (18.0 ppg, 5.1 rpg in 52 games)
G Jason Kidd (9.0 ppg, 8.7 apg)
F Brandon Bass (8.5 ppg, 4.5 rpg)
G J.J. Barea (7.8 ppg, 3.4 apg, 20.3 mpg)
G Antoine Wright (7.3 ppg, 23.9 mpg)
C Erick Dampier (5.7 ppg, 7.1 rpg)
F/G Gerald Green (5.7 ppg in 38 games)
F James Singleton (5.1 ppg, 4.0 rpg)
G/F Jerry Stackhouse (played in 10 games)
G/F Devean George (3.4 ppg, in 43 games)
C Ryan Hollins (2.9 ppg, 2.3 rpg in 27 games)
G Matt Carroll (1.2 ppg in 21 games)
F Shawne Williams (played in 15 games)
C DeSagana Diop (1.6 ppg, 3.4 rpg in 34 games)
*Source: Basketball-Reference.com
February, 5, 2010
2/05/10
6:42
PM CT
DALLAS --
Erick Dampier
has strapped on his bulky knee brace and is ready to battle ex-teammate
Ryan Hollins
.
Dampier, who sat out Wednesday night againt the smallball
Golden State Warriors
, believes he's close to fully recovered from his left knee effusion. The soreness is gone. The issue now is the lost strength in the knee, which he hopes to regain by spending hours of the All-Star break in the Mavs' weight room.
Hollins, who spent most of last season with the Mavs, could certainly use some time in the weight room. The former UCLA high jumper is a phenomenal athlete, but he's too easily pushed around at 7-0, 230 pounds.
Hollins is the
Minnesota Timberwolves
' starting center at the moment. He averaged 17.5 points on 68-percent shooting in two games since moving into the starting lineup.
It's likely that Hollins will have a little extra motivation tonight. He was a restricted free agent last summer, but the Mavs weren't willing to match anything above the minimum, wishing him well when the T-Wolves offered $7 million over three seasons.
Hollins, best remembered around these parts for dunking on
Tim Duncan
(and getting T'd up for taunting) in a playoff game, was ejected during the Mavs' win in Minnesota earlier this season.