Dallas Mavericks:

Sam Dalembert
January, 8, 2014
Jan 8
10:12
PM CT
SAN ANTONIO -- If the Western Conference standings look the same at the end of the season, the Lone Star State's Interstate 35 rivals would meet once again in the playoffs.
There's a better chance of Mark Cuban bathing in the River Walk than his
Dallas Mavericks
upsetting the
San Antonio Spurs
in a postseason series.
[+] Enlarge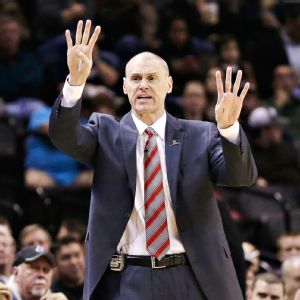 AP Photo/Eric GayAfter the Mavericks were outscored 37-24 in the third en route to a loss to the Spurs, Dallas coach Rick Carlisle called the period "a demolition."
Actually, any reference to a Dallas-San Antonio rivalry ought to be limited to past tense at this point. It certainly wasn't a surprise the Spurs rolled to a 112-90 rout of the Mavs at the AT&T Center on Wednesday night.
That's seven straight wins for the Spurs in the series, a streak that dates to March 2012. The average margin of those Spurs victories over the Mavs has been 16.9 points.
This wasn't the worst of the bunch for the Mavs, but that didn't make getting blown out by the Spurs any easier to stomach.
"We got outcompeted," Mavs coach Rick Carlisle said, offering what might be the worst criticism a coach can give his team.
There was a bunch of ugly numbers in the box score of a game that the Mavs never led. But the rebounding totals were the stats that really stuck in Carlisle's craw.
The story on the boards: Spurs 55, Mavs 32. It was especially awful in the first half, when San Antonio had twice as many rebounds as the Mavs and
Tim Duncan
had more (12) than the entire Dallas starting lineup (10).
"It seemed like we weren't tough enough on certain possessions," said Mavs center
Samuel Dalembert
, whose five rebounds ranked second among the Mavs despite the big man playing only 11 minutes.
Forward
Jae Crowder
, who had only one rebound in 28 minutes, said the Spurs' dominance of the glass "deflated" the Mavs.
"It showed on the offensive end," Crowder said. "We never got anything going on the offensive end. Shots weren't falling. All that stuff goes hand in hand -- getting stops, making shots."
The Mavs didn't make many shots, shooting 41.9 percent from the field (39-of-93), a number boosted during garbage time. They got fewer stops, allowing the Spurs to shoot 52.6 percent from the field. That included a 37-point third quarter during which the Spurs shot 80 percent, highlighted by point guard
Tony Parker
scoring 14 of his game-high 25 points while making all six of his shot attempts.
"The third quarter was a demolition," Carlisle said.
It was also predictable.
The Mavs have a tough enough time trying to contain Parker and bang with the Spurs with
Shawn Marion
in the lineup. He's the Mavs' primary defender against Parker and their leading rebounder.
With Marion home nursing a badly bruised right shoulder and ribs, Davy Crocket's crew had a better chance at the Alamo in 1836 than the Mavs did at the AT&T Center on Wednesday night.
Not that Marion's absence should be considered an excuse. After all, the Spurs played without two key players,
Manu Ginobili
and
Tiago Splitter
. Marion wouldn't have made the difference between a win and a blowout loss. Heck, he has played in losses of 38, 25 and 17 points to the Spurs over the last couple of years.
"It's tough, especially against those guys," said Mavs center/forward
Brandan Wright
, who had nine points and only two rebounds in 20 minutes off the bench. "We pretty much stunk it up the last two years against them. We probably had one game where we competed."
No, this lopsided loss can't be considered surprising for the Mavs. Just disappointing.
And it's particularly painful to think of it as a playoff preview.
December, 27, 2013
12/27/13
12:26
AM CT
DALLAS -- Coach Rick Carlisle readily admits that the
Dallas Mavericks
' roster has many flaws.
He just wasn't in much mood to discuss them in detail after the Mavs' 116-107 loss Thursday night to the
San Antonio Spurs
. He preferred to poke a little fun at his pals in the media, while illustrating the challenges the Mavs face in their fight to return to the playoffs in the loaded Western Conference.
"It's easy to look at our roster and nit-pick our challenges," Carlisle said. "We've got age. We've got some size issues. We've got this, that and the other. If you want to make a laundry list, it's not hard to make a list.
"But my job is to be a problem solver and not a problem identifier. Your guys' job is to identify problems. That's one reason that this job pays a lot more than your guys' job, because it's harder. It's harder. Hey, if all I was asked to do was identify problems, I could find a lot of them. I could walk around the arena and find things to point at and say, 'Hey, you know what? We need to do a better job of cleaning up this trash can.' That's not the world we live in in the NBA."
That's all true, and we could spend a lot of time just talking about Dallas' problems on the defensive end after the Mavs fell to 16-13 overall with their third loss in four games.
"But I like our team," Carlisle said. "I believe in our team. We're this close to winning that game tonight, but we put ourselves too much in harm's way with just the little concentration errors and slippages. We've got to correct those tomorrow and get ready to go to Chicago, because that's going to be a physical mauling.
"Every game you play is going to present different challenges. You've got to be enthusiastic about taking them on. Otherwise, you ain't gonna last long in this league."
Sick Sam:
The Mavs appreciated center
Samuel Dalembert
simply showing up to the arena Thursday night, considering he was sick.
The fact that Dalembert, who knew fellow center
Brandan Wright
was too ill to play, scored eight points on 4-of-7 shooting, grabbed six rebounds and blocked three shots in 24 minutes was a bonus. The Mavs outscored the Spurs by two during Dalembert's playing time.
"Sam showed up sick, throwing up, stuff like that," Carlisle said. "He heard Brandan wasn't going to be here so he showed up for us and that was big for us. He played really well. He has put two really good games together."
Blair's big night:
DeJuan Blair
has been waiting for this night since the day he signed with Dallas. He put up big numbers in his first game against his former team, scoring 14 points on 6-of-8 shooting and grabbing 11 rebounds, but he didn't get the satisfaction of beating the Spurs.
Blair, who had repeatedly made it clear that he was mad about the way his four-year tenure in San Antonio ended, at least seemed willing to let bygones be bygones by the end of the night.
"I told [Spurs coach Gregg Popovich] that I still love him, love the team," Blair said. "They are all still my brothers off the court."
December, 18, 2013
12/18/13
11:42
PM CT
DALLAS – This is the kind of night that gets a guy out of the doghouse.
Samuel Dalembert
, fresh off his first DNP-CD of the season, didn't get off the bench until midway through the third quarter in Wednesday night's win over the
Memphis Grizzlies
. But the big man made his presence felt once he finally got in the game.
Dalembert, who was demoted from the starting lineup during the Mavs' recent road trip, had eight points, seven rebounds, two blocks and two steals in 13 minutes against the Grizzlies. He played with the kind of energy the Mavs' coaches demand of him and did an outstanding job defensively against Memphis' post-up monster
Zach Randolph
.
"Sammy D's back!" a Mavs staffer said with a smile in the locker room.
Coach Rick Carlisle, who went to Dalembert during a Grizzlies' run, credited the center for playing Randolph straight up after Memphis took advantage of some Dallas double-teams.
Dirk Nowitzki
and
Vince Carter
praised Dalembert's professionalism despite his personal disappointment after not playing in Saturday's win over the
Milwaukee Bucks
.
"It was a test for me personally," Dalembert said. "I stay ready and never know when exactly they're going to call. It was a challenge for me. I embrace it."
Carter the creator:
Sixth man Vince Carter led the Mavs in assists for the second consecutive game, following up his nine-dime performance Saturday night with six assists.
"There's a lot of guys open," Carter said. "There's a lot of options there. We're just trying to take advantage of it and keep rolling."
Carter, who slumped last month, has also had a couple of strong shooting nights in a row. He has a total of 29 points on 9-of-16 shooting in the last two games.