Dallas Mavericks:

Sean Rooks
September, 19, 2012
9/19/12
11:49
AM CT
If
Chris Kaman
can stay healthy, he'll be the best offensive center in Mavericks history.
That's a big
if
, as evidenced by his triple-digit games-missed total over the last five seasons. And it's also faint praise, as proven by all the praise about the pick-setting ability of bricklaying Mavs centers over the years.
Just for fun -- and because we don't have anything better to do with a week and a half before the Mavs open camp -- let's rank the best offensive seasons by a big man in franchise history. We're talking solely centers, so
Roy Tarpley
,
Sam Perkins
and others who played a lot of power forward aren't included.
Tyson Chandler, 2010-11:
He understood his limitations and was phenomenally efficient, averaging 10.1 points while shooting 65.4 percent from the floor and 73.2 percent from the line. Chandler wasn't a post-up threat, but he was a highlight waiting to happen as a pick-and-roll finisher. He'd knock down an occasional elbow jumper, but Chandler earned his keep offensively by setting rock-solid picks, finishing strong at the rim and creating extra possessions with his hustle and hops.
Sean Rooks, 1992-93:
He was a bright spot during the darkest season in Dallas basketball history, averaging 13.4 points as a rookie for an 11-71 team. That ended up being his career high. He averaged 11.4 points the next season for a much-improved Mavs team (13-69 -- 18 percent more wins!) and then got traded to the Timberwolves. He averaged 10.9 points his first season in Minnesota and never came close to double figures again.
James Donaldson, 1986-87:
He's still the best big man who played more than one season for the Mavs. His best offensive season in Dallas came during his first year here. The 7-foot-2 Donaldson averaged 10.8 points on 58.6 percent shooting, one of five Mavs to average in double figures that year, led by forward Mark Aguirre's 25.7 points per game. Donaldson also averaged a career-best 3.6 offensive rebounds per game.
Tom LaGarde, 1980-81:
You've got to go all the way back to the Mavs' inaugural season to find the highest scoring season by a center in franchise history. LaGarde lit it up for a career-best 13.7 points per game on 47 percent shooting for the merry band of 15-67 misfits.
Raef LaFrentz, 2002-03:
Remember when LaFrentz's perimeter shooting was going to pull Shaq from the basket and help pave the Mavs' way to a title? Well, LaFrentz did make 40.5 percent of his 3-point attempts during his lone full season in Dallas. He averaged 9.3 points in 23.3 minutes per game that season -- and gave up a heck of a lot more than that on the defensive end.
Erick Dampier, 2004-05:
Dampier's most productive season in Dallas was his first one, when he averaged 9.2 points on 55 percent shooting. He never averaged more than 7.1 points in another season for the Mavs, which is why he became the most overhyped screen-setter in NBA history.
Shawn Bradley, 1997-98:
Do you recall Bradley averaging double figures (11.4 points per game) during his first season in Dallas? Thought that merited a mention, although it's amazing that a 7-foot-6 dude shot 42.2 percent from the floor.
August, 12, 2011
8/12/11
11:50
AM CT
By
Jeff Caplan
| ESPNDallas.com
Dennis Rodman
wore No. 70 and mostly rolled with blonde-colored hair and at times infused the outer coating of his wacky dome with blue splotches during his short stay with the
Dallas Mavericks
in February 2000 that officially ended his Hall of Fame basketball career.
Yes, the Worm, now 50, will be best remembered for wearing a wedding dress and his decorative use of boas. The flamboyant power forward has promised a full fashion blowout tonight, accentuated by acrobats and allegedly a helicopter entrance, for his induction as part of the 2011 class of the Naismith Memorial Hall of Fame (6 p.m., NBA TV).
Rodman, who graduated from Dallas' South Oak Cliff High School and played mostly anonymously at Southeastern Oklahoma State, first made a name for himself as a rebounding machine with the "Bad Boy"
Detroit Pistons
. Later, he won titles as a the maddening, tattooed, multi-pierced, temper-tantrum-throwing, ugly step-child playing with
Michael Jordan
and
Scottie Pippen
.
[+] Enlarge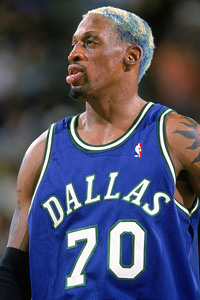 Ronald Martinez/Getty ImagesDennis Rodman only played 12 games with the Mavericks. The team won four games. He scored 34 points, but showed he could still handle the boards, grabbing 171 rebounds.
There were also the memorable, kicking and screaming failed stints with the
San Antonio Spurs
and
Los Angeles Lakers
.
At the time brand-spanking new Mavs owner Mark Cuban reached out to a 38-year-old Rodman for pure spectacle purposes, Dallas was actually just starting to play respectable basketball under coach and general manager Don Nelson after the dark decade of the 90s. Rodman had been out of the league for a year and well, the Dallas stint was certainly the media circus Cuban knew it would be. On the court it was pretty much epic failure. The Mavs had just gone on a 10-3 run and talk of possibly getting into the playoffs surfaced
Rodman played 12 games in a Dallas uniform. The team won four games. He scored 34 points, but showed he could still manhandle the boards, grabbing 171 rebounds.
The outspoken one was, too, with the Mavs -- a squad that included a second-year, baby-faced
Dirk Nowitzki
, a developmental
Steve Nash
,
Michael Finley
,
Shawn Bradley
,
Robert Pack
,
Hubert Davis
,
Sean Rooks
and
Gary Trent
. Twice Rodman was tossed from games and both instances he challenged NBA commissioner David Stern, once to a boxing match -- naked.
"I wish me and David Stern could put some damn gloves on and go in the ring," Rodman said. "We'll see who comes out the winner. I've been a marked man for years. That's the first person they're going to look for - Dennis Rodman."
Rodman was also one of the first to criticize the club's young, billionaire owner for being too chummy with players and intruding on the players' space.
"He doesn't need to be hanging around the players like he's a coach or something," Rodman said. "That's like [Dallas Cowboys owner] Jerry Jones and it's dumb. That's why the Cowboys went down. He needs to be the owner, step back and put people in who can get this team in the right direction."
Rodman said that on March 7 and he was released on March 8, ending his colorful NBA career with averages of 7.3 points and 13.1 rebounds a game.
At the time, Cuban said Rodman's comments about him -- and that one wasn't the only one -- had nothing to do with releasing him. Cuban said the team just didn't get the wins he thought they would with one of the all-time great rebounders, defenders and characters on the squad.
Maybe so, but Cuban -- who, remember, had Rodman shack up at his guest house when he arrived in town -- also declined two requests this week to reminisce about Rodman's month-long carnival in Big D.