Dallas Mavericks:

Seattle SuperSonics
December, 25, 2011
12/25/11
10:20
AM CT
By
Jeff Caplan
| ESPNDallas.com
DALLAS --
Delonte West
says the kids back in the day used to call him, "Little Kidd," because he tried to emulate the gifted point guard who's 10 years his elder. West even called himself "a poor man's
Jason Kidd
" when he arrived at training camp.
Now West, who has started about 53 percent of the 350 games he's played over seven seasons with the
Boston Celtics
, Seattle SuperSonics,
Cleveland Cavaliers
and the Celtics again, said he's eager to begin his new role as Kidd's backup with the defending champion
Dallas Mavericks
.
"I've been a starter most of the years in my career. Being a backup guard on a title contending team or a starter, it's something that's just become who Delonte West is," the heavily tattooed, 6-foot-4 guard out of St. Joseph's said. "You always see me pop up on a team like this, and it's for a reason. It's not something that I'm running from. Starting minutes, backup minutes, spot minutes is what I built my career around.
"Coming off the bench, I look at it like a positive. You get a chance to watch the game, see what's going on and me being able to do multiple things on the floor, I can come in and fill spots if its being a playmaker, a shooter, changing the tempo."
The most important thing West can do is play well and stay healthy as he takes over the role filled by
J.J. Barea
the past three seasons. Keeping Kidd's minutes reasonable is top priority during this 66-game schedule that will offer few breathers.
West, 28, said he's ready for the challenge, but also cautioned fans not to make snap judgments after Sunday's opener against the Miami because of the short training camp. West joined the team Dec. 14 and played in just one of the two preseason games because of illness.
"Its' the first game of the season and I don't think you can judge either team or any team that plays [today] and the next couple days and envision where they'll be at in June," West said. "There' s no negatives you can take out of a game like [today]. Hopefully, everyone will have a Merry Christmas and hopefully it can be an exciting game for families and fans to watch around the Christmas tree."
December, 27, 2010
12/27/10
7:30
AM CT
By
Jeff Caplan
| ESPNDallas.com
OKLAHOMA CITY -- As phenomenal as last season was for
Kevin Durant
, he still couldn't extract the one thorn in his side: The
Dallas Mavericks
' defense.
PODCAST
Rolondo Blackman joins Ben and Skin to talk about the streaking Mavs and the pressure a five-day break puts on the team.

Listen

Since he entered the league as a rookie with the Seattle SuperSonics through his third season when he emerged as a bona fide MVP candidate with the
Oklahoma City Thunder
, Durant has put up more bricks against Dallas' defense than any other in the league -- and that's when the Mavs had been considered only decent defenders.
In Durant's career, he's averaged fewer than 20 points a game against just two teams -- Dallas (18.7) and Orlando (17.6), but he's played more than twice as many games against the Mavs (11) as the Magic (five). His career field goal percentage is below 40 percent against only two teams, the same two: 37.4 percent (68-of-182) against the Mavs; 37.0 percent (30-of-81) against the Magic.
Last season was even worse against Dallas for the amazing Durant. He shot just 31.7 percent (26-of-82) from the floor while averaging 22.5 points -- nearly eight below his season average -- and 4.5 turnovers.
But as the Mavs (23-5) head to Oklahoma City (21-10) on Monday night for a second time this season, the only game Dallas remembers is the last one. Durant scored 32 points and was 12-of-20 from the field. The Mavs won, 111-103, with tenacious fourth-quarter defense, but the league's leading scorer had finally done some damage.
"He gets his shots from such a variety of fashion, from 3, from 2, in transition," Mavs guard
Jason Terry
said. "What we've got to do is make it tough on him. Defensively make him work and on offense we've got to put some pressure on him and make him play some defense, get him tired a little bit."
[+] Enlarge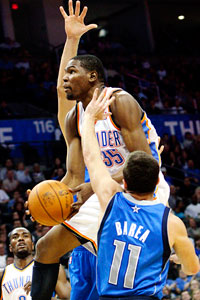 AP Photo/Sue OgrockiNo team has held NBA scoring leader Kevin Durant to a lower field goal percentage in his career than the Mavericks.
The
Denver Nuggets
came in with a similar idea, but Durant scored 44 in a 114-106 victory on Christmas.
"Denver threw everything at him but the kitchen sink," said Dwane Casey, the Mavs' defensive coordinator who will handle the head coaching duties Monday night with Rick Carlisle sidelined after undergoing arthroscopic knee surgery last week. "We've got to be creative, [use] different matchups and different looks for a guy like that. Because once a guy like that gets going, it's hard to turn him off. Not only that, he's a very willing passer and you've got guys like
[James] Harden
, [
Russell] Westbrook
, [
Jeff] Green
that can jump up and hit you for 20.
"We have to make sure we are exact on what we want to do on his isos [isolations], on his post-ups, on his catch-and-shoots. Giving him different looks is the most important thing."
Mavs center
Tyson Chandler
had a little something to do with the Mavs' fourth-quarter defense in the first game that limited Durant to 3-of-7 from the floor in the final period with two baskets coming in the final half-minute, when the game was securely in the Mavs' hands.
Chandler also got to see Durant up close during the summer when he was Durant's teammate on the gold medal-winning Team USA at the World Championships. Chandler was asked if he discovered any secrets to defending Durant.
"I really tried. I watched him and watched him and watched him, but as much as he works, he works on things that he feels he's not good at to become great at," Chandler said. "So he doesn't have many weak spots. He's 6-11 (he's officially listed at 6-foot-9), can handle the ball like a guard, shoots like a 2 and has the size of a big man minus the weight. And he knows how to get fouls, too. So he's a very versatile, all-around player."
November, 24, 2010
11/24/10
6:58
PM CT
By
Jeff Caplan
| ESPNDallas.com
OKLAHOMA CITY -- After the
Dallas Mavericks
slipped past the
Detroit Pistons
on Tuesday,
Jason Terry
noted that he's excited to play the
Oklahoma City Thunder
because some of the OKC players have talked up this matchup as something of a rivalry.
That's news to the Mavs, who've handled the Thunder rather handily, and before that the Seattle SuperSonics, over the past decade. Led by breath-of-fresh-air superstar
Kevin Durant
, the up-and-coming Thunder did split the season series last season, 2-2, and the young squad seemed to enjoy running up and down the floor against the veteran Mavericks.
But a rivalry?
"Dallas, they're so close [geographically], that would be the logical choice," Oklahoma City coach Scott Brooks said. "But, until you really face them and have a lot of heartbreak against them it's hard to say that there's a rivalry."
The Thunder have a rivalry problem. For one, the team moved from Seattle three years ago, but has remained in the Northwest Division with
Portland
,
Utah
,
Denver
and
Minnesota
. Fine cities, but not a lot in common there. Then there's the fact that the Seattle/OKC franchise has suffered for years until finally getting back into the playoffs last season.
So who is the Thunder's rival?
"I don't think we have one really," Brooks said. "I think when you have a history with teams and playoff experiences and losses and victories you have that, and we haven't had that opportunity to have year after year battles against anybody yet."
Fair enough. The
Los Angeles Lakers
then likely rank high on the rivalry scale for the Thunder after last season's riveting seven-game playoff series. Probably not so much for L.A.
Oklahoma City needs geographical rivalries and perhaps those are starting to form with the Mavericks and
San Antonio Spurs
now that the Thunder are competing at the upper level of the Western Conference.
But, what really ingrains rivalries is geographic ties within the division. Somtimes it's easy to forget that
Memphis
and not Oklahoma City resides in the Southwest Division. Picture a division with Dallas, San Antonio, Houston, New Orleans and Oklahoma City, with each assured of visiting the other teams' building twice every season.
"I just know when I played for the Rockets, I did not like the Mavericks and I did not like the Spurs," Brooks said. "But, I changed allegiance pretty quick when I got traded to the Mavericks; I hated the Rockets and I hated the Spurs."
This year, the Mavs and Thunder play just three times and they'll wrap up the season series on Jan. 6, three months before the end of the regular season. The Thunder will play at Dallas once this season, the same as every Eastern Conference team, depriving the area of seeing Durant, one of the great young stars in the league, despite him playing just 200 miles due north.
Recently, NBA commissioner David Stern broached contraction as an option as the league sifts through financial issues with a potential lockout coming. If not contraction, perhaps some financially strapped franchises will end up moving locations, which could lead to shuffling of the divisions or even conferences.
It should be a priority of the league to get the Oklahoma City Thunder out of the Northwest Division and into the Southwest Division where they belong.
November, 24, 2010
11/24/10
10:00
AM CT
By
Jeff Caplan
| ESPNDallas.com
OKLAHOMA CITY -- It wasn't long ago that the
Dallas Mavericks
owned the
Oklahoma City Thunder
as they did during the franchise's final years in their previous incarnation as the Seattle SuperSonics.
As everyone knows, the crew of
Kevin Durant
,
Russell Westbrook
and
Jeff Green
has drastically altered things north of the Red River. And while these two teams are not in the same division -- something the league must remedy -- the matchup is a simmering rivalry.
At least,
Jason Terry
said, according to some of the Thunder. The clubs meet for the first of just three meetings this season at 7 tonight in Oklahoma City. They'll play all three games between now and Jan. 6.
"Oh yeah, we're ready. This is something we've been waiting for," Terry said. "They've been talking a lot, a couple of their players, about how it's a rivalry now, us and them, and we really look forward to this game. I know I do personally."
After a bit of a slow start, the Thunder (10-4) have won five in a row and seven of eight, including a couple with Durant and Green sidelined with injuries. Durant and Green returned in Monday's 117-107 win over the
Minnesota Timberwolves
.
"Just in time for us everybody's healthy,"
Dirk Nowitzki
said. "It's going to be a big challenge. They play really well at home, their crowd is one of the best in the league and obviously Kevin is one of the best players in this league."
January, 25, 2010
1/25/10
10:03
AM CT
The Mavericks' 128-78 walloping of New York on Sunday night only inflicted the second-worst loss in Knicks history.
You can look it up.
The Knicks lost by 62 points on Christmas Day in 1960 to the Syracuse Nationals, who are now known as the
Philadelphia 76ers
.
The Mavs, though, did become just the fourth road team in league history to win by 50 points or more.
The Seattle SuperSonics established the record margin for a victorious road team – 56 points -- with a 136-80 rout of Houston in 1986-87, followed by Detroit's 118-66 victory over Boston in 2002-03.
Houston posted a 50-point road win of its in 2006-07 with a 124-74 pounding of Philadelphia.