Dallas Mavericks:

Shannon Brown
March, 9, 2012
3/09/12
10:00
AM CT
By
Jeff Caplan
| ESPNDallas.com
Forty-one games into this odd season and the numbers are startling. In fact, they're completely opposite of the numbers the
Dallas Mavericks
put up a year ago on their way to winning the championship.
PODCAST
Jason Kidd had to pay the league $25,000 for complaining about officiating after the Mavericks loss to Oklahoma City. The next night the Knicks were complaining the Mavs got too many calls. What is going on here?

Listen

The best team in the league in close games is now one of the worst. The best road team in the league a year ago can't buy one.
Dallas, now 23-18 after Thursday night's second-half collapse at Phoenix is not a good team at winning time -- and that comes as a major shock for this veteran group that, other than
Tyson Chandler
, fields the same five in crunch time as last season.
That is, when
Jason Terry
isn't getting benched,
which has happened twice now in a week
.
The Mavs played a solid first half, shooting 52 percent and leading 53-44, which, truth be told, could have been larger, maybe should have been larger heading to the locker room.
Then came another pathetic third-quarter. Phoenix scored 34 points and shot 73.7 percent. Dallas shot 38.9 percent. The Suns kept powering forward to start the fourth quarter. A
Shannon Brown
offensive rebound for a dunk while Terry stood flat-footed told the story. Before the Mavs realized what happened, they trailed 90-80.
"The last three minutes killed us because we lost the lead and they went into the fourth with momentum and a two- or three-point lead," Mavs coach Rick Carlsile said. "We just didn't recover, simple as that. We tried; we got into a position at the end of the game to tie."
But again late-game execution fell short. With Terry on the bench and
Dirk Nowitzki
blanketed,
Rodrigue Beaubois
twice missed open shots, first a six-foot floater and then an 18-foot jumper at the buzzer. Both were good looks, both could have gone down.
"We wanted an open shot and if we had gotten an open 3 that would have been great for a chance to win the game, but Roddy got a good look at a 2," Carlisle said. "You're not always going to get your star players a shot at the end because they attract so much attention and that's the reason Roddy got so open."
So here are the facts:
* The Mavs are 1-14 when trailing after three quarters, and 0-8 on the road
* Fifteen games decided by five points or less is tied for the most in the league. The Mavs are 6-9 in those games, tied for the most losses.
* The best road team in the NBA last season has now lost four in a row and is 8-11. They haven't won on the road since Feb. 17 at Philadelphia.
With two games left on this stretch of nine games in 12 nights, the Mavs are assured of a losing record and if they don't turn things around tonight at Sacramento and Saturday night at Golden State, they're not assured of being in the playoff mix Sunday morning.
Here's three more areas to ponder:
1. Judging Lamar Odom:
The forward's fast start was a good sign, but in the end how will Odom's 15-point, four-rebound, two-assist performance in 22 minutes be judged? Odom finished the game with the worst plus-minus rating on the team, minus-12, meaning when Odom was on the floor, the Suns outscored the Mavs by 12 points. As comparisons,
Jason Kidd
and
Vince Carter
were both plus-8. Dirk Nowitzki was minus-5. Plus-minus rating can be a tricky stat to make judgments. In Tuesday's win against New York, Odom was a minus-5, one of three Mavs to post a minus rating. On Monday at Oklahoma City, Odom was plus-six; Nowitzki was minus-7.
2. Vince Carter fading?:
The 35-year-old reminded how dangerous he was earlier in the season as a post-up option and from beyond he arc. He was 6-of-11 for 13 points in the first half and made one of his two 3s. His second half was a reversal, 2-of-10 for five points. Since Carter made 5-of-10 field goals for 15 points on Feb. 15 against Denver, Carter has not shot at least 50 percent in any game, not even close. In the 11 games since, Carter is shooting 35.2 percent (36-of-102) and 27.5 percent from 3-point range (11-of-40).
3. Sean Williams rising?:
The long and lanky center is probably headed back to the D-League when
Brendan Haywood
and
Brandan Wright
return from injuries, but while he's here it would be great if he can contribute. In 15 minutes of action Thursday, Williams had four points, four rebounds, two assists and two blocked shots. He logged 12 minutes in the first half, logging just 3:19 in the second half, all in the fourth quarter.
March, 9, 2012
3/09/12
12:19
AM CT
How it happened:
The Dallas Mavericks' defense, the one aspect of their team they've been able to consistently count on this season, betrayed them.


Again. And Again. And again.
And that's how the Mavs blew an 11-point second-half lead and lost to yet another sub-.500 team.
Phoenix 96, Dallas 94.
The Mavs led 74-63 with about four minutes left in the third quarter. Aided by the momentum of their 15-2 run to end the third quarter, the Suns played their best basketball to start the fourth quarter.
Rick Carlisle called a timeout with 2:55 left in the quarter, when the Suns pulled within six. He used a 20-second timeout 54 seconds later, when the Suns pulled within two.
The Mavs had used the offense of
Vince Carter
and -- surprise, surprise --
Lamar Odom
to grab the lead. But it actually worked against the Mavs because the offense never really flowed through
Dirk Nowitzki
.
Late in the third quarter, Carter had taken 15 shots and Nowitzki had six. Even though, he was playing well, he shouldn't have 2 1/2 times more shots than the Mavs' best player.
The Mavs let Phoenix seize control of the game in the fourth quarter, when
Sebastian Telfair
hit a 3-pointer that pushed the lead to 88-80, and after
Shawn Marion
missed a runner,
Shannon Brown
had a follow dunk that extended the lead to 90-80.
We shouldn't be surprised the Mavs cratered in the fourth quarter. After all, the Mavs have exactly one victory this season when trailing after three quarters.
What it means:
The Mavs have now lost the first game of their only back-to-back-to-back on this compressed 66-game NBA schedule this season. The Mavs are on the final leg of their nine-game, 12-day odyssey and are guaranteed a losing record.
Bold play of the game:
With 14.3 seconds left in the game, and the Mavs needing a bucket to tie the score,
Jason Terry
was on the bench wearing a T-shirt over his jersey.
Rodrigue Beaubois
took his spot. He missed a runner and a jumper at the top of the key as time expired.
Stat of the game:
The Mavs hadn't had a defensive three-second technical in 17 games. Well, it's time to begin a new streak after getting four of them in the first three quarters. How wild is that?
May, 7, 2011
5/07/11
12:54
AM CT
Lakers guard
Shannon Brown
wasn't spouting sour grapes, but he's still convinced his team is better than the Mavericks -- despite being down 3-0.
The Mavericks put the Lakers on the brink of elimination in the best-of-7 series
with a 98-92 victory
Friday at the American Airlines Center.
"No, for the simple fact they are capitalizing on what we're not doing right," said Brown when asked if the Mavs are better. "We're messing up, we're beating ourselves and we're losing games and losing leads and we're giving it to them because we're not doing what we're supposed to be doing. You've got to give them credit for capitalizing off it and making shots, but it's just the simple fact that we're not doing what were supposed to be doing."
And that is defending against open shots and controlling
Dirk Nowitzki
.
The Mavericks shot just 46.3 percent for the game, but Nowitzki scored a game-high 32 points on 12-19 shooting from the field.
The Lakers held an 85-78 lead with about five minutes left. But the Mavericks went on a 10-2 run and took an 88-87 lead when Nowitzki made two free throws with 2:40 to play.
"They do a great job of capitalizing on our mistakes, whether it's fast breaking or knocking down wide-open shots. Whatever it is, they are capitalizing off it," Brown said. "We can't make those mistakes and we have to do what we have to do on both ends of the court to win. There is no way we should lose a seven-point lead like that. It's just terrible."
No NBA team has come back from a 3-0 deficit to win a series, but Brown says the Lakers have no choice now but to try.
"Whether you beat yourself or the other team beats you, you still get an L," Mavericks center
Brendan Haywood
said. "We're not worried about that."
Mavericks guard
Jason Terry
said clinching the series is going to be harder Sunday than winning was on Friday night.
Told about Brown's comments, Terry said, "They're still the champs until we knock them off. They're the champions, we're still the underdogs."
May, 5, 2011
5/05/11
8:00
AM CT
LOS ANGELES -- On a floor full of superstars and All-Stars,
J.J. Barea
stole the show in the fourth quarter and sealed the Mavericks' Game 2 victory with an array of drives and stellar finishes.
He outscored
Kobe Bryant
, 8-5, in the final quarter and out-assisted
Jason Kidd
. He took more free throws than
Dirk Nowitzki
and even added a rebound. For the game he had 12 points to lead the Mavs' bench and four assists.
PODCAST
Mavericks G J.J. Barea talks about taking a 2-0 series lead against the Lakers, Ron Artest's ejection and more.

Listen

"Really, I don't think they had him on the scouting report there in the fourth," Nowitzki said. "He kept attacking off the pick-and-roll. We had good ball movement and that means they have to constantly close out and J.J. was able to attack their bigs off the dribble off the screen-and-roll and got to the basket a couple of times. He was spectacular and really won us the game in the fourth."
Barea, listed at 6-foot, but honestly a couple 0f inches shorter, shredded Lakers guards
Steve Blake
and
Shannon Brown
.
With the Mavs starting the fourth quarter leading 68-62, Barea blasted through the lane, missed the layup, but his penetration left
Brendan Haywood
clear for the tip in, 70-62. Barea busted through the paint again and kicked out to a wide-open
Jason Terry
, who buried a 3-pointer, 73-64. And then Barea did it again and drew the foul. He knocked down both free throws and it was 75-65 with 9:46 to play.
Still in the game nearing the midway point of the quarter, Barea drove, the defense collapsed and he hit a wide-open Haywood on the baseline for a rare tomahawk jam from the big fellow, 79-69.
"The smallest man on the court probably has the biggest heart on the court," Haywood said. "He's not afraid to take it into the giants."
On yet another drive, Barea again found Haywood, who dropped it back to Jason Kidd, who buried the 3, 82-69.
And then came the dagger. Barea whirred past Brown and found himself virtually alone in the paint and he finished it off with a finger roll, 84-69 with 4:39 to go.
"That's how I play. I love to attack the paint," Barea said. "I got all the shooters out there and I've got two big guys setting great screens for me."
Barea's razzle-dazzle finally popped the Lakers' top in the final 30 seconds when
Lamar Odom
and
Ron Artest
were all over him in the backcourt. Odom fouled Barea and then Artest stuck out his arm and clotheslined Barea across the face, drawing a technical foul -- his second of the game -- and a possible suspension for Game 3.
Barea didn't have a good first-round series driving into
Marcus Camby
and
LaMarcus Aldridge
. He averaged 5.2 points and shot 32.4 percent. In two games against the Lakers he's averaging 10.o points and dropping shots at 46.7 percent. It helps when most are coming from 3-feet and in.
"I came out with a lot energy. I knew we needed it," Barea said. "We did a great job defensively all game, so I think a little spark by me helped us get the win."
May, 2, 2011
5/02/11
7:42
AM CT
By
Jeff "Skin" Wade
| ESPNDallas.com
The Lakers are the two-time defending champs because they have an abundance of stars, they're huge along the frontline, they can play smothering defense, and they have one of the most prodigious scorers of the last 30 years. They can do it all.
It's frightening to watch how aggressively
Kobe Bryant
and
Ron Artest
can play defense on the perimeter knowing they have a couple of trees behind them eating up space.
The impact a healthy
Andrew Bynum
has had on the Lakers team defense has led many to call him the most important or indispensable Laker. And while I appreciate his importance, you're nuts if you think a backcourt of
Derek Fisher
and
Shannon Brown
gets you very far in the NBA regardless of who's on the floor with them.
Yes, Bynum is tough when he gets deep paint touches ad he kills you on the offensive glass and he shrinks the paint defensively. But being able to challenge Kobe is still a huge ordeal. And since the Mavericks don't really have anybody that forces Kobe to put in work on the defensive end, it's going to be big for three key guys to make life as difficult as possible on Bryant.
DeShawn Stevenson:
He's been a part of two big home wins against the Lakers the last two seasons in which he got the start and
Caron Butler
was unable to go -- a closer representation of this particular Mavs team. Of the three games Dallas and LA has played this season, Stevenson only paid a role in Dallas' lone victory. He'll start on Bryant and his sole purpose will be to get after him junkyard dog style. If both players stay within their average minutes of the first round, that means Bryant will have a little over 20 minutes in which he's not checked by Stevenson. DeShawn has got to make the game as difficult as possible on Bryant, but the good news is that he's had success in that regard in a Mavs uniform before.
Shawn Marion:
He had a couple of 20-plus point games against LA this season but his most important role will be on the glass and as a defender. You'd like to rely on Marion in a heavier minute role on Kobe, but he's also extremely valuable checking both Artest and
Lamar Odom
(arguably the toughest matchup for Dallas). He'll get a lot of minutes on Bryant, but it's very possible that the presence of Odom late in games forces Dallas to go with ...
Jason Kidd:
The veteran has had some solid stretches against Bryant in the past, but it's way less than ideal. And if
Jason Terry
is on the floor late in games for his offense (especially if he continues to play the way he did against the Blazers), then Kidd will find himself in the position of having to check Bryant. We saw the importance of fresh legs with J-Kidd in Round 1. If he's forced to cover Kobe late, then making sure he's got plenty left for late will be of paramount importance.
Zone:
Though the Lakers aren't a great 3-point shooting team (ranking 18th in percentage), they're tough to zone because they have so many talented, highly skilled bigs capable of collapsing the defense by flashing to the high post. Odom and
Pau Gasol
are both really strong in this regard. The Lakers can also kill you on the offensive glass, making a zone difficult as well. I'm sure we'll see some zone, but it'll be interesting to see how patient the Mavericks are with it when you consider the different ways in which LA can exploit it.
May, 1, 2011
5/01/11
10:00
AM CT
By
Andrew Kamenetzky, ESPNLosAngeles.com
A five-point preview of the Mavericks-Lakers series from a Los Angeles perspective:
BIGGEST STRENGTH
[+] Enlarge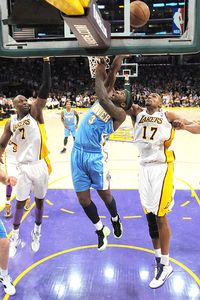 Kirby Lee/US PresswireBig men Lamar Odom (left) and Andrew Bynum are imposing defensive forces for the Lakers.
Defense. Yes, the Lakers' collective size can be imposing, but only when they're committed towards maximizing it, which isn't always the case. And yes, that
Kobe Bryant
fella is very handy to have around and the Mavs aren't overflowing with options to guard him, but his ankle may still be problematic and there will inevitably be games where shots don't fall.
But at the end of the day, the Lakers can -- and often do -- count on their defense when all else fails.
Andrew Bynum
patrols the lane like no other big not named "Dwight."
Ron Artest
is uniquely capable of changing the tenor of games with his defense. Kobe, when dialed in, is a viciously competitive defender.
Lamar Odom
's (and to a lesser degree,
Pau Gasol
's) D is very underrated.
Steve Blake
and
Matt Barnes
can be pests. And
Derek Fisher
finds way to have a couple of great defensive games each series.
These individuals often forge a smothering collective, and the Lakers ultimately hang their hats on this asset.
BIGGEST WEAKNESS
Outside shooting. The Lakers were a dismal 37.5 percent on shots 16-23 feet out (26th-NBA), and tied for 17th behind the arc (35.2 percent). They've been better in the playoffs from downtown (36.7 percent), but that's hardly shooting the lights out. In the meantime, the Mavs play a lot of zone, which specifically dares opponents to launch long jumpers. The Lakers typically handle this temptation like Lindsay Lohan at an open bar.
Do you see where I'm going with this?
MOST IMPORTANT MATCHUP
PODCAST
ESPNDallas.com's Tim MacMahon joins ESPNLosAngeles.com's Andy and Brian Kamenetzky to preview the Lakers-Mavericks Western Conference semifinals.

Listen

The benches. Bynum, Gasol and Odom can hold their own against
Tyson Chandler
and Dirk.
Jason Kidd
's numbers may end up a little more prolific, but him vs. Fisher is more or less a wash. Artest had a terrific series against New Orleans and should continue exploiting his size against Dallas, particularly if Shawn Marion has to defend Kobe (who has traditionally roasted Dallas).
However, with the starters taking a breather, things might get hairy.
Talent-wise, the best player among reserves on either team is Odom. However,
Jason Terry
is the best pure scorer among subs, and the Mavs are probably more talented overall. Barnes (dealing with knee issues) Blake and
Shannon Brown
have been inconsistent all season, which has bled into the playoffs. They finished the Hornets series on a strong note, so perhaps momentum can carry into the semis. Unfortunately, they can likely be counted on occasionally undo whatever leads the starters build.
PLAYER TO WATCH
[+] Enlarge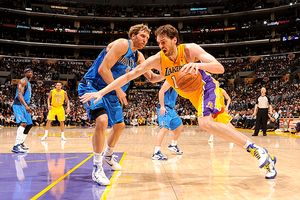 Andrew D. Bernstein/NBAE via Getty ImagesPau Gasol has been inconsistent for the Lakers, but he plays an important role for the defending champs.
Pau Gasol spent much of the Hornets series as the designated whipping boy and unfortunately, the criticism was largely warranted. Gasol allowed
Emeka Okafor
,
Carl Landry
and
Aaron Gray
to push him off spots, and instead of putting the ball on the floor and forcing them to check him, Pau perpetually settled for jumpers. Throw in the spotty rebounding and erratic defense, and El Spaniard's first four games were largely miserable.
Of course, Games 5 and 6 were quality efforts and Pau won't likely encounter nearly the same physicality against Dallas/Dirk. Were I betting man, I'd lay cash on a good series. Still, it's been Pau's most inconsistent season as a Laker and the dips have surfaced at inexplicable times. For the time being, I think it's safe to say all eyes remain fixed in his direction.
TO WIN THE SERIES, LAKERS MUST ...
Be themselves, to be honest. I don't mean this to sound dismissive towards the Mavericks, without question a quality team. My official prediction is "Lakers in 6," but my second choice would be "7" over "5." They could absolutely test the Lakers. But at the end of the day, the Lakers are the better, bigger, more experienced team and Dallas matches up badly against them. Assuming the Lakers play to their strengths, unless Dirk has an epic series, I don't see the Mavs pulling the upset, especially without home court advantage.
Read the Dallas perspective here.
April, 29, 2011
4/29/11
11:03
AM CT
By
Jeff Caplan
| ESPNDallas.com
PORTLAND, Ore. --
Los Angeles Lakers
forward
Lamar Odom
won the award
Jason Terry
vowed to reclaim. Now the
Dallas Mavericks
' top reserve has the chance to show who the most valuable sixth man really is in a battle of the benches that includes some juicy subplots.
Odom ran away with Sixth Man of the Year voting after averaging 14.4 points on 53 percent shooting, plus 8.7 rebounds and 3.0 assists. Terry, the 2008-09 winner, finished a distant second after averaging 15.8 points and 4.1 assists.
In the first-round series, Terry averaged 17.3 points in 33.2 minutes -- 21.0 points in the final four games -- to lead a four-man bench that includes point guard
J.J. Barea
(5.2 ppg, 2.5 apg), forward
Peja Stojakovic
(9.5) and 7-foot center
Brendan Haywood
(2.5 ppg, 5.2 rpg). The reserves averaged a heady 34.5 points in the six games and outscored the
Portland Trail Blazers
' bench 207-125.
"I thought Terry's scoring was absolutely essential to us," Mavs coach Rick Carlisle said. "But, he defended well and his floor game was good."
Odom averaged 12.0 points in six games against the
New Orleans Hornets
, and despite seeing his playing time drop by more than three minutes from the regular season, his scoring still doubled that of the next closest reserve, guard
Shannon Brown
(5.8). Phil Jackson has used a four-man bench that averaged 23.7 points against the Hornets -- but is not needed to provide as much scoring boost as the Mavs' bench -- and also includes pesky guard
Steve Blake
(2.4 ppg, 3.2 apg) and agitating forward
Matt Barnes
(3.8, both of whom might have a bone to pick with the Jet.
In the last meeting in Los Angeles on March 31, a 110-82 Lakers romp that at the time seemed like a statement victory with the teams on a collision course for the second round, Terry shoved Blake and drew a flagrant foul and was ejected. Barnes then got in Terry's face and was also tossed. Haywood was close to the fray and he got the hook, although it's still not clear what prompted his ejection.
The next day th e incident evolved into an entertaining war of words with Terry going on a national ESPN Radio talk show and unflatteringly referred to the heavily tattooed Barnes as "The Charminator."
"That is a guy who is as soft as Charmin toilet paper," Terry explained.
Barnes then took to his Twitter feed and fired back, reminding folks of the Warriors' first-round upset of the Mavs in 2007: "Me & the Golden St homies laid out the blueprint on how to beat Dallas.. "PUNK'EM" Aint [expletive] changed homey.. So enough w/the small talk"
Aside from the obvious shenanigans that could be coming with some colorful personalities, the more subdued Haywood will play perhaps the most critical bench role outside of Terry. Just as he helped starting center
Tyson Chandler
keep a fresh, big body on
LaMarcus Aldridge
, which certainly seemed to grind on the Seagoville product over the six games, Haywood will have to provide solid defense and rebounding against the Lakers' 7-foot front line of forward
Pau Gasol
and center
Andrew Bynum
, as well as the 6-10 Odom.
"This team was built on the matchup against the Lakers," Terry said. "Obviously, they're the barometer. They set the bar and we're a team that's the underdog, obviously, in that series. Nobody's going to pick us to win, but it's going to be fun."
To say the least.
February, 13, 2010
2/13/10
9:28
PM CT
Knicks guard
Nate Robinson
, the shortest man in the slam dunk contest, who is trying to become the first three-time champion, has taken an early lead.
Robinson, on his third try, converted a alley oop to himself to record a 44.
Toronto rookie
DeMar DeRozan
is second with a 42, getting a two-handed reverse dunk on his second try.
Los Angeles Lakers
guard
Shannon Brown
scored a 37 on the first round and
Gerald Wallace
of Charlotte pickd up a 38. The reverse dunk by Wallace was the weakest of the bunch.
February, 10, 2010
2/10/10
7:35
AM CT
By
Jeff Caplan
| ESPNDallas.com
Last year
LeBron James
cast the bait and then reeled us all in. Participate in the Slam Dunk Contest he playfully hinted. Oh really?
Psyche.
Shaquille O'Neal
couldn't even entice NBA superstars to dunk for Haiti. Instead, fans at All-Star Saturday's dunk contest at American Airlines Center will be treated to New York Knicks mighty-mite
Nate Robinson
defending his title against little-known
Shannon Brown
of the Lakers, Charlotte leaper
Gerald Wallace
and either
Eric Gordon
of the Clippers or Toronto rookie
DeMar DeRozan
.
Not that there's anything wrong with that.
"In the dunk contest [in the 1980s] you had Dominique [Wilkins], [Michael] Jordan, you had all them guys," Larry Bird said in a phone interview last week. "Everybody participated whether they wanted to or not."
Now that would be nice.
Mavericks owner Mark Cuban said today's superstars don't have an obligation to the fans or the game to participate in All-Star extracurriculars (for the record, Cuban believes players owe fans good health for the stretch run). Cuban did, however, have an idea that just might entice the upper crust to give the dunk contest a go. It's just too bad Cuban never followed Shaq's lead and actually floated the idea publicly.
"It's not like it didn't cross my mind to do something where it's All-Star picks only, million-dollar, one dunk, charity-of-your-choice, winner take all," Cuban said. "How fun would that be? That's not to say we still won't offer it up."
Offer it up. The fans won't mind.