Dallas Mavericks:

sign-and-trade
June, 14, 2010
6/14/10
8:40
AM CT
By
Jeff "Skin" Wade
| ESPNDallas.com
We interrupt
this fantasy offseason series
to officially declare our Summer of LeBron prediction. We'll get back to igniting
Dallas Mavericks
trade chatter later in the week. With all this talk of where King James will end up, we figured we'd put our tingling Spidey senses out on the web and let you all know that not only will
LeBron James
stay in Cleveland, he'll be rolling with new teammate
Chris Bosh
as well.
I believe that LeBron has always known he's going to stay in Cleveland so long as the team improved its roster, front office and coaching situation. But there's too much hype to push, junk to sell and web pages that need to be clicked for LeBron to spill the beans early. Why would the Cavs select a coach until they knew for sure that James approved? And why would Tom Izzo have such a hard time deciding where he was going to be next year if he didn't feel good that LeBron was going to be there too? Everyone who seems to know something about Izzo would be shocked if he left East Lansing. Imagine if it was for the opportunity to coach an aging
Antawn Jamison
... yeah, right. If James wasn't a lock in Cleveland, Izzo would've put this to bed already. If Izzo waffles till July 1, I'll reconsider my thinking here.
James will be a Cav, and here's how he'll get to play with Bosh.
Cleveland will acquire Bosh at "max money" and relieve the Raptors of that horrible
Hedo Turkoglu
contract (still owed about $44 million over the next four seasons) in exchange for Jamison,
Delonte West
,
J.J. Hickson
and
Wally Szczerbiak
in a Keith Van Horne-styled sign-and-trade that'll net him about $3 million. I imagine Cleveland will fund that as well. I could also see a possibility of these teams swapping
Jose Calderon
and
Mo Williams
at Toronto's insistence, but we'll leave them out of this.
The deal is an obvious no-brainer for the Cavs. What does Toronto get for playing ball in helping Bosh get to Cleveland? For starters, they'll get some financial flexibility, but not immediately. In fact, they'd save a little more money next season by simply letting Bosh walk, but the savings wouldn't make up for getting nothing in return and still having the Turk for four more seasons. Jamison only has two years left and gives you better production. Plus, what team will embrace Jamison's horrible D like Toronto? It's downright heartwarming.
And you can count me as a big believer in Hickson. I love his athleticism and energy. He's a nice addition. West has a $500K buyout. That'll get used. And since only the first year of a sign-and-trade has to be guaranteed, Toronto will owe WallyWorld nothing after next season. He's simply filler to make the numbers work. Though he'll get a shot to make the team and jack up 3s. Remember this is the same GM that threw mid-level money at
Jason Kapono
.
Does any of this make up for losing Bosh? No way. Is it way better than just watching him walk to Chicago, New York or Miami? Of course.
Stamp it and consider it done.
Now back to your regularly scheduled offseason fantasizing. Since I've spent all weekend drooling over Paul George highlights, I guess we've got some work to do.
May, 24, 2010
5/24/10
7:45
AM CT
By
Jeff "Skin" Wade
| ESPNDallas.com
For Part III of our
fantasy offseason series
we'll try and work some angles brought up by our homie Timmy Mac in
this post on
LeBron James
.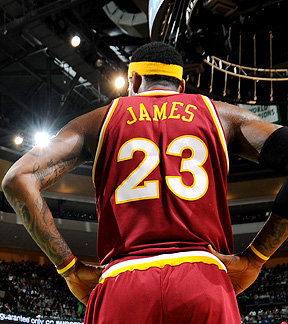 Brian Babineau/NBAE/Getty ImagesIf LeBron James demands a sign-and-trade to the Mavericks, here are two possible scenarios in which the deal could get done.
Obviously any King James-to-Dallas talk would only be possible if James forced the Cavs' hand and demanded a sign-and-trade to the Mavs. It's been brought up many times that not engaging in any sign-and-trade discussions is the only real leverage the Cavs have, thus forcing LeBron to pass on about $30 million to go elsewhere. Then again, getting nothing for LeBron and being left with
Antawn Jamison
,
Mo Williams
and about $12 or $13 million in cap room to lure free agents to one of the least desirable places to live in the NBA doesn't exactly give Cleveland the hammer in these negotiations? If LeBron demands an S&T to Dallas, Cavs owner Dan Gilbert will have to play ball and get some assets back in return. There are two main angles here: Cleveland rebuilding while staying competitive; and Cleveland tearing this bad boy down. We'll tackle both.
The Basics #1:
I've never been a Jamison fan, but he can still get you 20 a night. And even though he's overpaid, his contract only has two years left on it. I don't see him being as big an albatross as others might. In fact, if acquiring LeBron means the Mavs must give up
Rodrigue Beaubois
, as most have theorized, then I'd suggest that Mo Williams and his likely three remaining years is a bigger issue for Cleveland moving forward than Jamison.
The How #1:
If the Mavs were to offer Erick Dampier's non-guaranteed contract, Beaubois,
DeShawn Stevenson
(final year of a deal with $4.1 million on it) and a future pick or two for James and the complete waste of money that is Daniel Gibson's deal (three more years with almost $11 million guaranteed), then I'd think Cleveland would have to roll with that considering holding an empty bag is also an option.
The Why #1:
I'd think Cleveland could still be competitive with this deal while they rebuild around Beaubois, JJ Hickson and cap space using Jamison, Williams and Andy Varejao to bridge to the future. If Cleveland demanded
Caron Butler
in the trade to get more value, then The Mavs would have to counter that
Delonte West
be included in the deal in place of Gibson since he's only guaranteed $500,000 for 2010. But if I'm Dallas, I have James' camp force the issue that he wants to play with Butler. Remember that Roddy B and picks beats nothing in return.
[+] Enlarge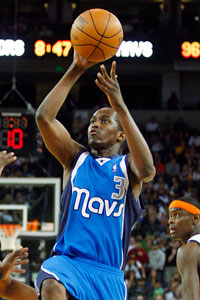 AP Photo/Ben MargotOne scenario: Trading Rodrigue Beaubois, Erick Dampier, DeShawn Stevenson and a pick or two to the Cavs for LeBron James and Daniel Gibson. But if the Mavs were forced to take on Antawn Jamison, then they shouldn't have to trade Roddy B.
The Basics #2:
If The Cavs are completely tearing down, then they'd want to jettison Jamison and Williams. Varejao has five years left, but doesn't make outrageous dough for what he brings, and his energy will still translate to rebuilding. The Mavs could do either variation of trade idea #1 and then swap out
Jason Terry
for Williams and the Cavs could save some money. But if Cleveland insisted on a Jamison/LeBron $31 million megabomb, then I'd think the Mavs would have to play it this way.
The How #2:
Dampier's non-guaranteed contract, Butler in the last year of his deal and Matt Carroll's descending contract (very much in the Boobie Gibson realm) and two future picks for Jamison/LeBron. But NO Roddy B if you have to take on Jamison.
The Why #2:
Jamison is a completely useless player for the Mavs at his salary and really hurts the finances of the team. If Dallas has to take him on, then they shouldn't have to come off of Beaubois, too. Butler will give the Cavs similar production to Jamison at about $18 million less. Honestly, Cleveland would be better taking the first incarnation of Deal 1 and then sending Jamison, Williams, West and
Jamario Moon
to Philly for
Elton Brand
,
Samuel Dalembert
, Jason Kapano and the #2 pick. They take a financial hit this season, though they wouldn't come close to luxury tax territory and then they'd rebuild around the undeniable backcourt of Roddy B and Evan Turner with over $20 million in cap space next summer. Now that'd be fun to watch.
The Bottom Line:
The Mavs can get LeBron if he wants to come here. Who knows if Dallas is even on his radar. But if Cleveland plays it right, they could be competitive quickly. Which is all you can ask when you lose one of the best players in the world in his prime.