Dallas Mavericks:

SMU Mustangs
September, 30, 2010
9/30/10
8:24
AM CT
By
Jeff Caplan
| ESPNDallas.com
UNIVERSITY PARK, Texas --When the
Dallas Mavericks
open the preseason Tuesday night at home against the
Washington Wizards
, there will be interesting areas to observe, such as who starts at shooting guard and small forward, as well as the anticipated debut of rookie
Dominique Jones
.
But, the most heated competition going on will be for the 14th spot on the roster and the important role as backup power forward behind
Dirk Nowitzki
. OK, so maybe that role is better defined as backup backup power forward because small forward
Shawn Marion
and center
Tyson Chandler
are expected to play the bulk of the minutes there during the 13 minutes or so a game when Nowitzki is not on the floor.
Still, outside of Nowitzki, the Mavs don't have a true power forward. They made it clear what type of player they were looking for when they passed on 6-foot-9 inside presence
Ike Diogu
(the Garland product joined the
Detroit Pistons
on Monday on a make-good contract) and signed a pair of power-forward perimeter shooters to make-good contracts in
Steve Novak
and
Brian Cardinal
. The Mavs also brought in shooting guard/small forward
Adam Haluska
and undersized guard
Dee Brown
.
All figure to busy during the preseason.
"Last year we only had seven exhibition games. This year we have eight and no back-to-back so we are going to have to use all eight to look at these unknowns," Carlisle said. "The possible 14th spot, the different big guys, what they can do."
The big guys are young and unproven centers, 6-11
Ian Mahinmi
and 7-foot
Alexis Ajinca
. They're part of the Mavs' overcrowded, four-headed center position behind
Brendan Haywood
and
Tyson Chandler
.
Ajinca was acquired from
Charlotte
along with Chandler in the
Erick Dampier
trade. Ajincawas put on the trading block, but obviously the club wasn't able to move him. That could change once the preseason begins. Carlisle was talking up Ajinca's attributes Wednesday and his solid performances in the early days of camp.
"I'm very certain there's going to be teams calling us about trade possibilities once they start seeing some of these younger guys in exhibition games," Carlisle said. "But, we'll see about that."
*The Mavs are back at SMU Thursday for two practices, a morning and late afternoon session. The annual Fan Jam will be held at the American Airlines Center Monday night before the preseason opener on Tuesday.
September, 21, 2010
9/21/10
10:49
PM CT
By
Jeff Caplan
| ESPNDallas.com
The Dallas Mavericks open training camp for the 2010-11 season Tuesday at SMU. This is the third in a five-part series examining key questions regarding the club's roster and its chances of contending in the Western Conference.
Shawn Marion
put together a solid regular season, his first with the
Mavericks
, even garnering support from owner Mark Cuban as being worthy of a spot on the NBA's All-Defensive team. No doubt, he was the team's top defender, doing a magnificent job on some of the game's top scorers, and he seemed to be a positive presence in the locker room, accountable after both wins and losses, a good teammate with a good sense of humor who takes his job seriously, but also has a light take on life.
But, the year ended on a downer, with his minutes and role reduced as Dallas disappointingly bowed out in the first round of the playoffs.
[+] Enlarge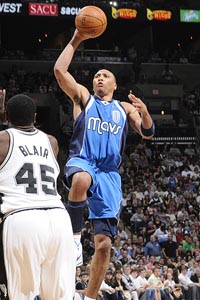 D.Clarke Evans/NBAE/Getty ImagesShawn Marion's production has been on the decline, but he has expressed that he doesn't like the idea of coming off the bench.
"How can I be effective being pulled in and out like a rag doll?" Marion asked after the Mavs lost Games 3 and 4 in San Antonio.
That's the question coach Rick Carlisle will have to resolve beginning with the first day of training camp on Tuesday at SMU. How can Marion be most effective? What is he? A small forward? A power forward? A defensive specialist? A starter? A reserve?
The resolution could be challenging. The Mavs clearly have plans to transition Marion to the bench, which would allow
Caron Butler
, a more dangerous offensive presence and a better perimeter shooter, to start at his preferred small forward spot. In a perfect world, Carlisle would have liked to come into training camp with the ability to implement the plan immediately, but the foot injury to
Roddy Beaubois
that will keep him out likely all of preseason and perhaps into the regular season, would seem to delay shifts in the starting lineup (unless Carlisle opts to start
Jason Terry
,
DeShawn Stevenson
or even rookie
Dominique Jones
until Beaubois returns to get Marion accustomed to coming off the bench).
During the offseason, Carlisle broached the subject of using Marion in a reserve role on ESPN 103.3 FM,
and Marion gave his not-so-positive first impression of life coming off the bench
a few days later on the same radio program. Still, Mavs president of basketball operations Donnie Nelson called Marion-to-the-bench a
"natural progression."
It would make for an interesting situation. Terry won the Sixth Man of the Year award two years ago and has vowed to re-claim it this season. It would set up a scenario like several years ago when former coach Avery Johnson dubbed Terry 6A and
Jerry Stackhouse
6B, or vice-versa.
From Marion's standpoint, he's still young enough, 32, to get the job done -- as a starter. Here's what he said on the radio in July about the prospect of coming off the bench:
"That's something I've got to think about. I'm going to do whatever it takes to win, but the hardest thing for me is if you've always been a starting player your whole career and you haven't come off the bench, it's a different adjustment for your body. It's harder to do that ... I'm going to tell you like this: I've been doing this a long time and I'm not one of those players that can be sitting on the bench. I get stiff over on that bench sitting too long. It's hard. It's very hard. It's an adjustment, but sometimes you've got to do what you can do."
Marion's had a couple of months to think things through, but unless he has a change of heart about coming off the bench, Carlisle could have a potentially disruptive situation on his hands. The Matrix is no longer the high-flyer, 20-point scorer, 3-point shooter that he was in Phoenix. He's averaged 12.0 points the past two seasons. Most of his buckets last season came near the basket, either on post-ups -- not the traditional small forward scoring area -- or finishing fast breaks. His 6.4-rebound average last season was the lowest of his 11-year career.
Against the Spurs in the playoffs, his scoring and rebounds dropped to 8.7 and 4.2, respectively, as his minutes plummeted from 31.8 to 24.7. He was rarely in during crunch time, which was also the case during the regular season.
If the Mavs ultimately want Marion to come off the bench, he will have to swallow his pride and do what is asked of him. His contract, with four years remaining including this one, for about $33 million, is virtually untradeable, so he's going to be a Maverick.
Cuban has called this year's team the deepest in the league and maybe he's right. Marion is the one in line to sacrifice. However, a bench role could fit him well. He could easily log 25 to 30 minutes a night backing up Butler at the 3 and
Dirk Nowitzki
at the 4. Playing against the opponent's second unit could also serve as a boost.
Marion is a proud veteran. If he's shifted to the bench, his and the team's happiness could be determined by how he decides to perceive the move. If he pouts and takes it personally, it could spell trouble. If he rolls with it and accepts the importance of the new role, it could certainly help to make the Mavs one of the deeper and more dynamic teams around.
Stay tuned.