Dallas Mavericks:

Spencer Hawes
November, 19, 2013
Nov 19
9:00
AM CT
DALLAS --
Samuel Dalembert
didn't pout or mope after being informed Monday morning that he wouldn't start for the first time this season.
Dalembert simply proved his coach wrong when he got on the floor.
Coach Rick Carlisle cited concerns about the Dallas Mavericks' ability to match up with the
Philadelphia 76ers
as the reason he switched up the starting lineup for the first time this season, sitting Dalembert in favor of
Jae Crowder
to begin the game with a smallball lineup. Carlisle worried that Dalembert would struggle defending Sixers center
Spencer Hawes
, who does more damage from the perimeter than the paint.
Carlisle called the decision to change the starting lineup a mistake after the Mavs' 97-94 win, just in case there was any doubt after Dallas dug an eight-point hole to begin the game.
The Mavs probably don't manage to pull out the win without Dalembert's contributions off the bench, which included eight points, a season-high 14 rebounds and three blocks in 28 minutes.
"He was terrific," Carlisle said. "I explained the situation this morning. He was great about it. He said, 'Hey, whatever's best for the team. That's fine.' It's a case of a guy didn't let that affect him. He came in and was a big factor."
Added
Dirk Nowitzki
: "He changed the game for us. We weren't quite sure if this was the game for him, but he made it his game."
To Carlisle's credit, he wasn't too stubborn to acknowledge his error during the game and adjust accordingly. The Mavs started the second half with Dalembert at center as part of the same lineup that opened the previous 10 games.
"It's not a problem," Dalembert said. "Nobody's perfect. The communication was clear. I understand his mindset. I'm usually by the basket and he didn't want to let [Hawes] get open 3s. That's a relationship. Next time, we'll know, I can do it.
"To me, I just didn't want to get a night off. So when I saw things weren't going well the first five or six minutes, I was ready to get my chance to prove to him that I can get it done. We adjusted fast. And that's a good thing.
"I've been on teams sometimes when coaches don't want to adjust."
And Carlisle has had big men too mentally fragile to handle moving back and forth from the starting lineup to the bench.
Perhaps it'd be wise just to leave the starting lineup alone, but Dalembert's performance off the pine was an impressive exhibit of professionalism.
November, 18, 2013
Nov 18
11:50
PM CT
DALLAS --
Shane Larkin
was still soaking up the experience as he soaked his feet in an ice bucket after his NBA debut.
The
Dallas Mavericks
' first-round pick finally got a taste of NBA game action, four long months after he fractured his right ankle the day the franchise's summer-league team left for Las Vegas, an injury that required surgery to repair.
Larkin, a 5-foot-11, 176-pound spark plug of a point guard, made his presence felt while playing 8 minutes, 35 seconds in Monday's 97-94 win over the
Philadelphia 76ers
. He finished with 3 points on 1-of-3 shooting, 3 assists and 3 steals.
"I felt good," said Larkin, the 18th overall pick in the draft. "I don't feel like I'm back in my rhythm yet, but just to get out there was an amazing experience. I'm living my dream. I was out there smiling the whole night."
The Mavs envisioned Larkin, who has been practicing for about 10 days, as a
J.J. Barea
type when they acquired him. He played some at both guard spots, joining fellow rookie
Gal Mekel
in the backcourt for stretches.
"He looked really fast out there, and obviously that's what we need, some quickness backing up
Jose [Calderon]
,"
Dirk Nowitzki
said. "He looked good. I thought he tried to play within himself. Don't do anything he can't do. He's got to keep working. It's early. This is his first game. He didn't play summer league under NBA rules, so he has a lot of catching up to do, but he definitely has the potential."
Added Dallas coach Rick Carlisle: "I thought he did well considering. This is the beginning of a process, but I like what he did."
Lineup logic:
Carlisle opted to tinker with the starting lineup for the first time this season, sitting center
Samuel Dalembert
in favor of forward
Jae Crowder
.
The logic was that the Sixers liked to play smallball, and Philadelphia center
Spencer Hawes
is more of a threat shooting 3-pointers than posting up. Carlisle didn't think Dalembert matched up well against the Sixers, so he had
Shawn Marion
start at center, with Crowder filling in at small forward.
The results were awful. The Sixers scored the first eight points of the game. The Mavs were scoreless for five minutes, a stretch in which Crowder missed five shots and committed two turnovers. Dalembert started the second half and played well, contributing 8 points, 14 rebounds and 3 blocks in 28 minutes.
"We should have started our regular way, but you live and learn," Carlisle said. "It's not like I haven't made a lot of mistakes before."
June, 4, 2012
6/04/12
10:29
AM CT
Let's take a glass-half-full view of the Mavs' offseason. That means we'll assume that they'll succeed in recruiting
Deron Williams
to come home but won't be able to persuade the
Orlando Magic
to take an inferior package to ship
Dwight Howard
to Dallas.

If the amnesty clause is used on
Brendan Haywood
to create cap space as expected, how would the Mavs fill their huge hole in the middle?
They could just re-sign free agent
Ian Mahinmi
and pair him with
Brandan Wright
, but it's hard to see the Mavs emerging as a legitimate contender without more of a presence at center. There are plenty of options in the free agent market.
A look at the most attractive available big men:
Roy Hibbert (restricted):
The 7-foot-2, 260-pound Hibbert has great size and good skills. He's only 25, so there is still room to grow in his game after he averaged 12.8 points, 8.8 rebounds and 2.0 blocks this season. He'd be by far the best low-post threat ever to be paired with
Dirk Nowitzki
. But the Pacers have the right to match any offer he gets, a ton of cap space and executive of the year Larry Bird calling the shots. If the Mavs get Hibbert, it probably means they've significantly overpaid another big man.
Kevin Garnett:
The 36-year-old KG sure looks like he has a lot left in the tank during these playoffs. His regular-season minutes must be managed, but Garnett is still a major defensive force and good scorer and rebounder. He'll take a pay cut after making $21 million this season and almost $300 million in his career, but Garnett won't come cheap. It's hard to see the Celtics letting him go when they have a chance to contend.
[+] Enlarge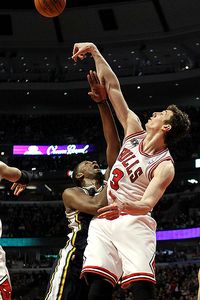 Jonathan Daniel/Getty ImagesOmer Asik, 24, is a dominant defender and a good rebounder, averaging 5.3 rebounds and a block in only 14.7 minutes per game this season. However, he definely needs to improve on offense.
Omer Asik (restricted):
Asik, the Turkish product who turns 26 on July 4, is a dominant defender, a 7-footer who can protect the rim and disrupt pick-and-rolls. He's a very good rebounder. And he's an awful offensive player with hands that make Haywood's look good in comparison. Could that change with the Mavs coaching staff dedicating time to work with him? He's also a restricted free agent, but the Bulls are already in luxury tax land and might not match a decent offer for Joakim Noah's backup.
Marcus Camby:
He's 38 years old and doesn't offer much offensively any more, but Camby could be an affordable stopgap solution. He's still a defensive presence in the paint, averaging 9.0 rebounds and 1.4 blocks in 22.9 minutes per game last season. Camby becoming a Maverick would probably mean that neither side was satisfied with what they found in the free agency market.
JaVale McGee (restricted):
He tends to be comically boneheaded, but he's a freakish athlete for a 7-footer and is talented enough to put up a 21-point, 14-rebound performance in a playoff win over the Lakers. He's one of the league's best shot blockers and finishers, but his basketball IQ hovers around his jersey number. He's also only 24 years old, with the potential to be really, really good if a coaching staff can ever get through to him. Then again, he also has the potential to make an owner regret signing his paychecks every couple of weeks for the next four years.
Chris Kaman:
Dirk's German Olympic teammate would be the best offensive center in Mavs history, although his .446 shooting percentage for the Hornets last season isn't exactly appealing. He's a good post defender and shot blocker. He's also injury prone, having missed major chunks of four of the last five seasons. How can the Mavs feel comfortable making a major investment in a 30-year-old with that medical record?
Brook Lopez (restricted):
He's a skilled, high-scoring young 7-footer who wouldn't be a good fit with Dirk. The Mavs can't afford to have a slow, subpar-rebounding, poor-defending big man on the floor with Dirk, especially if that center is expensive. Lopez missed all but five games last season, but he managed to score 38 points in a win over the Mavs.
Spencer Hawes:
He's a 24-year-old former lottery pick who has had some bright moments as the Sixers' starting center the last two seasons, although he was injured for much of this year. But his game isn't a good fit with Dirk's. He's a finesse big man who lives on long jumpers and too often doesn't carry his weight defensively.
Robin Lopez (restricted):
He's 24 years old, stands 7 feet tall and has some experience. He's a pretty good shot blocker and pick-and-roll finisher, but he's slow-footed, an amazingly awful passer and a poor rebounder. He's not a starting-caliber center.
Greg Oden:
Oden might not play at all next season. Heck, he might never play again after knee injuries made the big man picked before
Kevin Durant
a bust in Portland. But the Mavs' medical staff, which helped everyone forget about Tyson's Chandler's injury history, could give Oden his best chance at having a respectable NBA career. It's worth a minimum-salary flyer to find out if Oden can get and stay healthy enough to become the dominant defensive presence he was expected to be.
Erick Dampier:
Just checking to see if you're still paying attention.
May, 7, 2012
5/07/12
11:00
AM CT
DALLAS – When the Mavs opted not to offer
Tyson Chandler
and Co. long-term deals, this summer's free-agency crop was expected to be headlined by a few superstars.

The landscape quickly changed when
Chris Paul
exercised his player option for next season after being traded to the
Los Angeles Clippers
. It changed for the worse again when
Dwight Howard
surprisingly committed not to opt out of the final season of his contract with the
Orlando Magic
just before the trade deadline.
That leaves
Deron Williams
as the lone big fish. What happens if the Mavs don't convince The Colony native to come home?
"You've got to have your A, B, C, D and E and so on, but you also understand that this is a global plate tectonic," president of basketball operations Donnie Nelson said. "Things are moving and situations are fluid. You go into it with eyes wide open and hopefully you can come out of it with what you want."
The Mavs want a player who can create offense on his own, a necessity to take pressure off of
Dirk Nowitzki
.
PODCAST
Mavs GM Donnie Nelson gives us an inside look at the team's summer plans as the franchise has financial flexibility for the first time in over a decade.

Listen

A reunion with
Steve Nash
is a possibility. The Mavs declined to pay what it took to keep him in Dallas eight seasons ago because of concerns about durability, but he's coming off a season in which he led the Western Conference in assists (10.7 per game) and shot a career-best 53.2 percent from the floor.
Everyone knows the chemistry with old pal Nowitzki would click. However, the Mavs would probably take a major step back defensively by adding a 38-year-old point guard who has always been considered a liability on that end of the floor.
Houston's
Goran Dragic
, who made himself a ton of money as the fill-in starter for
Kyle Lowry
in the second half of the season, is a much younger option. Dragic, 26, Nash's former backup, averaged 18.0 points and 8.4 assists while shooting 49.0 percent from the floor in 28 games as a starter this season.
Some other proven shot creators in the market: New Orleans'
Eric Gordon
(restricted), Memphis'
O.J. Mayo
(restricted), Minnesota's
Michael Beasley
(restricted and off-court issues) and Boston's
Ray Allen
(turns 37 in July).
The market for big men, which will be a big need if the Mavs use the amnesty clause on
Brendan Haywood
, is headlined by Indiana's
Roy Hibbert
(restricted), Denver's
JaVale McGee
(restricted), Brooklyn's
Brook Lopez
(restricted), New Orleans'
Chris Kaman
, Houston's
Marcus Camby
, Philadelphia's
Spencer Hawes
and Chicago's
Omer Asik
. The Mavs might also explore taking a minimum-salary flyer on
Greg Oden
in hopes of resuscitating the former No. 1 overall pick's career after it has been derailed by knee injuries.
"There's a lot of good players out there," Nelson said. "Whether it's A, B, C, D, E, F, or keep the powder dry, which is always an option. Just because we have it doesn't mean we have to spend it."
Is putting a subpar supporting cast around Nowitzki for another year of the twilight of his prime really an option? Isn't there a sense of urgency to maximize the chances of winning another championship while the best player in franchise history is still a superstar?
"Listen, how many years have we made it in the playoffs in a row?" Nelson said. "We don't plan on putting out anything less than a championship-caliber team. That's me and Mark's history and that's our commitment to our fans and this city."
They've got their work cut out for them this summer, especially if they swing and miss on Williams.