Dallas Mavericks:

Steve Kerr
May, 27, 2010
5/27/10
12:55
PM CT
By
Jeff Caplan
| ESPNDallas.com
Atlanta Hawks
owner Michael Gearon today joined
Dallas Mavericks
owner Mark Cuban and
Phoenix Suns
president Steve Kerr as contributors to the NBA's
LeBron James
Tampering Fund (LBJTF).
The league smacked Gearon with a $25,000 fine for his May 19 comments that violated NBA anti-tampering rules in the Atlanta Journal-Constitution:
"If somebody came to us tomorrow and said you can have LeBron for max money and it puts you in the luxury tax, I'd do it in a heartbeat," Gearon told the paper. "But am I going to do that for (Cavs center Zydrunas) Ilgauskas? Am I going to do it for Jermaine O'Neal? I don't think so."
Cha-ching.
Cuban still leads the league with the largest fine at $100,000 for saying he's "hopeful" that LeBron will choose to do a sign-and-trade with the Mavs. Kerr chipped in $10,000 for a tongue-in-cheek comment about paying LeBron the mid-level exception -- about $5.5 million -- next season.
It is fascinating how the NBA is scaling the severity of tampering and the ensuing fines for each offender. Apparently a nominal fee will be charged for cracking wise about LeBron's potential free agency such as Kerr did. They'll take the fine up a notch if the tamperer presents a hypothetical situation as Gearon did, and quadruple that when someone like Cuban offers up a potentially real scenario.
To all NBA owners and front-office personnel, repeat after me: When asked about LeBron James or any other potential free agent, the only proper response is, "No Comment."
OK, who's next to contribute to the LBJTF?
May, 21, 2010
5/21/10
9:44
PM CT
Mark Cuban isn't the only NBA executive to recently make forbidden comments about a certain soon-to-be free agent.
As brought to our attention by a loyal reader,
Phoenix Suns
general manager answered questions about
LeBron James
during an
appearance on The Dan Patrick Show
last week.
"If he'll take mid-level, we'll give it to him," Kerr said when asked whether the Suns could be included in the LeBron sweepstakes.
Kerr elaborated when asked what the mid-level was.
"About 5 1/2 million," he said. "I think he'll take it. Don't you think?"
Kerr clearly had tongue in cheek, but simply answering a question about a potential free agent violates the letter of the NBA's anti-tampering law. The league memo sent out in December 2008 reminded teams of that.
And Kerr offered a serious take when asked where he thinks King James will go.
"I have no idea," Kerr said. "I want him to stay in Cleveland. I think that's good for sports when you've got players you connect to over a long period of time, so I hope he stays."
If the NBA punishes Cuban for publicly acknowledging the Mavs' hopes to woo LeBron, Kerr should at least get a slap on the wrist as well. They're guilty of breaking the same rule, as harmless as their comments might have been.
May, 12, 2010
5/12/10
12:54
AM CT
By
Jeff Caplan
| ESPNDallas.com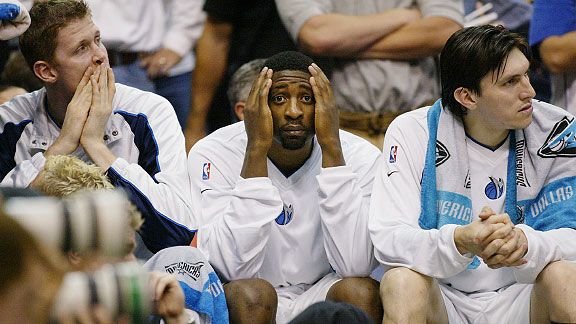 AP Photo/Donna McWilliamFrom left, Shawn Bradley, Adrian Griffin and Eduardo Najera had a hard time watching the Mavs' playoff run end against the Spurs in the 2003 Western Conference finals.
Third in a series chronicling the Mavericks' streak of 10 seasons with 50 or more wins (previous installments).
Coach:
Don Nelson
Record:
60-22 (T1st, Midwest Division)
Playoffs:
Defeated Portland (4-3); defeated Sacramento (4-3), lost to San Antonio (4-2)
Team payroll:
$72.9*
Highest-paid player:
Michael Finley
($11.95 million)*
Offseason transactions:
G
Walt Williams
(free agent); G
Raja Bell
(free agent); F
Popeye Jones
(free agent); G
Adam Harrington
(free agent, then released in January)
Major transaction:
G
Antoine Rigaudeau
(free agent, signed Jan. 17, 2003)
The high:
The Mavs posted a second consecutive franchise record for wins. They started the season 14-0, falling one win shy of tying the NBA record. Dallas led the NBA in scoring for a second straight season (103.0) and committed an NBA record-low 11.6 turnovers a game.
Dirk Nowitzki
averaged a career-best 25.1 points a game, finishing sixth in the league, and joined
Mark Aguirre
as the only Mavericks player to score 2,000 or more points in a single season. Nowitzki finished with 2,011. He and
Steve Nash
(17.7 points, 7.3 assists) made the West All-Star team again. After taking a 3-0 lead over Portland in the first year of the first-round being expanded to best-of-7, the Mavs had to pull out a Game 7 to advance. Dallas then slayed Sacramento in seven games, a series that included a thrilling 141-137 double overtime win in Sacramento and a 112-99 Game 7 win in Dallas in which Nowitzki scored 30 points and had 19 rebounds. It put the Mavs in the West finals for just the second time in franchise history and first since 1988.
[+] Enlarge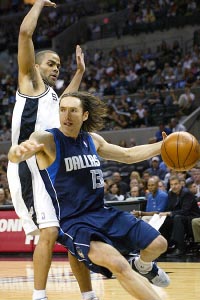 AP Photo/Donna McWilliamSteve Nash couldn't lead the Mavericks past the Spurs in the 2003 Western Conference quarterfinals, although helped the Suns do it this year.
The low:
On Dec. 6, 2002, the Mavs suffered one of the franchise's worst losses to their most hated nemesis. Playing in Los Angeles, the Mavs blew a 30-point lead to the Lakers, who trailed 88-61 at the end of the third quarter. But, the biggest letdown came in Game 3 of the Western Conference finals when Dirk Nowitzki went down with a sprained knee. The Mavs lost the game to trail San Antonio, 2-1, and the news wasn't good: "The news is not good," Mavericks coach Don Nelson said. "His knee is very sore. I don't expect he'll play [in Game 4], and I'm not sure if he'll play in this series." Nowitzki didn't play the rest of the series. The Spurs won Game 4 in Dallas, but Michael Finley's 31 points in Game 5 extended the sreies to Game 6 back at the American Airlines Center. The Mavs were giving the Spurs all they could handle. That is until
Steve Kerr
popped off the bench and took over. Kerr put on a 3-point blitz and the Spurs outscored the Mavs, 34-9, in the fourth quarter. The series began the falling out process between Nelson and Mark Cuban, who wanted Nowitzki to play in the late stages of the series. Nelson insisted Nowitzki sit, unwilling to risk the health of the knee of the franchise player. Had Nowitzki played and the Mavs won the series, they had to like their chances against the
Jason Kidd
-led
New Jersey Nets
in the NBA Finals. The Spurs certainly did.
The roster:
F Dirk Nowitzki (team-leading 25.1 ppg, 9.9 rpg and 111 steals)
G Michael Finley (19.3 ppg, 37.0% 3FG)
G Steve Nash (17.7 points, team-high 7.3 assists and 41.3% 3FG)
G
Nick Van Exel
(12.5 ppg, 4.3 apg, 27.8 mpg as sixth man)
F/C
Raef LaFrentz
(9.3 ppg, 4.8 rpg, 91 blocks in 69 games)
C
Shawn Bradley
(6.7 ppg, 5.9 rpg, 170 blocks in 21.4 mpg)
F
Eduardo Najera
(6.7 ppg, 4.6 rpg in 48 games)
F Walt Williams (5.5 ppg, 37.4% 3FG)
G/F
Adrian Griffin
(4.4 ppg in 18.6 mpg)
F
Tariq Abdul-Wahad
(Played in just 14 games)
G
Avery Johnson
(3.3 ppg in 48 games)
G Raja Bell (3.1 ppg in 75 games)
F Popeye Jones (2.0 ppg, 2.3 rpg in 26 games)
G Antoine Rigaudeau (1.5 ppg, 0.5 apg in 11 games)
F/C
Evan Eschmeyer
(1.0 ppg, 1.4 rpg in 17 games)
*Source: Basketball-Reference.com