Dallas Mavericks:

Terrence Ross
February, 19, 2013
2/19/13
9:57
AM CT
DALLAS –
Vince Carter
's curiosity was piqued when he noticed that
Terrence Ross
' jersey didn't match his shorts when the Raptors rookie walked onto the floor for the finals of the slam dunk contest.
[+] Enlarge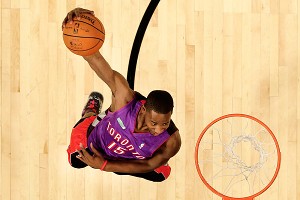 USA TODAY SportsTerrence Ross donned a No. 15 Vince Carter jersey while claiming the slam dunk contest.
Then Carter saw the familiar No. 15 and recognized that Ross was wearing Vinsanity's old Toronto jersey as a tribute.
"It was weird, but I was honored," Carter said Monday. "It was great to see that jersey on the floor in that atmosphere of the dunk contest."
Ross did the jersey proud, catching a pass off the side of the backboard and perfectly executing a windmill dunk while wearing No. 15. Ross dethroned defending dunk champ
Jeremy Evans
, bringing the title back to Toronto 13 years after Carter won it with a legendary performance.
Ross, who was 9 when Carter won the dunk contest, has told reporters that Carter was one of his boyhood idols. Carter reached out to Ross over the weekend to express his appreciation for the tribute.
PODCAST
With the Lakers' ongoing drama, Galloway & Company discuss the possibility that Dwight Howard could be headed to the Mavericks.

Listen

"I wanted to personally congratulate him and told him I was honored," Carter said. "I think this is a great opportunity for him because I know what winning the dunk contest did for me. I said the same thing to him. I said, 'Everywhere you go, when your name is mentioned, it's mentioned among the dunk champions.' That's an honor in itself. That's something they can't take away from you.
"That's how my wonderful ride began. Everybody is excited about the dunk contest and it just gave me confidence."
Carter won the dunk contest the day before he made the first of his eight consecutive All-Star appearances. Ross, an eighth overall pick averaging 6.4 points per game as a rookie, has a long way to go to approach those heights.
February, 17, 2013
2/17/13
11:22
AM CT
A member of the Mavericks ended up participating in All-Star Weekend after all.
For some reason,
Dahntay Jones
was recruited out of the crowd to throw a sitting lob pass to Utah's
Jeremy Evans
in the finals of the dunk contest. Evans jumped over Jones and threw down the dunk on the first try, a rare feat in this year's contest.
There is no obvious connection between Jones and Evans, a rarely used third-year forward out of Western Kentucky. Perhaps Evans wanted to take advantage of the passing skills of Jones, who is averaging 0.6 assists per game this season, just down from his career average of 0.9.
Raptors rookie swingman
Terrence Ross
paid tribute to Mavs sixth man and former dunk champ
Vince Carter
by wearing Carter's No. 15 Toronto jersey during his first dunk in the finals. Ross dethroned Evans, the defending champion.
December, 14, 2012
12/14/12
8:34
PM CT
How it happened:
The Mavs looked absolutely awful against a Toronto team that injured Raptors star
Andrea Bargnani
is on record describing as "pretty much the worst team in the NBA."


It was a miserable night for the Mavs' offense despite facing a foe that allows the third most points in the league. The Mavs were 27-of-69 (39.1 percent) from the floor and 0-for-13 from 3-point range.
It was an especially tough night for two of the Mavs' top offensive players.
O.J. Mayo
was just 2-for-8 from the field for 10 points – less than half his average – and committed six turnovers.
Vince Carter
finished 1-for-8 from the floor for only four points.
The Mavs fell behind during a horribly inefficient second quarter, when Dallas had more turnovers (six) than field goals (five), and never recovered against the Raptors.
Toronto seized control with a 19-6 run in the second quarter. Rookie guard
Terrence Ross
, who scored 11 of his career-high 20 points in the second, sparked that spurt.
The Mavs actually held the Raptors scoreless for a stretch of 5:29 in the third quarter, but Dallas still lost ground in that frame. That tends to happen for teams that go 4-of-19 from the floor in a quarter.
With the Mavs on the first half of a back-to-back, coach Rick Carlisle waved the white towel midway through the fourth quarter. He sat his regulars at that point, hoping they might be able to muster a little more energy Saturday night in Minnesota.
What it means:
The Mavs (11-12) fell below .500 again after their most embarrassing loss of the season. They were routed by a Toronto team that had lost 12 of its last 13 games. The Mavs are 4-9 on the road after beginning this trip with a pair of losses. The Raptors snapped a six-game losing streak.
Play of the game:
Toronto's
Mickael Pietrus
drove through the heart of the Dallas defense and flipped the ball over his head, off the glass and in as he got fouled by
Chris Kaman
. The and-1 bucket stretched the Raptors' lead to 21 midway through the third quarter.
Stat of the night:
The Mavs' NBA record streak of games with a made 3-pointer is over. They were 0-of-13 from 3-point range, with
Derek Fisher
's apparent 3 early in the fourth quarter ruled a 2-pointer after a replay review clearly showed he had a foot on the line. The last time the Mavs failed to make a 3-pointer in a game was Feb. 26, 1999.
June, 28, 2012
6/28/12
9:03
PM CT
By
Clint Foster
| ESPNDallas.com
DALLAS -- The
Dallas Mavericks
somewhat surprisingly selected Jared Cunningham with the 24th overall pick in the 2012 NBA Draft. Cunningham is a 6-foot-4, 194-pound junior shooting guard from Oregon State and is known for his athleticism, quickness and defense.
The Mavs initially picked Tyler Zeller (center, North Carolina) with the 17th overall pick, but quickly traded him to the
Cleveland Cavaliers
in exchange for the 24th, 33rd and 34th picks in the draft.
One of the Mavs' targets, Arnett Moultrie (forward, Mississippi State) was on the board, but Dallas went with the combo guard. ESPN.com Insider Chad Ford wrote in his June 25 scouting report that Cunningham could be the best sleeper in this year's draft.
Here's a quick look at Cunningham's resume:
Cunningham led the Pac-12 in steals as a junior and sophomore. ... He was an All-Pac-12 First team selection as a junior and All-Pac-12 second team as a sophomore. ... He was a two-time Pac-12 All-Defensive and All-Tournament Team selection. ... He concluded his career 13th all-time in scoring (1,271), second in steals (219), third in free throws made (427) and fifth in free throws attempted (566) at Oregon State. ... He averaged 17.9 points as a junior, the second-best in the Pac-12. ... He ranked ninth nationally in steals. ... He tied
Gary Payton
and
Lester Conner
for for the second-most steals in a single season (91) in Oregon State history.
Cunningham is ranked 32nd in Chad Ford's top 100.
Click here
to read Ford's analysis (insider).
The Mavs had a few potential players go off the board before they could pick at 17th. Terrence Ross (guard, Washington) was drafted eighth overall by the
Toronto Raptors
, Meyers Leonard (center, Illinois) 11th overall by the Portland Trailblazers, Kendall Marshall (guard, North Carolina) 13th overall by the
Phoenix Suns
and Royce White (forward, Iowa State) 16th overall by the
Houston Rockets
.
After making the trade with Cleveland, the Mavs missed out on Terrence Jones (forward, Kentucky, picked 18th by Houston), Andrew Nicholson (forward, St. Bonaventure, picked 19th by Orlando) and Fab Melo (center, Syracuse, picked 22nd by Boston).
The Mavs left Perry Jones III (forward, Baylor) and Quincy Miller (forward, Baylor) on the board.
June, 28, 2012
6/28/12
7:25
PM CT
By
Jeff Caplan
| ESPNDallas.com
DALLAS -- Former Mavericks assistant Dwane Casey and the
Toronto Raptors
took one of the Mavericks' top choices off the board unexpectedly, selecting Washington's Terrence Ross with the No. 8 pick.
The 6-foot-7 shooting guard is regarded as an explosive athlete, a good shooter and a promising defender, however most draft experts did not have him going this early. He's got great size for a shooting guard, but the Mavs will now have to focus elsewhere.
Mavs prospects still on the board include shooting guard Jeremy Lamb, point guard Kendall Marshall, power forwards John Henson and Arnett Moultrie, small forward Royce White and center Meyers Leonard, among others.
June, 28, 2012
6/28/12
11:30
AM CT
By
Jeff Caplan
| ESPNDallas.com
The
Dallas Mavericks
will get a player in the first round of the draft for a third time in four years. They hope tonight's No. 17 pick can be inserted directly into the rotation next season.

But what about the futures of the previous two first-rounders? A draft-day deal netted No. 25
Rodrigue Beaubois
in 2009, and Dallas paid $3 million to the
Memphis Grizzlies
to select
Dominique Jones
in 2010. If the Mavs land
Deron Williams
in free agency, both players could be swept up in cap-clearing trades. If Williams doesn't come to Dallas, the Mavs must figure out how to best utilize both young players that have yet to find a home at either guard spot.
For all the flashes of promise from Beaubois, he played all of 12 minutes in the four-game sweep to the
Oklahoma City Thunder
. Jones couldn't beat out recently acquired
Kelenna Azubuike
for a spot on the playoff roster despite Azubuike having been out of the league since 2009.
The broken left foot saga plagued Beaubois for two seasons, and who knows how badly it set back his confidence and development. The more critical question about Beaubois as he enters his fourth season is if he has the inner drive to become a top-flight talent, the type of ceiling the franchise once believed was within reach for the French-speaking youngster from the tiny island of Guadeloupe.
Mavs president of basketball operations Donnie Nelson said he believes Beaubois, finally healthy enough to train for the full summer, has the desire and toughness to excel, and that he's been the victim of a veteran logjam in the backcourt.
"Yes, the injury really set him back," Nelson said. "There's another late first-round pick that's quick as a cat, upside and again you're stuck behind one of the greatest point guards to ever play (
Jason Kidd
), and then Delonte (West) really did some nice stuff for us this year and we certainly have to figure out a way to get him minutes. So in fairness to Roddy, the injury set him back -- it's been a little bit disjointed in terms of playing time as a result of that -- but last year he really helped us win some games, and we're really looking forward to him building on this past year."
As for Jones heading into his third season, he has been a forgotten man for two years. He's seen more PT with the D-League Texas Legends than the Mavs. And it can't be a good sign when Azubuike, who played just three games after being picked up in late March, gets the last roster spot in the playoffs. Jones is a combo guard who can get to the basket but he has virtually no perimeter jumper.
Nelson said Jones is working at point guard this summer with coach Rick Carlisle. Yet, it would seem the only chance he has of earning minutes at the point is if the Mavs lose out on Williams and Kidd follows him to Brooklyn. Shooting guard could offer more opportunity with
Jason Terry
and West (who plays both guard spots) both potentially leaving via free agency and
Vince Carter
not yet assured of returning.
"Here's a 25
th
pick in the draft that hasn't really seen the light of day," Nelson said of Jones. "He's a player. We're excited about him and he's really working on his jump shot. Rick is playing him at the point, which is really exciting because at 6-foot-4, 6-foot-5, he can really get in there and make stuff happen and really initiate our draw-and-kick game."
Still, the Mavs could select a shooting guard such as Austin Rivers or Terrence Ross or a point guard such as Kendall Marshall tonight in the draft, picks that would seemingly immediately pass Jones and possibly Beaubois, too, on the depth chart. And then there's the prospects in free agency.
At least in a few more days, both players' situations will become a bit more clear.
June, 27, 2012
6/27/12
1:45
AM CT
By
Jeff Caplan
| ESPNDallas.com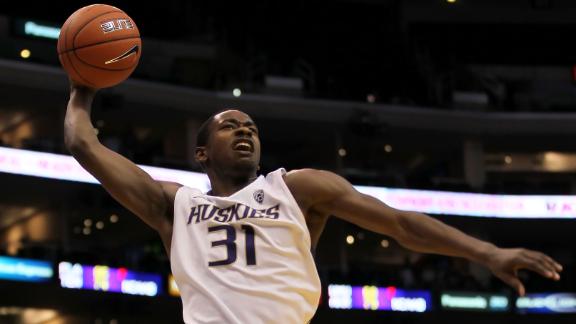 Eighth in a nine-part series analyzing our top NBA draft choices for the Dallas Mavericks at No. 17 on Thursday. We will look at one prospect a day leading up to the draft. ESPN.com Insider Chad Ford and ESPN Dallas 103.3 FM's and Mavs play-by-play man Chuck Cooperstein provide the inside goods. The order is alphabetical.
The Pac-12 was so bad last season that
Terrence Ross
probably didn't get his proper due.
At 6-foot-7, he's a prototypical NBA shooting guard. Combine his quickness, athleticism, shooting ability and improving defensive chops, he should be able to slip into a rotation immediately.
With plenty of holes on the Mavs' roster and no way of knowing who will and who won't be on the roster until Deron Williams makes up his mind once free agency starts Sunday, finding a player that you know can fill a rotation spot from the jump is critical this year.
Here's a look at our next draft prospect:
[+] Enlarge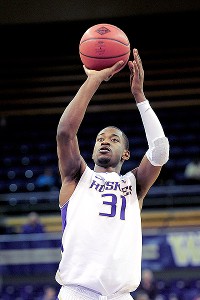 AP Photo/George Holland/CSMTerrence Ross is an excellent shooter with good range and athleticism.
TERRENCE ROSS
School:
Washington (2 years)
Position:
SG
Age:
21
Ht./Wt.:
6-foot-7/197
2011-12 stats:
16.4 ppg, 6.4 rpg, 37.1% 3FGs
Why he would fit:
Like
Austin Rivers
, Ross has the size, athleticism and scoring ability Dallas has long craved at shooting guard. He's also developed a defensive reputation and would give
Shawn Marion
needed help against top wing players.
Why he wouldn't fit:
While other shooting guards have been receiving more attention, it's still doubtful that Ross will slide all the way down to the Mavs at No. 17.
Chad Ford's thumbs up, thumbs down: Up --
Explosive athlete ... Excellent shooter with range ... Very good leaper ... Can get to the basket with a quick first step.
Down --
Needs to improve his handle, shot selection ... Needs to add an in-between game ... Can sometime overly defer to teammates ... Needs to add strength.
Coop's comment:
Ross can really shoot it, and observers tell me he comes off screens as well as anyone. But there is no handle in his game and thus very few drives to the basket to try to draw fouls. He has very good length at 6-foot-7 and almost 200 pounds, and there are those who believe he has the ability to be an elite defender, as well.
Previous prospects
Terrence Jones, Kentucky
Meyers Leonard, Illinois
Kendall Marshall, North Carolina
Fab Melo, Syracuse
Quincy Miller, Baylor
Arnett Moultrie, Mississippi State
Austin Rivers, Duke