Dallas Mavericks:

Thabo Sefolosha
June, 24, 2014
Jun 24
8:00
AM CT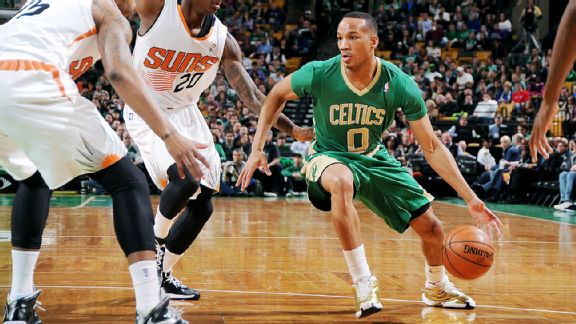 Brian Babineau/NBAE/Getty ImagesAvery Bradley could fill a hole for the Mavericks. But would the rebuilding Celtics let him go?
Shooting guard is not a priority position for the
Dallas Mavericks
.
It's a safe bet that
Monta Ellis
will lead the Mavs in minutes for the second consecutive season.
Wayne Ellington
, a solid perimeter shooter and defender who played sparingly this past season, also remains on the roster.
There's a good chance the Mavs re-sign both
Devin Harris
and
Vince Carter
. They get most of their minutes at other positions -- Harris at point guard, Carter at small forward -- but they'll probably split most of the shooting guard minutes not logged by Ellis.
The Mavs have zero interest in Indiana's
Lance Stephenson
, arguably the most talented unrestricted free agent in this summer's crop. He could easily slide to small forward, but the Mavs simply aren't interested in making a significant investment in a known knucklehead, particularly one who tends to dominate the ball by over-dribbling.
Dallas president of basketball operations Donnie Nelson often says you can never have enough shooting, but the Mavs don't intend to get in on the bidding for gunners
Nick Young
and
Jordan Crawford
, either.
There are, however, a handful of shooting guards who might fit the Mavs, if they fall through the cracks in free agency:
Avery Bradley:
As one of the best on-ball defenders in the NBA, Bradley would directly address one of the Mavs' most glaring weaknesses. But he's a restricted free agent, and it's hard to imagine Boston letting a 23-year-old contributor go if all the Celtics have to do to keep him is match a bargain offer.

Rodney Stuckey:
Remember when he was one of the NBA's best young guards? His production for the Pistons plummeted the past couple of seasons (13.9 ppg, 2.1 apg, .436 FG in 2013-14), and he lost his starting job, but the 6-foot-5, 205-pound Stuckey is still only 28 years old and versatile enough to play multiple positions. He might benefit from a change of scenery.
Jodie Meeks:
He's a shooter who averaged a career-best 15.7 points per game for a terrible Lakers team this past season and made 46.3 percent of his field goal attempts and 40.1 percent from 3-point range. He's never been confused for a lockdown defender, but he's not awful on that end of the floor either.
C.J. Miles:
The Mavs had talks with Miles, a 6-foot-6 lefty who grew up in Dallas, when he was a free agent two summers ago. He's a nine-year veteran but only 27 years old, he can play both wing positions, and he is a good perimeter shooter. He hit 39.3 percent of his 3-pointers this past season, when he averaged 9.9 points for the Cavaliers.
Thabo Sefolosha:
The 6-foot-5 Sefolosha could be considered a bigger, more physical and more experienced version of Ellington. He lost his 3-point touch in 2013-14 (31.6 percent) after shooting better than 40 percent from long distance the previous two years. He's a 3-and-D player who is strictly a spot-up shooter on offense, but he's among the NBA's better wing stoppers.
May, 3, 2012
5/03/12
10:41
AM CT
By
Jeff Caplan
| ESPNDallas.com
DALLAS -- The young and athletically gifted
Oklahoma City Thunder
lead the old-and-slow
Dallas Mavericks
2-zip in this best-of-7 series, but it's not as if these baby ballers have stomped their Nikes on the throats of the Geritol gang.
PODCAST
Derek Harper explains what the Mavs need to do in order to climb out of their 2-0 series hole against the Thunder.

Listen

"At this level and this time of the year, age, I think, it is also a plus. Experience is definitely something that counts," said Thunder shooting guard
Thabo Sefolosha
, a virtual old-timer on this squad at age 28. "But at the same time we want to pick the pace up and keep running, getting some stops and getting some easy baskets."
As the series shifts to the American Airlines Center for tonight's Game 3, the Mavs will seek a bit of karma-turning luck. In Game 1,
Kevin Durant
hit a 15-foot, off-balance shot over
Shawn Marion
to win it with 1.4 seconds to go. In Game 2, the Mavs rallied from a 16-point hole in the second quarter, but couldn't complete the comeback when
Dirk Nowitzki
's baseline jumper bounced around the rim and off.
The No. 2 seed Thunder could easily have found themselves in a hole as they hit the road, but coach Scott Brooks said he's not concerned that that his team, whose four best players are under the age of 24, wasn't more dominant on its home floor and in front of one of the loudest crowds in the league.
"We don't look at them as old guys. We're looking at them as a very good team, the defending champions," Brooks said. "I don't know how many guys they have from their championship team, but I know they've got their top four or five guys -- you have Dirk (Nowitzki), you have Jason (Kidd), (Jason) Terry, Shawn Marion, (Brendan) Haywood -- and that's a good basketball team. I don't look at them as a seventh seed, I look at them as the defending champs that are going to continue to fight.
"Every game has been down to the last couple of minutes and I expect that to happen the rest of the series."
December, 29, 2011
12/29/11
9:00
AM CT
By
Jeff Caplan
| ESPNDallas.com
DALLAS -- If
Vince Carter
can't be the
Dallas Mavericks
' starting shooting guard on a consistent basis it would seem to complicate coach Rick Carlisle's plans to use
Delonte West
predominantly as
Jason Kidd
's backup.
Reserve point guard is critically important to ensure Kidd gets the rest he'll need throughout this whirlwind, 66-game schedule.
The 6-foot-6 Carter lasted one half as the starting shooting guard. West started Monday against Denver, but then
Jason Terry
started the second half. How will Carlisle address the position tonight against an
Oklahoma City Thunder
backcourt of point guard
Russell Westbrook
and shooting guard
Thabo Sefolosha
?
"Right now, we've got to start the game with five guys in a stance and getting after it defensively," Carlisle said. "We've got to find the right formula, but the right formula has got to start with tough defense. That's just how we're going to do business, that's just how it's got to be."
In the West finals, shooting guard
DeShawn Stevenson
allowed Carlisle to switch defensive assignments. Stevenson would start off on Westbrook, and Kidd, at a rugged 6-foot-4, guarded Sefolosha, a less athletic player and a far less dangerous scoring threat than the fourth-year Westbrook.
Carter would seem an adequate cover on Sefolosha, but that would leave the 38-year-old Kidd to tackle the 23-year-old Westbrook, making a Mavs backourt of Kidd and West seem more equipped to handle the Thunder's All-Star point guard.
For West, the sudden dual responsibility on a team also adjusting to an influx of new faces is a clear challenge.
"It is tougher coming into a new system because playing the point you're trying to make sure everyone else is in their spots, and you have new guys also that are a little out of sort," West said. "And then once you get off the ball, you've got to reprogram your mind in a quick second to attacking, and that's going to come.
"Honestly, up until really today, I didn't have down where I was supposed to be at off the ball. I was thinking so much like trying to get guys the ball where they want it, trying to get this guy over here, get
Lamar Odom
down on the block. But J-Kidd has been working with me religiously, knowing the positions and I'm watching Jet play off the ball. So give us about two or three weeks and you won't be thinking about these first two games."
Carter's start to the season has not been encouraging. He turns 35 in less than a month and the athleticism that allowed him to become a spectacular player in his prime now eludes him. He has 16 points on 5-of-12 shooting with six assists, three rebounds, five turnovers and seven fouls in 41 minutes played.
He doesn't provide the kind of tenacious defense that pushed Kidd, Terry and
Dirk Nowitzki
last season to twice lobby for Stevenson, now with the
New Jersey Nets
on a one-year, $2.5 million contract, to be the starter.
Carlisle called Carter a Hall of Fame player and said he will fit in.
"Vince is still a terrific athlete and off of 2 ½ weeks with him, he is one of the most knowledgeable players that I've ever been around," Carlisle said. "He totally understands the game. Look, he's an eight-time All-Star, he's a Hall-of-Famer; you look at Hall of Fame guys, guys that are eight-time All-Stars are Hall of Famers, and there's a reason because he's been a great player and he knows how to play. He's going to fit in great with what we're doing just because he's a helluva basketball player."
December, 20, 2011
12/20/11
2:10
PM CT
By
Jeff Caplan
| ESPNDallas.com
The
Dallas Mavericks
made tremendous use of switching their guards' defensive assignments last season and particularly so in playoff series against the
Los Angeles Lakers
,
Oklahoma City Thunder
and
Miami Heat
.
At a rugged, 6-foot-4, but having lost a step defensively against the league's quicker point guards,
Jason Kidd
often guarded the opposing shooting guard while Dallas' smaller shooting guards,
Jason Terry
,
J.J. Barea
and even the brawnier
DeShawn Stevenson
, picked up the point guard. The strategy was employed to better match up against the point, but it also paid dividends on the wing as Kidd gave All-Stars
Kobe Bryant
and
Dwyane Wade
fits.
That option, however, could be in shorter supply this season now that Barea and Stevenson are gone, and 6-foot-6
Vince Carter
would appear to have the inside track as the starting shooting guard.
"If it ends up being Kidd and Carter we'll see," coach Rick Carlisle said. "There may be times Vince guards a point guard, I don't know. Generally speaking, it's going to be Jason most of the time in that scenario. We've got a different team now. That's just the way it is. We'll adjust and we'll do what we have to do, but we've moved on and the guys we have now are the guys we're going to have to win with."
The Thunder provide a good example of times the Mavs like the switch. In the Western Conference finals, Kidd typically guarded starting shooting guard
Thabo Sefolosha
and Stevenson played a major role defending
Russell Westbrook
and, at times, even
Kevin Durant
.
This season the Mavs can switch when Kidd plays alongside Jason Terry or at times
Rodrigue Beaubois
or
Dominique Jones
. Carlisle could decide to start Terry and bring Carter off the bench to play with feisty backup point guard
Delonte West
. But, if Carter is the starter, Kidd will match up at the point.
"We're both big guards so we're not going to be able to guard the guy that is extremely fast," Kidd said of he and Carter. "But, we've got to make him shoot jump shots. You can have Vince play the 1, 2, 3 and sometimes the 4 because of his athletic ability. Having a guard out there like Jet or Roddy or D.J., we'll be able to switch a lot."
Kidd sat out the first preseason game on Sunday so tonight should provide the first glimpse at a potential starting lineup and the Mavs' plan of attack defensively.
May, 19, 2011
5/19/11
9:00
AM CT
DALLAS –
Dirk Nowitzki
is not a cocky dude. He's a humble superstar, as is
Kevin Durant
.
There is no doubt, however, that Dirk possesses a superstar's swagger.
It's something Dirk developed in the latter half of his career. It's evident in the way he embraces being the focal point of the offense, no matter who is trying to defend him.
"For this team, I've always got to be in attack mode," Nowitzki said. "It doesn't really matter who's on me. This team usually relies on me to score, so really the last couple of years, I've been attacking no matter who's on me.
"That's the thing about being a go-to guy. It doesn't really matter who the defense is on you. You've got to be able to attack, get to your spots and get your shot up."
So it doesn't matter whether it's
Serge Ibaka
,
Nick Collison
,
Kendrick Perkins
, Durant,
Thabo Sefolosha
,
James Harden
or anyone else on the Oklahoma City roster. If they're one-on-one against Dirk, he'll try to either shoot over them or drive past them. And, as we saw during Game 1, he'll usually succeed.
Ibaka admitted getting taken to "class" by Dirk
, but so did the rest of the Thunder defenders. According to ESPN Stats and Information, Nowitkzi scored 22 points on 7-of-9 shooting against Ibaka and 26 points on 5-of-6 shooting against the rest of the Oklahoma City roster.
Dirk's attitude definitely isn't selfish. In fact, he trusts his teammates more now than at any time since
Steve Nash
departed for the desert. He's become a good passer out of a double-team over the course of his career.
So the Thunder can get the ball out of Dirk's hands if they double. But if they don't, it doesn't matter who defends him.
May, 18, 2011
5/18/11
8:00
AM CT
By
Jeff Caplan
| ESPNDallas.com
DALLAS -- Oklahoma City coach Scott Brooks certainly wasn't pleased that
Dirk Nowitzki
took 24 of his team's 36 free throws, but Brooks wasn't whining about it either. After all, his team got to the line 43 times with
Kevin Durant
and
Russell Westbrook
combining for 37 of the Thunder's 43 attempts.
So, Brooks won't be paying a $35,000 fine to the league office as did Portland coach Nate McMillan in the first series and Lakers coach Phil Jackson in the second round. Imagine that, two fines so far for criticism of the officiating and neither involve silent Mavs owner Mark Cuban.
Nowitzki drew 16 fouls and also caused two defensive three-second technical fouls.
Serge Ibaka
had five fouls on Nowitzki,
Thabo Sefolosha
had three, Kevin Durant had two in a span of five seconds in the third quarter,
Nick Collison
and Russell Westbrook also each had two and
Kendrick Perkins
and
James Harden
each had one.
Nowitzki made all 13 of his free throws in the third quarter when he was fouled seven times. Six were non-shooting fouls and the Mavs were in the bonus with more than half the quarter to play.
"We just can't foul him as many times. Twenty-four free throws, that's a lot of free throws, but he earned him," Brooks said. "We fouled him. We have to do a better job of guarding him."
Half of
Nowitzki's 48 points
came at the free throw line. The other half came on 12-of-15 shooting against seven different defenders with the 6-foot-10 Ibaka taking the lion's share of abuse, 22 points on 7-of-9 shooting.
Nowitzki was 5-of-6 from the floor with 16 points off free throws against the six other defenders that tried to slow down Nowitzki, who notched the sixth 40-point playoff game of his career and the first of this brilliant postseason in which he's now averaging 28.5 points.
All of Nowitzki's buckets came inside the arc. He got the ball on the wing at will, where he loves to operate, and OKC never made adjustments to either try to keep him out of his sweet spot or to take the ball out of his hands. Only seldom did they attempt to double-team.
According to ESPN Stats and Information, Nowitzki made 9-of-11 field goals from 12-plus feet, which ties for the most 2-point baskets from that range in a game this postseason and it's the second-highest shooting percentage (53.4) from that distance in this postseason behind
Chris Paul
(54.7).
"Really throughout the day, yeah, I had a good rhythm against whoever was on me," Nowitzki said. "I had some ripthroughs, had a spin move from the baseline early to set up went to the basket, got a dunk, and I think that set up the jump shots for the next couple trips down. I thought I had a good mix driving and shooting."
May, 16, 2011
5/16/11
11:17
AM CT
It's dangerous to draw conclusions based on the Mavericks' 2-1 record against the Thunder during the regular season.
The West final foes haven't played since Jan. 6. The Thunder made a roster-renovating trade since then, shipping center Nenad Krstic and power forward Jeff Green to Boston to get big man Kendrick Perkins. They also added a proven banger in backup big man Nazr Mohammed and promoted high-flying power forward Serge Ibaka to a starting role.
The Mavs won't have Caron Butler, who played a major role in their two wins in Oklahoma City, for this series. But the Thunder hasn't seen sharpshooter Peja Stojakovic this season.
As much as the teams have changed since the budding Red River rivals last met, there could be some value in studying the individual matchups. Using NBA.com Stats Cube, here's a look at how the Mavs fared when on the floor at the same time as their Thunder counterparts this season. (All averages, including plus-minus, are per 36 minutes.)
Jason Kidd vs. Russell Westbrook
Westbrook:
14.9 points on 32 percent shooting, 9.1 assists, 4.0 rebounds
Kidd (+9.1):
6.5 points on 25 percent shooting (4-of-17 3-pointers), 9.5 assists, 6.9 rebounds.
Analysis:
This one will probably surprise people who didn't watch the Mavs-Thunder games or have a foggy recollection of them. Westbrook's quickness is a major weapon, but he still wasn't effective against a man 16 years older than him. The Mavs' big men deserve a large share of the credit for containing the All-Star. The majority of Westbrook's shots against Kidd came in the paint, but he was only 10-of-26 on those attempts, including 8-of-18 at the rim.
DeShawn Stevenson vs. Thabo Sefolosha
Sefolosha:
5.1 points on 60 percent shooting (3-5 in 56 minutes), 4.5 rebounds, 3.2 assists
Stevenson (+1.3):
13.5 points on 50 percent shooting (6-10 3s), 1.9 rebounds, 1.9 assists.
Analysis:
Neither of these defensive-minded role players are expected to put up big numbers, but Stevenson ranked among the NBA's best 3-point shooters early in the season. He knocked down 6-of-10 3s when on the floor against Sefolosha. It's a big bonus for the Mavs if Stevenson can shoot anywhere near that well in the West finals.
Shawn Marion vs. Kevin Durant
Marion (+3.6):
23.2 points on 65 percent shooting, 7.7 rebounds, 1.8 assists.
Durant:
23.7 points on 53 percent shooting, 4.6 rebounds, 3.2 assists.
Analysis:
The Mavs' biggest mismatch problem in this series was surprisingly even. However, a lot of Marion's minutes came at power forward, especially in the win when Dirk Nowitzki sprained his knee during the first half. The Mavs will need to make Durant work on defense, which means they'll need to get Marion involved as a cutter and slasher in their halfcourt sets.
Dirk Nowitzki vs. Serge Ibaka
Nowitzki (+4.9):
40.9 points on 70 percent shooting, 3.3 rebounds, 1.6 assists.
Ibaka:
22.9 points on 67 percent shooting, 9.8 rebounds, no assists.
Analysis:
The 21-year-old Ibaka is one of the NBA's best shot blockers, but the crafty Nowitzki uses that against him with an assortment of pump fakes Ibaka has to respect due to Dirk's shooting ability. Nowitzki averaged 16.4 free throw attempts per 36 minutes against Ibaka, who will probably spend a lot of the series in foul trouble.
Dirk Nowitzki vs. Nick Collison
Nowitzki (+15.2):
32.2 points on 56 percent shooting, 5.7 rebounds, 1.9 assists
Collison:
3.8 points on 100 percent shooting, 5.7 rebounds, 3.8 assists
Analysis:
Collison, a savvy veteran, played most of Game 7 against the Grizzlies and did a solid job defending Zach Randolph. Based on these numbers, however, Collision doesn't appear to be the answer defending Dirk.
Tyson Chandler vs. Kendrick Perkins
Chandler (+9.0):
10.3 points on 57 percent shooting, 18.0 rebounds, 1.3 assists.
Perkins:
11.6 points on 80 percent shooting, 14.1 rebounds, no assists.
Analysis:
These stats are from Perkins' days with the Celtics. Neither big man should be judged solely on individual numbers. They have similar mindsets, but Perkins is much bulkier and Chandler much more athletic. Perkins has problems catching and finishing and isn't a shooting threat, so Chandler won't hesitate to help off him on defense.
Jason Terry vs. James Harden
Terry:
16.6 points on 43 percent shooting, 5.5 assists, 1.1 rebounds.
Harden (+4.4):
13.3 points on 38 percent shooting, 5.5 rebounds, 3.3 assists.
Analysis:
The battle of the sixth men shooting guards is a tough matchup for Terry. The 6-foot-5, 220-pound Harden is a versatile player who will have a huge size advantage. Of course, if Terry hasn't cooled off during the long layoff since his record-setting Game 4 shooting exhibition, size won't matter.
J.J. Barea vs. Eric Maynor
Barea:
18.5 points on 50 percent shooting, 7.6 rebounds, 2.2 assists
Maynor (+6.5):
12.0 points on 36 percent shooting, 9.8 assists, 3.3 rebounds
Analysis: There aren't many backup point guards who I'd take over Barea, but Maynor is one of them. He's a mid-first round pick who fell in the Thunder's laps because the Jazz wanted to avoid the luxury tax. Maynor is a pure point guard, while Barea is an explosive scorer who embarrassed the Lakers with his penetration off of pick-and-rolls.
Brendan Haywood vs. Nazr Mohammed
Haywood (+36.0):
9.0 points on 50 percent shooting, 15.0 rebounds, no assists
Mohammed:
12.0 points on 50 percent shooting, no rebounds, 3.0 assists
Analysis:
These numbers are from a sample of only 12 minutes, but the Mavs should have a significant edge when the backup big men are on the floor. Mohammed has a championship ring from his time in San Antonio, but he's no longer a starting-quality center. Haywood is, as he's proven during the playoffs.