January, 22, 2011
1/22/11
5:50
PM CT
By
Jeff Caplan
| ESPNDallas.com
NEWARK, N.J. -- Dallas Mavericks coach Rick Carlisle wants everyone to relax. Dirk Nowitzki's progression -- with his knee and his overall conditioning -- remains a process that's right on schedule, the coach said prior to the start of tonight's game at New Jersey.

"His knee is fine and it's improving all the time. He had no issue with it at all in Chicago," Carlisle said. "Where we're at is that was the first back-to-back so that was a challenging situation, and that probably made it a little more difficult for him down the stretch of the game. On the health-front, he is doing great. As I said in Memphis, this is going to be a process of some period of time. We're a week into it."

Nowitzki will play in his fifth game tonight since he sprained his right knee on Dec. 27. He played 37 and 38 minutes, respectively, in the back-to-back games against the Lakers and Bulls, combining to shoot 11-of-31 from the field and 0-of-5 from beyond the 3-point arc.

Debate regarding the health of Nowitzki's knee really took off after Charles Barkley suggested on TNT that Nowitzki is laboring and shouldn't be playing. That lit up the talk-sports circuit. However, since his return, both Nowitzki and Carlisle have been direct in acknowledging that it will take the 13-year veteran some time to regain full strength.

"If things keep going in a positive way, which we can see no reason that they won't, another two, three, four games, the hope is that he'll be back to where he was with his health and conditioning," Carlisle said. "That's what we're all looking forward to."
January, 22, 2011
1/22/11
1:16
PM CT
By
Jeff Caplan
| ESPNDallas.com
NEWARK, N.J. --
Alexis Ajinca
, the
Dallas Mavericks
' 7-foot-1, usually upbeat, fourth-string center, arrived at United Center Thursday in Chicago and walked through the concourse headed to the locker room as he always does with his head phones on and his head gently bobbing atop his long, lanky body.
But, this day would be like no other in his three-year career. The Mavs were in the process of acquiring a verbal commitment from
Peja Stojakovic
to join the team after he was waived by the
Toronto Raptors
on Thursday. To make room on the 15-man roster, Dallas would have to shed a player and it was working on a
trade to send Ajinca to the Raptors
, as reported by ESPN.com's Marc Stein.
Ajinca was getting ready for the game when TNT, which was broadcasting the game, caught Mavs coach Rick Carlisle breaking the news to Ajinca, a Frenchman who is quite friendly with French-speaking teammates
Ian Mahinmi
and
Roddy Beaubois
. Because of the ongoing nature of the trade mechanics, Ajinca was sent back to the team hotel and presumably he figured he would soon be told when he would be leaving to join his new team.
Only
a snag has held up the trade
, as Stein reported, leaving Ajinca a man essentially without a team. Ajinca did not travel to New Jersey on Friday with the team. Instead he is back in Dallas waiting to be informed where he'll go next and when.
January, 25, 2010
1/25/10
9:35
AM CT
By
Jeff "Skin" Wade
| ESPNDallas.com
Monday means "The Come Up" – and this particular Monday is a day off for players and coaches after the Mavs concluded their longest road trip of the season by beating the Knicks by 50 yesterday.
50!
No J Kidd and No Big Damp meant no problem because NY plays no D. Isn't it sweet? Will it be a springboard win like last year's overtime victory at MSG? The Mavs won 10 of their next 12 after taking a 2-7 record to New York early last season. This year's team has a great record, but the quality of play has been lacking since the Mavs smothered OKC back on Dec. 16.
The schedule is looking manageable the next couple of weeks leading up to All Star Weekend. It starts Tuesday against Milwaukee, and it go a 'lil summin' like this:
An OT win with a rookie doing damage
When the Mavs went to Milwaukee back in November, the NBA world was swept up in
Brandon Jennings
mania as the rookie was coming off of a 55-point explosion against the Warriors. That was also back during the Roddy Beaubois' glory days when the Mavs' own rook was getting starts, but not heavy minutes, while
Josh Howard
was out with an injury. He'd start the game, start the second half, but the 15-minute neighborhood was the norm.
But he logged 24 minutes that night against the Bucks, and it was the final five that played such a pivotal role in an overtime road win on the second night of a back-to-back. Roddy B was in his normal fourth-quarter seat on the bench watching Jennings go nuts for 13 points in the quarter.
When Dallas dodged a last-second Jennings trey attempt to force OT, Roddy got the call to slow down his fellow rookie for the additional frame. He held him to two points in OT, including nicely contesting a late-game step-back bomb by Jennings who couldn't get a better shot because Roddy B wouldn't let him turn the corner. That stop set up late-game heroics from
Dirk Nowitzki
, and the rest is history.
Beaubois wouldn't see that much burn again until yesterday, when he logged 24 minutes in the aforementioned 50-point destruction of the Knicks. After a dicey start (two turnovers in his first 3 minutes), Beaubois responded with 13 points, six rebounds, five assists and three steals.
He may have only got the minutes yesterday because Kidd missed the game due to personal reasons. But with Jennings coming to town Tuesday night and Roddy B coming off a money showing, it just seems like the right time, doesn't it?
In other news
Jerry Stackhouse
is now a Buck. So then there's that.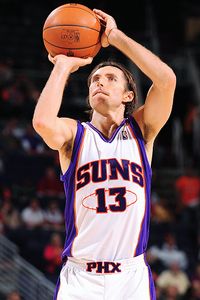 P.A. Molumby/NBAE/Getty ImagesSteve Nash
You don't want to be that team
Remember when Dallas started December by traveling to New Jersey and Mavs fans were trippin' about being "that" team? You know, the team that would sport the badge of humiliation bestowed upon the first crew to lose to the Nets as they stumbled towards infamy. "Please, don't be
those
guys," fans worried. They shouldn't have. Dallas rolled.
For the record, it was the
Charlotte Bobcats
who played the Hester Prynne role in that Nets soap opera. And the Bobcats are doing just fine since then, thank you. It's actually the
Phoenix Suns
whose current trajectory looks like Demi Moore's film career.
Truth is, not much was expected of this team, and most people figured they'd try and unload class of 2010 free-agent
Amare Stoudemire
before the trade deadline next month. But
Steve Nash
's game continues to age like Moore's looks, and he's rolling out another statistical gem with 18 and 11 on 53 percent shooting.
But it probably will go for naught.
The Suns have lost five of their last seven games heading into tonight's tip at Utah, and all the buzz they generated by rolling through a tough early-season schedule with lots of roadies has now been muted with Memphis, OKC and New Orleans all charging hard for those bottom of the bracket playoff spots.
Leandro Barbosa
is set to miss the next month with a wrist injury. Combine that with a tough schedule before the break, and a stale yet still expensive Suns team may be facing that trade scenario everyone thought was inevitable anyway.
As for being "that" team? Dallas plays at Phoenix on Thursday night (TV: TNT). The Suns have lost their last 18 straight games broadcast on that network. That's bad. And the Mavs clearly don't want to be "that" team to let the Suns off the hook.
It should be noted that Demi Moore has three films slated for release in 2010. I know this because I looked up her IMDB page -- I honestly couldn't remember any of her recent movies. I just knew she hadn't been in anything good since Santiago suffered a Code Red.
She was in a movie called The Juror. Seriously, someone made a movie and called it
The Juror
and put Demi Moore in it. That's a movie give-up of Nellie-sized proportions.
Now that's devastation
Who knows who else will be hurt by the time the Mavs host Portland on Saturday. Their injury report this year has been epic -- already 200 games missed due to injury. Their current mini-disaster is that stud
Brandon Roy
is nursing a sore hammy. He'll be reevaluated before they play Houston on Friday night. That's right, Dallas will host a beat-up team on the second night of a back-to-back -- their fourth game in six nights.
Portland hopes to get
Nicolas Batum
back for the first time this week, which is good news for
Martell Webster
since he had to play all 48 in a win against Detroit on Saturday night.
Rudy Fernandez
has been back for the last six games, which is timely since
Jerryd Bayless
just messed up his ankle.
As I'm sure you're aware, it's so bad that
Juwan Howard
is actually getting 21 minutes a night for these guys. Meanwhile, C Webb and
Jalen Rose
are already broadcast veterans. Decent minutes for old men is what happens when both of your centers sustain season-ending injuries.
All that, and Portland is still in fourth place in the Western Conference at 27-18. Dudes have heart. It's a shame those hearts are beating in tore-up bodies.