July, 21, 2014
Jul 21
1:42
PM CT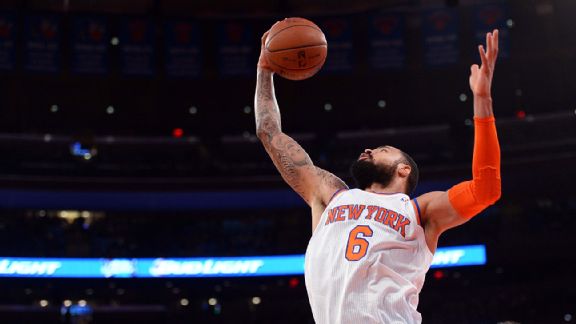 Joe Camporeale/USA TODAY SportsTyson Chandler has been working hard this summer to improve physically and mentally.
Did the
Dallas Mavericks
trade for damaged goods in
Tyson Chandler
?
It's a legitimate question, just like it was four years ago. The Mavs hope the evidence to the contrary is just as conclusive as it was during Chandler's first stint in Dallas.
During his last season in New York, Chandler didn't really resemble the center who was such a critical piece to the 2011 Mavs' championship puzzle, much less the 2012 Defensive Player of the Year or 2013 All-Star. His production in an injury-plagued season (averages of 8.7 points and 9.6 rebounds in only 55 games) was his worst since his lone season in Charlotte, just before the Mavs acquired Chandler in a salary-dump deal.
Yet Chandler, who turns 32 in October, has no doubt he can be the big man Mavs fans remember from four seasons ago. He's physically healthy -- and hopes to stay that way with the help of the Mavs' outstanding medical staff -- and mentally rejuvenated after the dysfunctional Knicks traded him back to Dallas.
"I think I can be better." Chandler said during his conference call with Dallas reporters last month. "I finished the season healthy, so this summer I was able to start earlier. I took a couple of weeks off and then I already started getting back in the gym and improving things. I want to get back to thinking and moving the way I moved. I started correcting things mentally and physically. I was already looking forward to this summer because I felt like there was so many things I could improve on.
"Then once I started in the gym, I've already seen in the six weeks or two months I've been working out so much improvement already that I'm truly excited. When this happened and I know I'm putting myself in a situation again to really have a shot at making a run, it just gives me more to work on and more excitement and more drive."