Dallas Mavericks:

Wesley Matthews
April, 28, 2013
4/28/13
11:30
PM CT
ESPNDallas.com will estimate the market value for each of the Mavericks' eight free agents and examine their worth to the Mavs in a once-per-day series.
O.J. Mayo

After opting out of the second year of his contract,
O.J. Mayo
declared that he hoped to sign a long-term deal to stay in Dallas.
Coach Rick Carlisle, who had vented his frustration with Mayo just a few days earlier, made it clear that he'd welcome the shooting guard back.
"I like O.J. a lot," Carlisle said. "I think he fits into what we're doing. Like everything else in this world, this is probably going to come down to money."
In relative terms, there wasn't much of a market for Mayo last summer, when the former third overall pick hit free agency after struggling as a sixth man during his final two seasons in Memphis. He took a little less money to come to the Mavs, hoping that a year of work with Carlisle would boost his value.
We'll see this summer whether that happened after a hot-and-cold season for Mayo that ended with an icy stretch.
The Mavs won't break the bank to keep Mayo. They consider him capable of starting for a contender, but they don't view him as a cornerstone player.
If Dallas doesn't keep Mayo, the Mavs will have to address a major hole in the lineup. He led the Mavs in points, was second in scoring and second in assists.
But the free agent market will be flooded with starting-caliber shooting guards. Reasonably priced alternatives could include
Monta Ellis
,
J.J. Redick
,
Kevin Martin
,
Tyreke Evans
,
Randy Foye
,
Tony Allen
and
Nick Young
. (Not listed due to price/probability of staying with their current contenders:
J.R. Smith
,
Manu Ginobili
and
Andre Iguodala
.)
2012-13 stats:
Averaged 15.3 points, 4.4 assists, 3.5 rebounds, 1.1 steals and 2.6 turnovers in 35.5 minutes per game. Shot 44.9 percent from the floor and 40.7 percent from 3-point range.
Age:
25
Comps:
DeMar DeRozan
– Averaged 18.1 points, 2.5 assists, 3.9 rebounds, 0.9 steals and 1.8 turnovers in 36.7 minutes per game. Shot 44.5 percent from the floor and 28.3 percent from 3-point range. Signed four-year, $38 million deal in 2012.
Jamal Crawford
– Averaged 16.5 points, 2.5 assists, 1.7 rebounds, 1.0 steals and 1.9 turnovers in 29.3 minutes per game. Shot 43.8 percent from the floor and 37.6 percent from 3-point range. Signed four-year, $21.4 million deal in 2012.
Eric Gordon
– Averaged 17.0 points, 3.3 assists, 1.8 rebounds, 1.1 steals and 2.8 turnovers in 30.1 minutes per game. Shot 40.2 percent from the floor and 32.4 percent from 3-point range. Signed four-year, $58 million deal in 2012.
Joe Johnson
– Averaged 16.3 points, 3.5 assists, 3.0 rebounds, 0.7 steals and 1.7 turnovers in 36.7 minutes per game. Shot 42.3 percent from the floor and 37.5 percent from 3-point range. Signed six-year, $123.7 million deal in 2010.
Arron Afflalo
– Averaged 16.5 points, 3.2 assists, 3.7 rebounds, 0.6 steals and 2.2 turnovers in 36.0 minutes per game. Shot 43.9 percent from the floor and 30.0 percent from 3-point range. Signed five-year, $38 million deal in 2011.
Wesley Matthews
– Averaged 14.8 points, 2.5 assists, 2.8 rebounds, 1.3 steals and 1.6 turnovers in 34.8 minutes per game. Shot 43.6 percent from the floor and 39.8 percent from 3-point range. Signed five-year, $26.8 million deal in 2010.
Estimated contract:
How many millions did Mayo cost himself by struggling down the stretch? At the All-Star break, it appeared that Mayo might get a four-year deal in the $40 million range. Now, $25 million over four years sounds more likely. The Mavs might not want to go above the midlevel exception (four years, $21.4 million).
July, 15, 2011
7/15/11
12:10
PM CT
By
Jeff Caplan
| ESPNDallas.com
Oh, brother. This NBA lockout gag order is ultimately going to cause a mess for somebody.
Dallas Mavericks
coach Rick Carlisle might have innocently stepped in it Thursday while doing a telephone interview on a Portland sports talk radio station.
[+] Enlarge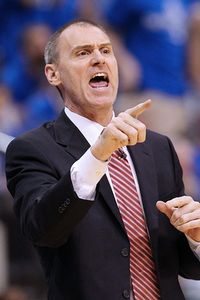 Ronald Martinez/Getty ImagesRick Carlisle may have gotten a bit too casual with on a Portland radio station while discussing players during the lockout.
Carlisle went on the air with show host and
Oregonian
columnist John Canzano, who at first joked how he wouldn't try to bait Carlisle into a $1 million fine, the hefty amount commissioner David Stern has allegedly threatened could come down if ownership/management/coaching staff or anyone else on an NBA payroll talks about the lockout or current NBA players or apparently anything that assumes NBA players exist at all (just peek at NBA.com).
It is a bit surprising that the normally cautious Carlisle would even grant an interview under such tense and trying times, but he did serve three seasons as an assistant coach with the Trail Blazers and he has a history with Canzano.
So the interview gets started and Canzano acknowledges that Carlisle can't talk about the lockout, so he asks the coach what can they talk about.
"We can talk about the women's [World Cup] soccer team," Carlisle says.
Canzano follows up with, "What do you think about women's soccer?"
Carlisle, as dry as ever, says, "I like it." Then he adds, "They're a kick-ass bunch of chicks; it's fun to watch."
The interview then touches on expected topics like, "Did you sense non-Mavs fans were pulling for you guys against the Heat?"
Carlisle said he did and that he felt fans were rooting for
Dirk Nowitzki
and
Jason Kidd
with Carlisle calling them "great, great players, two all-time great players that didn't have the ring."
Uh-oh.
Carlisle was later asked what the Blazers can do to become a better team. Carlisle naturally said it's not his place to tell coach Nate McMillan or Blazers management how to run their club, and then in the natural flow of the conversation, Carlisle went here:
"
[LaMarcus] Aldridge
took a quantum leap this year. I voted for him for All-Stars; I have no idea how he didn't make the All-Star team, and he's a great player."
Oops.
Carlisle also mentioned Blazers guards
Brandon Roy
and
Wesley Matthews
, and how the draft-night trade with Portland to acquire
Rudy Fernandez
was a good move for the Mavs. Carlisle said he liked getting a veteran player instead of a rookie.
The interview continues with neither party thinking gag-order violation flags were being thrown in New York. And so the conversation meandered on and at about 11 minutes in, as Carlisle is talking about how changes to NBA rules over the last decade have enhanced the game, he finishes a rambling thought by suddenly detouring to, "John, I'm sorry, I've got to run. I've got something I've got to do here."
And that was that.
Carlisle's abrupt exit spawned a new conversation about why he bailed so quickly. Was NBA Big Brother listening?
Soon after, Canzano reports that he received a text message from "an NBA executive who is listening to the show" and said, "You better believe that Carlisle got a call immediately from somebody at the NBA office or the Dallas Mavericks."
Oh, brother.
Could commissioner Stern really drop the piggy bank on Carlisle and the Mavs over comments that had nothing to do with the lockout and, in fact, actually kept the game in the forefront? If a fine of any size is coming, shame on the NBA.
An NBA spokesman essentially had no comment Thursday night, saying it is impossible to comment every time a coach or team exec may or may not say or do something. Just Wednesday night, Mavs owner Mark Cuban had special permission from Stern to attend the ESPYs in Los Angeles with half his team. It's not known if Cuban's praise of his players on national television was frowned upon.
"If [Carlisle] gets fined a million dollars for that," Canzano told his listening audience, "I know that we're not going to be able to raise enough money to pay for that fine, but we can get people like in Albany and Salem and everywhere else to come up and help him with the fine. Stupidest thing ever."
About 20 minutes after Carlisle hung up, Canzano caught up with him via text message. Canzano said Carlisle told him that somebody reminded him he's not supposed to talk about current players. Carlisle also said he's not in trouble.
For the love of free speech -- nah, for the love of sanity -- let's hope so.
April, 26, 2011
4/26/11
11:35
AM CT
DALLAS – A legal pick has apparently caused an outcry – or a lot of crying, at least – in Portland.
The Trail Blazers have beef with
Brian Cardinal
, who might be the nicest bad guy in NBA history. He had the gall to set a textbook screen with seconds remaining that flattened Portland backup point guard/unofficial team mascot Patty Mills.
The Blazers' bench went wild.
Wesley Matthews
mouthed off to Cardinal, leading to a brief postgame confrontation with
DeShawn Stevenson
, who could be considered the Mavs' enforcer. The Blazers blogs are worked into a tizzy. Oh, and Mills is mad.
"Pick on the little bro and deal with the rest of the family," Mills tweeted after the game, a statement that might be much more menacing if it didn't come in the wake of the Blazers getting their butts whipped.
Let me offer a pair of suggestions if Mills doesn't want to be flattened by a pick on the final possession of the game. First, he could opt not to play full-court, in-your-face defense on J.J. Barea during garbage time. Second, you can kindly request that somebody from "the rest of the family" inform you that a pick has been set.
Cardinal watched his teammates blow a 23-point lead the previous game after they started coasting 13 minutes too early. How can you criticize him for playing hard until the final buzzer sounds?
Mavs fans should have a ton of fun with this situation. The mean, ol' Mavs are being portrayed as bullies. If anything, the pick is a sign of progress, and perhaps a statement to Portland.
April, 26, 2011
4/26/11
10:00
AM CT
DALLAS –- Five games into a series, there's going to be some bad blood.
Case in point: the postgame confrontation between shooting guards
DeShawn Stevenson
and
Wesley Matthews
.
They exchanged unpleasantries and more as they walked toward tunnels on the opposite ends of the American Airlines Center as the buzzer sounded. According to Stevenson, who could be considered the Mavs' enforcer, Matthews started it by mouthing off to
Brian Cardinal
, who angered Matthews by setting a hard pick on Portland backup guard Patty Mills during garbage time.
"I'm not going to let anybody talk to my teammates like that," said Stevenson, who was pulled away by his teammates after a couple of moments. "I said what I had to say. He walked away. And I walked away."
Matthews, who annoyed the Mavs by imitating
Jason Terry
's Jet signal during Game 3, said he couldn't repeat what Stevenson had to say.
"I won't forget it," Matthews told The Oregonian. "That's for sure."
April, 22, 2011
4/22/11
7:47
PM CT
PORTLAND, Ore. – Blazers guard
Wesley Matthews
deviated from his normal celebration after knocking down one of his four early 3s in Game 3.
Matthews didn't go with the 3 goggles that have become a Blazers fad this season. He busted out the wings instead, a not-so-subtle shot at
Jason Terry
.
"He has a lot of antics that he uses," Terry said. "It's just how he plays. He feeds off the crowd."
Terry certainly noticed Matthews mocking him. However, the man known as Jet said it didn't bother him.
"Nah, it's never personal," Terry said. "If anything, it'll fire me up. But this is the playoffs. If I look at a guy and he's got on the wrong color shoes, I get fired up."
Terry responded with his highest-scoring playoff performance in five years. He finished with 29 points on 10-of-13 shooting, including 5-of-7 from 3-point range.
Not once was Terry tempted to bust out the goggles as an answer to Matthews' taunt. Nor will he ever.
"Never. Never," Terry said, cracking a smile. "That's not my mantra. I'm a wing guy."
April, 22, 2011
4/22/11
7:30
PM CT
By
Jeff Caplan
| ESPNDallas.com
PORTLAND, Ore. -- Shooting guard
DeShawn Stevenson
doesn't kid himself. He knows his place in the starting lineup if things quickly go against the
Dallas Mavericks
as they did out of the chute in Thursday's Game 3.
Before four minutes had elapsed, Stevenson had a pass picked off and slammed at the other end, and his man,
Portland Trail Blazers
' shooting guard
Wesley Matthews
, had swished two 3-pointers as the Blazers led 10-2. At the 8:18 mark, Mavs coach Rick Carlisle sat Stevenson down and never put him back into the 97-92 loss.
"He felt that I didn't come out with a lot of energy," Stevenson said. "I made one bad turnover early and that kind of hurt. And whenever a team gets on a roll like that, the only person in that starting lineup that's probably going to get pulled is myself. So, we got to be honest with it. I respect it. He's not going to take anybody else out but me and you've just got to keep trucking with it."
Stevenson is expected to be back in the starting lineup for Saturday's Game 4, which would be his fifth consecutive start. Since he scored five points and drew a couple of quick fouls on Matthews in the first quarter of Game 1, Stevenson's minutes and production have slipped in Games 2 and 3. He had just one point in 13 minutes in Game 2 and then he got the quick hook in Game 3.
"Game 3 was a rough start for us, so he wasn't that involved," Carlisle said. "But, he's an experienced player. He's been involved in a lot of playoff games. Going forward, there's going to be ups and downs and he's going to be ready."
Carlisle returned Stevenson to the starting lineup for the regular season finale on April 13 after two months of trying to coach up
Rodrigue Beaubois
. It became apparent that Beaubois wasn't ready for the pressures of the starting lineup and Carlisle realized he had to make a change heading into the playoffs. He turned to Stevenson, who started 48 games prior to Beaubois' return. Yet, Stevenson also logged just five minutes or fewer 14 times in the final 24 games.
"That's the way he coaches. Sometimes you won't play for five games and then you'll start," Stevenson said. "See me, I think I got five DNPs (actually seven since March 1) before the New Orleans start on ESPN, and since then I've been the starter for the playoffs. If you would have asked me that question any other day I probably wouldn't have thought that. So, you have the opportunity, you have to be out there and be ready. If not, he's going to try somebody else."
"Be ready" has been a Carlisle mantra for role players since the day he arrived in Dallas. And it applied to Stevenson's return to the starting lineup. Stevenson said he had no idea when he woke up on the morning of the regular-season finale that Carlisle was preparing to make the move. And when he did find out, he said he didn't know he was replacing Beaubois.
"I got a text right before shootaround that said he was going to start me," Stevenson said. "I didn't know it was for Roddy because sometimes when I do start he takes Trix [
Shawn Marion
]out [at small forward]. So, I didn't know what was going on. They made the move and that's the way stuff works out here and you've just got to be ready. If you're not ready you will never get your chance."
Stevenson's starting job is likely safe. Carlisle's choices for a different direction are rather limited.
Corey Brewer
has played four minutes in the series and he didn't touch the floor in Games 1 and 3.
Jason Terry
is the other option, but that would rob the bench of its top scorer.
Stevenson, though, said he's ready.
"Just got to get myself going, get the open shots I get, lock down as a defender," Stevenson said. "[Thursday] night I didn't really get to play Matthews that often. He got off to a good game.
LaMarcus Aldridge
got off to a good game. So, I just have to be myself and play my game. When I do that I know coach will leave me on the court a little bit longer and if not that's when Jet comes in. With this year up and down I've just got to be positive, stay positive and hopefully I'll get that look I always get when I play a little bit longer."
April, 22, 2011
4/22/11
9:05
AM CT
By
Jeff Caplan
| ESPNDallas.com
PORTLAND, Ore. -- The
Portland Trail Blazers
' bigger guards finally had their way.
Wesley Matthews
was red-hot out of the gate, hitting four 3-pointers and scoring 14 points halfway through the first period.
Brandon Roy
came to life for the first time this series with 16 points and four assists.
Matthews and Roy and point guard
Andre Miller
combined for 57 points on 20-of-35 shooting in the Blazers' 97-92 Game 3 win that shrunk the
Dallas Mavericks
' first-round series lead to 2-1. Roy and Matthews combined for 41 points after notching a total of 17 in Games 1 and 2.
The Mavs got 29 points from
Jason Terry
on 10-of-13 shooting, but received just 14 points on 5-of-14 shooting from
Jason Kidd
,
DeShawn Stevenson
and
J.J. Barea
.
Matthews' hot start helped the Blazers jump out to a 16-7 lead that immediately got the crowd into the game and put Dallas in a hole.
It was Roy, who hit six consecutive shots from late in the first quarter
until he finally missed one early in the fourth, who powered the Blazers through the middle quarters.
His seven-point surge late in the third quarter helped to Portland take a late lead and finish the third quarter ahead 75-72. The Mavs would never lead again.
Roy, a three-time All-Star besieged by knee injuries, had produced just three points on 1-of-8 shooting in the first two games. He was struggling so badly that Blazers coach Nate McMillan kept him on the bench for all but eight minutes of Game 2. He played 24 minutes in Game 3 and finished with 16 points and four assists. He accounted for 26 of the Blazers' 56 points during his 24 minutes on the floor.
He took advantage of mismatches against the smaller Terry and Barea for his first impact of the series. The Blazers just hope he can continue to produce. His regular-season track record suggests that it is not likely.
The Mavs, however, contend that they continue to prepare for Roy as though he is still an All-Star. After all, Roy's Game 3 performance was his best since hurting the Mavs for 21 points in a loss at Portland in mid-March.
"We continue to game plan for Roy as an All-Star player because he's capable of doing this any night," Mavs coach Rick Carlisle said. "He's done it to us this year so I'm not surprised. There were a couple of plays that I thought were key plays that we could have done a better job on, and covered better that may not have given him openings at the wrong times for us."
April, 17, 2011
4/17/11
4:35
PM CT
By
Jeff Caplan
| ESPNDallas.com
DALLAS --
DeShawn Stevenson
paid immediate dividends back in the starting lineup for Game 1 against the
Portland Trail Blazers
.
His job for Game 2 remains the same: "Lock down the 2-guard and knock down open shots," Stevenson said.
Stevenson hit 2-of-4 shots, including a 3-pointer, so he got the job done on that side. As for locking down the 2-guard, Portland Trail Blazers shooting guard
Wesley Matthews
, the team's second-leading scorer and top 3-point shooter, finished with two points on 1-of-3 shooting. He got off one 3-point attempt in only 19 minutes of action.
Stevenson, who is not counted on for his scoring, actually outscored Matthews 5-2 while also logging 19 minutes.
He is counted on to bring hard-nosed defense and Stevenson managed to get Matthews in early foul trouble. Matthews took a seat less than four minutes into the game with two fouls and he never got into the flow after that. Matthews picked up his first foul at the 10:26 mark and then Stevenson, sniffing opportunity, went to work on the 6-foot-5 Blazers guard.
"With him, he's a key point of their offense and once I got the [first] foul then I got a charge on him," the rugged, 6-5, 218-pound Stevenson said. "That's what my goal is, is to try to rattle him."
If Stevenson is successful, it puts a serious dent in Portland's chances for success. Matthews shoots 40.7 percent beyond the arc on a team that ranked only 21st in the league from 3-point range (34.5 percent). With Matthews bottled up in Game 1, the Blazers went 2-of-16 from 3-point range and were outscored there by 24 points.
Jason Kidd
alone had 18 points behind the arc.
Stevenson, who replaced the struggling and now injured
Rodrigue Beaubois
(sprained left foot), said Game 1 is the blueprint he'll hope to follow throughout.
"Just playing solid, playoff basketball," he said. "Keeping a body on him, hands on him without trying to foul. He's a talented player, looks for 3s and if we can kind of get him out of the ballgame it's a good situation for us."
April, 16, 2011
4/16/11
1:02
PM CT
By
Jeff Caplan
| ESPNDallas.com
DALLAS --
Rodrigue Beaubois
(sprained left foot) is out for tonight's Game 1 and
DeShawn Stevenson
is jacked for his first meaningful playoff action in three years when he was with the
Washington Wizards
.
Stevenson, who has never advanced past the first round in his career, will open tonight's first-round series against the
Portland Trail Blazers
starting at shooting guard. He played all of six minutes in six games last year against the
San Antonio Spurs
, and until
Dallas Mavericks
coach Rick Carlisle pulled the plug on Beaubois as a starter in the regular-season finale -- Beaubois then sprained his left foot in an appearance off the bench -- Stevenson didn't figure to be called on much this postseason either.
All that has changed. He'll likely match his playoff minutes from a year ago during his first stint on the floor tonight, tasked with defending Portland shooting guard and second-leading scorer
Wesley Matthews
(15.9 ppg), the team's top 3-point marksman (40.7 percent).
"My job is to lock down until Jet [
Jason Terry
] gets in there," Stevenson said. "Hit open shots, guard Matthews, maybe even [Andre] Miller and give some free time for J-Kidd [
Jason Kidd
], and that's what I'm going to do -- just be a wild man out there."
Stevenson filled a significant void for the first couple of months of the season with Beaubois out with the broken foot. When Beaubois returned in mid-February, it was Stevenson who saw his minutes sacrificed. Stevenson said he understood and continued to prepare each day as though he were playing.
"It wasn't tough," Roddy was a big focal point of this team and at the end of the day they know I can come in and do what I do and at the same time they've got to see what Roddy can do. I just stayed professional and you see what happens when you stay professional, you end up in a good position."
As for Beaubois, he was on the floor with the team during the morning shootaround. He said his foot is "feeling better," but he isn't ready to be on the active roster tonight.
April, 15, 2011
4/15/11
10:58
AM CT
By
Jeff Caplan
| ESPNDallas.com
DALLAS -- Poor
J.J. Barea
. Everybody is always so ready to dismiss the dribble-happy little guy out the back door, especially when the sexier
Rodrigue Beaubois
made his return in February. Well, just look at Barea now. Who has been the Mavs' most efficient, most effective guard over the last month, maybe even since Jan. 1?
Yeah, that's right, J.J. Barea (who, you might have heard, is dating Miss Universe 2006).
In his fifth season with the Mavs, the under-6-foot point guard takes a lot of ribbing from fans and even some more playful punches from teammates -- hello, 7-foot-1 center
Tyson Chandler
, who has been known to joke that he rolls Barea up and totes him around his shirt pocket.
Yet, it's Barea who could be a change-of-pace difference-maker in the Mavs' first-round series with the
Portland Trail Blazers
. Beaubois didn't supply the team with the electric penetrations they thought he would and so Barea remains the one guy who consistently gets in the lane and makes things happen. Barea will also face plenty of challenges in trying to be positive force off the bench.
The Trail Blazers' backcourt is tall and stout with 200-pounders
Andre Miller
,
Wesley Matthews
and
Brandon Roy
, as well as the 6-6
Rudy Fernandez
. Barea's job will to be the defensive irritant that has made him one of the NBA leaders in drawing charges and the unofficial leader in absorbing forearm shivers from bigger, frustrated guard trying to shoo him away like they would a gnat.
"I expect him to be aggressive and battle and give everything he has to give. That's what he always does," Mavs coach Rick Carlisle said. "I've never worried about Barea, his aggression or anything else. He's a fighter and he's going to fight. He's become a big part of our team and that's because of who he is and the amount of work that he's put in."
This was Barea's best season. He averaged career highs in points (9.5), assists (3.9), minutes (20.5) and games (81). If not for a brutal start to the season where his 3-point percentage scrapped bottom at around 17 percent, he would have had a career-high there too. He finished at 34.9 percent because of blazing shooting after Jan.1.
In the final stretch of the season, Barea might have been the team's best player overall. In the final nine games, he scored in double figures eight times, averaged 13.2 points and 9.3 assists with a pair of double-doubles. Three times he logged 30-plus minutes.
"He's our backup point guard,"
Dirk Nowitzki
said. "He obviously gives up a lot of size on a lot of point guards, but he makes up for it with gritty play, with being smart defensively, staying in front of people and he's going to be as key as anybody else coming off the bench."
April, 15, 2011
4/15/11
8:18
AM CT
By
Jeff "Skin" Wade
| ESPNDallas.com
For the playoff edition of the Inside Skinny, we figured we'd give you our scouting report on the Portland Blazers and how they do what they do. First off, here are a few nuggets about their team identity as a whole.
While they're last in the league in PACE (average possessions per game), they're 10th when it comes to offensive efficiency (points per 100 possessions). Then factor in that they're third in the league in Offensive Rebound Rate -- percentage of available offensive rebounds grabbed -- as well as a low turnover team.
And, finally, you take note that they're fifth in Defensive Plays Rate (steals, blocks and charges per 100 possessions) and you can see how Portland is able to force opponents into playing the type of game they want -- a tough, grind-it-out-and-don't-make-mistakes affair.
Aiight, I'm done nerding out. Here's the eyeball stuff.
Mr.
LaMarcus Aldridge
-- you grows up, you grows up and you grows up. The skinny kid from Seagoville did damage this year, and he has absolutely had his way with the Mavs in all four meetings. He came to Dallas and dropped 35 in a loss on Dec. 15. It was the real jump-off point for a huge season in which he's posted career highs in points, rebounds and assists.
[+] Enlarge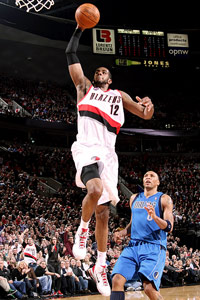 Sam Forencich/NBAE/Getty ImagesLaMarcus Aldridge averaged 27.8 points and 9.0 rebounds in four games vs. the Mavericks this season.
But the real significance of that date:
Brandon Roy
was put on the shelf after that game. Roy played 30 sad minutes that night, taking only five shots. He wouldn't play again for two months and, in the time that he was gone, Aldridge staked claim to the team. He is now their main threat. Roy is a dominate-the-ball type, as is point guard
Andre Miller
. When those two were on the floor together, Aldridge was left to dig for scraps. Now he's the focal point and he's really blossomed in the paint with an assortment of moves and a soft touch. He's solid out to 18 feet, too.
But the most memorable Aldridge moment for me was in the final contest vs. the Mavs when he backed down
Brendan Haywood
on the right block, treating Haywood like he was
Shawn Bradley
. He leaned back towards the middle of the lane before drop-stepping baseline side and flipping a feathery shot over his left shoulder. It was monstrous. The ease with which he moved the bigger Haywood and the skill to finish the move was at a level that only a handful of posts in the league are able to sniff. That boy is good.
When I saw Portland's Defensive Play Rate, I couldn't help but think of their three long defensive specialists in Nic Batum, old-man
Marcus Camby
and February trade acquisition
Gerald Wallace
(aka, "I was burnt out in Charlotte"). The first time that Portland played Dallas with Wallace in the lineup, I thought he looked like the same "floater" I'd see in Charlotte who didn't involve himself in games with the intensity that a player of his immense talents should. When we saw him again on April 3, I thought he was fantastic. He used his length and athleticism to cause havoc and create opps for the Blazers. Camby is a savvy defensive player and rebounder, and Batum helps spread the floor with his range and can be a really sticky on-the-ball hawk.
What a coup
Wesley Matthews
ended up being. Some ripped Portland for giving Matthews their full mid-level exception. I'd say he saved their season filling in for Roy at the two and emerging as their second-leading scorer, best 3-point shooter and a rugged defender bothering opposing team's shooting guards. One of the real value players in the league without question.
The sad story of Roy's struggles with knee pain has been well-chronicled. He's often used in a backup distributor role now, but can still take over a game when his body cooperates as his 21-point performance against the Mavs back in March will support. He's a guy who can hit some big-time shots.
Rudy Fernandez
also is a guy capable of hitting some ridiculously tough shots. Though it wouldn't shock me if he tried to bounce a ball in the basket off his head. He gives off a wacky juggler vibe. I think he'd be an awesome Globetrotter.
Andre Miller has played his entire career feeling underappreciated and disrespected. Remember when he hung half a C-note on Dallas last year? Yes, he does too.
This has the makings of a fantastic series. I'll be curious to see if the ridiculously underrated Nate McMillan is tempted to roll out the smaller Aldridge at center and Batum and Wallace at the 3 and 4 slots. McMillan used that lineup at times down the stretch, including vs. the Mavs on March 15. It forces Dirk to cover a much quicker player; then again, the Blazers have to cover Dirk, too. I'd think Portland's size advantage in the backcourt -- which was used to great effect in that final route in Portland -- will be negated this time around with
DeShawn Stevenson
and
Corey Brewer
more in the mix.
Lots of delicious matchup potential. I can't wait to see it unfold starting Saturday night in the Dub -- Uptown Saturday Night style.
April, 4, 2011
4/04/11
12:35
AM CT
PORTLAND, Ore. -- Nothing is settled, but the Mavs walked out of the Rose Garden on Sunday night knowing that they could return soon.
It'd take a massive meltdown for the Mavs to fall from third to fourth in the West. The Trail Blazers sit in the sixth spot, a game ahead of the Hornets and Grizzlies.
"There's a good chance we'll see them in the playoffs," big man
Brendan Haywood
said. "They're probably going to be pretty confident with that matchup."
There is indeed talk in this town that the Trail Blazers would prefer a first-round matchup with the Mavs. It was the primary topic of conversation on the Trail Blazers' television broadcast postgame show.
Portland has earned the right to be confident against the Mavs by defeating Dallas twice in the last 20 days.
"They're a tough team," coach Rick Carlisle said. "They've got a lot of weapons. We feel like we've got a lot of weapons, too. If this series does happen, it'll be a great series."
Added
Jason Kidd
: "They're going to give anybody trouble, no matter who plays them. If we play them, we're going to have our hands full."
Blazers power forward
LaMarcus Aldridge
averaged 27.8 points in the 2-2 series this season, but Dallas' biggest problem with Portland is the size disparity of the backcourts. The Blazers' big guards can bully the Mavs' munchkins. There isn't a player in the Portland rotation that
Jason Terry
, J.J. Barea or
Rodrigue Beaubois
can consistently guard one-on-one.
Wesley Matthews
,
Andre Miller
,
Nicolas Batum
and
Rudy Fernandez
all took advantage of those mismatches Sunday evening. That quartet combined for 52 points on 16-of-31 shooting.
Brandon Roy
, even with his bad knees, poses a major threat to the Mavs.
"When they come in with bigger guards against our smaller guards, it puts some pressure on us defensively," Kidd said. "We've got to be able to put pressure on them on the offensive end. That's something that, if we do play them, we'll have to look at."