Dallas Mavericks:

Wilt Chamberlain
May, 2, 2014
May 2
8:00
AM CT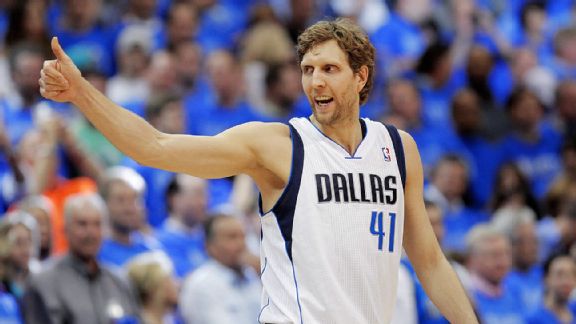 Ron Jenkins/Zuma Press/Icon SMIIn 20 elimination games, Dirk Nowitzki has averaged 28.9 points and 11.4 rebounds.
DALLAS -- Bet on a big game by
Dirk Nowitzki
with the
Dallas Mavericks
facing elimination Friday night.
That prediction feels much safer a couple of days after witnessing the first burst of Dirk dominance during this first-round series against the
San Antonio Spurs
, but it's not about any anticipated carryover from Nowitzki's 14-point fourth quarter in Game 5.
It's based on Nowitzki's track record of coming up big when the Mavs' backs are against the wall.
Nowitzki has averaged 28.9 points and 11.4 rebounds in 20 career win-or-go-home games. To put that into perspective, per the Elias Sports Bureau, only five players in NBA history have higher scoring averages when facing elimination (minimum of 10 games).
The prestigious list:
LeBron James
,
Michael Jordan
,
Wilt Chamberlain
,
Allen Iverson
and
Jerry West
.
It would be a stretch to say Nowitzki enjoys these elimination situations. It's no fun to know that you're possibly one game away from your season going up in smoke. However, with rare exception, he has responded extraordinarily well to that immense pressure.
"Maybe you're on the edge a little more," Nowitzki said. "You don't even want to think that the long season could actually come to an end tomorrow. You don't even want to let it cross your mind. You want to stay focused and you kind of want to stay in the moment."
November, 5, 2013
11/05/13
12:00
PM CT
Let's get right to the questions in this weekly Mavs mailbag, beginning with pondering the historical greatness of a certain German.
John (Dallas): With Dirk Nowitzki currently sitting at 17th on the all-time scoring list, where do you think he'll realistically end his career? Sixth behind Wilt?
I think sixth is a pretty solid bet, John. Nowitzki has basically committed to play at least three more seasons, including this one. Figure that he's good for about 1,500 points per season in that span -- being optimistic that he can stay healthy -- and that would have Dirk knocking on the door of the 30,000-point club, which currently includes only five men.
Catching
Wilt Chamberlain
certainly isn't out of the realm of possibility for Dirk, but he'd probably have to play until he was 40 to have a good shot. It's hard to imagine Nowitzki climbing any higher than fifth.
Kobe Bryant
is currently fourth with 31,617 points and he'll probably score thousands more before he's done.
Royce (Austin): Hey Tim, Who do you expect will end up winning the majority of the backup minutes and point guard? Shane Larkin, Gal Mekel or Devin Harris?
The odds favor Harris once he's fully recovered from his toe surgery and ready to play. Coach Rick Carlisle tends to be reluctant to rely on rookies, and Harris is a veteran with a decent track record.
Having said all that, I'll be very interested to see if Larkin can seize the opportunity when he's cleared for game action later this month. His quickness and ability to score and distribute as a pick-and-roll initiator make him pretty intriguing.
Jake (Philadelphia): It seems as though the Mavs will have many options and possibilities on the bench this year. Between DeJuan Blair, Devin Harris, Shane Larkin, Gal Mekel, Wayne Ellington, Jae Crowder and Brandan Wright, who could you see being the odd man out? Will Carlisle go with a bigger bench this year?
I guarantee you Carlisle's answer would be that everybody needs to be ready. There's a lot of truth to that. His rotations tend to be like the Texas weather. If you don't like what you see now, just wait a few minutes (or games).
When and if everybody is healthy, my guess is Mekel will get a lot of D-League time, Blair's minutes will be based on matchup and Ellington will compete with Crowder for about 15 minutes per game as a defnensive-minded, 3-point-popping reserve wing.
Jason (Fort Worth): The Mavs obviously made a commitment to Brandan Wright in the offseason so do you think Carlisle trusts Wright enough to make him a top-eight rotation player when he returns? Or will it still be based on matchups like we've seen in the past?
I believe Wright will be given a great opportunity to prove that he merits a 20-plus-minute-per-game role. That's what happened late last season, and he's making more than five times as much money this season.
The only way I see Wright falling to the fringe of the rotation is he frequently gets overpowered battling for defensive post position and on the glass. He added about 15 pounds this muscle to prepare for the banging. Wright is such an efficient offensive weapon -- and his athleticism and skills mesh so well with the games of Nowitzki and
Monta Ellis
-- that I wouldn't be stunned if he gets the most minutes of the Mavs' centers once he's healthy.
@jray2008 on Twitter: How long until Harris, Larkin and Wright return?
Larkin practiced for the first time Monday and hopes to be ready to play within a week or two. Of course, he also hoped to be cleared for the beginning of training camp, so we'll see if his optimism is closer to reality in this instance.
We don't have firm timetables for Harris or Wright. Wright is doing some light basketball work, but he'll need time to strengthen that shoulder once he's cleared for contact. My guess would be that he might be ready to go by December. Harris hasn't been cleared to run yet except for on an underwater treadmill. He might not be ready until after New Year's Day.
@beefcake_27 on Twitter: The way this team is built, we're gonna run-n-gun/small-ball our way through. Is Rick Carlisle channeling his inner Doug Moe?
Sweet handle, Beefcake. Carlisle is determined to do everything in his power to make sure the Mavs are a decent defensive team, but there's no doubt that the personnel is suited for shootouts.
Samuel Dalembert
is the only proven traditional center on the roster, so this team is going to have to play a lot of small ball, especially with Monta Ellis starting at shooting guard.
It should at least make for an entertaining season. Just wait until we see the offensive firepower of a lineup that includes
Jose Calderon
, Ellis,
Vince Carter
, Nowitzki and Wright.
May, 31, 2013
5/31/13
10:07
AM CT
ESPNDallas.com will compare the Mavericks, Lakers and Rockets in five facets -- other than money -- that could play a role in Dwight Howard's free agency decision in a one-per-day series: owners/front office, coaches, co-stars, supporting casts and franchise tradition. We focused on Chris Paul last week.
The list of teams that can match the Lakers' tradition is awfully short.
PODCAST
Mark Cuban joins ESPN Dallas GameDay to discuss the Mavericks' plans, the free-agent market and what possibilities there are for Dallas.

Listen

In fact, it features just one team, and the Celtics aren't going to be involved in this summer's
Dwight Howard
derby. The Mavs and Rockets certainly have respectable traditions, but they can't come close to comparing with a franchise that has 16 NBA championships.
Of course, all-time great big men are a big part of the Lakers' championship tradition. George Mikan,
Wilt Chamberlain
,
Kareem Abdul-Jabbar
and Shaquille O'Neal set a sky-high standard for centers who wear purple and gold. That might not necessarily help the Lakers' cause in trying to keep Howard.
There's a ton of pressure that comes along with following that line of legends in the nation's second largest media market. Shaq's disdain for Dwight, which manifests itself in many nationally televised verbal jabs, doesn't help matters. There's a theory that Howard would prefer to create a different path instead of simply following Shaq's Orlando-to-Los Angeles footsteps.
PODCAST
Galloway & Company discuss Chris Paul's situation with the Clippers. Paul is unhappy being linked to the firing of his former coach. Could he join the Mavericks?

Listen

And what if Howard doesn't win a title with the Lakers? That's a distinct possibility with his fellow future Hall of Famers on the roster closer to the rocking chair than the prime of their careers. He'd be perceived as perhaps the biggest letdown in Lakers history, the lone perennial All-Star big man incapable of lifting his team to the top of the league.
How heavily will that weigh on the mind of a man who has made it clear he's searching for happiness this summer?
If Howard goes to Houston, he'll be constantly compared to
Hakeem Olajuwon
, a Hall of Famer and two-time Finals MVP.
To a lesser degree, there will also be comparisons to
Moses Malone
and
Yao Ming
. However, as dominant as Malone was during his Houston days, he never won a ring with the Rockets and isn't a Houston legend. Ming only got out of the first round once during his injury-abbreviated career.
The Rockets have tradition, but it's been years since Houston has been considered a legitimate contender. Over the last decade and a half, the Rockets have been a distant third among NBA franchises in this state. The scrutiny wouldn't be anywhere close to as suffocating as it is in L.A.
All due respect to
James Donaldson
and
Tyson Chandler
, but Howard would be the best big man in Mavs history as soon as he tied his shoes. There could still be some unflattering comparisons for Howard when it comes to Chandler's excellent intangibles, but there's no question that Howard is the superior center.
While only one championship banner hangs on the Mavs' side of the American Airlines Center, this franchise has established an impressive winning tradition during Mark Cuban's ownership tenure. (Or during Dirk Nowitzki's career, if you want to assign credit to the man who did more heavy lifting.)
The Mavs and Rockets can't stack up to the Lakers' tremendous tradition, but that might be a good thing in the Dwight sweepstakes this summer.
EDGE:
That all depends on Dwight's mindset … which infamously can change with the wind.
August, 31, 2012
8/31/12
3:08
PM CT
Think
Dirk Nowitzki
was sending a subtle message to Mark Cuban with his tweet after playing two more years and then seeing how he feels?
Think again.
It was just an honest answer to a fan's question. That's it.
Nothing has changed for Nowitzki in terms of how he views his basketball future once this contract expires. He has consistently said since he signed the four-year, $80 million deal that it could be his last NBA contract.
Nowitzki's loyalty to the Mavs, and Cuban, hasn't wavered. He made that clear later during his impromptu weekend Twitter Q&A when asked why he doesn't try to jump to a so-called super team.
"I bleed blue," Nowitzki replied.
Maybe the quality of the Mavs' roster will influence Nowitzki's decision on whether to continue his career into his late 30s. Maybe he'll figure he needs to play for a legitimate contender to muster the competitive fire at that point in life.
Perhaps Nowitzki's family life will be a major factor, too. He got married this summer. Maybe he'll decide to become a stay-at-home dad.
But here's betting that Dirk's decision comes down to how his then-36-year-old body feels after 16 seasons of the NBA grind.
Nowitzki's knee trouble early in last year's lockout-shortened season was the first sign of wear and tear taking its toll. The Mavs hope and believe, however, that the knee soreness was a result of the sudden end to the lockout and compressed schedule, not necessarily a painful sign of things to come.
Nevertheless, Nowitzki is likely to have logged close to 50,000 NBA minutes, including playoffs, by the time his contract expires. Plus, that 7-foot frame made a ton of trips up and down the floor while playing for Germany in international competition.
On the other hand, Nowitzki's game should age well. It isn't as if he became one of the best power forwards of all-time because of awesome athleticism.
It's not like Nowitzki will suddenly lose his shooting touch in his old age. He preferably wouldn't have to create his own shot so often and carry the Mavs' offense on his shoulders, but Nowitzki could be a scoring threat until his blond hair goes gray.
And Nowitzki has the benefit of working on a daily basis with Mavs athletic trainer Casey Smith, who is widely considered one of the best in the business and happens to be one of No. 41's best friends.
While Nowitzki has never focused on his numbers, there's something to be said for cracking the 30,000-point barrier, an exclusive club that includes only Kareem Abdul-Jabbar,
Karl Malone
,
Michael Jordan
and Wilt Chamberlain and should be joined by
Kobe Bryant
this season. Nowitzki will probably need two more pretty good seasons to get there after this deal is done.
If his body is still able, it's hard to envision Nowitzki not being willing to continue cashing Cuban's checks and knocking down jumpers in a Mavs uniform.
May, 10, 2011
5/10/11
12:42
PM CT
DALLAS – Rick Carlisle's take on Dirk Nowitzki's place in NBA history is on the record.
"In my opinion,
he's a top 10 player in NBA history
because of the uniqueness of his game and how he's carried this franchise on his back for over a decade," Carlisle told "ESPN First Take" on Monday.
All due respect to Dirk, but that seems to be a slight exaggeration. There's still plenty of time to prove his coach right – and it'll take at least one title to do so – I'd rank Nowitzki somewhere in the upper teens or lower 20s right now.
Nowitzki ranks 23rd on the NBA's all-time scoring list, and he'll likely end up in the top six by the time he finishes the four-year contract he signed last summer. But it's not stepping out on a limb to suggest that some players who rank below him on that list – Bill Russell, Larry Bird, Magic Johnson,
Tim Duncan
, Julius Erving and
John Stockton
– are on a tier above Dirk among the league's legends.
One man's opinion on the top 10 players in NBA history at this point (and it's assumed
LeBron James
will earn a spot here in the near future):
1.
Michael Jordan
2. Wilt Chamberlain
3. Bill Russell
4. Magic Johnson
5. Larry Bird
6. Oscar Robertson
7. Kareem Abdul-Jabbar
8. Tim Duncan
9.
Kobe Bryant
10.
Hakeem Olajuwon
Can Dirk crack a list that even Shaq didn't? It'd take a phenomenal finish to his Hall of Fame career.
March, 8, 2011
3/08/11
6:15
PM CT
By
Jeff Caplan
| ESPNDallas.com
Minnesota Timberwolves
third-year forward
Kevin Love
scored 23 points and grabbed 17 rebounds in Monday's loss to the
Dallas Mavericks
. The double-double, his 51st in a row, tied him for the all-time lead with
Moses Malone
, who set the mark during the 1978-79 season.
Love can sit atop a list of all-time greats with his 52nd straight double-double Wednesday against the
Indiana Pacers
. If he were to notch a double-double in each of Minnesota's remaining 17 games, he would notch 77 for the season and 68 straight. How far can he go?
"It's a joke that he's doing it so easily," Mavs coach Rick Carlisle said. "Unless he gets hurt, I don't see anybody stopping it any time soon."
The 6-foot-10, 260-pound Love accumulated 65 double-doubles in his first two seasons, but he was limited to 25.3 and 28.6 minutes a game, respectively, in those seasons. This year, coach Kurt Rambis has granted Love 36.6 minutes a game and he's averaging 20.9 points and 15.8 rebounds. He has 60 double-doubles in 65 games.
But just how impressive is 51 consecutive double-doubles? The fact that only Malone has done it should make it fairly obvious.
Dirk Nowitzki
, for example, who has averaged 8.4 rebounds a game in his career, has nine double-doubles this season and once has strung at least two back-to-back. Mavs center
Tyson Chandler
, who did not play in Monday's game because of a sprained ankle, has 16 double-doubles and has twice strung together three in a row.
That's not to compare players. Chandler has fewer opportunities to score than Love and Nowitzki's rebounding totals have dropped this season with the addition of Chandler. But it does reveal the difficulty in notching double-digit points and rebounds virtually every night during the grind of an NBA season.
Entering Wednesday's game, Love has 142 career double-doubles. If his streak continues through the end of the season, he'll enter year No. 4 with 169.
Of the top 12 all-time double-double leaders (points-rebounds), according to the Elias Sports Bureau, Wilt Chamberlain stands alone at 966. Malone is next at 894 and Elvin Hayes had 890. The only active players on the list are
Boston Celtics
center
Shaquille O'Neal
at 727 and
San Antonio Spurs
forward
Tim Duncan
with 704, who is one behind
Charles Barkley
.
Those numbers demonstrate remarkable consistency over a career. Consider for Love to reach 700, he would need to average in the neighborhood of 60 double-doubles over the next 10 years.
"The way he's going, he goes and gets the ball," Carlisle said. "And a lot of his scoring is pure effort of going and getting the ball. And so, it's not as simple as taking away certain actions in their offense, stuff like that. A lot of it is just grit and a real sense for where the ball is going and then the tenacity to go get it and then make a play with it."
If no team halts Love's streak by March 24, the Mavs will have one more crack at the American Airlines Center.
April, 30, 2010
4/30/10
8:34
AM CT
Inside the numbers of the Mavericks' 97-87 Game 6 loss in San Antonio on Thursday night in what wound up as their final game of the 2009-10 season:
*
Dirk Nowitzki
's 33 points, according to the Elias Sports Bureau, give him six 30-point playoff games at the AT&T Center, tops among visiting players ahead of the Suns'
Amare Stoudemire
(five) and the Lakers'
Kobe Bryant
(four).
* Elias also reports that it was the 13th time in Nowitzki's career that he scored 30 or more points in a playoff game in which his team faced elimination. Only two other players in NBA history have scored 30 or more points in as many win-or-go-home games: Jerry West (14) and Wilt Chamberlain (13).
* The Mavericks, tops in the NBA during the regular season with a road record of 27-14, have lost 16 of their last 18 playoff games on the road.
* Dallas' eight points in the first quarter tied the NBA's record playoff first-quarter low in the shot-clock era (since 1954–55), matching Utah's eight points in the first quarter against the Lakers on May 8, 1988.
* San Antonio outscored Dallas, 22-4, off turnovers and got 17 second-half points from
George Hill
.
* Mavs rookie Roddy Beaubois had five points in the first five games of the series before scoring 16 points in Game 6.
*Dallas'
Jason Kidd
finished the postseason with 1,062 career playoff assists, tied with Larry Bird for the No. 3 spot in league history. Kidd, though, reached the total in only 121 playoffs. Bird needed 164.
Magic Johnson
is No. 1 all-time with 2,346 career playoff assists, followed by
John Stockton
with 1,839.
* The Spurs are 3-1 at home in the
Tim Duncan
era in Game 6s at home with a 3-2 series lead. The only loss occurred during the 2005 NBA Finals to Detroit, but San Antonio also had the luxury of playing Game 7 at home in that series and won it.
* Duncan, according to Elias, has now won 25 playoff series in his career, more than any other active player besides
Shaquille O'Neal
(32),
Derek Fisher
(29) and Kobe Bryant (27).
* The Spurs are still alive in their quest to be just the fourth NBA franchise – along with the Celtics, Lakers and Bulls – to win a fifth championship. A team seeded No. 7 in the playoffs has never won it all, but how many No. 7 seeds in NBA history have won four championships in the preceding 11 seasons?
"Give them a lot of credit," Mavericks guard
Jason Terry
said. "That's a first-class organization. They earned it. They deserved it. Nobody gave them a chance in this series and they proved everybody wrong."
Said Mavericks coach Rick Carlisle: "The West is so deep. There were no favorable matchups per se."