Dallas Mavericks:

Carlos Delfino
June, 26, 2013
6/26/13
10:13
AM CT
The third in ESPNDallas.com's position-by-position series previewing the free agency market that opens July 1:
This isn't an immediate need for the Mavericks … unless they move
Shawn Marion
to create more space under the salary cap.
Another possible scenario: The Mavs could decide to move the 35-year-old Marion and his $9.32 million salary after acquiring a small forward they feel is an upgrade.
There are only one or two small forwards on the market – depending on a decision made in Boston – who are in that class. A look at those players and some other small forwards who low-dollar fits for the Dallas bench: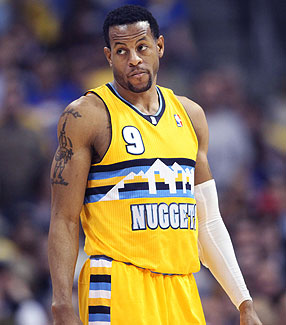 Chris Humphreys/USA TODAY SportsAndre Iguodala is an outstanding finisher at the basket and is one of few wings who are arguably better perimeter defenders than the Mavericks' Shawn Marion.
Andre Iguodala:
You can make a strong case that he's the third-best player in this free agency class behind
Chris Paul
and
Dwight Howard
. The 29-year-old Iguodala's athleticism, defensive prowess and passing certainly make him intriguing to the Mavs' front office.
The 6-foot-6, 207-pound Iguodala is a premier athlete, blessed with speed, quickness and leaping ability that allow him to excel in transition and as a defender.
Iguodala's explosiveness makes him an outstanding finisher. According to hoopdata.com, he made 74.1 percent of his shots at the rim last season. Only five starting wings (including Marion, by the way) converted a higher percentage of those rim attacks.
Iguodala is one of precious few wings who are arguably better perimeter defenders than Marion, although Iguodala doesn't have the versatility to occasionally cover power forwards. Former Nuggets GM Masai Ujiri called Iguodala's omission from the All-Defensive team "mind-boggling," pointing out that the U.S. Olympic team called on him when it needed a defensive stopper.
PODCAST
Chuck Cooperstein joins the show to talk about the Dallas Mavericks and how he thinks the NBA draft will turn out.

Listen

Other than
LeBron James
, there isn't a better passing wing in the NBA. Iguodala averaged 5.4 assists per game last season, which is about the norm for him over the last seven years. He's intelligent, unselfish and has the ability to create for himself and others.
Iguodala's biggest flaw: He's a below-average perimeter shooter (31.7 percent on 3s, 31.0 percent on long 2s last season). That limits him as a halfcourt offensive threat and would make it difficult to play him with Marion if the Mavs ended up with both players on their roster.
Iguodala isn't going to come cheap, either. He exercised his early termination option instead of making a $16.2 million salary in Denver next season. He won't get that much per year again, but he'll get at least $40 million over four years.
Paul Pierce:
It remains to be seen whether the longtime Celtics star will hit the open market. He's due to make $15.3 million in the final year of his deal this season, but Boston can buy him out for $5 million as the Celtics begin the rebuilding process. Pierce has also been the subject of a lot of trade talks.

The Mavs almost traded for Pierce at the deadline last season, but the Celtics backed out of a deal that would have sent Atlanta's
Josh Smith
to Boston and Pierce to Dallas. The security of Pierce's buyout was a small factor in the Mavs' interest at the time.
There is no question that Pierce, who turns 36 in October, can still play. He averaged 18.6 points, 6.3 rebounds and 4.8 assists for a playoff team last season. But does he fit Mark Cuban's two-year plan?
Even if the Mavs pursue Pierce, the interest might not be mutual. At this point of his career, would a two-year plan to contend appeal to him? Of course, the fact that the Mavs could offer more money than most, if not all, readymade contenders could affect Pierce's thought process.
Carlos Delfino:
He was relatively effective as a 3-point-firing sixth man for the Rockets, but Houston will decline his team option as they try to carve out enough cap space to get in the Dwight derby. Donnie Nelson says you can never have enough shooters, and the 6-foot-6, 230-pound Delfino hit 37.5 percent of his 421 long-range attempts last season. He's also a savvy player, which makes him intriguing as the Mavs attempt to drastically improve their basketball IQ.
But Delfino is limited athletically, can be exposed defensively and has seen his rebounding numbers drop significantly in recent years (3.3 per game in 25.2 minutes last season). The room midlevel exception ($2.652 million) might be a decent value for Delfino.
Chase Budinger:
He could be a good buy as a low-risk, high-upside guy. The 25-year-old Budinger has good size (6-foot-7, 218 pounds) and is a great leaper. He's shown the ability to score (9.4 points in 21.6 minutes per game in his career), but his offensive game could certainly benefit from the kind of one-on-one time
Corey Brewer
put in with Rick Carlisle. There are knocks on Budinger about his inconsistent motor, and he went into free agency on a low note after injuries limited him to 23 games for Minnesota last season.
C.J. Miles:
It's uncertain whether the Dallas Skyline product will be a free agent. He's Cleveland property, but his $2.25 million salary is fully unguaranteed. The Mavs had discussions with Miles last summer. He's a high-character guy who averaged 11.2 points and shot 38.4 percent from 3-point range for the Cavaliers last season. If nothing else, he'd be a great guy to have coming off the bench for the veteran's minimum.
Dorell Wright:
The 6-foot-9 Wright is just a perimeter shooter offensively. He's a decent rebounder and not a dreadful defender. If the money is right – meaning not much – he could make sense for the Mavs as a bench player.
Corey Maggette:
He has scored more than 13,000 points while playing most of his career on bad teams. He essentially took last season off, playing only 18 games for the Pistons. Not sure if the Mavs would want a declining player with a selfish rep on the roster, even at the minimum.
May, 24, 2013
5/24/13
4:34
PM CT
It's been widely reported that the
Houston Rockets
are a team that intrigues
Dwight Howard
. The Rockets might even rank ahead of the Bird-rights-owning
Los Angeles Lakers
as the Mavericks' primary competitors for the perennial All-Star big man.
PODCAST
Rick Carlisle joins Fitzsimmons & Durrett to discuss the latest Mavericks news, Dirk Nowitzki and much more.

Listen

Here's one problem for Houston: The Rockets would have to do some significant payroll slashing to be positioned to offer Howard a max contract.
Howard's max salary next season would be $20,513,178. The salary cap is expected to be set between $58.5 million and $60 million. The Rockets have $48,571,158 worth of contracts on the books, assuming they decline Francisco Garcia's $6.4 million team option.
It doesn't take an MBA from MIT -- which Rockets general manager Daryl Morey happens to have -- to figure out that the math doesn't add up for Houston and Howard.
Morey made sure the Rockets had some built-in wiggle room with seven nonguaranteed deals on the roster, although that list includes six-figure bargains
Chandler Parsons
,
Patrick Beverley
and
Greg Smith
that are inexpensive, integral parts of James Harden's supporting cast. Houston might have to sacrifice one of their major additions from last summer to make room for Howard.
That could mean trading point guard
Jeremy Lin
or center
Omer Asik
to a team with cap space for no immediate return. That is a nice way to say dumping an $8,374,646 million salary, the amount both Lin and Asik are due in the second season of their identical three-year, $25.12 million contracts.
Such a salary dump would put the Rockets close to being able to afford Howard, but they'd still have some work to do.
They could waive sixth man
Carlos Delfino
($3 million) and/or reserve point guard
Aaron Brooks
($2.5 million), both of whom have June 30 deadlines before their salaries become guaranteed, meaning a decision would have to be made before the Rockets are allowed to meet with Howard. The nonguaranteed salaries of young projects Tim Ohlbrecht ($788,872) and
James Anderson
($916,099) could also create the necessary space depending on where the cap falls, although the Rockets would pick up a cap hold of $490,180 in the process if they cut both because their roster would dip under 12 players. A salary-dump deal that would send 2012 No. 5 overall pick
Thomas Robinson
($3.53 million) to his third team is another alternative.
A much less attractive option than finding an under-the-cap trade partner to take on the contract of Lin or Asik: Waiving one of them and using the stretch provision.
In that case, the Rockets would still have to pay the $16.75 million remaining on the contract, but they would be allowed to spread the cap hit over five years (twice the length remaining on the contract plus one year). So Houston would create a little more than $5 million in cap space with such a move – and then have to get rid of nonguaranteed salary and/or make salary-dump deals to ship off young talent (Robinson,
Terrence Jones
,
Donatas Motiejunas
).
The
Mavs would also have to do some maneuvering
to give Howard a max contract, but not nearly as much as the Rockets.
The Rockets can free up enough money for Howard, but it would require slicing into the supporting cast of a playoff team -- and perhaps paying a $16.75 million tax in addition to his max deal.
July, 27, 2012
7/27/12
12:30
PM CT
By
Jeff Caplan
| ESPNDallas.com
Deron Williams
was the obvious headliner among Dallas-area products who could potentially come home and play for the
Dallas Mavericks
next season.
Williams, the three-time All-Star who starred at The Colony High School, chose to remain with the
Brooklyn Nets
. Still, three other local lads also hit free agency on July 1, plus one former Mavs forward. All remain on the market.
Unfortunately for them, the Mavs have filled their 15-man roster.
Mavs coach Rick Carlisle had dinner in New York on July 1 with Skyline High star and
Utah Jazz
shooting guard
C.J. Miles
, who is just 25 years old. Dallas showed initial interest in
Minnesota Timberwolves
big man and Woodrow Wilson product
Anthony Randolph
, just 23. And the elder statesman of the Dallas group, power forward and Bryan Adams product
Kenyon Martin
, is still looking for work at 34.
Josh Howard
, drafted by the Mavs with the 29th pick in 2003, is also still without a team. He played last season with the Jazz.
July, 15, 2012
7/15/12
4:52
PM CT
By
Jeff Caplan
| ESPNDallas.com
One amnesty acquisition is enough for now.
The
Dallas Mavericks
got the one they really wanted Friday in
Elton Brand
. The Rockets amnestied forward
Luis Scola
, a crafty, below-the-rim, low-post scorer who seemed a difficult fit with
Dirk Nowitzki
and Brand. Plus, the three years remaining on his contract, even at a greatly reduced rate, wasn't exactly ideal for an organization seeking to keep its powder dry.
Scola heads to the revamping
Phoenix Suns
, who submitted the winning bid.
The story by ESPN.com's Marc Stein
says Dallas is the only team other than Phoenix known to have made a bid, even after the Mavs successfully bidded $2.1 million to get Brand.
The Mavs, with 10 players under contract plus three rookies, can turn their attention to more pressing needs, such as signing some shooters, a glaring weakness at the moment.
Dallas has around $4 million in cap space remaining to sign players, plus a $2.5 million "room" exception. There are a number of shooting guards remaining on the market, including
O.J. Mayo
,
Leandro Barbosa
,
Marco Belinelli
,
Mickael Pietrus
and
Carlos Delfino
.
Mavs free-agent guard
Delonte West
also remains unsigned. There remains mutual interest on that front and a move might be on hold until the Mavs figure out how they will be spending their remaining cap space. Scola can be crossed off the list, but teams still have two more days to amnesty players.
A look at the Mavs' roster to date:
Guards:
Darren Collison
,
Dahntay Jones
,
Vince Carter
,
Rodrigue Beaubois
,
Dominique Jones
,
Jared Cunningham
Small forward:
Shawn Marion
,
Jae Crowder
Power forward:
Dirk Nowitzki, Elton Brand
Center:
Chris Kaman
,
Brandan Wright
,
Bernard James
July, 13, 2012
7/13/12
10:53
AM CT
By
Jeff Caplan
| ESPNDallas.com
Among the moves the
Dallas Mavericks
made Wednesday in the ongoing reconstruction of the roster, one key element is missing: a 3-point marksman.
President of basketball operations Donnie Nelson places high value on shooters -- you can never have enough. That is why the 2011 Mavs acquired Peja Stojakovic, giving the eventual title team three of the top six on the NBA's all-time 3-pointers made list (along with
Jason Terry
and
Jason Kidd
). Coach Rick Carlisle has said every team needs a 3-point sharpshooter in today's NBA.
Vince Carter
, 18th on the all-time 3-pointers made list, now stands as the most prolific 3-point bomber on the current roster.
The Mavs' offense has always spread the floor around
Dirk Nowitzki
, and now they have a penetrating point guard who can drive, collapse a defense and dish. The only question is who he'll dish it to.
Consider:
* In three of Carlisle's four seasons, the Mavs have finished in the top seven in 3-pointers attempted per game, including fourth last season and fifth in 2010-11.
* In each of the last three seasons, they've finished in the top 10 in 3-pointers made.
* Last season, both Jason Kidd (79) and Dirk Nowitzki (78) made more 3-pointers than newcomers
Darren Collison
(34) and
Dahntay Jones
(33) combined.
* Jason Terry's team-leading 138 baskets from beyond the arc were more than Collison, Jones,
Rodrigue Beaubois
(38) and
Delonte West
(27) combined.
The Mavs' backcourt as currently constructed is comprised of Collison (36.3 percent career 3-point shooter), Jones (35.4), Beaubois (33.2) and Carter (37.4), plus the unsigned Delonte West (37.2). They are not poor 3-point shooters, as their percentages indicate. The shot just isn't a big part of their games. Carter, who launched 205 3-pointers last season (which pales to Terry's team-high 365), took 34 more than Collison and Jones combined.
"I's July 13, it's not Sept. 27, so we feel like there's a lot of summer left," Carlisle said. "We're still involved in talking to a lot of different people about a lot of different situations. We love shooters. We're going to address that as we move forward here."
So, any sharpshooters still left on the market?
Here's a look at the players and their percentages:
Marco Belinelli
-- 37.7 percent and 41.4 percent the last two seasons, 39.3 percent career.
Randy Foye
-- 36.6 percent career and 38.8 percent last season on career-high 329 attempts in 65 games.
O.J. Mayo
-- 37.5 percent career, and in four seasons never finished below 36.4 percent.
Michael Redd
-- 38.0 percent career, but knee injury nearly ended career; shot just 31.8 percent last season.
Carlos Delfino
-- 36.2 percent career and has averaged 339.5 attempts the last two seasons.
Mickael Pietrus
-- 35.7 percent career, and hasn't been above 34.2 percent in the last two seasons.
Leandro Barbosa
-- 39.1 percent career and six seasons shot 37.5 percent or better.
Raymond Felton
-- 33.0 percent for career; 38.5 percent with Charlotte in 2009-10 and 45.9 percent in 21 games with Denver last season.
Jason Kapono
-- 43.4 percent career; released by Cleveland in March after being traded from Lakers
Jose Calderon (available via trade or if amnestied)
-- 38.1 percent career and 37.1 last season; was headed to career-high attempts in full-schedule season.
November, 16, 2009
11/16/09
9:20
PM CT
By
Jeff "Skin" Wade
| ESPNDallas.com
With a knowing nod to a Dallas-Fort Worth newspaper legend, we're scatterhooping while wondering whatever happened to former Buck and former Mav Pat Cummings ...


That's how you wrap up five games in seven nights. With the entire NBA nation watching this game on NBATV so they could see rookie phenom Brandon Jennings -- a night with only three games on the schedule -- Dirk Nowitzki reminded us all that he's one of the best, most reliable dudes in the league.


The Mavs are 6-23 all-time in The Good Land. Seriously.That just doesn't make sense.

Jennings would have had to go for 35 points and hit a buzzer-beating game-winner to live up to all the hype, but he was more "really solid" than he was "spectacular" on this evening.

But he still made me nervous every time he hoisted up one of those treys in the fourth quarter -- even if several of 'em were ill-advised. ... I'm wondering if Rick Carlisle went to that zone late in the game because he didn't have the confidence that J Kidd, JET or Barea could keep Jennings in front of 'em. That's why I'm clamoring for more Roddy Beaubois -- he got invaluable OT minutes Monday night.


Neighbor Ben says that foreign guy with a facemask is a bad look. I generally concur, but to Ersan Ilyasova's credit, his 4-7 performance from behind the arc made me forget that I initially thought Jim Carey's character from Cable Guy was getting some burn.


The Internet told me that Ilyasova claims to be a "master" of PlayStation 2. Neighbor Ben (my resident video game expert) says that's like being a master of Atari.

Apparently film doesn't exist of that weak-side back screen to free Roddy for the oop.

This was a great last 48 hours for Drew Gooden. He was lively early, and his clutch tip-in to tie it up late gives Dirk a chance to win it at the end. So long as that energy and effort is there, I suppose I can live with some of that shot selection that gives me an ice cream headache -- and I'm having that thought on a night when Gooden goes 9-13 from the floor.

Four seconds into this thing I thought Shawn Marion was going to absolutely annihilate Carlos Delfino. A few seconds later I realized Marion's ankle was going to save Delfino.

And then there was the guy who couldn't stop saying Luc Mbah a Moute ... it really is hypnotic.