Dallas Mavericks:

Donatas Motiejunas
May, 30, 2013
5/30/13
9:02
AM CT
ESPNDallas.com will compare the Mavericks, Lakers and Rockets in five facets -- other than money -- that could play a role in Dwight Howard's free agency decision in a one-per-day series: owners/front office, coaches, co-stars, supporting casts and franchise tradition. We focused on Chris Paul last week.
The Lakers and Mavericks are in similar situations when it comes to their supporting casts: They have to sell hope.
PODCAST
Marc Stein joins Fitzsimmons & Durrett to discuss the officiating in Game 4 of the Eastern Conference Finals, the Pacers' chances at beating Miami, the conspiracy theories surrounding the NBA and Mark Cuban's new two-year plan.

Listen

They can both make a pitch about being competitive next season with a veteran core surrounding
Dwight Howard
, although that didn't work in Los Angeles last season and the Mavs would need to do some relatively significant salary-cap tinkering to keep both
Shawn Marion
and
Vince Carter
while creating room to give Howard a max contract.
What about the future?
Like the Mavs, a lot of money comes off the Lakers' books next summer.
Steve Nash
, whose physical breakdown finally happened almost a decade after leaving Dallas, is the lone Laker under contract for the 2014-15 season. The Mavs only have option years for last season's rookies on their 2014-15 ledger.
You can make a strong case that L.A. would be a more attractive destination for free agents than Dallas, but there's one major wild card. Would
Kobe Bryant
, the league's highest-paid player, be willing to take the major pay cut to give the Lakers the flexibility required to make significant additions to a Dwight/Kobe core?
Dirk Nowitzki
's willingness to slash his salary will be part of the Mavs' pitch.
The Rockets have the advantage of already having a potential long-term supporting cast in place. They might have to slice into that cast a bit to make room for Howard, but they have young building blocks such as
Chandler Parsons
,
Donatas Motiejunas
and
Patrick Beverley
under contract at bargain rates for at least two more seasons.
Parsons, the second-round steal who averaged 15.5 points in his second season, could be a phenomenal complementary piece for Howard and
James Harden
for years to come. The multi-skilled 6-foot-9 small forward's perimeter shooting makes him a perfect fit for the Rockets' system and accentuates the offensive strengths of the potential Houston co-stars.
A commitment from Houston ownership to keep Parsons when his contract expires after the 2014-15 season could go a long way.
EDGE:
Rockets
March, 6, 2013
3/06/13
10:52
AM CT
DALLAS – The last time the Mavericks endured a losing season, there was a lot of legitimate, tangible reason for hope.
PODCAST
ESPN.com senior NBA writer Marc Stein joins Fitzsimmons and Durrett to talk about the Mavericks and what it might take to fix their problems.

Listen

Michael Finley
was an established, young franchise cornerstone.
Steve Nash
turned a corner in his career midway through that season, when he was 25 years old. And a 21-year-old finesse 7-footer named
Dirk Nowitzki
had begun blossoming into a star.
Those 1999-2000 Mavs finished the season with a 31-19 run, setting the foundation for the franchise's dozen-year playoff run that will almost certainly end in six weeks.
Let's be optimistic and assume these Mavs, who are seven games under .500 with a little more than a quarter of the season remaining, manage to end this frustrating season strong. Is there anything that can happen down the stretch that could benefit the Mavs in the future, much like their last losing season?
[+] Enlarge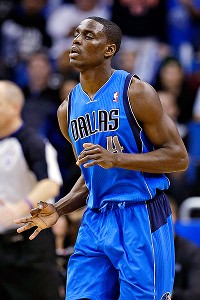 AP Photo/John RaouxDarren Collison has continually ceded crunch-time minutes and doesn't really seem like a long-term fit with the Mavs.
"That's tough to see," Nowitzki said. "Obviously, we've got nine guys or whatever we've got on one-year deals, so the team might be completely different next year. We didn't have that scenario (13) years ago. We obviously knew that Steve and Mike and myself were going to be the core for a lot of years, so we had that going for us, which this year is not the case."
And that might be the most frustrating part of this miserable season. The Mavs aren't experiencing growing pains that could pay off next season. They're just passing time.
There was a ton of talk about potentially developing the backcourt of the future this season with 25-year-old rentals
Darren Collison
and
O.J. Mayo
. Mark Cuban and Rick Carlisle continue to dangle that carrot, but it's extremely hard to envision that being a reality.
If the Mavs see Collison as their point guard of the future, why did he lose his starting job to a point guard they recruited out of his rocking chair earlier this season? And, after
Derek Fisher
's departure, why does Collison keep losing crunch-time minutes to a different graybeard point guard that was called up from the D-League?
The Mavs and Collison just don't seem to be a long-term fit. As far as Mayo goes, that probably depends on the market this summer for the Mavs' leading scorer whose decision-making and defense have repeatedly drawn Carlisle's wrath.
The rest of the Mavs' one-year men are a collection of complementary players, not building blocks, at this point of their careers. They're essentially financial placeholders, and the vast majority (if not all) of them will be on another team's payroll next season.
Any hope for a major Mavs rebound would arrive this summer, not be foreshadowed in the final 23 games.
"We went for a big fish last summer," Nowitzki said. "We didn't get him, so we decided to go that route with a lot of one-year deals, so the situation could be completely different next year. We're going to make this push for the playoffs and see what happens this summer."
The Mavs' foe for this home-and-home series also looks forward to seeing what happens this summer. However, the
Houston Rockets
are somewhat reminiscent of the '99-00 Mavs, albeit with a better record and a good shot at making the playoffs.
The Rockets have managed to put together a tremendous young nucleus while almost totally turning over their roster since last season.
Chandler Parsons
, the second-year second-round pick who scorched the Mavs for 32 points in Sunday's rout, is the only player remaining from Houston's roster last season.
Houston GM Daryl Morey has done a masterful job collecting assets, cashing in many of them to acquire a bona fide, 23-year-old superstar (
James Harden
) and surrounding him with a strong young supporting cast (center
Omer Asik
, 26; point guard
Jeremy Lin
, 24; small forward Parsons, 24; power forwards
Donatas Motiejunas
, 22; power forward
Thomas Robinson
, 21, combo guard
Patrick Beverley
, 24). And the Rockets have the cap space to recruit a co-star this summer.
The Rockets are several steps into their rebuilding plan.
The Mavs' rebuilding plan begins again this summer.
March, 3, 2013
3/03/13
10:57
AM CT
HOUSTON -- If the
Dallas Mavericks
manage to sweep the home-and-home series with the
Houston Rockets
over the next four days, we can continue entertaining their slim hopes of making the playoffs.
The reality, however, is that Dallas' 12-year postseason streak is on its deathbed.
Really, there shouldn't be any shame to that. It was a remarkable run that featured 11 50-win seasons, two Finals appearances and one title. All great things must come to an end.
Granted, the
San Antonio Spurs
might be an exception to that. They're about to win 50 games for the 14th consecutive season. The last time the Spurs failed to win at least 50, they celebrated the first of their four NBA titles, parading down the RiverWalk after Tim Duncan's lockout-shortened sophomore season.
It's been a hard fall for the Mavs over the past 21 months. They've gone from the NBA penthouse, popping a $90,000 champagne bottle in a Miami Beach club while celebrating the franchise's first title, to the Lone Star State cellar.
And the Mavs have their work cut out for them if they're going to catch the Rockets, much less the Spurs, anytime soon.
The Spurs' ability to sustain excellence is unparalleled in today's NBA. That will be tested when
Tim Duncan
and
Manu Ginobili
call it a career, but it'd be foolish to doubt a franchise with the league's best coach (Gregg Popovich) working with a brilliant front office.
The Rockets, who have won only one playoff series since two-time champion
Hakeem Olajuwon
left town, appear poised to soar again soon.
After three frustrating years of being better than .500 but not good enough to make the playoffs, Houston general manager Daryl Morey made a breakthrough move just before this season started. He acquired the bearded face of the franchise,
James Harden
, in a blockbuster deal with the
Oklahoma City Thunder
.
The 23-year-old Harden, who is averaging 26.3 points and 5.7 assists per game, has proved to be a legitimate superstar after getting out of the shadows of
Kevin Durant
and
Russell Westbrook
. He's surrounded by a good, young supporting cast that is locked into reasonable contracts (26-year-old center
Omer Asik
and 24-year-old point guard
Jeremy Lin
) or rookie deals (small forward
Chandler Parsons
, power forward
Donatas Motiejunas
, power forward
Thomas Robinson
, etc.).
And the Rockets will have the cap space to be major players in free agency again this summer, when they can potentially acquire a co-star for Harden.
Of course, there are no guarantees for Houston, which will have to fight to stay in the playoff picture with the
Los Angeles Lakers
making a charge. There have been many young teams that looked great on paper that fizzled out, but Houston has an excellent plan and has already executed several steps.
The Mavs, on the other hand, have a plan that has been publicly questioned by its superstar, the lone player on the roster who is a sure bet to still be a Dallas resident in two years. As
Dirk Nowitzki
has said several times, this is a big summer for the Mavs.
Much work must be done for the Mavs to approach the high standard they established over the past dozen years.
This isn't a franchise that will be satisfied to fight for eighth place in the West or settle for third place in the state of Texas.