Dallas Mavericks:

Michael Beasley
July, 26, 2012
7/26/12
10:37
AM CT
By
Jeff Caplan
| ESPNDallas.com
Five days into free agency, as the
Dallas Mavericks
quietly scanned the proceedings after being turned down by
Deron Williams
, the player movement and big money that flowed around the league certainly didn't suggest that a new collective bargaining agreement was sinking its sharpened teeth into management.
The
Brooklyn Nets
overpaid
Gerald Wallace
, signing him for four years and $40 million. They then spit in the eye of the harsher luxury tax to come by acquiring
Joe Johnson
, still owed $89 million, to play with Williams, who signed a five-year, $98 million deal.
The Lakers completed a sign-and-trade for
Steve Nash
, handing the 38-year-old a three-year, $27-million deal. Prior to that, the
Toronto Raptors
offered the beloved Canadian point guard a reported three years and $36 million.
The
Minnesota Timberwolves
gave
Brandon Roy
, who had retired because of chronic knee issues, two years and $10.4 million and then signed Portland forward
Nicolas Batum
to a four-year, $45 million offer sheet. The Suns signed guard
Goran Dragic
, a player they once traded, to four years and $34 million and also inked troubled Minnesota forward
Michael Beasley
to three years and $18 million.
Portland signed emerging Indiana center
Roy Hibbert
to a $58 million offer sheet. The Rockets signed Bulls backup center
Omer Asik
to a three-year, $25.1 million offer sheet and did the same with
New York Knicks
point guard
Jeremy Lin
.
Does it mean the new CBA isn't working as planned? Mavs owner Mark Cuban hasn't been shy about expressing his displeasure with the final product, comparing the new CBA to the old one by saying owners are now drowning in 2 feet of water instead of 10. We know the rules have radically altered his philosophy for building his team.
Since the opening flurry of moves, some made by teams with cap space to fill, the majority of teams, Cuban points out, have acted responsibly in preparation for the stiffer tax that starts in the 2013-14 season.
"This offseason we saw maybe six teams try to win the summer and make a big splash," Cuban said. "The vast majority did little or nothing beyond keeping their own players."
In 2009-10, 11 of the 30 teams spent into the luxury tax. That number dropped to seven in 2010-11 and six last season. Five to seven teams are headed for the luxury tax this season, a number that does not include the Mavs for the first time in Cuban's ownership. In a year or two, only the Lakers, Knicks, Nets and Heat could be luxury tax violators.
Cuban has vowed that he will spend into the luxury tax again, when the time is right
.
Cuban points out two examples of the new CBA in action.
"The best example of the new rules having an impact are the Knicks walking away from Jeremy Lin and the Bulls walking away from three of their rotation players," Cuban said.
The Knicks have supported the most bloated payroll in the league over the last decade. Yet, presented with the Lin offer sheet from the Rockets that included a "poison pill" third year that jacked Lin's salary from $5 million to $15 million, which has been estimated to swell to more than $40 million after tax penalties, it was too much for even the hand-over-fist, money-making Knicks.
The Bulls surrendered Asik because of a similar "poison pill" third year that would have killed their cap.
Ronnie Brewer
and
Kyle Korver
were also sacrificed -- and Chicago tried to trade Rip Hamilton -- all in the name of whittling down payroll.
July, 1, 2012
7/01/12
1:47
AM CT
By
Jeff Caplan
| ESPNDallas.com
Seeking out young, athletic talent, the
Dallas Mavericks
are showing interest in local product
Anthony Randolph
, a source with knowledge of the situation confirmed.
Randolph, who turns 23 on July 15, did not receive a qualifying offer from the
Minnesota Timberwolves
, making him an unrestricted free agent. The former Woodrow Wilson High School standout in Dallas played sporadically for Minnesota last season after averaging 11.7 points and 5.2 rebounds in 34 games after coming over in a trade from the
New York Knicks
the previous season.
The 6-foot-10, 205-pound Randolph was the 14th overall pick in 2008 draft by the
Golden State Warriors
and will be heading to his fourth team in five years.
He averaged just 7.4 points and 3.6 rebounds in 34 games last season with the Wolves. He earned $2.9 million.
At least one report has surfaced that stated the Mavs may also have interest in Randolph's former Minnesota teammate,
Michael Beasley
, who also became an unrestricted free agent after not getting a qualifying offer.
May, 7, 2012
5/07/12
11:00
AM CT
DALLAS – When the Mavs opted not to offer
Tyson Chandler
and Co. long-term deals, this summer's free-agency crop was expected to be headlined by a few superstars.

The landscape quickly changed when
Chris Paul
exercised his player option for next season after being traded to the
Los Angeles Clippers
. It changed for the worse again when
Dwight Howard
surprisingly committed not to opt out of the final season of his contract with the
Orlando Magic
just before the trade deadline.
That leaves
Deron Williams
as the lone big fish. What happens if the Mavs don't convince The Colony native to come home?
"You've got to have your A, B, C, D and E and so on, but you also understand that this is a global plate tectonic," president of basketball operations Donnie Nelson said. "Things are moving and situations are fluid. You go into it with eyes wide open and hopefully you can come out of it with what you want."
The Mavs want a player who can create offense on his own, a necessity to take pressure off of
Dirk Nowitzki
.
PODCAST
Mavs GM Donnie Nelson gives us an inside look at the team's summer plans as the franchise has financial flexibility for the first time in over a decade.

Listen

A reunion with
Steve Nash
is a possibility. The Mavs declined to pay what it took to keep him in Dallas eight seasons ago because of concerns about durability, but he's coming off a season in which he led the Western Conference in assists (10.7 per game) and shot a career-best 53.2 percent from the floor.
Everyone knows the chemistry with old pal Nowitzki would click. However, the Mavs would probably take a major step back defensively by adding a 38-year-old point guard who has always been considered a liability on that end of the floor.
Houston's
Goran Dragic
, who made himself a ton of money as the fill-in starter for
Kyle Lowry
in the second half of the season, is a much younger option. Dragic, 26, Nash's former backup, averaged 18.0 points and 8.4 assists while shooting 49.0 percent from the floor in 28 games as a starter this season.
Some other proven shot creators in the market: New Orleans'
Eric Gordon
(restricted), Memphis'
O.J. Mayo
(restricted), Minnesota's
Michael Beasley
(restricted and off-court issues) and Boston's
Ray Allen
(turns 37 in July).
The market for big men, which will be a big need if the Mavs use the amnesty clause on
Brendan Haywood
, is headlined by Indiana's
Roy Hibbert
(restricted), Denver's
JaVale McGee
(restricted), Brooklyn's
Brook Lopez
(restricted), New Orleans'
Chris Kaman
, Houston's
Marcus Camby
, Philadelphia's
Spencer Hawes
and Chicago's
Omer Asik
. The Mavs might also explore taking a minimum-salary flyer on
Greg Oden
in hopes of resuscitating the former No. 1 overall pick's career after it has been derailed by knee injuries.
"There's a lot of good players out there," Nelson said. "Whether it's A, B, C, D, E, F, or keep the powder dry, which is always an option. Just because we have it doesn't mean we have to spend it."
Is putting a subpar supporting cast around Nowitzki for another year of the twilight of his prime really an option? Isn't there a sense of urgency to maximize the chances of winning another championship while the best player in franchise history is still a superstar?
"Listen, how many years have we made it in the playoffs in a row?" Nelson said. "We don't plan on putting out anything less than a championship-caliber team. That's me and Mark's history and that's our commitment to our fans and this city."
They've got their work cut out for them this summer, especially if they swing and miss on Williams.
April, 13, 2012
4/13/12
12:18
PM CT
By
Jeff Caplan
| ESPNDallas.com
Lamar Odom
's awful season will eventually be forgiven around here, especially if the Mavericks can put together a spirited title defense in a couple of weeks.
But it's likely it won't be forgotten for some time. That's how pitiful his four months in Big D turned out to be.
Odom was banished from the Mavs after last Saturday's game at Memphis, departing after averaging a career-low 6.6 points in 50 games this season. With the Lakers last season, the Sixth Man of the Year averaged 14.4 points in 82 games. The 7.8 points per game difference, according to ESPN Stats & Info is tied for the third-largest dropoff from last season to this season.
Stephen Jackson
, now finding new life with the
San Antonio Spurs
, is the winner of the biggest scoring average dropoff at 8.4 points per game.
Washington Wizards
forward
Andray Blatche
is next, down 8.3.
Minnesota Timberwolves
forward
Michael Beasley
is tied with Odom at 7.8.
Part of Odom's offensive dip, ESPN Stats & Info discovered, has been a result of fewer attempts inside 10 feet of the basket. Odom took nearly 60 percent of his shots from inside 10 feet last season, but took just under 44 percent of his shots from such distances this season.
The most notable stat is that Odom had just five dunks this season compared to 45 last season.
December, 26, 2011
12/26/11
11:00
AM CT
By
Jeff Caplan
| ESPNDallas.com
The 2011-12 season has lifted off and the high-speed ride has only just begun. Following Sunday's Christmas Day opener that included a rousing championship banner-raising ceremony, there is no time to even exhale.
About 27 hours after the players left the American Airlines Center after the 105-94 loss that was actually much worse than the final score against the
Miami Heat
, they'll be tipping off against the
Denver Nuggets
in the first back-to-back of 20 on the season.
Every Monday we'll break down the week ahead. This should be a fun one with a stop at the Okahoma City Thunder on Thursday, a visit by former Mavs assistant Dwane Casey and his new team the
Toronto Raptors
and a visit up north to say hello to old friend
J.J. Barea
and his new pal
Ricky Rubio
with the
Minnesota Timberwolves
on New Year's Day.
Here's a look:
Today: vs. Nuggets, 7:30 p.m.
TV/Radio:
FSSW/103.3 FM ESPN; 1270 AM (Spanish)
What to watch:
Who are these guys? Nene returned to anchor coach George Karl's latest incarnation, one that does not include
Chauncey Billups
,
Carmelo Anthony
,
J.R. Smith
or
Kenyon Martin
. Still,this is an intriguing club with Nene, Aaron Afflalo,
Danilo Gallinari
,
Ty Lawson
and Mavs castoff
Corey Brewer
. Expect an up-tempo game that play into the hands of the Nuggets because while it is their season opener, the Mavs will be coming off the big Christmas Day game against the hated Heat.
Thursday: at Thunder, 7 p.m.
TV/Radio:
TNT/103.3 FM ESPN; 1270 AM (Spanish)
What to watch:
The Thunder beat up Dallas pretty good in two preseason games, building 23-point leads in both contests. But, while OKC played its regular rotation, the Mavs didn't show much.
Dirk Nowitzki
and
Jason Kidd
sat out the first game and illness forced out
Jason Terry
and
Delonte West
in the second game. The Thunder will have to scour tape of the Mavs' games against the Heat and Nuggets to get an idea of Dallas' rotation. The Mavs should have fresh legs and they'll need them because OKC will be primed to run and gun its West finals ouster out of the building.
Friday: vs. Raptors, 7:30 p.m.
TV/Radio:
FSSW/103.3 FM ESPN; 1270 AM (Spanish)
What to watch:
Former Mavs assistant and defensive architect Dwane Casey has his own club again north of the border. He doesn't have a lot to work with and his first season will certainly be challenging. He'll have his new club up to play the defending champs and might even show off a new defensive wrinkle or two.
Sunday: at Timberwolves, 6 p.m.
TV/Radio:
FSSW/103.3 FM ESPN; 1270 AM (Spanish)
What to watch:
No longer is it safe to assume that a trip to Minneapolis will be a walk in a snowy park. This is an interesting team under the guidance of Rick Adelman. Barea joins the rookie Rubio in the backcourt and
Kevin Love
and
Michael Beasley
up front with a few other exciting young players. Another second night of a back-to-back could turn into a track meet, and that's never easy for the older team, even this early into the season.
December, 15, 2011
12/15/11
12:17
AM CT
By
Jeff Caplan
| ESPNDallas.com
Ricky Rubio
meet
J.J. Barea
, and take good notes.
Learn about heart, sweat and guts. Learn how to deal with adversity in the no-mercy NBA. Learn how to overcome. Learn how to be a winner.
Why else do you think the
Minnesota Timberwolves
outbid the
New York Knicks
and everybody else and signed the 5-foot-10 world champion to a four-year, $19 million contract on Wednesday?
From a young spark plug on the veteran-laden
Dallas Mavericks
, Barea, 27, is now an elder statesman of sorts and a mentor in every way to the Timberwolves' Spanish-speaking and once-reluctant No. 5 pick.
"I think that was one of things. I also think what helps me is I came from a great team, great system in Dallas, and I was a big part of the championship team," Barea said after a long day of meeting his new teammates and coaches and beginning the process of settling into his new home of Minneapolis. "I'm going to help him as much as I can. He's a good kid and I know, I went through it, how hard it is the first couple of years, the ups and downs of the NBA. So, I'm going try to keep him positive and help him out as much as I can."
Hard to believe that Barea, a native of Puerto Rico who had a brilliant, if not a mostly anonymous career at Northeastern, is a five-year NBA veteran, his last three seasons spent as a 20-minute-a-night backup to
Jason Kidd
, while at times also playing alongside the future Hall of Famer, which could become a similar situation with the slick playmaker from Spain.
"He's a great kid, talented, but he's a rookie," Barea said. "He's young. It's going to be his first year in the NBA; it's never easy so I'm going to help him as much as I can with whatever I know."
At the same time as Barea begins a brave new world in the snowy midwest, it remains difficult for him to let go of his ties to Dallas and what might have been if owner Mark Cuban hadn't of slammed on the brakes on the old way of doing business and made a B-line toward salary cap space in this new collective bargaining agreement era.
Cuban bid farewell to free agents
Tyson Chandler
,
DeShawn Stevenson
,
Caron Butler
and
Peja Stojakovic
. Barea, who desperately wanted to return and chase back-to-back titles, said discussions with Cuban never reached a dollar figure because the owner wasn't budging from a one-year deal that Barea would never accept.
"It's never going to be personal against Mark or [president of basketball operations Donnie [Nelson] or whoever," Barea said. "But, it's still disappointing after you win a title and that's all you fight for and then to break up a team like that it's always going to be disappointing. But, that's the direction they wanted to go and that's what they're doing."
Barea will participate in his first full practice today with the Timberwolves, a team so often a doormat, but this season is at least intriguing. Rick Adelman takes over as head coach. Rubio, 21, is the point guard.
Derrick Williams
is the 20-year-old rookie.
Kevin Love
, 23, is the double-double machine. There's erratic and talented and still immature 22-year-old
Michael Beasley
, 22-year-old
Anthony Randolph
, 24-year-old
Wesley Johnson
, 26-year-old
Anthony Tolliver
and just 26-year-old
Darko Milicic
.
In other words, the T'pups are the anti-Mavs.
"It's weird. It's weird, but it's something new for me and another experience I'm going to have," Barea said. "It was great five years in Dallas. Everything about my first five years in Dallas was awesome. This is a nice, little roster. It's young, really young, but it's going to be fun."
Especially if Barea can help the hopeful face of the franchise find his way in his own brave new world.
July, 6, 2010
7/06/10
2:15
PM CT
The trade rumors coming out of Miami make sense for the Mavericks as a contingency plan.
The
Miami Herald reports
the Heat have had preliminary discussions about a sign-and-trade deal that would send
Brendan Haywood
to Miami for center Jermaine O'Neal and forward
Michael Beasley
. J.J. Barea might also be shipped to South Beach. (The Mavs will hang up in a heartbeat if the Heat ask for
Rodrigue Beaubois
.)
The Mavs' preference remains to re-sign Haywood, but they have to consider sign-and-trade options to prevent him from leaving for nothing if his price tag gets too high. If this deal with the Heat happened, they'd be getting a solid stopgap center and a potential star/problem child with a no-risk contract.
O'Neal could be an option for the Mavs with the midlevel acquisition, assuming he's willing to take a short-term deal. He has a ton of miles on his legs – making durability a concern – but he's a good post and help defender and would be an offensive upgrade for the Mavs. His minutes need to be limited to less than 30 per game, but the Mavs could do a lot worse than having him as their primary center.
Beasley, the No. 2 overall pick in 2008 draft, is a phenomenal talent with major immaturity issues. The Heat have apparently had enough of him, shopping him all offseason in hopes of dumping his $4.96 million salary. But it's the last guaranteed year of his rookie contract, so it's not like the Mavs would be making much of a commitment to him.
If Beasley can't get his head screwed on straight, the Mavs simply wouldn't pick up the team option for $6.26 million next season. If the 21-year-old gets it, he could end up forming the post-Dirk foundation for the Mavs with Roddy B.
One of the best things about this deal is that it wouldn't prevent the Mavs from making other significant moves this summer. It'd preserve their midlevel exception without touching their most discussed trade chips, headlined by
Erick Dampier
's evaporating contract and
Caron Butler
's expiring deal.
It's not like this trade with Miami would suddenly make the Mavs contenders, but it'd fill a hole next season and perhaps pay major dividends down the road.
June, 29, 2010
6/29/10
10:31
AM CT
By
Jeff Caplan
| ESPNDallas.com
This
convergence of All-Star, Olympic gold medalists in South Beach
, I just don't see it. It's not that I don't see it happening. If
LeBron James
,
Dwyane Wade
and
Chris Bosh
want to team up, they will (as long as Pat Riley can shed
Michael Beasley
for the needed cap space).
I just don't see it working.
Who do they think they are, the Harlem Globetrotters, barnstorming the country, entertaining the masses, whistling "Sweet Georgia Brown" while they ground the rest of the NBA into the Washington Wizards, er, Generals?
As a fallback, Wade, according to a story Monday from the
South Florida Sun Sentinel
, sources say will grant the Mavericks, among a few other teams, a sit-down. The Mavs are also angling to talk to LeBron.
As for the triumvirate, I just don't see it. Take LeBron or D-Wade and partner with power forward Bosh, yes, I'm buying. But, Wade and LeBron on the same team, on the same floor? Like
Kobe Bryant
, neither is a point guard -- and technically, LeBron and Wade play different positions -- but each transcends the boundary of positions and each is the dominant ballhandler and creator on their respective teams.
Could Jordan and Kobe have co-existed? Jordan and Magic? Magic and Kobe?
How would that work? This isn't a one-time All-Star Game or a two-week Olympic showcase. It's 82 regular-season games of grinds and personalities and egos, and the ultimate pressure to win titles season after season or be doomed to overwhelming failure.
While a LeBron-Wade-Bosh squad is intriguing for obvious reasons, such a trio is bad for the game. It's boring. The NBA doesn't need it's collection of top talent colluding to join forces.
It would be far more interesting for LeBron and Wade to determine where each could go to create the most vibrant rivalry.
The NBA needs heated rivalries and rivals, not a concocted psuedo-dynasty among friends.
June, 23, 2010
6/23/10
12:01
AM CT
By
Jeff "Skin" Wade
| ESPNDallas.com
For Part VI of our fantasy offseason series, we'll do some pre-draft wheeling and dealing. It involves a couple of Texas two-steps, a couple of Eastern Conference teams, and it requires Dallas taking on a lot of salary. But I'd argue that it makes the Mavs much better with a chance to score in the lottery. And it go a 'lil summin' like this.
The Basics:
There are three teams involved here (Dallas, Detroit and Miami) and two separate transactions to make it all happen. Detroit and Miami will get varied degrees of salary relief and Dallas will get an aging player at a position of need but it'll also net a lottery pick.
The How:
In move No. 1, Dallas will use the trade exception from the
Kris Humphries
deal to acquire
Daequan Cook
and his $2.1 million dollar salary. Miami can obtain Dallas' No. 50 pick or $1 -- who cares? Make it what you want. This will make more sense after the ensuing transaction, but the obvious motivation for Miami is to shed more salary for the summer of 2010 and Dallas' motivation is because they're about to get other cool stuff. Move No. 2 is convoluted, but it goes down like this:
[+] Enlarge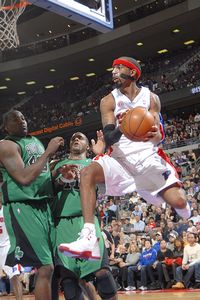 Allen Einstein/Getty ImagesThe Pistons might be willing to give up a lottery pick in a deal to get rid of Richard Hamilton's contract.
Dallas acquires
Richard Hamilton
and his $37.5 million over the next three seasons as well as the No. 7 pick in this year's draft from Detroit and Miami point
Mario Chalmers
.
Miami acquires
Eduardo Najera
and J.J. Barea
Detroit acquires
Matt Carroll
,
DeShawn Stevenson
and
Michael Beasley
plus the No. 18 pick in this year's draft and $1 million from Dallas.
The Why:
For Dallas it's a lot of money to take on softened by the blow of moving Matt Caroll's contract (almost $12 million over the next three seasons). But they get a lottery pick to try and acquire a young big and they get a usable two in Rip Hamilton. I'll be honest: At this point I'm not a big Hamilton fan whatsoever and fully expect him to be a complete financial disaster by the end of his contract. I do think, however, that he gives the team some flexibility at the two if Mr. Cuban can absorb the dough. It also makes moving
Caron Butler
a lot more palatable if he helps you net another key transaction this summer. The real excitement here is getting the No. 7 pick where there are plenty of tantalizing young players that provide athleticism and youth. And Chalmers will be a suitable replacement for Barea.
Miami gets all that cap space to go chase the dream team. By moving Cook, Chalmers and Beasley for Barea and Najera they'll add another $3.1 million in cap space. If they choose to release Najera immediately it'll be $3.6 million. Plus they won't have the $1.2 million they'd have to allocate towards the No. 18 pick. That means they'll have upwards of $45 million in cap space. Wow.
Detroit gets to unload Hamilton's contract. The difference between the combined total of Carroll and Stevenson's contract over the life of the deals is about $20 million dollars. Dallas throws in $1 million this season so Detroit's bottom line is about the same for 2010-11. So the logic for the Pistons is that they trade the No. 7 pick for Beasley and the No. 18 pick and then they save an additional $20 million by parting with a player in Hamilton who doesn't fit their plans whatsoever. They'll be way younger and have the chance to score a lot of points while spending way less money over the long haul. If the cap were the same for 2011, this move would put them under the cap in the neighborhood of $15 million or so.
The Bottom Line:
For Dallas this is a way to get better while also adding a crucial lottery pick. They'll also have several super-valuable trade chips in Erick Dampier's expiring contract, Butler's productivity/expiring contract and a potential sign-and-trade with
Brendan Haywood
if they don't want to keep him. These moves are pricey, but they add youth and veteran production, and Dallas still maintains tremendous flexibility for other moves. Me says, make it happen.
February, 12, 2010
2/12/10
10:50
PM CT
The Rookies took care of their business at the American Airlines Center with a 140-128 victory over the sophomores in the Rookie-Sophomore game.
It was the first victory for the rookies since 2002.
San Antonio's
DeJuan Blair
scored 22 points and had 23 rebounds for the rookies. Blair made 11-of-19 shots from the floor. He had 10 offensive rebounds. Blair's 23 rebounds broke a rookie mark set by
Elton Brand
in 2000. Brand had 21.
Tyreke Evans
of Sacramento got the MVP award for the rookies.
He scored 26 points in 29 minutes on 11-of-15 shooting from the floor. He also had six rebounds, five assists and five steals. Solid effort. One of the best performances I've seen in the rookie-sophomore challenge.
Oklahoma City's
Russell Westbrook
scored a game-high 40 points on 18-of-29 shooting from the field for the sophomores.
Michael Beasley
of the
Miami Heat
, added 26 points and seven rebounds.