March, 28, 2014
3/28/14
11:06
AM CT
DALLAS – The
Mavericks
, despite being 13 games above .500, would be the odd team out in the Western Conference if the playoffs started today.
Put the Mavs in the East and they'd have home-court advantage in the first round as the third seed. Meanwhile, two sub-.500 teams are poised to punch playoff tickets in the NBA's lesser conference.
[+] Enlarge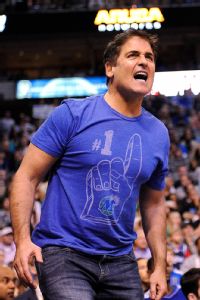 Jerome Miron/USA TODAY SportsMark Cuban's Mavs would be the No. 3 seed in the East but left out in the West if the playoffs started today.
The massive disparity between the quality of the conferences has prompted plenty of discussion about revamping the way playoff seeds are determined. One question often gets asked: Should the NBA do away with conference affiliation in determining playoff berths and simply put the best 16 teams in a bracket?
Believe it or not, outspoken Mavs owner Mark Cuban, whose team would obviously benefit from such a change this season, isn't certain how he'd vote if such a switch were formally proposed.
"I can make an argument on both sides," said Cuban, who anticipates that new NBA commissioner Adam Silver will examine the subject during the offseason.
The argument for such a change is obvious. The system is screwed up when a team that is 12 games over .500 is a playoff spectator while a squad that finishes nine games under gets a postseason berth.
But Cuban cites an unbalanced schedule and travel as issues he needs to study before determining where he stands in this debate.
Cuban noted that the good teams from the lesser conference could have an unfair advantage in seeding because they got to play the lesser teams more often. That seemed to be a secondary concern to travel and other complications, such as tipoff times, that would arise from having teams from the opposite coast face each other in the early rounds of the playoffs. Cuban used a potential
Miami Heat
-
Portland Trail Blazers
series as an example.
"That could be tough," Cuban said. "The timing and all of that stuff could be really messed up in terms of television. Again, it's something I could make an argument on the other side that you want your best 16 teams playing from a television perspective, travel be damned.
"I don't have a final position on it yet. I'm keeping all my options yet."