Dallas Mavericks:

Ronnie Brewer
July, 26, 2012
7/26/12
10:37
AM CT
By
Jeff Caplan
| ESPNDallas.com
Five days into free agency, as the
Dallas Mavericks
quietly scanned the proceedings after being turned down by
Deron Williams
, the player movement and big money that flowed around the league certainly didn't suggest that a new collective bargaining agreement was sinking its sharpened teeth into management.
The
Brooklyn Nets
overpaid
Gerald Wallace
, signing him for four years and $40 million. They then spit in the eye of the harsher luxury tax to come by acquiring
Joe Johnson
, still owed $89 million, to play with Williams, who signed a five-year, $98 million deal.
The Lakers completed a sign-and-trade for
Steve Nash
, handing the 38-year-old a three-year, $27-million deal. Prior to that, the
Toronto Raptors
offered the beloved Canadian point guard a reported three years and $36 million.
The
Minnesota Timberwolves
gave
Brandon Roy
, who had retired because of chronic knee issues, two years and $10.4 million and then signed Portland forward
Nicolas Batum
to a four-year, $45 million offer sheet. The Suns signed guard
Goran Dragic
, a player they once traded, to four years and $34 million and also inked troubled Minnesota forward
Michael Beasley
to three years and $18 million.
Portland signed emerging Indiana center
Roy Hibbert
to a $58 million offer sheet. The Rockets signed Bulls backup center
Omer Asik
to a three-year, $25.1 million offer sheet and did the same with
New York Knicks
point guard
Jeremy Lin
.
Does it mean the new CBA isn't working as planned? Mavs owner Mark Cuban hasn't been shy about expressing his displeasure with the final product, comparing the new CBA to the old one by saying owners are now drowning in 2 feet of water instead of 10. We know the rules have radically altered his philosophy for building his team.
Since the opening flurry of moves, some made by teams with cap space to fill, the majority of teams, Cuban points out, have acted responsibly in preparation for the stiffer tax that starts in the 2013-14 season.
"This offseason we saw maybe six teams try to win the summer and make a big splash," Cuban said. "The vast majority did little or nothing beyond keeping their own players."
In 2009-10, 11 of the 30 teams spent into the luxury tax. That number dropped to seven in 2010-11 and six last season. Five to seven teams are headed for the luxury tax this season, a number that does not include the Mavs for the first time in Cuban's ownership. In a year or two, only the Lakers, Knicks, Nets and Heat could be luxury tax violators.
Cuban has vowed that he will spend into the luxury tax again, when the time is right
.
Cuban points out two examples of the new CBA in action.
"The best example of the new rules having an impact are the Knicks walking away from Jeremy Lin and the Bulls walking away from three of their rotation players," Cuban said.
The Knicks have supported the most bloated payroll in the league over the last decade. Yet, presented with the Lin offer sheet from the Rockets that included a "poison pill" third year that jacked Lin's salary from $5 million to $15 million, which has been estimated to swell to more than $40 million after tax penalties, it was too much for even the hand-over-fist, money-making Knicks.
The Bulls surrendered Asik because of a similar "poison pill" third year that would have killed their cap.
Ronnie Brewer
and
Kyle Korver
were also sacrificed -- and Chicago tried to trade Rip Hamilton -- all in the name of whittling down payroll.
July, 24, 2012
7/24/12
4:53
PM CT
By
Jeff Caplan
| ESPNDallas.com
Delonte West
, one of a dwindling number of guards on the free-agent market, might have picked a bad time to seek a multiyear deal.
Judging by recent signings, West might be out of luck in his desire to end two seasons of playing for one-year contracts, although he can still avoid a veteran-minimum deal. He signed such a deal last December with the Mavs hoping to earn the security of a multiyear contract this summer by proving he's just entering his prime and
that he's trustworthy off the floor
.
West, who turns 29 on Thursday, can't be encouraged by what's going on around him, starting with the Mavericks. Dallas signed combo guard
O.J. Mayo
to a cut-rate contract that will pay him around $4 million next season, about $1.5 million less than he made last season with the
Memphis Grizzlies
, who opted not to make Mayo a qualifying offer of $7.3 million.
Mayo's deal is technically for two years, but the second year is a player option and Mayo will almost assuredly opt out next summer to seek a larger deal. The Mavs, who are heavy on unproven combo guards beyond Mayo and light on proven point guards behind projected starter Darren Collison, might not be as generous with West as they seek maximum cap space next summer.
Other recent signings also don't bode well for West, who the Mavs continue to say they have interest in bringing back and can do so with their $2.5 million "room" exception. That figure is actually looking better by the day.
Randy Foye
, who made $4.25 million with the Clippers last season agreed to a one-year, $2.5 million deal with Utah.
Marco Belinelli
made $3.4 million with the Hornets last season and is taking the Bulls' bi-annual exception of one year and $1.98 million.
Ronnie Brewer
, who made $4.7 million last season with the Bulls is joining the Knicks on a veteran-minimum deal of one year and $1.4 million.
So go ahead and scratch those teams as potential West destinations.
Who's left? How about the team that has courted West in the past and now employs his former head coach, Mike Brown? The
Los Angeles Lakers
certainly aren't in the market for a starting guard with
Steve Nash
and
Kobe Bryant
now teammates. However, West would give the Lakers excellent depth, feisty defense and needed scoring punch off the bench at either guard position.
L.A. does have its taxpayer exception of $3.09 million available, although it might not be willing to hand it over to West and it also might not be willing to go beyond one year.
If the Lakers are prepared to offer West only the veteran minimum
, his best option, if dollars rule the day, might still be in Dallas.
April, 22, 2012
4/22/12
10:00
AM CT
By
Jeff Caplan
| ESPNDallas.com
CHICAGO --
Rodrigue Beaubois
squirmed on the United Center floor, grasped his left hand with the crooked ring finger and wailed. Thoughts raced that the third-year guard's luck had once again run out on the cusp of the postseason.
Or worse.
"Oh man, he was yelling,"
Dirk Nowitzki
said, barely cracking a smile. "I thought we were going to have to put him down, he was yelling so loud. But he was all right. I looked over and his finger was just a little sidewise."
The initial sight of his unnaturally bent finger unnerved Beaubois. Could it be as bad as the right ring finger that
Delonte West
dislocated and broke in mid-February that made him miss the next 21 games?
"That's why I was kind of scared when I saw that," said Beaubois, a victim of his first dislocated finger. "Finally, it wasn't that bad. At first I didn't know."
n a span of four minutes of the second quarter, Beaubois went from snapping his finger in the jersey of
Chicago Bulls
guard
Ronnie Brewer
to writhing in pain, a second empty postseason flashing before his eyes. He walked to the locker room, his left arm pinned to his side, his fingers outstretched and as stiff as a No. 2 pencil.
And before anyone had even noticed, Beaubois -- his ring finger popped back into place and squeezed next to his middle finger with white tape -- was back on the bench.
Moments later he was back on the floor. The 6-foot-2 guard, who got an important start with
Jason Kidd
and
Jason Terry
taking the night off, put on a show against the Eastern Conference's best team and last season's MVP.
Beaubois' 16 points -- 10 in the fourth quarter -- five assists and six rebounds in a team-high 38 minutes didn't lead the Mavs to a victory. Dallas lost 93-83 in a game that was closer than the score indicated, but Beaubois went
mano-a-mano
with
Derrick Rose
for large chunks of time, turning in an overall effort that his teammates needed to see.
For he rest of the story, click
here
.
February, 22, 2010
2/22/10
8:46
AM CT
By
Jeff "Skin" Wade
| ESPNDallas.com
Monday means The Come Up, and today we're looking big picture -- as in from here to April 14. The obvious ideal scenario is to work towards playing your best possible basketball at the end of the season and head into the playoffs with room still left to crescendo. But in the Western Conference, the real trick is to be a 2 or 3 seed and stay on the opposite side of the bracket from the Lakeshow until the Conference Finals. The Mavs have a chance to make it happen, and it a go a 'lil summin' like this:
[+] Enlarge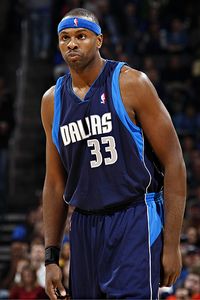 Layne Murdoch/Getty ImagesAfter playing four games in five nights since their arrival, Brendan Haywood and the rest of the Mavericks' new players will get some practice time with their teammates.
Opportunity to come together
First things first, the Mavs need some practice time with their new dudes, and much has been made about the fact that four games in five nights to start the stretch run made that impossible. But the next month will give them a chance to settle in a little bit. The Mavericks only have two back-to-backs over the next four weeks, and there will be a stretch in mid-March in which they'll play four consecutive home games over an 11-day period that will afford them plenty of practice opportunities. Over their next 15 games, eight opponents are .500 or better but 10 of those 15 games are at the AAC. The team clearly has a new bounce in its step following the trade. The schedule provides the chance for the Mavs to garner that proverbial full head of steam.
An eye on Denver
With 26 games to go for both teams, Dallas is two games behind Denver for the No. 2 seed with the season series tied at 1 and the final home stand coming on March 29. If both teams continue to play at a high level, that game is shaping up to be huge, and Dallas should be the team with the legs. For Denver, that game will be the last night of a week-long road trip in which it'll play five games in seven nights and have played at Orlando the night before. Dallas also plays three more home games than Denver for the remainder of the season.
However, all this Denver talk shouldn't discount Utah or OKC. The Thunder are on the verge of a 10-game win streak and have been remarkable on the road for a young team with a 17-11 record. But the key word is young. For them to claim a top four spot after having been out of the playoff conversation since the franchise's Seattle days would be shocking. And the Jazz have been killing it as of late, but they just gave away a starter at the trade deadline (
Ronnie Brewer
) and a team that has been notoriously suspect on the road the last few seasons (14-12 this year) plays 15 of their remaining 27 on the road.
Certainly, disregarding Utah is a huge mistake, and the Jazz have already won the season series with the Mavs. But in my estimation, Denver is the team to catch in this race, and Dallas is in a great position to start that ascent.