Dallas Mavericks:

Roy Hibbert
February, 12, 2014
Feb 12
9:43
PM CT
This looked like a loss for the
Dallas Mavericks
the day the NBA schedule was released.
It ended up being the Mavs' most inspirational win -- albeit the least aesthetically pleasing -- of the season so far.
[+] Enlarge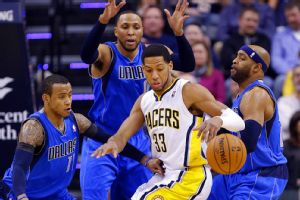 AP Photo/Michael ConroyA key to the Mavs' big win at Indiana on Wednesday was their defense but specifically the way they played as a team.
It's tough to play on the home floor of the team with the league's best record under any circumstances. It's even more challenging when it's the second game of a back-to-back. And it's a brutal challenge when you were routed by the
Charlotte Bobcats
the previous night.
None of that mattered to the Mavs on Wednesday night, when they proved they're capable of beating an elite team with grit and guts by walking out of Bankers Life Fieldhouse with an 81-73 win over the
Indiana Pacers
. Acing a gut-check to go 10 games over .500 is a heck of a way to head into the All-Star break.
"If you look at the whole situation -- us back-to-back, them waiting and all that kind of stuff -- this is a big win for us," coach Rick Carlisle told reporters. "It really is. We needed it, because we had built up good momentum and seemingly last night we just let everything blow to smithereens. And this shows that the guys understand the importance of playing together and playing tough and playing for each other."
The biggest knock on this edition of the Mavs is that it isn't a team built to play tough. The roster is loaded with offensive weapons and light on defenders and dirty-work dudes.
Well, you can't beat the Pacers by playing pretty. That just doesn't work against the NBA's top-ranked defensive team.
A Dallas team that was determined to prove that the five-game winning streak snapped in Charlotte wasn't just fool's gold didn't back down against the East's biggest bullies. They traded pushes and shoves and elbows all night with the Pacers and won the 15-round fight.
May, 13, 2013
5/13/13
9:19
AM CT
The Mavericks aren't in the playoffs for the first time since 2000, so we have to find something to fill the time this spring. Might as well keep up with the players from the Mavs' title team who are scattered throughout the postseason. We'll have daily updates as long as Mavs championship alums are still alive in the playoffs. (This one is a day late due to Mother's Day.)
Tyson Chandler
: The Knicks are in trouble if Chandler keeps losing the big man matchup in such lopsided fashion. He had nine points and five rebounds in New York's Game 3 loss, compared to 24 and 12 from Indiana center
Roy Hibbert
.
A sample of
ESPNNewYork.com's take on the Chandler-Hibbert matchup
:
Mike Woodson hardly ever criticizes his players in public.

But the New York Knicks coach broke protocol following Game 1 of the Indiana Pacers series.

After he watched Indiana's Roy Hibbert outplay Tyson Chandler in the series opener, Woodson said, "I've got to get Tyson (Chandler) playing better than Hibbert."

So far, Woodson's fallen far short of that goal.

Hibbert's been one of the best players in this young series. And some of his success has come at Chandler's expense.

In the Pacers' Game 3 win, Hibbert poured in 24 points and pulled down 12 rebounds (eight offensive); the Pacers outscored the Knicks by 20 with their big man on the floor.

"He kind of had his way," Woodson said after Game 3, "and that's got to change."

The Knicks say that they failed to execute their defensive schemes against Hibbert in Game 3. They intended to trap Hibbert and the other Pacers bigs, just as they had in Game 2.

Instead, they left members of their front line vulnerable in one-on-one matchups and left the rim exposed thanks to poor rotations.

The Knicks' lax approach helped Indiana dominate the boards (53-40) and beat New York on second-chance points (20-10).

"We're not trapping (the Pacers' bigs), then we're in a tough spot," Chandler said.

That's a big problem that the Knicks need to handle heading into Game 4.

But they also need a better effort from Chandler if he gets matched up against Hibbert.

Hibbert scored on at least three post moves in which Chandler was matched up with him, one-on-one, in Game 3.

It was hard not to notice Hibbert scoring directly over Chandler, the 2011-12 Defensive Player of the Year.
Jason Kidd:
The scoreless streak is up to seven games and 31 quarters after Kidd missed his lone shot in Game 3.
Kidd had six rebounds, two assists and two steals in 20 minutes, but it's hard to make a case that the 40-year-old future Hall of Famer helped the Knicks with another doughnut in the points column. Kidd matched
Carmelo Anthony
for the worst plus-minus (minus-16) in the loss to the Pacers.
Ian Mahinmi:
With Hibbert dominating, the Pacers didn't need much from their backup big man. Mahinmi only played six minutes, scoring two points and grabbing four rebounds.
March, 28, 2013
3/28/13
11:53
PM CT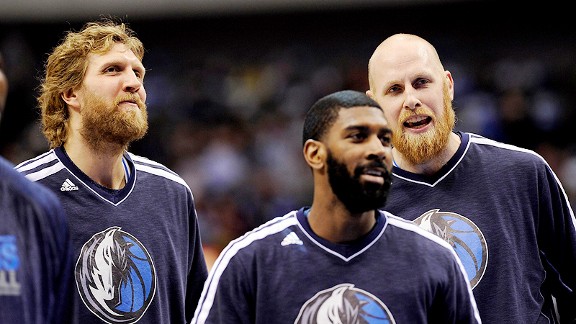 Jerome Miron/USA TODAY SportsWith Thursday's loss, the Mavs now have at least two wins to make up before they can lose the beards.
DALLAS – The
Indiana Pacers
heard all the buzz about .500 beards and Omar the barber.
They made sure Omar's clippers didn't do any buzzing in the
Dallas Mavericks
' locker room Thursday night.
PODCAST
Rick Carlisle joins Galloway & Company to discuss getting Dirk Nowitzki more involved in the Mavericks' game plan and much more.

Listen

"We wanted to shut that s--- down," big man
Roy Hibbert
said after the Pacers' 103-78 blowout win, which guaranteed that the bearded Mavs won't be shaving on this homestand.
During the Pacers' morning meeting, coach Frank Vogel made a point to mention that the Mavs planned to have a barber at the American Airlines Center in preparation for a potential postgame shave for the six players who made a pact a couple of months ago to let their beards grow until Dallas' record reached the break-even point.
That little tidbit was leaked to the media by shooting guard
O.J. Mayo
upon playful questioning following Tuesday night's thrilling overtime win over the
Los Angeles Clippers
. He meant no harm, but it was convenient fodder for an opponent looking for a little extra juice on the second night of a back-to-back.
"I don't think anything was meant by it as far as disrespect to how good the Pacers are," Mavs center
Elton Brand
said. "We knew that wouldn't be a cakewalk by any means. We knew that."
Just in case there was any doubt, coach Rick Carlisle gave the Mavs a stern reminder after the morning shootaround. His message: You better be ready after all this talk about razors and barbers.
The Mavs hung in for a half, and then it got uglier than Dirk Nowitzki's neck hair. The Pacers outscored the Mavs by a 34-17 margin in the third quarter, when All-Star wing
Paul George
scored 13 of his game-high 24 points, and the Pacers rolled to the rout.
As Nowitzki so eloquently put it, the Pacers kicked the Mavs' butts in every facet of the game.
Some facets were worse than others –- the 55-34 rebounding differential definitely stands out –- but this is as thorough a beating as the Mavs have taken in a while.
To be precise, they hadn't lost by 25-plus points since March 3 in Houston. The Mavs had won nine of 12 games since that humiliation, putting them a win away from shaving before being pounded by the Pacers, who moved up to second place in the Eastern Conference with the win.
"I think a team like that blatantly brings out our weaknesses and shows our weaknesses," said Nowitzki, whose 21 points on 10-of-20 shooting was one of the only things that went well for the Mavs. "That's why they won. I don't care if they didn't want us to shave or not, but they're a better team."
That left the Mavs with a 35-37 record about two months after they started growing those beards, which they're frankly tired of talking about now.
Carlisle started a personal ban on beard questions after addressing the issue with his team Thursday morning.
Mayo didn't have much to say on the subject after the morning shootaround, either, and he didn't address the media after his seven-point, 3-of-10 shooting outing in the loss.
Sixth man
Vince Carter
believes all the beard talk has grown out of control.
"The whole motivation of it was to really get everyone on board, and it's been wonderful," Carter said. "It's kind of a little too magnified. They're making a big deal about it now, as far as everything that's been magnified the last couple of days.
"I'm glad everybody is on board. More than anything, the idea and concept was just to keep us all together. It's done wonders. The longer the hair on the faces has grown, I think the more together we've been. After that was done, we're here. It's not about that anymore."
It's about fighting for a playoff berth, and the Mavs missed out on an opportunity to make up ground on the eighth-place
Los Angeles Lakers
, who are still a game and a half ahead of Dallas despite losing in Milwaukee.
The earliest the beards can get buzzed now is Tuesday night. If that happens, the Mavs will be in decent shape heading down the stretch.
It would require the Mavs to wrap up this six-game homestand with a win Saturday night against the
Chicago Bulls
, another bunch of East bullies, and then beat L.A. at the Staples Center.
"Hopefully they can get going and get rid of it," Pacers power forward
David West
said, smiling. "None of them look good."
The Mavs hadn't looked this bad in a long time. And that had nothing to do with those beards.
November, 16, 2012
11/16/12
1:23
PM CT
Think the Mavericks miss
Dirk Nowitzki
? Maybe not as much as the Pacers missing
Danny Granger
.
PODCAST
Mavericks head coach Rick Carlisle talks about his coaching style, working with O.J. Mayo, his decision not to play Brandan Wright and more.

Listen

With Granger as their star, the Pacers claimed the East's third seed and gave the Heat a serious scare in the second round of the playoffs last season. With him sidelined for months by knee problems, the 3-6 Pacers are the NBA's lowest-scoring team, averaging only 87.8 points per game, almost 10 fewer than they did last season.
Of course, that doesn't mean the Mavs can afford to take Indiana lightly. After all, the Mavs have managed to lose to the Bobcats and injury-ravaged Timberwolves over the last week.
The Pacers' size in particular presents a challenge to the Mavs. Indiana ranks third in the NBA in rebounding differential at plus-5.6 per game. Rebounding has been one of the Mavs' biggest weaknesses, although the Mavs did outrebound the Wizards by six boards in Wednesday's win with 7-footer
Chris Kaman
in the starting lineup.
Records:
Mavs (5-4); Pacers (3-6)
When:
6 p.m.
Where:
Bankers Life Fieldhouse
TV:
FSSW
Radio:
ESPN Dallas 103.3 FM/1270 AM (Spanish)
What to watch:
Roy Hibbert
, the Pacers' All-Star center, is off to an awful start (8.2 points, .386 field goal percentage). The Mavs can't let him get well against them. That's a legitimate concern because the Mavs have struggled against post-up players this week. They couldn't stop Minnesota's
Nikola Pekovic
(20 points in 28 minutes) until he sprained his ankle. They couldn't stop Washington's
Kevin Seraphin
at all in Wednesday's fourth quarter, when he had 14 points on 7-of-7 shooting. Hibbert and Kaman, whom the Pacers would have signed to a long-term deal if they opted not to match the offer Portland made to Hibbert as a restricted free agent, had mixed results in their battles last season. Hibbert had 30 points and 13 rebounds in Indiana's Feb. 21 win over the Hornets. Less than two weeks later, Kaman held Hibbert without a field goal, although the Pacers still won the game.
Key matchup:
Darren Collison
vs.
George Hill
– This is definitely the matchup with the most intrigue. The Pacers considered Collison expendable after giving his starting job to Hill late last season. Collison, whom the Pacers shipped to Dallas along with
Dahntay Jones
in the
Ian Mahinmi
sign-and-trade deal, got off to a spectacular start with the Mavs but has struggled recently. Hill has also been up and down this season. He's averaging 14.7 points and 4.7 assists -- highlighted by a 29-point, seven-assist performance against the Timberwolves last week -- but is coming off a three-point, 1-of-10 stinker in Wednesday's loss to the Bucks.
Injuries:
Mavs – PF Dirk Nowitzki (knee) is out. F
Shawn Marion
(knee) expects to play. C/F
Brandan Wright
(illness) should be available. Pacers – SF Danny Granger (knee) is out. PF
David West
(ankle) is day-to-day.
Up next:
at
Cleveland Cavaliers
, 6:30 p.m. Saturday
August, 29, 2012
8/29/12
2:41
PM CT
By
Jeff Caplan
| ESPNDallas.com
To suggest that the
Dallas Mavericks
' new backcourt combo of point guard
Darren Collison
and shooting guard
O.J. Mayo
will attack the rim with greater frequency than the old guard of
Jason Kidd
and
Jason Terry
is like saying
Dirk Nowitzki
is tall. It's an obvious fact.
In fact, it's almost impossible to attack the rack with less frequency than the Mavs did last season. As a team, they ranked 29th in the league in shots attempted at the rim -- only 21.3 percent of their shot attempts came from point-blank range -- and 28th in shots made at the rim, according to the advanced stats website hoopdata.com.
[+] Enlarge
Steve Mitchell/US PresswireNew Mavs point guard Darren Collison took 2.6 of his 8.7 shots per game at the rim for the Pacers last season.
Kidd, 39, and Terry, who turns 35 next month, were the extreme culprits, combining for 1.7 shots per game at the rim, a ridiculously low number. Kidd averaged an unfathomably low 0.2 shots at the rim for a player who averaged more than 28 minutes a game (only
Mike Bibby
,
Earl Boykins
and
Blake Ahearn
averaged fewer shots at the rim). Anyone who has watched Kidd the last few years knows how reluctant he's become to take it to the paint.
For a bit of reference,
Tyreke Evans
led all point guards last season with 7.0 attempts at the rim per game.
Tony Parker
ranked eighth with 4.6 and
Deron Williams
ranked 12th with 3.9. Among shooting guards,
Dwyane Wade
ranked first with 6.7,
Manu Ginobili
ranked 15th with 2.6 and Terry ranked 39th with 1.7.
The Mavs' newcomers aren't exactly
Russell Westbrook
(6.1) and
Monta Ellis
(4.8), but they will deliver a rim show seldom seen in Dallas since
Devin Harris
, known -- and not always affectionately -- as the one-man fast break, left town in 2008.
Collison, who turned 25 a week ago, last season averaged 2.6 of his 8.7 shot attempts at the rim, ranking 27th in the league. That low number for such a quick point guard is partly a byproduct of an
Indiana Pacers
offense that revolved around center
Roy Hibbert
. In each of Collison's two seasons with the Pacers, his attempts at the rim dipped from his 3.5 attempts as a rookie with the
New Orleans Hornets
in 2009-10. The Mavs believe their offense will enable Collison to increase his attack frequency.
Mayo, 24, ranked 18th last season at 2.4 attempts at the rim (11.2 overall shot attempts) while playing 26.8 minutes a game as Memphis' sixth man. His minutes will likely increase, and perhaps greatly, as a starter in Dallas. He, too, played in an offense geared around big men (
Marc Gasol
and Zach Randolph). The Mavs' are hopeful their scheme, plus playing with Dirk Nowitzki, will give Mayo significant chances to take his man off the dribble and get to the rim.
With
Delonte West
and
Vince Carter
coming off the bench and each having averaged 2.3 shot attempts at the rim last season, the Mavs now boast a backcourt that will at least force defenders to be wary of penetration and not just the jumper.
July, 31, 2012
7/31/12
11:03
AM CT
The
Dallas Mavericks
are in superstar search mode, that's no secret. This summer's mission failed to reel in
Deron Williams
, and so the venture moves forward to 2013. The potential for three superstars --
Dwight Howard
,
Chris Paul
and
Andrew Bynum
-- to hit free agency in 11 months has been well-documented.
But, there's no guarantee any of the Big Three make it to free agency. That's the risk of the overhauled Mavs strategy under the new collective bargaining agreement. Or, take Paul as an example: He could opt to enter free agency solely to gain the extra fifth season and more money that he can't get by signing an extension and ultimately stay with Lob City partner
Blake Griffin
and the Clippers.
So what if next July rolls around and there's simply no superstars to chase?
Mark Cuban and Donnie Nelson will have difficult decisions to make. This summer, they chose not to eat up next summer's cap space by not chasing players such as
Goran Dragic
(signed four-year, $34 million deal with
Phoenix Suns
). Instead, they loaded up one-year contracts that will expire and leave behind cap space to make a superstar pursuit possible in '13.
But if there are no superstars to pursue, then do the Mavs chase the next level of player who would, theoretically, snap up cap space in the summer of '14?
For instance, a tier below the Big Three next summer are potential free agents
Josh Smith
,
Paul Millsap
,
David West
,
Al Jefferson
,
Monta Ellis
and
Andre Iguodala
(the latter two have early termination options).
It will also be an intriguing summer for restricted free agents. Those players can seek and sign offers from other teams and then their current teams have three days to match. The new CBA can throw a wrench into the negotiations as seen with
Jeremy Lin
and
Omer Asik
. Both players signed offer sheets from the
Houston Rockets
, who used the "poison pill" option to increase the players' salary three-fold in the third year of the deal, going from $5 million in the first two seasons for both players to $15 million in the third.
The offering team, the Rockets, is allowed to pay the average of the total contract ($25 million in the cases of Lin and Asek) over the three years, so just more than $8 million per season. Ultimately, the
New York Knicks
passed on Lin and the
Chicago Bulls
passed on Asek because of the third-year balloon payment that would wreak havoc with their payrolls and potentially carry unwanted luxury tax repercussions.
The
Portland Trail Blazers
offered
Indiana Pacers
free agent center
Roy Hibbert
a max offer sheet of four years at $58 million. The Pacers ultimately agreed to match to keep their big man, but those decisions can be difficult when looking at the bottom line.
The list of restricted free agents next summer is tantalizing:
James Harden
,
Serge Ibaka
,
John Wall
,
Stephen Curry
,
Brandon Jennings
, and
Tyreke Evans
are the headliners. The Mavs' own
Darren Collison
will also be restricted.
If the Mavs don't land a superstar in '13, they'll have to decide if they value any of the unrestricted or restricted free agents enough to make an offer, knowing that if they do they could jeopardize their ability to continue their superstar search in the summer of '14.
July, 23, 2012
7/23/12
12:30
PM CT
By
Jeff Caplan
| ESPNDallas.com
The flow -- as in "flow" offense -- is gone. So what does it mean?
For starters, coach Rick Carlisle took back the keys to the offense when point guard
Jason Kidd
-- who has played 11 more seasons and has 9,902 more assists than the new
Dallas Mavericks
backcourt tandem of
Darren Collison
and
O.J. Mayo
-- walked out the door.
Then there's the addition of a 7-foot, low-post scoring threat in center
Chris Kaman
, and the solid mid-range game of power forward
Elton Brand
presumably off the bench. Neither player will win any foot races -- unless maybe they're racing
Dirk Nowitzki
-- so it figures that an offense that Kidd looked to push up the floor will take on a more methodical approach with Carlisle's fingers waving play calls in the air.
Collison has already expressed excitement about continuing the Mavs' pick-and-roll legacy with Nowitzki, and the offense figures to add an inside-out dimension that ultimately might not be too dissimilar from Collison's days playing with
David West
and
Roy Hibbert
with the
Indiana Pacers
, and Mayo's time with
Marc Gasol
and
Zach Randolph
with the
Memphis Grizzlies
.
The Mavs, Grizzlies and Pacers all shared some similarities last season. All three finished in the top 10 in defensive efficiency, according to Hoopdata.com. Yet, perhaps not as expected was the similarity in the statistic of pace, or the average number of possessions in a game. All three teams finished tied in the bottom half of the league at 93.5 possessions per game.
Indiana was the best of the three in offensive efficiency, ranking eighth in the league at 103.5 points per 100 possessions. Memphis and Dallas, which struggled all season to score, ranked 20th and 21st, respectively.
On paper, the Mavs' new lineup, which presumably features Collison and Mayo in the backcourt with
Shawn Marion
, Nowitzki and Kaman filling out the front court, have increased their firepower. Last season, Dallas' starting lineup included two virtual non-scoring threats in Kidd and center
Brendan Haywood
. Marion averaged just 10.6 points and neither starting shooting guard,
Vince Carter
and
Delonte West
, averaged more than 10.1 points.
Other than Nowitzki (21.6 ppg), no Mavs starter last season averaged more than Marion, and Marion's points came largely on slashes to the bucket and offensive rebounds. Dallas' starting five averaged just 53.7 points a game (and slightly less with West as the starter).
The projected starting five for next season stands to feature three new faces and, on paper, will yield more scoring threats.
July, 12, 2012
7/12/12
11:23
AM CT
By
Jeff Caplan
| ESPNDallas.com
ESPN.com Insider John Hollinger and I agree on this: What in the world are the
Indiana Pacers
thinking?
The sign-and-trade completed Wednesday with the
Dallas Mavericks
is a real head-scratcher. The Mavs sent backup center
Ian Mahinmi
, who they were prepared to lose anyway to the Pacers. Indiana will pay him $16 million over four years to be a solid backup to
Roy Hibbert
. Headed to Dallas is young point guard
Darren Collison
, who Indy believed had regressed a bit, and defensive-minded guard
Dahntay Jones
. The bonus for Dallas is that both players come cheap and are on the last years of their deals.
The baffling aspect is that Indiana didn't have to send the Mavs anything, yet they handed over an exciting point guard that will start for Dallas and, yes, provide an upgrade over 39-year-old
Jason Kidd
, who's off to mentor
Jeremy Lin
in New York. The Pacers didn't even get a draft pick in return.
Here's a thought from
Hollinger in today's Insider piece
:
"As for Dallas, it's hard to know how the team got through the call (with the Pacers) without laughing hysterically. After being snubbed by Deron Williams and Steve Nash and not getting on the radar for Dwight Howard, the Mavs have been working on the difficult task of building a credible team around one-year deals and plunging back into the market next year.

The Pacers made that task a whole lot easier."
When the holidays roll around, Mark Cuban and Donnie Nelson have some extra Christmas cards to send out this year. Put the Clippers and Jazz on the list for taking
Lamar Odom
off the Mavs' hands at no salary-cap cost last month, and now the Pacers for providing a starting point and a solid defensive wing when they didn't have to.
Hmmm ... maybe there really is Christmas in July.
June, 7, 2012
6/07/12
12:49
PM CT
The Mavericks' draft picks from the last decade played a total of a dozen minutes during Dallas' brief postseason run this spring.
Rodrigue Beaubois
, the 25th overall pick in 2009, played those 12 minutes.
Dominique Jones
, the 25th overall pick in 2010, was inactive in the series against the Thunder.
And those are the only two Dallas draft picks from the last decade on the Mavs' roster.
The Dallas front office has often used first-round picks as sweeteners in trade packages to build Dirk Nowitzki's supporting cast. The Mavs' first-rounders during the Dirk era have typically been in the 20s, although talent can be found in that range, such as Boston's
Rajon Rondo
and Oklahoma City's
Serge Ibaka
, to offer a couple of examples that could be featured in the upcoming Finals.
For the Mavs to build and sustain a contender under the new collective bargaining agreement, they need to use the draft for more than facilitating deals. They have to draft and develop some homegrown rotation pieces, starting with the 17th overall pick next month.
That's been a pretty good spot in recent history. Philadelphia's Jrue Holliday, Indiana's
Roy Hibbert
and
Danny Granger
and Atlanta's
Josh Smith
are playoff starters who were No. 17 picks over the last eight years.
June, 4, 2012
6/04/12
10:29
AM CT
Let's take a glass-half-full view of the Mavs' offseason. That means we'll assume that they'll succeed in recruiting
Deron Williams
to come home but won't be able to persuade the
Orlando Magic
to take an inferior package to ship
Dwight Howard
to Dallas.

If the amnesty clause is used on
Brendan Haywood
to create cap space as expected, how would the Mavs fill their huge hole in the middle?
They could just re-sign free agent
Ian Mahinmi
and pair him with
Brandan Wright
, but it's hard to see the Mavs emerging as a legitimate contender without more of a presence at center. There are plenty of options in the free agent market.
A look at the most attractive available big men:
Roy Hibbert (restricted):
The 7-foot-2, 260-pound Hibbert has great size and good skills. He's only 25, so there is still room to grow in his game after he averaged 12.8 points, 8.8 rebounds and 2.0 blocks this season. He'd be by far the best low-post threat ever to be paired with
Dirk Nowitzki
. But the Pacers have the right to match any offer he gets, a ton of cap space and executive of the year Larry Bird calling the shots. If the Mavs get Hibbert, it probably means they've significantly overpaid another big man.
Kevin Garnett:
The 36-year-old KG sure looks like he has a lot left in the tank during these playoffs. His regular-season minutes must be managed, but Garnett is still a major defensive force and good scorer and rebounder. He'll take a pay cut after making $21 million this season and almost $300 million in his career, but Garnett won't come cheap. It's hard to see the Celtics letting him go when they have a chance to contend.
[+] Enlarge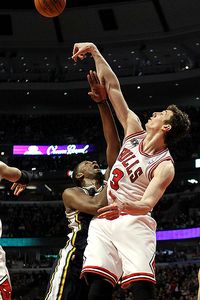 Jonathan Daniel/Getty ImagesOmer Asik, 24, is a dominant defender and a good rebounder, averaging 5.3 rebounds and a block in only 14.7 minutes per game this season. However, he definely needs to improve on offense.
Omer Asik (restricted):
Asik, the Turkish product who turns 26 on July 4, is a dominant defender, a 7-footer who can protect the rim and disrupt pick-and-rolls. He's a very good rebounder. And he's an awful offensive player with hands that make Haywood's look good in comparison. Could that change with the Mavs coaching staff dedicating time to work with him? He's also a restricted free agent, but the Bulls are already in luxury tax land and might not match a decent offer for Joakim Noah's backup.
Marcus Camby:
He's 38 years old and doesn't offer much offensively any more, but Camby could be an affordable stopgap solution. He's still a defensive presence in the paint, averaging 9.0 rebounds and 1.4 blocks in 22.9 minutes per game last season. Camby becoming a Maverick would probably mean that neither side was satisfied with what they found in the free agency market.
JaVale McGee (restricted):
He tends to be comically boneheaded, but he's a freakish athlete for a 7-footer and is talented enough to put up a 21-point, 14-rebound performance in a playoff win over the Lakers. He's one of the league's best shot blockers and finishers, but his basketball IQ hovers around his jersey number. He's also only 24 years old, with the potential to be really, really good if a coaching staff can ever get through to him. Then again, he also has the potential to make an owner regret signing his paychecks every couple of weeks for the next four years.
Chris Kaman:
Dirk's German Olympic teammate would be the best offensive center in Mavs history, although his .446 shooting percentage for the Hornets last season isn't exactly appealing. He's a good post defender and shot blocker. He's also injury prone, having missed major chunks of four of the last five seasons. How can the Mavs feel comfortable making a major investment in a 30-year-old with that medical record?
Brook Lopez (restricted):
He's a skilled, high-scoring young 7-footer who wouldn't be a good fit with Dirk. The Mavs can't afford to have a slow, subpar-rebounding, poor-defending big man on the floor with Dirk, especially if that center is expensive. Lopez missed all but five games last season, but he managed to score 38 points in a win over the Mavs.
Spencer Hawes:
He's a 24-year-old former lottery pick who has had some bright moments as the Sixers' starting center the last two seasons, although he was injured for much of this year. But his game isn't a good fit with Dirk's. He's a finesse big man who lives on long jumpers and too often doesn't carry his weight defensively.
Robin Lopez (restricted):
He's 24 years old, stands 7 feet tall and has some experience. He's a pretty good shot blocker and pick-and-roll finisher, but he's slow-footed, an amazingly awful passer and a poor rebounder. He's not a starting-caliber center.
Greg Oden:
Oden might not play at all next season. Heck, he might never play again after knee injuries made the big man picked before
Kevin Durant
a bust in Portland. But the Mavs' medical staff, which helped everyone forget about Tyson's Chandler's injury history, could give Oden his best chance at having a respectable NBA career. It's worth a minimum-salary flyer to find out if Oden can get and stay healthy enough to become the dominant defensive presence he was expected to be.
Erick Dampier:
Just checking to see if you're still paying attention.
May, 7, 2012
5/07/12
11:00
AM CT
DALLAS – When the Mavs opted not to offer
Tyson Chandler
and Co. long-term deals, this summer's free-agency crop was expected to be headlined by a few superstars.

The landscape quickly changed when
Chris Paul
exercised his player option for next season after being traded to the
Los Angeles Clippers
. It changed for the worse again when
Dwight Howard
surprisingly committed not to opt out of the final season of his contract with the
Orlando Magic
just before the trade deadline.
That leaves
Deron Williams
as the lone big fish. What happens if the Mavs don't convince The Colony native to come home?
"You've got to have your A, B, C, D and E and so on, but you also understand that this is a global plate tectonic," president of basketball operations Donnie Nelson said. "Things are moving and situations are fluid. You go into it with eyes wide open and hopefully you can come out of it with what you want."
The Mavs want a player who can create offense on his own, a necessity to take pressure off of
Dirk Nowitzki
.
PODCAST
Mavs GM Donnie Nelson gives us an inside look at the team's summer plans as the franchise has financial flexibility for the first time in over a decade.

Listen

A reunion with
Steve Nash
is a possibility. The Mavs declined to pay what it took to keep him in Dallas eight seasons ago because of concerns about durability, but he's coming off a season in which he led the Western Conference in assists (10.7 per game) and shot a career-best 53.2 percent from the floor.
Everyone knows the chemistry with old pal Nowitzki would click. However, the Mavs would probably take a major step back defensively by adding a 38-year-old point guard who has always been considered a liability on that end of the floor.
Houston's
Goran Dragic
, who made himself a ton of money as the fill-in starter for
Kyle Lowry
in the second half of the season, is a much younger option. Dragic, 26, Nash's former backup, averaged 18.0 points and 8.4 assists while shooting 49.0 percent from the floor in 28 games as a starter this season.
Some other proven shot creators in the market: New Orleans'
Eric Gordon
(restricted), Memphis'
O.J. Mayo
(restricted), Minnesota's
Michael Beasley
(restricted and off-court issues) and Boston's
Ray Allen
(turns 37 in July).
The market for big men, which will be a big need if the Mavs use the amnesty clause on
Brendan Haywood
, is headlined by Indiana's
Roy Hibbert
(restricted), Denver's
JaVale McGee
(restricted), Brooklyn's
Brook Lopez
(restricted), New Orleans'
Chris Kaman
, Houston's
Marcus Camby
, Philadelphia's
Spencer Hawes
and Chicago's
Omer Asik
. The Mavs might also explore taking a minimum-salary flyer on
Greg Oden
in hopes of resuscitating the former No. 1 overall pick's career after it has been derailed by knee injuries.
"There's a lot of good players out there," Nelson said. "Whether it's A, B, C, D, E, F, or keep the powder dry, which is always an option. Just because we have it doesn't mean we have to spend it."
Is putting a subpar supporting cast around Nowitzki for another year of the twilight of his prime really an option? Isn't there a sense of urgency to maximize the chances of winning another championship while the best player in franchise history is still a superstar?
"Listen, how many years have we made it in the playoffs in a row?" Nelson said. "We don't plan on putting out anything less than a championship-caliber team. That's me and Mark's history and that's our commitment to our fans and this city."
They've got their work cut out for them this summer, especially if they swing and miss on Williams.