Dallas Mavericks:

Shane Battier
June, 12, 2013
6/12/13
11:30
PM CT
By
Bryan Gutierrez
| ESPNDallas.com
With the NBA Finals in full swing, the Mavericks are watching two familiar foes -- the San Antonio Spurs and the Miami Heat -- battle it out for the chance to hoist the Larry O'Brien Trophy. Both teams have key components that established them as championship contenders. Let's point out those components and how the Mavericks can learn from them.
One of the most efficient shots on the floor is the corner 3-pointer. One thing that both Miami and San Antonio have in common is that they're both strong in terms of offense and defense from that spot.
[+] Enlarge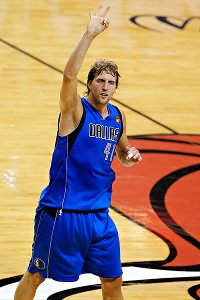 AP Photo/Lynne SladkyDirk Nowitzki and the Mavs haven't been as efficient shooting and defending the corner 3-pointer since their title season.
For Miami, they were first in the league during the regular season with 309 corner 3s made. The Heat's biggest weapons were
Shane Battier
and
Ray Allen
. Battier actually led the entire league with 88 corner 3s, while Allen ranked eighth with 63. Miami maximized this strength and made sure other teams couldn't capitalize on it as they ranked second in defending corner 3s based on percentage.
Miami ranked first in corner 3s and San Antonio wasn't far behind, ranking third with 261 makes. The Spurs had two players who ranked in the top 20.
Danny Green
was second with 73 corner 3s made and
Kawhi Leonard
had 52, ranking 18th in the league. San Antonio allowed only 156 corner 3s in the league, the seventh-fewest in the league.
Looking at Dallas, the Mavs ranked 21st in the league in corner 3s made with only 141.
O.J. Mayo
made the most with 26 and ranked 65th in the league. The Mavs only had two other players in the top 100 -- rookie
Jae Crowder
ranked 78th and
Darren Collison
ranked 89th. The Mavs allowed the fifth-most corner 3s in the league. They also ranked as the 10th-worst team in defending corner 3s based on percentage. Those numbers show that Dallas didn't utilize or defend that critical zone.
Looking back at the Mavs' 2011 championship team, there is a radical shift in the numbers between then and now. Back in 2010-11, Dallas was fifth in the league with 211 corner 3s.
PODCAST
Mavericks coach Rick Carlisle gives his take on the NBA Finals, talks about the Nets decision to hire Jason Kidd, the advice hed give Kidd about being a head coach in the NBA and more.

Listen

The eventual champions had two players who ranked in the top 25.
DeShawn Stevenson
was 21st with 45 corner 3s, while
Jason Terry
had 44, ranking 24th in the league. Surprisingly, Brian Cardinal ranked 67th.
Dirk Nowitzki
ranked 96th and Jason Kidd was 99th in the league.
Like the teams in this year's NBA Finals, the Mavs held their own defending the corner 3 during their championship run. The Mavs allowed only 158 corner 3s that season, the eighth-fewest in the league. They also ranked ninth in defending corner 3s based on percentage.
Dallas has one of the best weapons the league has to offer as a shooter in Nowitzki. They need people on the corner that can be just as dangerous of a weapon.
Bryan Gutierrez currently covers the Dallas Mavericks for The Two Man Game, an ESPN affiliate blog on the TrueHoop Network. Gutierrez, who has covered the Mavs since 2010, studied journalism and psychology at Texas Tech University.
June, 11, 2013
6/11/13
11:30
PM CT
By
Bryan Gutierrez
| ESPNDallas.com
With the NBA Finals in full swing, the Mavericks are watching two familiar foes -- the San Antonio Spurs and the Miami Heat -- battle it out for the chance to hoist the Larry O'Brien Trophy. Both teams have key components that established them as championship contenders. Let's point out those components and how the Mavericks can learn from them.
Both Miami and San Antonio have depth at their disposal. On top of that, their depth is versatile. Whether it is
Kawhi Leonard
,
Ray Allen
,
Matt Bonner
or
Shane Battier
, each team has multiple options who are solid at multiple facets of the game.
PODCAST
ESPN senior NBA analyst Marc Stein joins Fitzsimmons & Durrett to discuss the NBA Finals and latest Mavericks news.

Listen

Each team's respective big three carry the load, but the role players can step up in big situations. If
LeBron James
has to be relied upon to bring more offense, Miami has someone in Battier who can take on a larger defensive responsibility and still be viewed as a threat from beyond the arc. San Antonio's
Boris Diaw
can bring versatility as a big man if the Spurs have to adjust to a shrinking lineup Miami might throw at them.
Mavs coach Rick Carlisle isn't very fond of judging players by the old, by-the-book way of thinking. "He's a basketball player" is a phrase that often comes out of the coach's mouth. The game is shifting away from defined labels for players based on position. Carlisle, as well as the two coaches involved in the NBA Finals, have recognized this and often try to find the best lineups that can be placed out on the floor, regardless of the traditional positions.
[+] Enlarge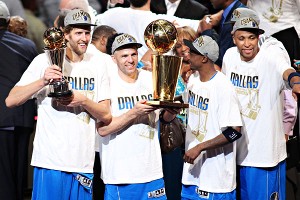 Marc Serota/Getty ImagesThe Mavs have to choose wisely with their open roster spots if they want to make a return Frinals trip.
Neither Miami nor San Antonio rely on a dominant big man down on the block. Both teams faced challenges in their respective conference finals against clubs that had menacing big men. If either team lost, that might have shifted the balance in the future in regards to teams trying to gear more towards a traditional big man down on the low post. With San Antonio and Miami in the Finals, "small ball" prevails.
Now, Dallas has to try to find the right pieces that can bring true depth. The pieces they had this season didn't amount to much, as they were depleted at the point guard and center positions. They have a relatively clean slate to work with. You have
Dirk Nowitzki
as the focal point and
Shawn Marion
and
Vince Carter
as the veterans. Those two could easily be moved in the offseason, but they also work perfectly in what the Mavs would need to do if they're building a roster based on depth and versatility.
The championship team of 2011 provides an additional example of how the depth can be advantageous. The Mavs had players such as
DeShawn Stevenson
and Brian Cardinal who could provide tough defense and perimeter shooting. While
Tyson Chandler
was seen as the major big man,
Brendan Haywood
was a solid rim protector who could hold his own in the rebounding department. Like the Heat and the Spurs, the Mavs' title squad had enough depth to withstand whatever challenges came their way.
Depth has delivered success to Miami and San Antonio. It clearly delivered to Dallas back in 2011. With a roster full of holes, the front office must choose wisely with their open spots.
Bryan Gutierrez currently covers the Dallas Mavericks for The Two Man Game, an ESPN affiliate blog on the TrueHoop Network. Gutierrez, who has covered the Mavs since 2010, studied journalism and psychology at Texas Tech University.
April, 16, 2012
4/16/12
1:32
PM CT
By
Jeff Caplan
| ESPNDallas.com
Mavericks guard
Jason Kidd
was one of six NBA players selected by a five-member panel of former players as divisional winners for the 2011-12 NBA Sportsmanship Award.
The NBA Sportsmanship Award, designed to honor a player who best represents the ideals of sportsmanship on the court, is voted on by NBA players. The NBA will announce the winner after the regular season.
The other regional winners are Cleveland's
Antawn Jamison
, the Los Angeles Clippers'
Chris Paul
, Miami's
Shane Battier
, Minnesota's
Luke Ridnour
and New York's
Jeremy Lin
.
Former NBA players
Greg Anthony
,
John Crotty
,
Antonio Davis
,
Eddie Johnson
and
Kenny Smith
selected the six divisional winners from a pool of 30 team nominees. Each team nominated one of its players for this award.
The annual award reflects the ideals of sportsmanship -- ethical behavior, fair play and integrity -- in amateur and professional basketball, a key focus of the league's NBA Cares program efforts.
ALL-TIME NBA SPORTSMANSHIP AWARD WINNERS
Inaugural:
Joe Dumars
(1996)
1996-97:
Terrell Brandon
, Cleveland
1997-98:
Avery Johnson, San Antonio
1998-99:
Hersey Hawkins
, Seattle
1999-00:
Eric Snow
, Philadelphia
2000-01
:
David Robinson
, San Antonio
2001-02:
Steve Smith
, San Antonio
2002-03:
Ray Allen
, Seattle
2003-04:
P.J. Brown
, New Orleans
2004-05:
Grant Hill
, Orlando
2005-06:
Elton Brand
,
Los Angeles Clippers
2006-07:
Luol Deng
, Chicago
2007-08:
Grant Hill,
Phoenix Suns
2008-09:
Chauncey Billups
,
Denver Nuggets
2009-10:
Grant Hill, Phoenix Suns
2010-11:
Stephen Curry
, Golden State
December, 25, 2011
12/25/11
8:00
AM CT
By
Jeff Caplan
| ESPNDallas.com
DALLAS -- Finally, the banner comes up and the 2011-12 season goes off.
If it wasn't a strange enough offseason, followed by a frenzied free agency period and a rushed training camp, the rare occurrence of the two NBA Finals teams meeting in the season opener -- and on Christmas Day to boot -- is upon us.
The
Dallas Mavericks
that take the American Airlines Center floor at 1:13 p.m. for the raising of the championship banner won't be the same one that won the championship some six months ago in Miami. Still, the title defense must go on, and it begins today on national television against
LeBron James
,
Dwyane Wade
and the
Miami Heat
, the team the Mavs sent home in six exciting games.
When:
1:30 p.m.
Where:
American Airlines Center
TV:
ABC
Radio:
103.3 FM ESPN/1270 AM (Spanish)
What to watch:
Of course the raising of the championship banner ceremony takes place at 1:13 p.m. That will tie a bow on the 2010-11 Mavericks and officially launch the new-look 2011-12 Mavs. And that starts with finding out the starting lineup. Look for
Vince Carter
to take over at shooting guard and
Shawn Marion
to start at small forward with
Lamar Odom
coming off the bench. If you're expecting a clean, crisp performance, you probably picked the wrong game to watch. It will be interesting to see how well the Mavs mesh right out of the gate considering the loss and addition of key players and the short period of practice time and just two preseason games in which did not play its full roster in either game. Miami should be as in sync as any team because of the continuity carried over from last season, but each team will deal with conditioning issues playing in their first real game since June 12.
Key matchup: Shawn Marion vs. LeBron James
Never mind how
Vince Carter
plans to stick with
Dwyane Wade
. We'll stick with the other wing matchup. In the NBA Finals, the 6-foot-7 Marion did a marvelous job making James work for everything on the offensive end. James' supreme ability to attack the basket was choked off and he became predominantly a jump shooter, an outcome that greatly benefited Dallas. Marion also had the help of bulldog defender DeShawn Stevenson to take spells on James, plus a precision zone defense. Stevenson now plays for the New Jersey Nets and how often Dallas can turn to the zone without Tyson Chandler manning the middle and new players that must learn the intricacies of the zone will be interesting to watch. So today's game should feature one highly motivated James against Marion, who might not have nearly as much help as he did during the Finals.
Injuries:
Heat - C Eddy Curry (hip pointer) is out; F Shane Battier (quad strain) is questionable. Mavs - none
Up next:
Denver Nuggets at Mavs, 7:30 p.m., Monday
December, 23, 2011
12/23/11
12:15
AM CT
By
Jeff Caplan
| ESPNDallas.com
DALLAS -- On Thursday, just three days before the
Dallas Mavericks
are to begin their title defense against the
Miami Heat
, coach Rick Carlisle said the secret to any early success for his retooled team on the fly starts with simplicity.

"Simplicity has got to be the thing that helps mitigate the short period of prep time," Carlisle said. "We'll add things piecemeal as we need to, but we can't throw too much at these guys in a short period of time. And our emphasis has got to be on transition defense, staying in the front of the ball and getting rebounds. Those things lead to the good things that happen for us offensively."
He also said the hope is that defense can carry the team through the opening weeks when the offense might look ragged because of the lack of time for the newcomers to learn the plays and the tendencies of their teammates. That's interesting because so much of the Mavs' success last year was credited to precision team defense that included a smothering zone employed at strategic points, including late in close games.
"My hope is our defense will be ahead of our offense, and in that way I think it helps our overall situation," Carlisle said. "We've got two more days [of practice] and we can still gain ground, and that's what our goal's going to be."
Sunday's opener will start with the raising of the 2010-11 championship banner. From there, the day gets much tougher against a Heat team that remained intact and added
Shane Battier
and
Eddy Curry
.
Jason Terry
said the roster, the short training camp ... none of it matters when the ball goes up at 1:30 p.m.
"Our advantage is that we do know our roles, we do know what guys need to do for us to be successful out there and I think coach has made that evident," Terry said. "I think going forward, guys just have to come out and do it, there's just no other way. And there's no other way to do it than in live action at a high level. You can't get any higher than on Christmas Day against the Miami Heat."
Let's get to three key areas to watch:
1. Who starts and how deep does Carlisle go?
A logical starting lineup would see
Jason Kidd
and
Vince Carter
in the backcourt,
Shawn Marion
and
Dirk Nowitzki
at the forward positions and
Brendan Haywood
at center. The only deviation that makes much sense would be to start
Lamar Odom
at small forward in front of Marion, but Odom, the reigning Sixth Man of the Year, is accustomed to coming off the bench and could be the first off the pine to give Nowitzki a breather.
Delonte West
will back up Kidd, and Terry will be first off the bench at shooting guard. After that it could get interesting. How quickly does Carlisle turn to
Rodrigue Beaubois
, and does he play it safe by pairing him with Kidd? Does
Dominique Jones
get any playing time at the point against an excellent defensive team? And what about the center rotation? Haywood has hardly been impressive during the two preseason games, but there's no other option as the starter. Does
Ian Mahinmi
get first crack or has
Brandan Wright
, who had a nice showing in his lone preseason appearance Tuesday, bumped himself into a second-string role?
2. With DeShawn Stevenson now playing for the New Jersey Nets, who will help Marion guard LeBron James?
There's no doubt that Stevenson gave James fits in the NBA Finals. So much so that Carlisle actually took Stevenson out of the starting lineup at shooting guard and had him back up Marion at small forward to check James. Stevenson also helped Kidd defend
Dwyane Wade
, a responsibility that will now seemingly fall on Kidd and Carter, which for the nearly 35-year-old Carter could be a mismatch. But back to LeBron -- the Mavs just don't have another rugged defender to go toe-to-toe with him and that could be a major problem.
3. Which of the Mavs' newcomers is positioned to have the biggest impact?
Lamar Odom. In his first preseason game, with little working knowledge of the Mavs' offensive system, he put up 14 points and seven rebounds. In Tuesday's second game, Odom had just eight points and three rebounds, yet said he actually felt more comfortable. Because of the shooters Dallas can put on the court at any time, Odom's ability to put it on the floor and hit the 3-pointer should see him as a focal point of the offense. Most interesting should be when the 6-foot-10 Odom and 7-foot Nowitzki are on the floor together, a pairing that should create some matchup problems for the Heat.
December, 22, 2011
12/22/11
4:39
PM CT
By
Jeff Caplan
| ESPNDallas.com
DALLAS --
Dirk Nowitzki
has made no secret of his conditioning at the moment not exactly being at peak performance levels.
After Tuesday's preseason loss at Oklahoma City, Nowitzki, who was just 2-of-10 from the field in his first NBA action since Game 6 of the NBA Finals last June, said he's slowly regaining his wind.
"It's definitely better than what it was two weeks ago when we started camp," Nowitzki said. "I actually wasn't joking about the amnesty thing two weeks ago. That's how bad I looked. It's been some hard work the last two weeks, but I'm still obviously not 100 percent."
Jason Kidd
had joked early with Nowitzki earlier in camp that he was so out of shape that that the team was thinking about using the amnesty provision to waive him.
If Nowitzki, arguably the hardest worker on the team, if not the league, is sucking air, what's the condition of the rest of a team that will have a projected starting lineup that averages 34 years old with its top two reserves being 32 and 34?
"We're making strides and we've got to keep working on it," coach Rick Carlisle said. "That's another one of the differences in the this particular season is that the conditioning thing is not like coming out of a one-month training camp. We're going to have to be mindful of it and keep working on it."
The other concern entering Sunday's season opener against the
Miami Heat
is that the Mavs have re-tooled on the fly with six players leaving and five coming in and have had only a condensed training camp to mesh. They have not even seen their starting lineup or any semblance of a real rotation in game action, while the Heat are unchanged other than the additions of
Shane Battier
and
Eddy Curry
.
"They're in a good position because they have virtually their entire team back and they've added a couple of guys that are probably going to help them," Carlisle said. "There'll be some teams in that boat, which is a good place to be, but I don't know of a game this year that's going to be an easy game, so there's no point in kidding ourselves into thinking that any of these are going to be easy, and Christmas Day will be no different."
"For us, the biggest thing is that we're playing with a great amount of persistence and a great amount of efficiency. That's going to be the key for us early in the year."
Jason Terry
, who along with
Delonte West
returned to practice Thursday after missing Tuesday's second preseason game with an illness, said none of that will matter when the season tips off at 1:30 p.m. Sunday at the American Airlines Center.
"We're tough. Our core guys are intact and we know how to play," Terry said. "The guys that have been here the longest have set the standard for the new guys and the new guys have fit in fairly well. But, again, not having a lot of time on the court, that's not going to be an excuse. We're going to come out and play hard and play Maverick basketball."
In other news:
* Guards Drew Neitzel and Jerome Randle have already been added to the D-League Texas Legends' roster. The Mavs waived both players Thursday. The D-League team retains their rights.