Dallas Mavericks:

Terrence Jones
May, 24, 2013
5/24/13
4:34
PM CT
It's been widely reported that the
Houston Rockets
are a team that intrigues
Dwight Howard
. The Rockets might even rank ahead of the Bird-rights-owning
Los Angeles Lakers
as the Mavericks' primary competitors for the perennial All-Star big man.
PODCAST
Rick Carlisle joins Fitzsimmons & Durrett to discuss the latest Mavericks news, Dirk Nowitzki and much more.

Listen

Here's one problem for Houston: The Rockets would have to do some significant payroll slashing to be positioned to offer Howard a max contract.
Howard's max salary next season would be $20,513,178. The salary cap is expected to be set between $58.5 million and $60 million. The Rockets have $48,571,158 worth of contracts on the books, assuming they decline Francisco Garcia's $6.4 million team option.
It doesn't take an MBA from MIT -- which Rockets general manager Daryl Morey happens to have -- to figure out that the math doesn't add up for Houston and Howard.
Morey made sure the Rockets had some built-in wiggle room with seven nonguaranteed deals on the roster, although that list includes six-figure bargains
Chandler Parsons
,
Patrick Beverley
and
Greg Smith
that are inexpensive, integral parts of James Harden's supporting cast. Houston might have to sacrifice one of their major additions from last summer to make room for Howard.
That could mean trading point guard
Jeremy Lin
or center
Omer Asik
to a team with cap space for no immediate return. That is a nice way to say dumping an $8,374,646 million salary, the amount both Lin and Asik are due in the second season of their identical three-year, $25.12 million contracts.
Such a salary dump would put the Rockets close to being able to afford Howard, but they'd still have some work to do.
They could waive sixth man
Carlos Delfino
($3 million) and/or reserve point guard
Aaron Brooks
($2.5 million), both of whom have June 30 deadlines before their salaries become guaranteed, meaning a decision would have to be made before the Rockets are allowed to meet with Howard. The nonguaranteed salaries of young projects Tim Ohlbrecht ($788,872) and
James Anderson
($916,099) could also create the necessary space depending on where the cap falls, although the Rockets would pick up a cap hold of $490,180 in the process if they cut both because their roster would dip under 12 players. A salary-dump deal that would send 2012 No. 5 overall pick
Thomas Robinson
($3.53 million) to his third team is another alternative.
A much less attractive option than finding an under-the-cap trade partner to take on the contract of Lin or Asik: Waiving one of them and using the stretch provision.
In that case, the Rockets would still have to pay the $16.75 million remaining on the contract, but they would be allowed to spread the cap hit over five years (twice the length remaining on the contract plus one year). So Houston would create a little more than $5 million in cap space with such a move – and then have to get rid of nonguaranteed salary and/or make salary-dump deals to ship off young talent (Robinson,
Terrence Jones
,
Donatas Motiejunas
).
The
Mavs would also have to do some maneuvering
to give Howard a max contract, but not nearly as much as the Rockets.
The Rockets can free up enough money for Howard, but it would require slicing into the supporting cast of a playoff team -- and perhaps paying a $16.75 million tax in addition to his max deal.
June, 28, 2012
6/28/12
9:03
PM CT
By
Clint Foster
| ESPNDallas.com
DALLAS -- The
Dallas Mavericks
somewhat surprisingly selected Jared Cunningham with the 24th overall pick in the 2012 NBA Draft. Cunningham is a 6-foot-4, 194-pound junior shooting guard from Oregon State and is known for his athleticism, quickness and defense.
The Mavs initially picked Tyler Zeller (center, North Carolina) with the 17th overall pick, but quickly traded him to the
Cleveland Cavaliers
in exchange for the 24th, 33rd and 34th picks in the draft.
One of the Mavs' targets, Arnett Moultrie (forward, Mississippi State) was on the board, but Dallas went with the combo guard. ESPN.com Insider Chad Ford wrote in his June 25 scouting report that Cunningham could be the best sleeper in this year's draft.
Here's a quick look at Cunningham's resume:
Cunningham led the Pac-12 in steals as a junior and sophomore. ... He was an All-Pac-12 First team selection as a junior and All-Pac-12 second team as a sophomore. ... He was a two-time Pac-12 All-Defensive and All-Tournament Team selection. ... He concluded his career 13th all-time in scoring (1,271), second in steals (219), third in free throws made (427) and fifth in free throws attempted (566) at Oregon State. ... He averaged 17.9 points as a junior, the second-best in the Pac-12. ... He ranked ninth nationally in steals. ... He tied
Gary Payton
and
Lester Conner
for for the second-most steals in a single season (91) in Oregon State history.
Cunningham is ranked 32nd in Chad Ford's top 100.
Click here
to read Ford's analysis (insider).
The Mavs had a few potential players go off the board before they could pick at 17th. Terrence Ross (guard, Washington) was drafted eighth overall by the
Toronto Raptors
, Meyers Leonard (center, Illinois) 11th overall by the Portland Trailblazers, Kendall Marshall (guard, North Carolina) 13th overall by the
Phoenix Suns
and Royce White (forward, Iowa State) 16th overall by the
Houston Rockets
.
After making the trade with Cleveland, the Mavs missed out on Terrence Jones (forward, Kentucky, picked 18th by Houston), Andrew Nicholson (forward, St. Bonaventure, picked 19th by Orlando) and Fab Melo (center, Syracuse, picked 22nd by Boston).
The Mavs left Perry Jones III (forward, Baylor) and Quincy Miller (forward, Baylor) on the board.
June, 25, 2012
6/25/12
11:52
AM CT
By
Jeff Caplan
| ESPNDallas.com
With so many quality power forwards in the draft, the
Dallas Mavericks
will be in line to nab one that slips through to No. 17. In his latest Mock Draft, Version 9.0, ESPN.com Insider Chad Ford pegs the Mavs taking Kentucky's Terrence Jones.
This comes after consecutive Ford mocks had Dallas set on North Carolina point guard Kendall Marshall.
Jones led off our ongoing
draft preview blog series last week
.
Here's
Ford's latest mock draft
and here's what he has to say about Jones:
Rejoice, Mavs fans. After weeks and weeks of having Kendall Marshall going No. 17 to the Mavs, we have a new name for you. While I still believe the Mavs really like Marshall, it would be tough to pass on Jones here. His versatility, rebounding and shot-blocking would all be welcome in Big D. The Mavs are another team that has been actively exploring moving up in the draft the past few days.
June, 18, 2012
6/18/12
2:28
PM CT
By
Jeff Caplan
| ESPNDallas.com
These are busy days at the American Airlines Center for the
Dallas Mavericks
as they hold draft workouts for prospects leading up to the June 28 NBA draft.
These are also important days because Dallas is slated to pick at No. 17, its highest spot since 2000 when the franchise made
Etan Thomas
the No. 12 overall pick. It's one reason why the Mavs are being extremely tight-lipped regarding the players they are bringing in. There isn't always this level of secrecy to the process. In some summers, the Mavs, typically picking in the mid-to-high 20s, have shared their schedule of workouts.
Some clubs, such as the
New Orleans Hornets
-- who hold the Nos. 1 and 10 picks -- have posted on the team's website daily draft workout interview videos with prospects such as today's with Baylor's
Perry Jones III
and Ohio State's
Jared Sullinger
.
The Mavs are choosing not to be so candid.
You can be sure that most if not all of the prospects that could go anywhere from No. 10 on have been through town or will be here soon. One such player who completed a workout last week with the Mavs is North Carolina point guard
Kendall Marshall
, who ESPN.com Insider Chad Ford projected to go to Dallas
at No. 17 in his latest mock draft
.
Marshall tweeted about his visit to Dallas last Thursday and he also received a good-luck tweet from fellow Tar Heel and Mavs swingman
Vince Carter
.
Starting today on this blog, we're taking a look at the top nine prospects that could be available for the Mavs at No. 17. Marshall is on the list.
The series started with Kentucky power forward Terrence Jones
and continues Tuesday and all the way up to the day of the draft.
June, 18, 2012
6/18/12
12:01
AM CT
By
Jeff Caplan
| ESPNDallas.com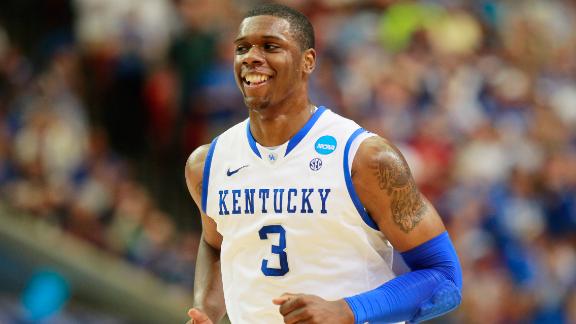 First in a nine-part series analyzing our top NBA draft choices for the Dallas Mavericks at No. 17 on June 28. We will look at one prospect a day leading up to the draft. ESPN.com Insider Chad Ford and ESPN Dallas' and Mavs play-by-play man Chuck Cooperstein provide the inside goods. The order is alphabetical.
Not since the Mavericks selected
Etan Thomas
with the No. 12 pick in 2000 has the franchise been set to select this high in the draft. It's not the lottery, but at No. 17 and in what is widely characterized as a deep draft, Dallas is in the rare position to acquire a young player at any position and one with potential to earn a rotation spot next season.
Of course, the front office pair of Mark Cuban and Donnie Nelson are always active, and a deal that could take them out of the No. 17 position is never out of the question. Just a year ago, they drafted
Jordan Hamilton
out of Texas, but did so with a three-team trade in the works that pushed Hamilton to Portland and then on to Denver while the Mavs acquired
Rudy Fernandez
from the Blazers.
OK, so maybe that 0ne didn't work out so well. Still, the possibility to sit still or wheel-and-deal for an established player are just two options available for the creative Dallas brain trust as it takes the first step into what promises to be a very busy and intriguing summer of change.
"We'll still wait and see how things shake out," Nelson said following the end of the Mavs' season at the hands of the
Oklahoma City Thunder
last month. "We've got a first and a second (No. 55). It's a fairly deep draft so we're hopeful, but we'll be active as usual. Whether we decide to draft or package or however, I don't know. But we think we're going to get a player there."
With that, let's take a look at our first top prospect:
[+] Enlarge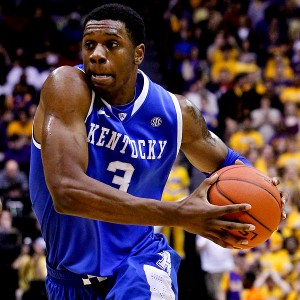 Derick E. Hingle/US PresswireTerrence Jones is a versatile player who could provide athleticism and an offensive punch, but he also has an inconsistent motor.
TERRENCE JONES
School:
Kentucky (2 years)
Position:
PF
Age:
20
Ht./Wt.:
6-foot-10/252
2011-12 stats:
12.3 ppg, 7.2 rpg, 1.8 bpg
Why he would fit:
The Mavs desperately need some muscle off the bench at the power forward position to defend and rebound. They got away without such a presence in 2011 and still won the title. But when
Tyson Chandler
left and
Lamar Odom
flaked, Dallas was painfully weak on the front line. Dallas loves versatile players and needs to become more athletic at every position, and Jones, who can also provide some offensive punch, would definitely fill the job in those two areas.
Why he wouldn't fit:
Detractors wonder about his off-and-on energy level and pouting when things don't go his way, although a focused NCAA tournament certainly helped his cause. Those aren't qualities that will mesh well with no-nonsense coach Rick Carlisle, who won't stand for such antics and has no qualms of keeping a youngster strapped to the bench.
Chad Ford's thumbs up, thumbs down:
Up --
Versatile, athletic wing. ... Huge 7-foot-2 1/4 wingspan. ... Can play three to four positions on the floor. ... Lefty is a terrific ball-handler. ... Is an excellent passer. ... Can score from anywhere on the floor. ... Much improved rebounder.
Down --
Some mechanics issues with his shot. ... Needs to spend more time in the post. ... Can fall in love with the 3-pointer. ... Demonstrates poor body language. ... Inconsistent motor.
Coop's comment:
Jones measured 6-foot-9 1/2 at the combine and he weighs about 250, so all of this talk about him not having a position really should be moot -- he's a power forward with a pretty good handle and a good rebounder. He's a good shooter out to about 18 feet. Kentucky watchers say he was not a very good teammate as a freshman, but as a sophomore became much better in that area. Yes, the Mavericks have
Dirk Nowitzki
at power forward, but they do need someone to back him up now and maybe someone who can take over the position when he's had enough.