Tony Stewart: New team jelled quickly
April, 12, 2012
4/12/12
3:00
PM CT

NASCAR driver
Tony Stewart
discusses losing his crew chief and how he's been surprised how quickly things have come together for his team. Plus, Stewart talks about how technology is advancing in the sport.


ABOUT THIS BLOG
Eddie Gossage

Legendary racing promoter Eddie Gossage is the current president of Texas Motor Speedway.
Richard Durrett

Richard Durrett joined ESPNDallas.com in September 2009. Richard writes about the Rangers, Cowboys, Mavericks, colleges, golf and motorsports and used to co-host Fitzsimmons and Durrett on ESPN Dallas 103.3 FM. Richard spent nine years at The Dallas Morning News covering the Rangers, Stars, colleges, motorsports and high schools.
ESPNMcGee Ryan McGee
@MattCrossman_ Well done
46 minutes ago

ESPNMcGee Ryan McGee
FSU fans blaming student eyewitness Tweeters for Winston's suspension is like blaming the gulls for Sonny at the tollbooth.
47 minutes ago

ESPNMotorsports ESPN_Motorsports
Courtney Force tops Funny Car qualifying with record run http://t.co/ADbfPoymrj
about an hour ago

ESPNMcGee Ryan McGee
Just a crazily well-done Ray Rice/NFL piece from my colleagues @DVNJr & @KVanValkenburg: http://t.co/33Z1wisB6n
about an hour ago

MartySmithESPN Marty Smith
HEAT ->"@ESPNNFL: Mark Schlereth & Tedy Bruschi STRONG takes on R Goodell. Bruschi calls for Goodell to step down » http://t.co/xvc2ibX6YX"
about an hour ago

JamieLittleESPN Jamie Little
Totally. Humankind. "@HotrodGearhead: @JamieLittleESPN @Epic_Women Isn't that true for both men and women?"
about 2 hours ago

JamieLittleESPN Jamie Little
👀 at u now! "@KyleLarsonRacin: 1st day of first grade for me. This must have been my favorite outfit. @JeffGordonWeb http://t.co/mgFD8LT0s8"
about 2 hours ago

eBay eBay
Help @DaleJr raise awareness (and funds) for ovarian cancer. Bid now! http://t.co/a61ql7SloY http://t.co/9BgYFjRNfL
about 3 hours ago

JamieLittleESPN Jamie Little
A worthy motto..."@Epic_Women: Seek respect, not attention. It lasts longer."
about 5 hours ago

ESPNMotorsports ESPN_Motorsports
Brad Keselowski wins pole for second Chase race at New Hampshire http://t.co/TkymqECYhd
about 5 hours ago

jayski_nascar Jayski's
Keselowski wins New Hampshire pole: #2-Brad Keselowski won the pole for the Sylvania 300 Sprint Cup Se... http://t.co/kAbf8GccsL #NASCAR
about 5 hours ago

jayski_nascar Jayski's
Keselowski won the pole for the Sylvania 300 #NASCAR Sprint Cup race at New Hampshire. Lineup:... http://t.co/IY1UBSpnQU
about 6 hours ago

ESPNNASCAR NASCAR on ESPN
Brad says he's a long way from feeling overly confident and won't call himself the Chase favorite.
about 6 hours ago

joeylogano Joey Logano
Not a bad starting spot. We focused a lot on race trim today. Feel like we got a @shellracingus car to compete for the win on Sunday.
about 6 hours ago

ESPNNASCAR NASCAR on ESPN
You forgot to say 'please,' Joey. RT: @joeylogano Damn slow down @keselowski
about 6 hours ago

ESPNNASCAR NASCAR on ESPN
"Paul & the team brought a great car here, much like we had in the earlier race," says @keselowski "This track is right in our wheelhouse."
about 6 hours ago

ESPNMcGee Ryan McGee
So much for @keselowski cruising with a win in his pocket. Pretty sure his DNA didn't come with a take-it-easy button. #NASCAR
about 6 hours ago

ESPNNASCAR NASCAR on ESPN
Top 12: Brad, Jamie, Kevin, Denny, Ky. Busch, Jimmie, Joey, Carl, Newman, Larson, Dale Jr., Vickers. #NASCAR
about 6 hours ago

jayski_nascar Jayski's
Keselowski wins the #NASCAR Sprint Cup pole at NHMS. Then 1 4 11 18 48 22 99 31 42 88 55.
about 6 hours ago

ESPNNASCAR NASCAR on ESPN
The lobster in July must have agreed with @keselowski. He sure looks like he's after another after winning the pole for Sunday's race.
about 6 hours ago
TRACK GUIDE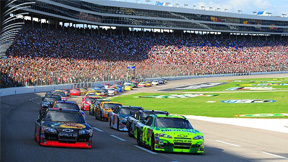 Texas Motor Speedway, in North Fort Worth, opened in April of 1997. The track hosts two NASCAR Sprint Cup races and one IndyCar race in 2013. It seats 138,122. Guide »
BLOG ARCHIVE:
CATEGORIES: