Kurt Busch, the 2004 NASCAR Sprint Cup Champion, has emerged as not only the top challenger to Jimmie Johnson's reign as series champion but also is the series' most dominant driver this year.
Say what?
Jimmie Johnson has won three of the first five races this season, and Busch has won one. And I know Kevin Harvick sits atop the point standings while Busch is sixth.
But Busch is winning fans over with his hard-charging style. Through the first five races, Busch has led 28 percent of laps run (441 laps led of the 1,555 run thus far). But in a year in which NASCAR has encouraged drivers to speak their mind, Busch's comment after he led more than half the laps at Bristol before finishing second to Johnson has caught the ear of many fans.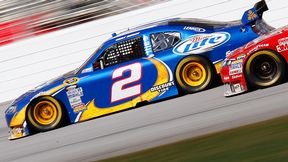 Geoff Burke/NASCAR/Getty Images
In his last three races, Kurt Busch earned the pole at Las Vegas, won at Atlanta and finished third at Bristol.
"I would rather lose to any one of the 41 cars out these than this 48 (Johnson) car," Busch spat immediately after the bitter loss.
That's what NASCAR is talking about. Wrecking each other is one thing, and some might like it. But what NASCAR encouraged is for drivers to run hard, lead laps and say what they really think. No more, "Well, it was a good points day."
Screw the points! Leading races. Winning races. That's what fans want to see. And they don't want a guy who is not ticked off when he doesn't win. Who would?
For the record, Johnson has led 203 laps -- or 13 percent of the laps run this year. Busch has won a pole (Las Vegas), while Johnson has none this year. Busch has one win, two top-five finishes and three top-10s. Johnson has three wins, three top-five finishes and three top-10 finishes.
But it is the hard-charging style and willingness to show his dissatisfaction with losing that has helped Busch stand out this season. A new crew chief, Steve Addington, who last worked with Busch's brother, Kyle, at Joe Gibbs Racing, has made an immediate impact.
Early in the season, it looks like Busch's "Blue Deuce" is the top challenger to stop Johnson's quest for five straight championships.