Dallas Motorsports:

Bobby Allison
October, 11, 2011
10/11/11
5:26
PM CT
By
Eddie Gossage
| ESPNDallas.com
The intensity in the Chase for the NASCAR Sprint Cup grew even higher Sunday at Kansas as
Jimmie Johnson
earned his second win of the season and
Carl Edwards
took the series lead by one point over
Kevin Harvick
. But it seems like there's only one thing on the public's mind: "We're tired of Johnson winning championships."
While I understand Johnson and this sport seems like a broken record (excuse the pun), I'd like to remind everyone of the unique season we've seen.
First let's consider the repeat Cinderella story. Prior to this season, never before had NASCAR seen first-time winners in the Daytona 500, Southern 500 and Brickyard 400 in one year. In fact, even just the Daytona 500 and Southern 500 had never seen first-time winners in the same season. That's good stuff.
Next I want to bring up the heated competition. Yes, I'm talking about feuds and controversy. Fireworks erupting between Harvick and
Kyle Busch
at Darlington, Johnson and
Kurt Busch
at Richmond and Pocono,
Ryan Newman
and
Juan Pablo Montoya
at Darlington, and
Greg Biffle
and
Boris Said
at Watkins Glen.
"He is the most unprofessional little scaredy cat I've ever seen in my life," Said said about Biffle. "He wouldn't even fight me like a man after. So if someone texts me his address, I'll go see him Wednesday at his house and show him what he really needs."
Talk about drama. You can't make this stuff up, folks.
Then you've got drivers like
Brad Keselowski
and
Dale Earnhardt
Jr. making remarkable comebacks, clinching a spot in the Chase and actually being in contention to win the title. And let's not forget
Jeff Gordon
earning his 85th victory, passing
Bobby Allison
and
Darrell Waltrip
for third place on the all-time wins list.
It's been a very competitive year, and this could turn out to be a magical season. It reminds me of 1992 when
Alan Kulwicki
, an underdog, recorded one of the greatest championship comebacks in NASCAR history, rebounding from a 278-point deficit with six races remaining. Kulwicki edged
Bill Elliott
by 10 points to become the series champion -- the closest championship margin at the time.
Now we're down to six races and nine guys still have a legitimate shot, but somebody's feelings are about to get hurt. There's no room for mistakes now. You can't leave anything on the table. Get ready NASCAR nation, because the pressure's on.
July, 25, 2011
7/25/11
3:54
PM CT
By
Eddie Gossage
| ESPNDallas.com
The NASCAR Sprint Cup Series was off last weekend, and for a lot of drivers it was time for a little R&R. One driver went to Spain. Another to France.
Jeff Gordon
went on a charitable trip to the Congo.
But not
Kasey Kahne
Kahne loaded up his sprint car racing team for some World of Outlaws action at Williams Grove Speedway in Mechanicsburg, Pa. Action is exactly what he got. He was running in the second heat race Friday night -- the opening night of the Summer Nationals -- when another driver began sliding up the track inside of him. The two made contact and Kahne went tumbling over the guardrail.
Actually, he went over the catch fence, completely out of the speedway. (See video above)
It was quite a spectacular crash. Luckily, Kahne walked away unhurt. He tweeted later: "Got wiped out in my heat race tonight. Haven't flipped like that in a long time!"
Talk about risky business. And not just for Kahne, but also others invested in him. I wonder how
Rick Hendrick
feels about that. Here's Hendrick investing millions of dollars into Kahne's Sprint Cup career, and the driver was exposing himself to potential injuries.
My opinion? Bless him. I admire Kahne and drivers like
Carl Edwards
and those who race at Eldora with
Tony Stewart
every year. They're race car drivers who love to race. My favorite event is the Slinger Nationals in Wisconsin, which
Kyle Busch
won last year. If the mountain will not come to Mohammed, Mohammed will go to the mountain. How cool is that?
At some point, they are going to get hurt. That's racing. Is that worth being locked in a closet? I don't think so, and I hope their owners never come down on them for participating in these events outside of their Sprint Cup careers.
I worked with
Bobby Allison
for years, and he was that kind of racer. He raced 50-60 races a year and his worst crash actually happened in 1976 at a short track in Elko, Minn. He hit a concrete abutment and the front of the car was completely pushed in. The motor caved into the firewall and the steering column was shoved into his face, leaving him with multiple serious injuries. He was in intensive care for five days.
The following week, Allison still managed to qualify and run one lap to get his points at Nashville. After all, he was in a battle for the Winston Cup championship. He painfully managed to finish the season in fourth place.
There is a lot more money at stake these days, so I wouldn't doubt that investors in the sport see these drivers a risk. But what do you do? These are the guys who are growing the sport. If you take away the risk, you risk slowing the progression of the sport.
So have at it, boys! Race your heart out.
October, 14, 2010
10/14/10
12:24
PM CT
By
Eddie Gossage
| ESPNDallas.com
The second class of the NASCAR Hall of Fame was announced yesterday in Charlotte as
David Pearson
,
Bobby Allison
,
Lee Petty
,
Ned Jarrett
and
Bud Moore
were named recipients of the honor.
Like all hall of fames, the spotlight was also focused on who wasn't included in the class, namely two three-time NASCAR Cup series champion --
Darrell Waltrip
and
Cale Yarborough
. And, like all halls of fame, the discussion after the announcement also centered on things like "criteria" and "politics."
I will say that all members of both classes of the NASCAR Hall of Fame thus far are "hall-worthy." There can be no argument against the inclusion of any individual that has been selected. The only debate can be about, "why this person went in instead of that person," or, "why wasn't that person nominated." And to some degree, that's what NASCAR wanted when it announced plans for the NASCAR Hall of Fame.
But the debate should never be about criteria and politics.
The debate in the room among the voters centered on criteria, or a lack of it, according to several people on the voting committee. There are no guidelines about what should or shouldn't be considered. How can that be?
And then, secondly, the role of politics is being bandied about today, both behind the scenes and by some who were selected for inclusion.
When David Pearson, the second-winngest driver in NASCAR Cup Series history, was not included in the first class, reporters asked him if politics played a role.
"Scared to say," said Pearson. He paused, then added, "It's quite a bit. Politics are in everything nowadays."
Scared to say? This is one of the toughest, most grizzled stock car drivers of all time. Nothing scared him. But apparently saying something that would run him afoul of the Hall of Fame voters caused him to actually use the word "scared." Was he "scared" that he wouldn't be voted into the hall?
Then there was the case of Yarborough, the only driver to win three consecutive NASCAR Cup Series titles until
Jimmie Johnson
accomplished that feat some 30 years later. Not even
Richard Petty
or
Dale Earnhardt
, both seven-time champions and members of the first NASCAR Hall of Fame class, accomplished that feat. Broadcast and published reports made reference to the fact that Yarborough did not do enough for the sport after his retirement, even demanding to be paid for appearances, including the NASCAR season-ending awards banquet after Johnson tied his record for consecutive championships in 2008.
"Cale didn't go anywhere he didn't get paid for," Pearson confirmed to reporters yesterday.
And then there was the case of Waltrip, a three-time champion and tied with Allison for third on the all-time NASCAR win list. He often ran afoul of NASCAR during his career for bold things he said, something NASCAR now enjoys in most cases in Waltrip's role as an analyst on FOX Sports. Going into the selection of the second class for the NASCAR Hall of Fame, many considered Waltrip a lock and many of the 52-member voting panel told him so.
"I haven't met anybody who didn't vote for me," Waltrip said yesterday. "Somebody need to do the math, because everybody I've seen so far says, 'Well, I voted for you. You're in.'"
Obviously, at least some of the voters didn't tell Waltrip the truth.
So here's a suggestion. Transparency is important for the integrity of the NASCAR Hall of Fame. As reporters today are suggesting there is no such thing as a lock or suggesting it's useless to make a prediction, and with so much of the discussion focused on politics among the voters, why not make the vote public? List the ballot of every hall of fame voter.
That's been suggested for the coach's poll in NCAA football and for other sport's hall of fames. Why not the NASCAR Hall of Fame?
Again, every person named thus far to the NASCAR Hall of Fame absolutely is deserving of the honor. But, arguably, inclusion in certain classes thus far have raised questions and eyebrows. To ensure the honor is truly an honor, make the vote on both the nominations and the five selected to the NASCAR Hall of Fame public. Its one sure way to take the politics out of the vote or at least make the voters stand up and defend their selections.
Congratulations to Pearson, Allison, Petty, Jarrett and Moore. What great history and accomplishment.
And to Darrell, Cale and the others -- hang in there. You will receive the honor you so richly deserve.
June, 25, 2010
6/25/10
1:59
PM CT
By
Eddie Gossage
| ESPNDallas.com
A long held theory of mine was substantiated this week by
Jeff Gordon
.
He said, in essence, that the lot at each track where the drivers park their weekend motorhome away from home could have an impact on the race track. And he avoids that so as to avoid a warm feeling that might cause him to reconsider -- just for a split-second -- slamming the door or squeezing by a guy on the track just because they are friends.
"I see other drivers grilling out together, and their kids playing together," Gordon told USA Today. "I don't see many 'A' list drivers doing that. When I get to the track, I'm business. I know in order to do my job, I'm going to have to [tick] somebody off. And it could be someone I'm friends with, and I don't want to take it personally. It's hard not to take it that way."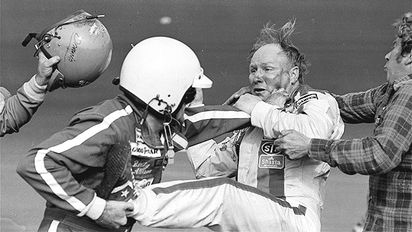 AP Photo/Ric FeldYou think Bobby Allison and Cale Yarborough grilled out together in the motor coach lot after this Daytona dustup in 1979? I think not.
I agree. Having started in this sport when Richard Petty, Cale Yarborough, David Pearson, Bobby Allison, Darrell Waltrip and a young Dale Earnhardt were making their marks, I assure you standing around the open flame discussing the finer points of prime versus choice meat was never a consideration. To this day, almost 25 years after their last race against each other, Allison and Waltrip "spit" each others names when telling their racing stories. The heat in the room goes up when two or more of these guys meet up still today.
But it's hard to have the killer instinct on the track when you know you are going to have steaks with the guy in the infield a couple hours later.
While we see bitterness and rivalry returning to the sport this year -- think
Carl Edwards
and
Brad Keselowski
,
Kyle Busch
and
Denny Hamlin
, Gordon and both
Martin Truex
Jr. and
Elliott Sadler
-- it still seems to not be as sharp-edged as the rivalries from years gone by.
An answer would be to do away with the motor coach lot at the speedways and cause the drivers to stay in area hotels. That's where, as a fan, I sought out Petty and met him as a teenager. Of course, that's partly why they don't stay at hotels any longer -- because of the loss of privacy.
But that's not going to happen. The infield motor coach lot is here to stay.
But you can take it to the bank that Yarborough and Allison only ran across each other in the infield of a race track just once. At Daytona in 1979. Just inside Turn 3, where the two started swinging fists after Yarborough and Donnie Allison crashed on the final lap of the Daytona 500. As Bobby said, "Cale just kept hitting my knuckles with his nose."
Maybe that's the way it ought to be today.