Dallas Motorsports:

Chip Ganassi Racing
June, 9, 2012
6/09/12
8:57
PM CT
By
Clint Foster
| ESPNDallas.com
FORT WORTH, Texas --
Scott Dixon
currently leads the IZOD IndyCar Series Firestone 550 after 100 laps at Texas Motor Speedway.
The driver of the No. 9 Target Chip Ganassi Racing Honda has led for most of the race. He is trying for his second consecutive win of the IndyCar series, having finished first at Belle Isle.
No. 27
James Hinchcliffe
was able to take the second place spot in the 98th round. The driver of the Andretti Autosport Godaddy.com Chevy sits at fourth place in the championship standings and is trying for his first win this year.
American
Graham Rahal
has been able to sustain a strong race, holding on to third place. The driver of the No. 38 Service Central Chip Ganassi Racing Honda is ranked 15th in the standings and has yet to win this year.
No. 98
Alex Tagliani
, who began the race on the pole, currently sits in 12th place.
Despite starting the race in second, No. 10
Dario Franchitti
fell behind in the first 50 rounds and has struggled to make up ground. The winner of the Indy 500 and the last race at TMS currently sits in 19th place.
Three-time TMS winner
Helio Castroneves
has fought up to sixth place.
Five drivers have been forced to leave the race so far: No. 83
Charlie Kimball
and No. 15
Takuma Sato
because of contact and No. 8
Rubens Barrichello
and No. 78 Simona de Silvestro because of car failures. Most recently No. 28
Ryan Hunter-Reay
has had to leave due to a mechanical issue.
Rounding out the top five are No. 20
Ed Carpenter
and No. 18
Justin Wilson
.
June, 8, 2012
6/08/12
1:16
PM CT
By
David Collier
| ESPNDallas.com
FORT WORTH, Texas -- Most drivers are focused solely on the track leading up to a race.
Charlie Kimball
makes time for other priorities.
The driver of the No. 83 NovoLog FlexPen Honda for Chip Ganassi Racing spent Thursday visiting Children's Medical Center in Dallas.
Dealing with illness is something that hits close to home for Kimball. In 2007, he was diagnosed with Type 1 diabetes. During races, his blood sugar is monitored through a wireless continuous glucose device that sends the data to his team's pit.
Kimball will be featured in an episode of the TV show IndyCar 36. He hopes fans will get to see not only how his team prepares for each race but also how he deals with his diabetes on race days.
"I think that the nice thing about the IndyCar 36 is that it gives an insight to all the fans and everybody interested in racing to see how we prepare," Kimball said. "So ideally, we shouldn't change anything when the camera crews are there, so everybody gets an understanding of what really goes on behind the transfer of the doors and the drivers lounge.
"Hopefully, we'll be able to give that insight and also give people a better understanding of what diabetes is for me and what it means to manage it, using all the tools that I have available before I ever get anywhere near stepping in a race car."
Kimball, who is currently in 11
th
place in the IZOD IndyCar Series point standings, is readying for Saturday's Firestone 550 at Texas Motor Speedway. He hopes to keep momentum from four top-10 finishes in six races this season going.
"Well, I think heading into the next three weekends with three different types of ovals, you have to just continue to be smart and make good choices, both on setup and on the track during the race," Kimball said. "I think Detroit was a good example and a good reminder to me that no matter where you start the race, you don't exactly know how it's going to go and where you're going to end up.
"We started on the 10th row and ended up finishing eighth. And that played out by just racing smart, racing clean, paying attention to and focusing on our own race as far as fuel mileage and pit stops and tire strategy, and that's the same thing heading into these three weekends. If we can maximize our package, then that'll continue to give us really good results."
June, 17, 2010
6/17/10
12:36
PM CT
By
Eddie Gossage
| ESPNDallas.com
A bone-headed move by
Casey Mears
has cost him what may be his last best-chance opportunity to make it in NASCAR Sprint Cup racing.
Mears was the replacement driver for the ailing
Brian Vickers
at Team Red Bull. Vickers and
Scott Speed
were the full-time drivers for the team before Vickers suffered blood clots that required him to sit out the rest of the season. Enter Mears.
[+] Enlarge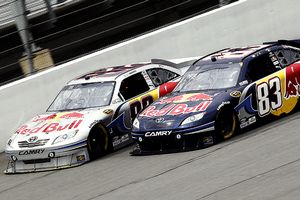 Sam Greenwood/Getty ImagesReplacement driver Casey Mears crashed with teammate Scott Speed at Michigan on Sunday while the two were battling for ... 29th place?
So how did Mears, who has had top-notch rides with Hendrick Motorsports, Richard Childress Racing and Chip Ganassi Racing, endear himself to his new team as fill-in driver? He got mad at the team's full-time driver (Speed) and crashed him last week at Michigan while the two battled for 29th place. That's right ... 29th place.
Bad decision.
Rick Hendrick, whose teams have won nine championships, pioneered the team system in the mid-80s. He required his drivers and teams to share all of their data and information. No secrets. It's probably why drivers
Jeff Gordon
,
Jimmie Johnson
and
Terry Labonte
drove Hendrick cars to the championship, often beating their teammate in the process.
Hendrick has no team orders except for one: Do not wreck your teammate.
So Mears was trying to make good in good equipment. Vickers won at Michigan last August in the car that Mears was driving. Mears felt Speed raced him too hard early in the race, so he paid him back, ultimately wrecking both of them.
"Both of us were struggling, but (Mears) wrecking us like that – I mean is ridiculous," Speed said. "Whenever you're at Hendrick (Motorsports) or Richard Childress Racing and then you still don't have a ride and haven't done anything, there's no real excuses after that. But whatever."
Mears didn't deny his actions in the race were caused by his anger at Speed.
"I was frustrated with him at the beginning of the race because we were running so far back and he was just running so hard," Mears said. "When I caught him for a the third time and catching him pretty fast, I was having a difficult time getting by him again.
"I was having to run so freaking hard just to try to get by him. If I ever could have gotten by him, I could have just went on. Because he was running so hard, it caused me to run hard and when I did, I made a mistake. I got a little loose getting in and got into him. For sure, it wasn't intentional."
Regardless, Red Bull Racing fired him after the wreck and replaced him with
Reed Sorenson
.
And with that foolish move in Michigan, Mears may have wrecked his career.