Dallas Motorsports:

Cowboys Stadium
September, 29, 2011
9/29/11
3:04
PM CT
By
Eddie Gossage
| ESPNDallas.com
Is there a better sports market than Dallas-Fort Worth?

I know the ink-stained sportswriting elitists of New York City would scoff and say Gotham is the best. Chicago beat writers would down another bratwurst an tell you Da' Windy City wins. Boston's haughty scribes would slam down their glass, wipe the froth from their upper lip and remind that they have Fenway, the Pats and "The Gah-den." The L.A. sports media would hit you back that they, uh, have ... you know ... perfect weather.

But there is simply no contest. None. Give it up for North Texas. We have it all. And it's not even close. This is the golden age of sports in Dallas-Fort Worth.

Look at the local venues. Look at the local teams. Look at the local colleges. Look at the local events. In no particular order, in the last year we've:


Hosted the World Series.

Won the NBA Finals.

A local university won the Rose Bowl.

Hosted two of America's biggest NASCAR races.

Staged the Super Bowl.

Put on two of the PGA Tour's iconic golf tournaments.

Been the site of three college football bowl games in a span of nine days.

Hosted several months of thoroughbred and quarter-horse racing.

Site of local college stadium building boom.

Uniquely promoted twin Indy Car races in one night -- the first time that's been done in 30 years.

Oh ... and our high school football team can beat up your high school football team. That goes without saying.

Why?

Part of it are the teams. The Mavericks took their talents to South Beach and slapped LeBron James and the Heat. The Horned Frogs proved bigger than the Big Ten's Badgers in the "Grandaddy of Them All." The Rangers made it to the Fall Classic before falling to the Beard, but "that's the way baseball go."

But a big part of it are the venues. Check your big screen because Cowboys Stadium is a lone star without peer. Texas Motor Speedway is the biggest -- as big as, well, Texas. The local golf tournaments are as venerable as the Colonial and lord over others like Byron himself. Horses simply ought to be racing in Texas at impressive and stately Lone Star Park. The Ballpark in Arlington is a classic throwback. American Airlines Center is home to Mavericks and Stars, yet is big enough to park the locally-based airlines' biggest jets inside.

Want more?

A few years ago SMU renovated its football stadium, and June Jones finally resurrected the Mustangs to a bowl game victory. TCU's stadium is expanding along with the school's rose garden. The University of North Texas built a new stadium for its Mean Green, complete with wings in the end zone (which we like, even though we don't really know why). And the Cotton Bowl, which no longer hosts the Cotton Bowl, may be prehistoric but it could be the greatest site in college football when it is decorated in burnt orange and crimson right on the 50-yard line.

And did I mention that our high school football team can beat up your high school football team?

So give credit to Cuban and Jerry and Bruton and Nolan and TCU, SMU and UNT and the Colonial and The Byron and the Chickasaw Nation for Lone Star Park and the rest for the great teams, venues and events -- we'll leave Tom Hicks out of this conversation.

Nobody -- not NYC, not Chi-Town, not Boston, not L.A., not St. Louis, not Miami, not Atlanta, not Detroit, not San Fran, not PHX, not Houston, not anybody -- has been on a roll in sports the way Dallas-Fort Worth is right now. If you are a sports fan, this is THE place to be. This is the golden age. This could well be the golden year for sports for any community -- ever.

And you know our high school football team can beat up your high school football team.
March, 31, 2011
3/31/11
9:34
AM CT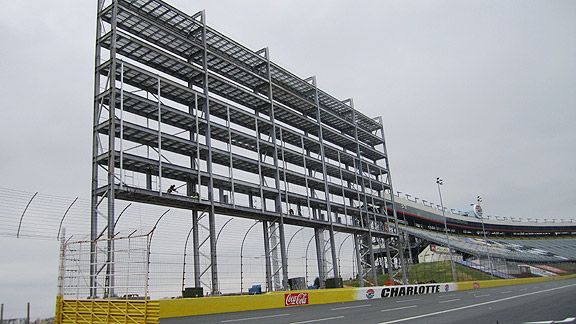 Charlotte Motor SpeedwayCharlotte Motor Speedway's new HDTV on the backstretch will be 30 percent larger than the one installed at Cowboys Stadium. When finished, it'll be 80-feet tall by 200-feet wide and weigh 650,000 pounds.
Looks like somebody was in such a hurry to keep up with the Joneses, that they surpassed one of Cowboys owner Jerry Jones' most prized possessions.
Charlotte Motor Speedway and Panasonic, with help from former Dallas Cowboys All-Pro Ed "Too Tall" Jones, showed off the track's completed 500,000-pound steel structure on Thursday morning. It will hold the world's largest HD television – taking that distinction away from Cowboys Stadium.
Just how big is the television, which will be located on the track's backstretch? The video board will measure 80-feet tall by 200-feet wide, which will be nearly 30 percent larger than Jerry Jones' screen. The full screen will be made up of 158 panels consisting of 9 million LED bulbs, and the entire structure – which will weigh 650,000 pounds when complete, will reach more than 110 feet in the air.
February, 8, 2011
2/08/11
3:52
PM CT
By
Eddie Gossage
| ESPNDallas.com


I watched one of the most-talked about flubs as this year's Super Bowl -- Christina Aguilera's mistake-plagued version of The Star Spangled Banner -- and shook my head in empathy for both her and the person at the NFL that chooses the performer for that song.

I have that duty here at Texas Motor Speedway, and it is one of the worst responsibilities I shoulder for each of our events. Getting the right person to perform live in front of a couple-hundred thousand people, in our case, and millions more via television is a tough thing to do. I personally do not like artists who perform vocal gymnastics the way Aguilera does in her version and try to find someone who does it straight -- the way I believe Francis Scott Key intended when he wrote the song. But so often, the artist provides a tape performing the song one way and then does a completely different version live.

With live, there's no second take, no taking it back.

So back to Aguilera. First, know that she simply made a mistake. She did not change the song on purpose. Big time professional or not, everybody makes a mistake and she mistakenly left out some words. She's performed it successfully before, including prior to the start of a 1992 NHL Stanley Cup Finals game. Don't blame her.

In rehearsals Friday, two days prior to the Super Bowl, Aguilera practiced only a portion of the song. At some point, she stopped in the middle of the song and simply walked off stage. It wasn't clear if she had a problem, was unhappy with something or was displeased with her performance. She later returned and performed the complete anthem.

Part of the purpose of rehearsal is for the artist to make sure they can comfortably hear through their in-ear monitors. In big, cavernous venues, like Cowboys Stadium or outdoors, it is hard to hear. And you have to hear to stay in tune.

I've stood nearby many different artists as they performed the song. From military band members to country superstar Sara Evans to concert maestro Van Cliburn to the TCU Marching Band and many more, each perform it in their own unique style. Typically we look for recording stars with a proven track record of performance.

The one time I have varied from that was when I saw an 11-year-old Lewis Warren Jr. perform on the piano in my church. I asked Lewis to perform the anthem before the Samsung Mobile 500 a few years ago. Lewis, resplendent in a white tuxedo, coolly sat down at the white Steinway baby grand piano and played the most beautiful rendition of the National Anthem I have ever heard. Lewis hit the last note right on cue, perfectly timed for the military jets fly-by overhead. Lewis' big smile outshined his bright, white tuxedo.

We received more complimentary mail from that performance than any before or since. In fact, we started receiving complimentary emails from around the country before the green flag dropped to start the race minutes later.

So knowing how much anxiety comes from trying to nail the National Anthem perfectly, I felt for Aguilera and the nameless person from the National Football League on Sunday.

Thankfully the game was much more enjoyable than the anthem.
January, 6, 2011
1/06/11
3:08
PM CT
By
Jeff Caplan
| ESPNDallas.com
DALLAS -- A lively discussion took place on a stage on floor of the American Airlines Center with a star-studded panel of the area's biggest sports movers and shakers.
The National Sports Marketing Network North Texas Chapter held its inaugural event and attracted to its panel Texas Motor Speedway president Eddie Gossage, Dallas Mavericks owner Mark Cuban, Texas Rangers general managing partner and CEO Chuck Greenberg, Hunt Sports Group chairman Clark Hunt, and Bill Lively, the president and CEO of the North Texas Super Bowl XLV Host Committee.
The umbrella discussion topic was the economics and growth of sports in Dallas-Fort Worth. Take for instance, the major sporting events in here just in this past calendar year starting February 2010: The NBA All-Star Game, the World Series and coming in 32 days, the Super Bowl.
Other topics ranged from selling tickets to social media to broadcast rights. The first portion of the discussion dealt with the difficulties of attracting fans to games during the continuing economic downturn and in the face of steep sports competition with all four major professional sports, Texas Motor Speedway, plus Major League Soccer's FC Dallas and even TCU and SMU.
PODCAST
President of Texas Motor Speedway Eddie Gossage joins Ben and Skin to talk about the Sports Marketing Summit that was held at the American Airlines Center last night, the sport of racing, and more.

Listen

Cuban, whose Mavs continue a sellout streak that's surpassed 300 games, but have had to hustle more to keep it going, put it this way: "I liked it when the Stars sucked. I liked it when the Cowboys sucked. Life was easy."
Greenberg is the new guy in town, a Pittsburgher who took over the reins of the Rangers franchise along with Nolan Ryan and a group of investors. He came on at the perfect time. The team was young and on the rise. The franchise successfully traded for ace Cliff Lee and advanced to its first World Series, attracting and re-attracting a bandwagon of fans.
Now, he said his job is to cater to a fractured fan base from the previous ownership that is rejuvinated and to get them to buy seats at Rangers Ballpark in Arlington. The team has concentrated on selling newcomers on smaller ticket packages and then escalating to full-blown season tickets. "It's like a first date and building it up to a marriage," Greenberg said. "If in this community we can't draw 3 million people, we're just not very good. We think we can do that."
Gossage has seen a drop-off of casual fans that catapulted NASCAR to a major boon not too long ago. Selling tickets to the massive superspeedway has become more difficult and in no small part to the sports competition in the area.
Gossage didn't hold back when he said, "That giant sucking sound you hear is Cowboys Stadium. The Cowboys are sucking up all the money and making things more difficult."
Lively eloquently dished on the coming of Super Bowl XLV to Cowboys Stadium. He stressed that once the game comes and goes, the North Texas Super Bowl committee won't pack up and go away. They will be busy on their next bid, which he said will come in 2012. The next possible Super Bowl back here? 2016 -- Super Bowl L.
Lively also announced the hope for a sports commission for North Texas to work collectively and bid on major sporting events to bring to Cowboys Stadium, Rangers Ballpark, American Airlines Center, Texas Motor Speedway, Pizza Hut Park in Frisco, among others.
And, oh, there is also a push to bring the 2020 Summer Games to Dallas-Fort Worth.
September, 22, 2010
9/22/10
11:04
AM CT


Charlotte Motor Speedway plans to install the world's largest television screen, one-upping Jerry Jones' toy at Cowboys Stadium in Arlington. Click here to see their plans and see the tale of the tape between the two megatrons.