Dallas Motorsports:

Dan Wheldon
May, 30, 2012
5/30/12
11:36
AM CT
By
ESPN.com news services
FORT WORTH, Texas -- Indianapolis 500 champion
Dario Franchitti
says he's still "not very comfortable" racing on a high-banked oval.
The Indianapolis 500 was the first IndyCar race on an oval since
Dan Wheldon
's fatal accident in last season's finale at Las Vegas. But the June 9 race at Texas Motor Speedway will be the first on a high-banked track similar to Las Vegas.
Franchitti tested at TMS last month and said Tuesday that he will do his absolute best to win there. Indy Car races on a street course Sunday at Belle Isle, Mich.
Wheldon was killed when his car sailed into the fence in a 15-car accident last October, and his head hit a post in the fence. A report later determined that pack racing on a high-banked oval contributed to the accident.
March, 6, 2012
3/06/12
9:52
PM CT
By
Scott Noll
| ESPNDallas.com
FORT WORTH, Texas -- Although any notion of a June boycott by IndyCar Series drivers had already been extinguished, it still was a hot topic during Texas Motor Speedway's media day Tuesday.
Track president Eddie Gossage said he hadn't heard from any drivers about safety concerns, specifically the fencing around the high-banked oval. And that's why he
reacted angrily after reading about such concerns
on a web site report last week.
Gossage remained defensive of the track's safety record Tuesday, adding that he's already talked to IndyCar Series CEO Randy Bernard.
"We're going to do what's right," Gossage said. "You never compromise safety. ... We're the only people that have had any engineers look at it. I think everybody has a better handle on it. They say they never talked about a boycott. ... I just know what I read."
Gossage also was quick to point out that last year's Firestone Twin 275 races only had one caution.
"I don't know why a speedway that had two races with one caution last year was suddenly the target," Gossage said.
Safety issues became paramount after driver
Dan Wheldon
died during a horrific crash at Las Vegas Motor Speedway in October. Wheldon's car went airborne during the accident and the driver's head hit a pole on the fencing, which is similar to that used at TMS.
"Safety is not something to joke about. Safety is not something to take lightly. And we're not about to," Gossage said. "It's coming on the heels of a really catastrophic event ... and everybody is ultrasensitive to it.
"You can have emotional feelings about it, but the solution is a fact-based solution. I'm emotional about Dan because I cared a lot about Dan. He was a good guy, a good friend, everything about him ... and it was so tragic. But when you start talking about 'now what,' that has to be based solely on facts. Solely."
IndyCar Series driver
Graham Rahal
, who was at the track Tuesday, said there are no safety concerns at TMS, which has hosted 23 IndyCar races since 1997 -- 16 of which have been decided by less than one second.
"It's never been something that crossed my mind," Rahal said. "Texas has always put on close races. Does that make a driver more nervous? Yeah, but it would make anybody more nervous. We realize that our sport is two things: Obviously to go fast in race cars, and it's also entertainment. The fans like to see close racing.
"The show we put on here is second to none," Rahal said. "We want to be here."
October, 19, 2011
10/19/11
10:25
AM CT
By
Eddie Gossage
| ESPNDallas.com
The motorsports community is mourning the death of a great champion, as two-time Indianapolis 500 winner and former IndyCar Series champion
Dan Wheldon
was killed in an accident Sunday at Las Vegas.
It's a tragic loss on so many levels, but rather than speculate on what happened and what could have prevented it, I think we should stop and take the time to celebrate the life of someone who had a very positive impact on this sport.
[+] Enlarge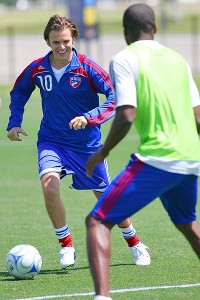 Courtesy of Texas Motor SpeedwayDan Wheldon suited up and kicked it around the pitch with FC Dallas during a promotion for Texas Motor Speedway.
As a promoter, the greatest compliment I can give someone -- whether it is a driver, sponsor, PR person, etc. -- is that they "get it." Wheldon got it. It's really against the nature of drivers to "get it" and like it. They think about driving race cars 24 hours a day. But Wheldon did.
Wheldon visited the Dallas/Fort Worth market several times helping promote Texas Motor Speedway races. From playing soccer with FC Dallas to being outfitted like a cowboy and leading the Fort Worth Herd cattle drive down Exchange Avenue, he was always willing to put his promoter hat on. He was actually rather good at soccer. I think that British heritage had something to do with it.
The only thing he was hesitant to do was give up his Prada shoes when we donned him with western apparel. You've got a guy riding with a herd of longhorns in chaps and a cowboy hat, and he's wearing Prada shoes. Oh, how he loved shoes. He ended up wearing the boots, but only because he didn't want cattle mess on his designer shoes.
And then there was "The Rumble at the Speedway," perhaps my favorite promotion of all time. After
Danica Patrick
confronted and grabbed Weldon over her displeasure of him cutting her off at Milwaukee in 2007, we hung a "Danica vs. Wheldon" banner on the Victory Lane Broadcast Center that featured the two drivers' head shots.
[+] Enlarge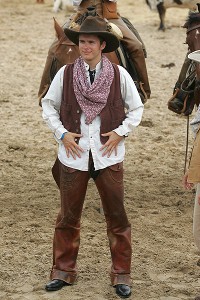 Courtesy of Texas Motor SpeedwayWheldon even played cowboy for a day -- eventually giving up his Prada shoes and putting on boots -- at the Stockyards in Fort Worth.
"If he thinks I'm not going to remember that, HE'S CRAZY!" was the quote next to Patrick's face. Above Wheldon's, "She's just feeling the pressure of not winning races." We also sent out a "Tale of the Tape" to both local and national media with Dan "The Battlin' Brit" Wheldon vs. Danica "The Phoenix Firebird" Patrick.
I don't think Patrick was very amused. She didn't like it. Wheldon, on the other hand, played along. He walked across the stage during driver intros shadow-boxing to the Rocky theme song before the Bombardier Learjet 550k. I have a pair of boxing gloves in my office signed by both Patrick and Wheldon that reminds me of how much fun we had with that promotion.
Wheldon was the perfect combo -- he had a great appreciation for the sport and could drive the wheels off a race car. Because of that, he had developed a huge fan base and had become the most popular driver in the series. Those fans will remember him for his passion and dignity.
And, of course, that contagious smile will never be forgotten.
October, 17, 2011
10/17/11
8:17
AM CT
Statement from Texas Motor Speedway president Eddie Gossage on IndyCar Series driver Dan Wheldon, who lost his life Sunday after being involved in a multi-car accident during the IndyCar Series season finale:
"On behalf of the entire staff at Texas Motor Speedway, our sincere condolences go out to Dan's wife Susie and their two young boys, Oliver and Sebastian. Dan was a tremendous race-car driver and even more tremendous as a person. I was fortunate to get to know Dan over the years with the series annually visiting Texas Motor Speedway and he always arrived with that infectious personality and charming wit. His outstanding skill in the cockpit and his personality and good nature out of it will be greatly missed by the entire IndyCar community."
May, 31, 2011
5/31/11
6:57
PM CT
By
Master Tesfatsion
| ESPNDallas.com


FORT WORTH, Texas -- Two-time Indianapolis 500 winner Dan Wheldon is currently unemployed, but he may switch the racing helmet out for a headset for the time being.

Wheldon is in talks with Versus TV to work as an analyst for three IndyCar Series events. He jumped in the booth for the Firestone Freedom 100 on Friday before his thrilling victory Sunday on the 100th anniversary of the Indy 500, edging out J.R. Hildebrand as he crashed into the wall on the final lap. Wheldon's contract with Bryan Herta Autosport expired hours after the victory at midnight.

"I did it [race analysis] when I was younger for some go-karting programs, but this is my first time for real," Wheldon said Tuesday at a public appearance for a nonprofit organization. "It's harder than you think because you've got a little ear piece and they're talking over you and it's hard to continue to say what you're talking about when they're saying, 'Ok Dan, you've got to wrap it up in 10 ... 9.' I'm like, 'Ok this is way harder than racing.'"

Wheldon said the talks with Versus started in the beginning of May and would have him working stops at Texas, Iowa and Toronto. He said they'll work out a clause that will allow him to race if the opportunity arises, but he doesn't want to rush the situation.

"The team, my management and myself are working to find funding to be able to do it [race]," Wheldon said. "At that point when we find the funding, we have to understand and feel confident that we can get the car prepared to the same standards that it was in Indianapolis to be able to do the race."

Wheldon's agent declined to comment until an agreement has been reached with a racing sponsor or Versus.
May, 31, 2011
5/31/11
5:09
PM CT
By
Eddie Gossage
| ESPNDallas.com
So the big question: Will
Dan Wheldon
, the new Indy 500 champ, run in the Firestone Twin 275s on Saturday night, June 11th?
The answer: Hopefully. Well, maybe. If I can do anything about it, he will.
I spent the day with Wheldon, one of the great personalities in the sport, not to mention one of the sport's all-time performers in crunch time. Check out his amazing record at Indy -- two wins, two second-place finishes, one third-place and one fourth-place finish in only nine starts. Only three times has he finished out of the top four.
The team he won with at Indy was a one-off deal. They hadn't run an IndyCar Series race before Indy this year and aren't scheduled to run any more. Wheldon is, in fact, a free agent. He's not under contract with any team. Anybody can sign him.
The team he celebrated with in Victory Lane was
Bryan Herta
Autosport. The team is owned by the likeable, successful Herta, a former IndyCar star himself. The sponsor is William-Rast jeans, the fashion line owned by entertainer Justin Timberlake. Let's do some business, guys.
Herta is a racer -- the best compliment you can offer anybody in this sport -- and I know he wants to race (answer the phone, Bryan!). They honestly didn't think about what would happen if they became the dog that caught the car. Who thought they would win the Indy 500? Now what? Can this six-man team turn the car around for these historic twin races in Texas in less than two weeks. Heck, will their heads stop pounding before the first green flag falls on the first of two Firestone Twin 275s?
And could another team -- are you listening A.J.? -- put the Indy champ in a car here in Texas and elsewhere? Who has cars -- Ganassi? For the good of the sport.
And then there is Wheldon. He wants to race. He effused excitedly about the Twin 275 concept and the random selection of starting positions for the second race. All race horses are chomping at the bit to get in the starting gate. Wheldon, though, needs to rightfully pick his spot. He made his bed with Bryan Herta Autosport and it paid off. Do you switch horses now after this success? And do you possibly consider getting into another team's car that might not be up to snuff? He is, after all, the Indy 500 champ. He can pick his spot. They handed him a check of $2.6 million at the Indy 500 awards banquet on Monday night.
So, while time is short, time will tell. If it was all about attitude, Wheldon, Herta and William-Rast would be in the starting grid for both races of the Firestone Twin 275s.
So stand by. We're working on it.
Hopefully. Maybe.
Everybody wants it to happen.