Dallas Motorsports:

Darrell Waltrip
November, 16, 2011
11/16/11
11:28
AM CT
By
Eddie Gossage
| ESPNDallas.com
Epic. The best ever. The greatest of all time.
Thirty-five races down and one to go. We've made it to the final race at Homestead-Miami Speedway.
Carl Edwards
leads the standings by just three points over
Tony Stewart
and the two have 267 laps left to settle who will be crowned the 2011 NASCAR Sprint Cup champion.
NASCAR is in its best season ever. We've got two titans of the sport battling in the third-tightest point spread leading into the season finale. Edwards and Stewart have eliminated the remaining 10 Chase competitors from earning the 2011 title, and now it's time to let them race it out on the track.
There are several championship-winning scenarios depending on where Edwards and Stewart finish Sunday. A win for either would mean the title, but if Edwards finishes ahead of Stewart, he earns the championship. In Stewart's favor is his tiebreaker status (most wins), so he only needs to tie Edwards to win his third championship.
The stats for Edwards and Stewart at Homestead-Miami Speedway intensify the epic showdown even more, as each have two wins at the track. Stewart set the race record at 140.335 mph when he won the inaugural race in 1999 and earned his second win the following year. Edwards posted wins in 2008 and 2010.
Edwards and Stewart have brought out the best in each other, performing their finest when the season was on the line. They finished first and second at Texas, and second and third Sunday at Phoenix. Edwards' last two finishes (second and second) and Stewart's last two finishes (first and third) means both have an average finish of 2.0 in the last two races.
Since the inception of the position-based points system in 1975, only three drivers have made up a points deficit in the season finale:
Richard Petty
in 1979 (made up two points on
Darrell Waltrip
),
Alan Kulwicki
in 1992 (made up 30 points on
Davey Allison
) and
Jimmie Johnson
in 2010 (made up 15 points on
Denny Hamlin
). Just as the great duels between these racing prodigies, I hope people will look at this season down the road and say, "Wow. That was a good year."
For now, I hope people will enjoy the competitiveness this season has brought. I also hope people will appreciate and respect what our defending champion Jimmie Johnson, who has five consecutive titles, has accomplished, because it will never happen again.
Epic. The best ever. The greatest of all time. Hyperboles in describing both the 2011 NASCAR Sprint Cup season or the 2011 Chase for the NASCAR Sprint Cup title?
No. I think it stands up as simple fact.
October, 11, 2011
10/11/11
5:26
PM CT
By
Eddie Gossage
| ESPNDallas.com
The intensity in the Chase for the NASCAR Sprint Cup grew even higher Sunday at Kansas as
Jimmie Johnson
earned his second win of the season and
Carl Edwards
took the series lead by one point over
Kevin Harvick
. But it seems like there's only one thing on the public's mind: "We're tired of Johnson winning championships."
While I understand Johnson and this sport seems like a broken record (excuse the pun), I'd like to remind everyone of the unique season we've seen.
First let's consider the repeat Cinderella story. Prior to this season, never before had NASCAR seen first-time winners in the Daytona 500, Southern 500 and Brickyard 400 in one year. In fact, even just the Daytona 500 and Southern 500 had never seen first-time winners in the same season. That's good stuff.
Next I want to bring up the heated competition. Yes, I'm talking about feuds and controversy. Fireworks erupting between Harvick and
Kyle Busch
at Darlington, Johnson and
Kurt Busch
at Richmond and Pocono,
Ryan Newman
and
Juan Pablo Montoya
at Darlington, and
Greg Biffle
and
Boris Said
at Watkins Glen.
"He is the most unprofessional little scaredy cat I've ever seen in my life," Said said about Biffle. "He wouldn't even fight me like a man after. So if someone texts me his address, I'll go see him Wednesday at his house and show him what he really needs."
Talk about drama. You can't make this stuff up, folks.
Then you've got drivers like
Brad Keselowski
and
Dale Earnhardt
Jr. making remarkable comebacks, clinching a spot in the Chase and actually being in contention to win the title. And let's not forget
Jeff Gordon
earning his 85th victory, passing
Bobby Allison
and
Darrell Waltrip
for third place on the all-time wins list.
It's been a very competitive year, and this could turn out to be a magical season. It reminds me of 1992 when
Alan Kulwicki
, an underdog, recorded one of the greatest championship comebacks in NASCAR history, rebounding from a 278-point deficit with six races remaining. Kulwicki edged
Bill Elliott
by 10 points to become the series champion -- the closest championship margin at the time.
Now we're down to six races and nine guys still have a legitimate shot, but somebody's feelings are about to get hurt. There's no room for mistakes now. You can't leave anything on the table. Get ready NASCAR nation, because the pressure's on.
August, 31, 2011
8/31/11
5:52
PM CT
By
Eddie Gossage
| ESPNDallas.com
Saturday night's race at Bristol proved that this sport isn't just about going fast and turning left. There is a strategy to every win. For Brad Keselowski, who picked up his third win this season, part of the strategy to winning at Bristol came on pit road.

Bristol is unique in that it has pit roads along each straightaway, which doesn't align well with NASCAR's 30-mph pit road "speed limit." Technically it is not a "speed limit" but rather a "timing limit" -- go too fast between the timing lines and you are "speeding." NASCAR times cars on pit road with electronic loops in the track's surface and computers monitor when cars have moved too fast between the loops.

Keselowski, Matt Kenseth and others seemed to benefit from the location of their pit stalls, which gave them an opportunity to travel at speeds over 30 mph on certain sections of pit road. During the last round of pit stops, Keselowski passed Jeff Gordon -- who had a one-second lead prior to the caution.

"I don't know if there's a little bit more of an advantage on the front straightaway than there is on the back straightaway, but to me the whole purpose of having timing lines and pit road speed is to make it as equal and fair for everybody as you possibly can," Gordon said. "And they've got some work to do at this pit road. The race track is awesome, but the pit road is terrible."

NASCAR announced after the race that the situation would be addressed and additional scoring loops would more than likely be added on each side of pit road.

Drivers have always found ways to get around the rules. Smokey Yunick, owner of Daytona's Best Damn Garage in Town, is probably most well-known for bending the rules. He always had a trick up his sleeve. In 1968, Yunick installed an 11-foot long fuel line on his car. The rules only stated how big the fuel cell could be; not the fuel line.

Back when NASCAR only weighed cars before the race, Darrell Waltrip's team was accused of filling the car's frame rails with buckshot to pass inspection. When on the track, Waltrip supposedly would release the BBs from a trap inside the frame rail. That's the word, though Waltrip has never admitted it.

In 2005, NASCAR discovered Chad Knaus' cautiously-engineered shock absorbers, which added 200 pounds of downforce to the car by increasing the height of the right rear. The No. 48 and No. 5 teams' cars were initially too high during inspection, but settled back into the required specifications after the shocks bled air. Neither team was penalized because technically the cars passed inspection. But because the shock absorbers were used for something other than controlling the frequency of the spring, NASCAR banned the shock absorbers.

Now THAT is strategy. I don't blame these guys who work hard at finding an advantage for some speed. It's part of the competition.

At the same time, I give props to NASCAR for looking into the situation in order to keep the competition even and keep safety a top priority on pit road. NASCAR implemented the pit road speed after a crewman was fatally injured in the 1990 Atlanta Journal 500. Mike Rich, a right rear tire changer for Bill Elliott, was caught up in an accident after Ricky Rudd entered his pit too fast, locked his brakes and slammed into the back of Elliott's car.

Since then we have seen a dramatic decrease in the number of injuries on pit road. Regardless of whether it was right or wrong for Keselowski and others to get away with speeding on pit road Saturday night, give NASCAR credit for admitting the teams were working a loophole and pledging to fix the problem.

In the meantime, teams and officials will continue to work hard to outfox each other. Sometimes it works…other times you get caught.

All the time it's interesting.
August, 23, 2011
8/23/11
11:24
AM CT
By
Eddie Gossage
| ESPNDallas.com
For
Kyle Busch
, winning the Pure Michigan 400 Sunday was monumental in more ways than one.
Yes, he earned his first win at Michigan. Yes, he clinched his berth in the 2011 Chase for the NASCAR Sprint Cup. Yes, he became the first four-time Cup winner this season. But what was on his mind after that green/white-checkered finish? He put a Toyota in Victory Lane at the track closest to the city of the Big Three.
"You know, it's so awesome to finally win here at Michigan and get Toyota to Victory Lane here at Michigan," Busch said. "It feels good being so close to Detroit and everything. This was a flawless Camry and everybody at Joe Gibbs Racing -- all these guys on this team; the guys at JGR engine room -- gave me a great motor today."
Jimmie Johnson
was trying to carry the flag for Detroit, racing his No. 48 Lowe's Chevrolet hard, but Busch edged him by .568 seconds. That kept Johnson winless at Michigan International Speedway -- one of five tracks currently on the circuit where he hasn't earned a victory.
The old maxim still holds true that what wins on Sunday sells on Monday. And for Toyota, Busch is its most valuable salesperson. Now the question is, will Busch break Johnson's streak of five consecutive NASCAR Sprint Cup championships and give Toyota its first NASCAR Sprint Cup title? Busch currently leads the standings by 10 points over Johnson.
"I've worked with Kyle as a teammate in the past," Johnson said. "I understand his passion for racing. I certainly know he's not afraid to stand on the gas and can really drive the car to its full potential week in and week out.
"I said this about him a while ago: Once he figured out how to win races, he'd win a lot. He certainly had done that. His big test is for a championship. Once he understands that and figures that out, I think he'll win lots of those, too."
Everyone has their eye on Busch this season. Even
Darrell Waltrip
, who has raced with legends like
Richard Petty
,
Dale Earnhardt
,
Jeff Gordon
and Jimmie Johnson, had this to say Monday via Twitter: "I've either raced against or watched the greatest drivers that's ever been in NASCAR, Kyle Busch is the most talented driver I've ever seen."
Darrell was one of the greats, too. That comment says a lot.
Busch's dominance on the race track this season has marked him a favorite to win the 2011 Chase for the NASCAR Sprint Cup. It'll be interesting to see how it all shakes out.
July, 19, 2011
7/19/11
10:57
AM CT
By
Eddie Gossage
| ESPNDallas.com
Tony Stewart
can drive the wheels off anything. A two-time NASCAR Sprint Cup champion, Indy Car champion, multiple USAC championships ... He can flat drive.
But his biggest and longest-lasting accomplishment in racing may be his ability to lead a team to championship standing in short order. He did that again Sunday in the Lennox 301 at New Hampshire Motor Speedway. Teammate
Ryan Newman
won the pole and the race while Stewart started second and finished second.
That doesn't happen often. In fact, it hadn't happened since April 7, 1957, when
Fireball Roberts
and
Paul Goldsmith
qualified and finished 1-2 at North Wilkesboro Speedway driving for DePaolo Engineering. During the 1989 Daytona 500, Hendrick teammates
Darrell Waltrip
and
Ken Schrader
came close to pulling it off, finishing first and second respectively -- swapping positions in which they started. You probably remember that win, because it was accompanied by Waltrip's version of the "Ickey Shuffle" in Victory Lane. (Shaking my head.)
[+] Enlarge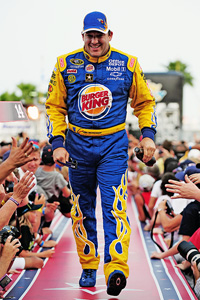 Kevin Liles/US PresswireTony Stewart has raised and donated a total of $850,000 for children in North Texas over the past three years.
Stewart took a step of faith in 2009, forming his own NASCAR Sprint Cup Series organization with Gene Haas. He left a 10-year ride with a championship-winning organization to pursue a dream. Talk about guts! Especially in a down economy. It takes a very confident, positive-thinking person to pull that off, and he succeeded. But that's just the beginning to what defines him.
On Saturday night, Tony was competing in a World of Outlaws race at Eldora Speedway -- a dirt track he owns in Ohio. By the time Tony made it back to New Hampshire early Sunday morning, he only had a few hours to sleep before he had to prepare for the NASCAR Sprint Cup race. That's the racer in Tony. He craves speed and will go the extra mile to satisfy it even if it means testing his endurance. We're talking about a guy who has run a 500-mile race and 600-mile race in the same day. Twice.
Stewart will be at Texas Motor Speedway for the "Smoke Show" on Aug. 16
-- a once-in-a-lifetime fantasy driving camp he hosts annually to raise money for Speedway Children's Charities-Texas Chapter. From driver intros and a pre-race ceremony to a Victory Lane celebration complete with cowboy hats and the actual Turnbull 45 Colt-style single-action revolvers, participants experience everything a NASCAR driver goes through on race day. It's as close to the real deal as you can get.
Tony spends an entire day with some very dedicated race fans, giving them personalized instructions from inside the cockpit. Nothing to it, you say? Have you been to Texas in August? It's downright hot, but Stewart puts on his fire suit and jumps in those stock cars, cracking jokes and showing his usual witty demeanor. I don't know many people who could keep a good attitude in that kind of situation, let alone volunteer an entire day out of their schedule for an event like that.
Between funds raised by the "Smoke Show" the past three years and him donating his winnings from the Prelude to the Dream race at Eldora Speedway, Stewart has raised $850,000 for children in North Texas. That's almost $1 million!
The hard-scrabble reputation -- temperamental, photographer-shoving, sarcastic quotes in the media ... they all make up the image and reputation many have of Stewart. And it's well-earned. And Sunday we saw the results of his leadership.
On Aug. 16, Stewart will demonstrate that leadership in another manner as he helps the kids of North Texas.
Pretty broad shoulders.
June, 25, 2010
6/25/10
1:59
PM CT
By
Eddie Gossage
| ESPNDallas.com
A long held theory of mine was substantiated this week by
Jeff Gordon
.
He said, in essence, that the lot at each track where the drivers park their weekend motorhome away from home could have an impact on the race track. And he avoids that so as to avoid a warm feeling that might cause him to reconsider -- just for a split-second -- slamming the door or squeezing by a guy on the track just because they are friends.
"I see other drivers grilling out together, and their kids playing together," Gordon told USA Today. "I don't see many 'A' list drivers doing that. When I get to the track, I'm business. I know in order to do my job, I'm going to have to [tick] somebody off. And it could be someone I'm friends with, and I don't want to take it personally. It's hard not to take it that way."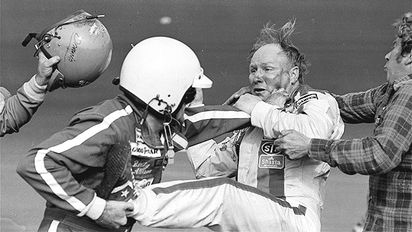 AP Photo/Ric FeldYou think Bobby Allison and Cale Yarborough grilled out together in the motor coach lot after this Daytona dustup in 1979? I think not.
I agree. Having started in this sport when Richard Petty, Cale Yarborough, David Pearson, Bobby Allison, Darrell Waltrip and a young Dale Earnhardt were making their marks, I assure you standing around the open flame discussing the finer points of prime versus choice meat was never a consideration. To this day, almost 25 years after their last race against each other, Allison and Waltrip "spit" each others names when telling their racing stories. The heat in the room goes up when two or more of these guys meet up still today.
But it's hard to have the killer instinct on the track when you know you are going to have steaks with the guy in the infield a couple hours later.
While we see bitterness and rivalry returning to the sport this year -- think
Carl Edwards
and
Brad Keselowski
,
Kyle Busch
and
Denny Hamlin
, Gordon and both
Martin Truex
Jr. and
Elliott Sadler
-- it still seems to not be as sharp-edged as the rivalries from years gone by.
An answer would be to do away with the motor coach lot at the speedways and cause the drivers to stay in area hotels. That's where, as a fan, I sought out Petty and met him as a teenager. Of course, that's partly why they don't stay at hotels any longer -- because of the loss of privacy.
But that's not going to happen. The infield motor coach lot is here to stay.
But you can take it to the bank that Yarborough and Allison only ran across each other in the infield of a race track just once. At Daytona in 1979. Just inside Turn 3, where the two started swinging fists after Yarborough and Donnie Allison crashed on the final lap of the Daytona 500. As Bobby said, "Cale just kept hitting my knuckles with his nose."
Maybe that's the way it ought to be today.