Dallas Motorsports:

Daytona
March, 22, 2011
3/22/11
2:05
PM CT
By
Eddie Gossage
| ESPNDallas.com
We're just one month into the season and, for me, the racer of the year award is already a dead solid lock.
It's J.J.
No, not
Jimmie Johnson
, who's going for an unprecedented sixth straight NASCAR Sprint Cup championship. Certainly, he's a top candidate.
But for me the competition is over. One driver has already demonstrated more heart, courage, strength, resolve and discipline than other drivers will display in an entire career. An impressive performance, one that every real race fan should get up off their seat and acknowledge. This is the heart of a racer.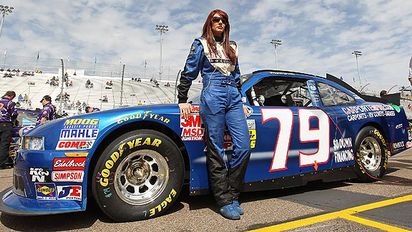 Christian Petersen/Getty Images Jennifer Jo Cobb, who walked away from her car about five minutes before the start of Saturday's Nationwide Series race in protest of having to start and park, will drive the No. 41 for Rick Ware Racing next weekend at California.
Ladies and gentlemen, I present to you America's uncontested, unchallenged, unquestionable racer of the year for 2011 –
Jennifer Jo Cobb
That's right. She didn't win Daytona. She didn't win at Indy. She didn't win at Texas. She didn't win at Charlotte. She hasn't won any races this year. She hasn't even come close. But the choice is undeniable. Jennifer Jo Cobb – racing's newest J.J. – has already locked up the award. And she did it by refusing to get in the car.
That's right. She wins by not racing. Or, to be more accurate, for not NOT racing.
Cobb, an independent racer who has spent her career piecing together rides and sponsorships from week-to-week and season-to-season, refused to join the rusty old barnacles known as "Start & Parkers" that are now found in NASCAR's top-three divisions. And for standing up and saying she was only going to race if she could really race ... well, she's really got some coconuts. And you need a set to be a race car driver.
Teams walked away with $423,342 at Bristol last weekend after their start & park efforts in the NASCAR Nationwide Series and NASCAR Sprint Cup Series. In those two races, 10 drivers parked their cars quickly with "vibration" or "brake" problems. For an average of approximately seven-and-a-half minutes of work, each driver took home an average of $42,000. Not a bad gig if you can get it. What does it say about a sport where teams enter a "competition" but doesn't hide their intent not to "compete" and choose to work a loop-hole and pocket some easy money Phoning it in? Certainly it cheapens the experience for everyone involved.
Did you see the crowd at Bristol? As the economy continues to creep along anemically, race tracks struggle. Tracks like Memphis, Gateway and Pike's Peak closed over the last several years. Unlike NFL and Major League Baseball stadiums or NBA and NHL arenas, the speedways are not built with taxpayer money. The start & park disease is a huge financial hit for the speedways to pay for teams that don't add to the event and don't sell tickets.
As for Cobb, she has benefitted for standing up for herself. She will drive for a different team this weekend --Rick Ware Racing -- in the NASCAR Nationwide event at Auto Club Speedway. Hopefully she will ride the crest of attention diverted her way by making the right choice and turn this into the big break her career needs.
But if nothing else, I bet she's sleeping well this week. You can do that with a clear conscience and the knowledge that the other J.J. could win every NASCAR Sprint Cup race remaining this year en route to a sixth straight title and I would still consider Cobb the racer of the year.
Clearly she has a racer's heart.
February, 17, 2011
2/17/11
6:53
PM CT
By
Eddie Gossage
| ESPNDallas.com
DAYTONA BEACH, FLA. -- The new pavement at Daytona International Speedway was expected to change the style of racing for Sunday's Daytona 500, but nobody expected this.
[+] Enlarge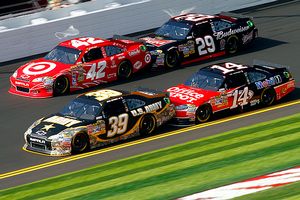 Jason Smith/Getty ImagesJuan Pablo Montoya (42), Kevin Harvick (29), Ryan Newman (39) and Tony Stewart (14) paired up to gain speed during the first qualifying race.
The fast way around the 2.5-mile speedway is to hook up in a two-car draft. The car in front is literally pushed by the following car at speeds around 200 mph. After Thursday's Gatorade Duels, the two qualifying races to determine the starting lineup for Sunday's Daytona 500, the logos on the front bumper of the cars were literally scraped off.
As a result, teamwork is mandatory if you want to have any success. Teammates with an ability to talk via in-car radios will have a significant advantage. Trouble has flared when either of the cars in a two-car draft makes a move the other does not expect. Trouble even occurred between teammates, as
Ryan Newman
went for a long, high-speed slide down the back straight after a minor miscalculation with teammate
Tony Stewart
. One car zigged slightly while the other zagged.
But if teammates can talk and tell each other when they plan to move right or left then those cars have an advantage. Look for that Sunday.
Former Cup driver
Ken Schrader
also pointed out the need for confidence when racing two cars that are closer together nose-to-tail at 200 mph than you park at the mall. With the second car touching the first, the driver in the second car cannot see past the spoiler of the car in front. Imagine being able to see only six feet ahead while traveling the distance of almost a football field per second. Nerve-wracking.
Drivers are still learning how to best approach this new style of racing. The look of the second Gatorade Duel was different from the first. Drivers in the second race studied the first race. Expect the second part of the Daytona 500 to be a bit different than the first part as the learning curve continues.
Also, expect wild moments to punctuate Sunday's race as well. It's that zig-zag thing again. It will happen just out of the blue.
The good news is racing will return to normal next week when the series goes to a different track, one that doesn't have new asphalt or require a restrictor plate.
But it will be different and pretty hairy on Sunday. Nobody saw this one coming.
September, 14, 2010
9/14/10
4:07
PM CT
By
Eddie Gossage
| ESPNDallas.com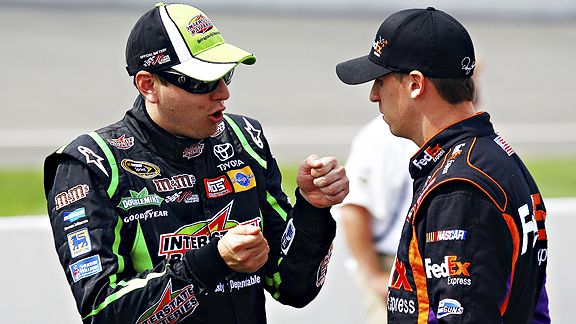 Jason Smith/Getty ImagesDenny Hamlin (right) starts the Chase in first place, but Kyle Busch might end it on top.
The Chase for the NASCAR Sprint Cup Championship starts this weekend at New Hampshire Motor Speedway.
PODCAST
Jeff Gordon joins Galloway & Company to talk about the chase for the Sprint Cup, Kyle Busch's fiancée, connecting with the fans, and more.

Listen

Here's my take on each driver and why he is "hot" and "not hot" entering the 10-race Chase:
Denny Hamlin (5060 points)
Hot: Since the end of 2009, Hamlin has been talked about as the favorite to beat Jimmie Johnson. He's also shown on the track that he can back it up. Two of his six wins this season were on Chase tracks (Texas, Martinsville).

Not hot: Over the last ten races, Hamlin has been outperformed by every single driver in the Chase. Last year, Hamlin had three DNF's in the Chase that were caused by either engine failure or a crash. In the last five races this season, he's had two DNF's caused by an engine failure or crash.
Jimmie Johnson (5050)
Hot: Four-time Champion. He knows how to win the Chase. Johnson has finished a whopping 75 percent of all Chase races inside the top ten. What's even more impressive is that in over half of the races -- 33 of the 60, Johnson has finished inside the top five. Johnson has also claimed 18 total Chase victories. That's an average of three Chase wins per year. Most drivers would be happy with three total wins per year.

Not hot: With an average finish of 17th over the last 10 races, is Johnson as invincible as he's been the past four seasons?
Kevin Harvick (5030)
Hot: Regular-season points leader. Earnhardt/Childress Racing engines have been the strongest all season. That could pay off in a big way at tracks like Texas, Charlotte, California, Kansas, Homestead and Talladega.

Not hot: Has a career average finish of 17th or worse at California, Martinsville, Charlotte, and Dover. Only once in the history of the Chase has the regular-season points leader won the championship (Tony Stewart in 2005).
Kyle Busch (5030)
Hot: Has won Cup races on five of the ten Chase tracks. Busch has also learned how to be a more consistent driver. He's been running at the finish in 25 of 26 races so far this year. His only DNF was a crash at Daytona.

Not hot: Busch has never won a NASCAR Sprint Cup race on any one of the five, 1.5-mile tracks in the Chase. Busch has also never won in the final 10 races of any season.
Kurt Busch (5020)
Not: First Chase champion (2004). As the only Penske driver in the Chase, it's "all hands on deck" for Busch. Sam Hornish Jr. unloaded at Richmond with Busch's setup, ready to assist the No. 2 in any way possible. Brad Keselowski's team is also doing everything it can to help bring a title to Penske.

Not hot: As the only Dodge team in the Cup Series, there is no one else available to share notes or develop engines with. Also, both of the teammates that are helping Busch have not had a single top ten all year.
Tony Stewart (5010)
Hot: Momentum has picked up at just the right time for Stewart. He also has the best record in the last 10 races that have been held at tracks that are one mile or longer. Nine of the ten Chase tracks fit this category.

Not hot: While Stewart's results at any track are impressive, seven of the ten tracks in the Chase are statistically some of his worst.
Greg Biffle (5010)
Hot: Biffle goes into the Chase knowing the he and his team are capable of winning races. The No. 16 team earned its first 2010 victory at Pocono in August.

Not hot: Biffle has finished on the lead lap in only six of the last ten races.
Jeff Gordon (5000)
Hot: Gordon spent most of the summer second in the Sprint Cup point standings. Gordon's average finish of 8.4 in the last 10 mile-and-a-half races is the best in the Sprint Cup Series. Gordon is also the only Cup driver that has finished on the lead lap of each of the last ten races.

Not hot: Gordon has still not been to Victory Lane since winning at Texas in April of 2009 -- the longest stretch he's ever had without a race win.
Carl Edwards (5000)
Hot: Edwards has scored more points than any other driver in the last ten races, finishing in the top 10 in eight of those races. He's also started on the pole in two of the last five races. A win (or several wins) is right around the corner for the No. 99 team

Not hot: Even though a win might be right around the corner, the fact is that Edwards has still not been to Victory Lane since the last race of 2008.
Jeff Burton (5000)
Hot: It's been said that to finish first, first you have to finish. Burton is one of only three drivers that have not had a DNF all season long. Burton has also led a respectable 390 laps this year.

Not hot: Burton has not won a race since October of 2008.
Matt Kenseth (5000)
Hot: Mr. Consistency has one very impressive stat this year. Kenseth has completed all but seven laps this entire season for a total of 23 lead lap finishes.

Not hot: Kenseth has only led 35 of the 7,699 laps that he's completed. He has also not won a race since February of 2009.
Clint Bowyer (5000)
Hot: In Bowyer's last two Chase appearances, he ended up fifth and third in the final point standings.

Not hot: In 120 career Cup races, Bowyer has only two wins. His last trip to Victory Lane was in May of 2008.
My pick to win the NASCAR Sprint Cup Championship for 2011:
Kyle Busch. Joe Gibbs Racing is peaking at the right time -- all three JGR drivers finished in the top five at Richmond Saturday night -- and Busch has been strong all year. He's matured into a championship driver. It will be the first of several NASCAR Sprint Cup championships the young Busch will win in his career.
Sunday's race at New Hampshire gets the green flag at noon CT.