Dallas Motorsports:

Daytona 500
February, 27, 2013
2/27/13
5:21
PM CT
By
ESPNDallas.com news services
DALLAS -- Jimmie Johnson will have covered all four time zones and five states on his Daytona 500 victory tour by the time he climbs in the car for the first of two races in Phoenix this weekend.
To the victor go the toils, although that's hardly the way the five-time Sprint Cup champion view things.
"I know what time zone I'm in," Johnson said Wednesday during a stop at the House of Blues in Dallas to promote the Texas 500 race at Texas Motor Speedway on April 13. "I'm a little confused on days. Not much sleep, but some of that is self-induced. But it's been a very fun ride."
If Johnson was feeling a little road weary, maybe a pep rally with primary sponsor Lowe's will help.
There was double cause for celebration Wednesday night in Las Vegas after Johnson's Hendrick Motorsports No. 48 team
announced a two-year extension
with the only primary sponsor Johnson has ever had. The new contract runs through 2015, and the announcement happened to coincide with a major sales meeting.
"I'll be in front of 5,000 store managers, and they treat me like Elvis," Johnson told The Associated Press. "It's a great relationship."
The Daytona victory celebration started with an impromptu Harlem Shake video, followed by the early Monday morning ritual of turning in the winning car for display at the Daytona track. Then it was on to Connecticut for part of a day, and New York overnight for a full day of media engagements Tuesday.
Johnson and his publicity team landed in the Dallas area Tuesday night, and he was back at it Wednesday before hopping a plane to Vegas. He'll be in Los Angeles on Thursday before finally getting back to the business of racing Friday. He's running the Nationwide race Saturday and will be trying Sunday for a series-best 62nd victory since his rookie year in 2002.
After his first Daytona victory in 2006, Johnson remembers the following week as busy. Just not quite this busy.
"I think that NASCAR has worked very hard to get us in major markets, and people want to see us," Johnson said. "They want to see the winner, want to talk to the winner. I think there's more interest today than what I personally had and what our sport had in 2006."
By the time he gets to Phoenix, Johnson will have a lot of catching up to do. He says Tuesday is normally "download" day, when he goes over the previous week and looks ahead to the next one with crew chief Chad Knaus and the rest of his team. Instead, he was chatting up David Letterman.
"So I feel a little removed and not really in the space to go racing in Phoenix," he said. "But it's for good reason, and Chad's going to cut me some slack and I'll have to catch up Friday when I get to the track."
Knaus doesn't really feel the need to cut his driver any slack.
"Jimmie does a very good job of balancing that out," Knaus said. "He'll be on point when it comes time for Phoenix."
Johnson's first Daytona win sparked the first of five consecutive championship seasons through 2010. He had no way to compare a Daytona win and a series title then. Now that he can compare, he better understands the scope of a win the so-called Super Bowl of NASCAR.
"So to experience this after the five championships, what I'm getting at is this is like winning a championship," Johnson said. "I'm just as busy and there's just as much reach for myself, my sponsors, my team, as it did from winning a championship. It's amazing the impact of this single event."
Johnson doesn't have to tell any of that to Dale Earnhardt Jr., the 2004 winner and Sunday's runner-up.
"Yeah, it's like a drug, I assume. It's such a high," Earnhardt said. "You just don't know when you'll ever get that opportunity again, or if you'll ever get that opportunity again. I'm ready to do it again. It's been too long."
While nothing's bigger than winning at Daytona, Johnson's contract extension with Lowe's Companies Inc. is an important early-season development in what was otherwise shaping up as a contract year, something drivers always hope to avoid. Johnson and Lowe's will be partners through at least a 14th season in 2015.
"The stability is the key," Johnson said. "To know that that's done and literally the season's starting, we don't have to worry about that as a lot of teams do, field those questions and concerns. Honestly, it's a great honor."
Johnson will return to the Metroplex -- along with the rest of the NASCAR drivers from the Sprint Cup and Nationwide Series -- from April 11-13 for the Texas 500 race weekend. For more information,
go here.
February, 28, 2012
2/28/12
10:02
PM CT
By
ESPN.com wire services
DALLAS --
Matt Kenseth
was sitting courtside at a
Dallas Mavericks
game only about 18 hours after winning the delayed Daytona 500.
Kenseth was introduced to the crowd during the first timeout Tuesday night as a man who needs a nap.
Before the game, Mavericks coach Rick Carlisle presented Kenseth with a basketball autographed by the defending NBA champions. Kenseth gave the coach a Daytona 500 championship cap from the Victory Lane celebration early Tuesday morning.
Carlisle joked that he knew a little about auto racing and that "winning the Daytona 500 is a big deal." Kenseth has done it twice.
Kenseth says he got only an hour or two of sleep after the race. He will be back in Texas for the NASCAR Sprint Cup race in April.
February, 28, 2012
2/28/12
12:05
PM CT
By
Eddie Gossage
| ESPNDallas.com
As Monday turned into Tuesday, you wondered if the bizarre SpeedWeeks at Daytona -- something fans have waited for during what they consider an interminably-long offseason -- would ever end. Finally, it did with a clean sprint to the finish line during a three-lap overtime period with
Matt Kenseth
claiming his second Daytona 500 win.
PODCAST
TMS president Eddie Gossage shares his thoughts on Monday's epic Daytona 500, the jet fuel truck explosion and how it could all help Texas Motor Speedway's marketing plan.

Listen

Kenseth, an often overlooked talent who has won a NASCAR Sprint Cup championship and 22 races in his career, simply buried his foot on the floor while
Greg Biffle
and
Dale Earnhardt
Jr. gave chase. Neither Biffle or Junior could even make a move to try to overtake Kenseth. That's how strong he was.
But the bizarre nature of SpeedWeeks at Daytona caused you to think back. Unknown
John King
won the NASCAR Camping World Series race on Friday night while Plano's
James Buescher
maneuvered through a last lap wreck to win Saturday's NASCAR Nationwide Series race.
And then there was Danica. You would have sworn it was the Danica 500. If she wasn't here, she was there. She was everywhere. All Danica, all the time, as America's most recognized female athlete prepared for her NASCAR Sprint Cup debut. She ran in Thursday's dual qualifying races, Saturday's NASCAR Nationwide race and then the Monday night/Tuesday morning's Daytona 500. Three race, three wrecks. None, really, of her own doing. Welcome to NASCAR.
But the word "bizarre" is perhaps the most-used word about the first race of the 2012 NASCAR season.
Bizarre in that for the first time in the 53-year history of the Daytona 500, the race was postponed due to weather.
Bizarre in that of the three major races at Daytona, 87 of the 122 cars that raced were involved in a caution, according to NASCAR. That means 71 percent of the cars were damaged in some way. Some were repaired and thus returned to the track, but few got by without any damage.
Bizarre in that the race had a red flag delay of more than two hours after
Juan Pablo Montoya
's race car hit a jet-drier truck during a caution period. The truck, loaded with 200 gallons of jet fuel, erupted in an explosion. Not since the roof of the Metrodome collapsed under snow last year or an earthquake hit San Francisco's Candlestick Park moments before a game in the 1989 World Series have we seen such a bizarre sporting moment. Fortunately neither Montoya or the driver of the jet truck were injured.
Bizarre in that driver
Brad Keselowski
tweeted photos of the burning jet truck as he sat parked on the backstretch. Tweeting. During the race. From inside his car (but not while driving). What other sport? As the TV network showed his report and gave his @keselowski handle, the driver's Twitter followers jumped from some 20,000 to more than 200,000. Amazing.
And then, bizarrely, nobody could pass Kenseth as he took the checkered flag and went directly to Daytona's Victory Lane. Winner. Again.
Sadly, Kenseth's win comes less than a month after his mother died of dementia.
In 2009, Kenseth won a rain-shortened Daytona 500 that covered only 380 miles. With this morning's overtime race, Kenseth ran 505 miles in winning the Daytona 500.
He's the 2012 Daytona 500 champ. SpeedWeeks is over. Almost too much to remember.
So if you only recall one thing other than Kenseth's triumph, remember the word:
Bizarre.
February, 26, 2012
2/26/12
5:51
PM CT
By
Eddie Gossage
| ESPNDallas.com
Sunday's postponement of the Daytona 500
-- the first time the race has been postponed in its 53-year history -- could not happen at a worse time for NASCAR.
Coming off of the best finish in the point race ever in 2011 and heading into the new season with the hype of Danica Patrick's first ever NASCAR Sprint Cup race, the expectation was for extremely high TV ratings. With a typically wild Daytona finish, the sport would be off and running with new fans and increased popularity.
Until rains pushed the start time back again to 6 p.m. CT Monday, it could've been even worse. Under the original plan (11 a.m. CT Monday), fans and interested potential fans would've likely been at work.
So much for starting the season with a roaring start. And that's a shame.
No one is more aware -- or disappointed -- than NASCAR itself. The perfect storm of Tony and Carl from last season merged with the season's first hurricane, named Danica, to create a storm for the ages. The hype and buzz from Daytona has been louder than the roar of 43 engines for some time now. Some media outlets have actually hired reporters, a rarity these days, to solely cover everything Danica.
While Danica says she has a chance to win the Daytona 500, which she does but is unlikely, the real money is on Stewart, Edwards and others. Regardless, the hype has been good of the sport.
The rain is not.
February, 24, 2012
2/24/12
5:04
PM CT
February, 23, 2012
2/23/12
11:33
AM CT
Even before the command to "Start Your Engines" is given, the winner of Sunday's Daytona 500 already has a prior engagement in downtown Dallas on Tuesday night.

Texas Motor Speedway has arranged for the winner of NASCAR's season-opening race to attend the Mavericks-New Jersey Nets game at American Airlines Center. That driver will visit with the 2011 NBA champions and coach Rick Carlisle, who will present a personalized jersey.

The driver also will meet with fans, who have the opportunity to win a pair of suite tickets and a meet-and-greet with the Daytona winner as part of a promotion through Texas Motor Speedway.
February, 19, 2012
2/19/12
5:08
PM CT
By
Eddie Gossage
| ESPNDallas.com
So
Carl Edwards is on the pole
for next Sunday's Daytona 500. That makes him the man to beat.
Right?
Well, not necessarily.
The last time the winner of the Daytona 500 pole went on to win the race? Dale Jarrett in 1996. The last 15 pole winners failed to win the Daytona 500.
Last year's pole winner, Dale Earnhardt Jr., finished 24th in the race.
So, wanna put your money on Carl Edwards? History may may make you want to rethink that one.
Then again, history is made to be broken. We'll see Sunday.
February, 21, 2011
2/21/11
9:19
PM CT
After his stunning Daytona 500 victory,
Trevor Bayne
has expanded his Sprint Cup schedule and will race in the Samsung Mobile 500 at Texas Motor Speedway on April 9.
The Wood Brothers, owners of the No. 21 car that Bayne drove to his historic victory Sunday, opted to expand the rookie's partial Cup schedule to the first seven races of the season, with the the TMS stop being the last of that plan.
Bayne, who turned 20 on Saturday, will do double duty in Fort Worth, also competing April 8 in the Nationwide Series O'Reilly Auto Parts 300.
Bayne is running a full-time Nationwide schedule for Roush-Fenway Racing. He can only compete for the championship in one of the series because of NASCAR rules and
probably won't change his plan to go for the Nationwide title
.
The Daytona 500 was Bayne's second Sprint Cup start. His debut came Nov. 7 in the AAA Texas 500 at Texas Motor Speedway, where he started 28th and finished 17th.
February, 20, 2011
2/20/11
2:04
PM CT
By
Eddie Gossage
| ESPNDallas.com
The Daytona 500 is under way, and you can follow along here to get updates of the action.
* The first caution caused by Kyle Busch's spin on Lap 5 was what I was talking about in
Thursday's blog
at
ESPNDallas.com
-- a case of one car zigging when the other car zagged.
Teammates with the ability to talk to each other -- thereby being able to communicate their next move verbally -- have an advantage.
Apparently Busch's team declined to share radio frequencies, so Michael Waltrip's push turned Busch's car around.
You may well see more cautions today from the zig-zag phenomenon of this unique two-car tandem draft at Daytona.
--------------
*So is it fair that drivers can talk from car to car via the radio as we're seeing in today's Daytona 500?
In other sports such a thing is taboo. In baseball it's illegal for the bullpen to steal signals, for instance. In football it's illegal to intercept the communication from the coach's booth to the sidelines. In fact, coaches calling in plays to the quarterback in the NFL block their face so you can't read lips.
Due to the two-car tandem draft that has developed at Daytona this year it is important for the drivers to be able to communicate. Like I said earlier, if one car zigs when the other car zags, somebody is going for a wild ride. We've already seen that happen several times today.
But do sports fans like this ability? Or, as a non-racing fan said to me moments ago, could it lead to some form of collusion (he's a former Major League Baseball front office type). Another thing unique to the sport.
---------------
*One of the big stories in the media in the last year or so has been about declining attendance and television ratings for NASCAR races.
Interestingly, you so seldom see the same about declining about other sports. For instance, are you aware season-tickets sales for NFL games declined this year?
So take this to the bank: the Daytona 500 TV ratings will be two to three times those of the NBA All-Star Game tonight, despite heavy media coverage building up to the games in Los Angeles.
The proof is in the ratings -- still.
---------------
*Engines don't often blow at Daytona these days. So what is to explain the blown engines by Richard Childress teammates Kevin Harvick and Jeff Burton?
It could be any number of things. Temperatures on race day are the hottest of Speedweeks, hovering around the 80-degree mark. RCR may have miscalculated on the heat but that unlikely. Harvick retired after only 22 laps, likely too early for the heat to build up and cause a breakdown in the engine.
NASCAR changed the maximum size of the opening for the grill this morning, just hours before the start of the Daytona 500. If you open up the grill you sacrifice some speed. Perhaps RCR chose to go with a smaller opening and that caused the heat to build up.
Or perhaps RCR has a bad run of a certain part in the engine. Maybe a cam shaft or a rocker arm, perhaps a piece bought from a supplier, has a flaw in it's design or production. Often when you see cars on the same team with a similar problem it goes back to one part or piece.
In any manner, the RCR teams have dug a hole for themselves in the first race of the year, but there is a long way to go in the point battle. Watch the last Childress car, Clint Bowyer, and see if he has a problem.
RCR went into the year as the self-proclaimed championship favorite. It's going to be uphill from here.
---------------
*What a Daytona debut by young Trevor Bayne, the youngest driver in the field driving for the oldest team in the field. Leading, running in the lead draft, showing maturity and poise. The 20-year old is the real deal.
---------------
*Huge crowd at Daytona today. Almost a sell-out. Great to see the stands just about packed to the brim today on a beautiful day.
---------------
*Consider all of the chatter on the radios today. Gabbing on the radio is the driver, crew chief, spotter (some teams use multiple spotters on big tracks like Daytona) and, of course, the driver-to-driver communication that is unique and new for today's race due to the tandem drafting. The conversations are often frantic and frustrating. Imagine being a crew chief needing to ask for critical information to determine pit stop strategy but unable to ask a question because of the ongoing conversations on the radio. It could cause some mistakes when a spotter or crew chief tries to pass along information needed immediately. And the driver is going to have a headache of epic proportions.
---------------
Some fans are trying to get used to this tandem drafting seen at Daytona this year for the first time due to the new pavement. As fans watch this two-by-two action, one turned to me and referred to the race as the Noah's Ark 500. You know, Noah's Ark, as in the animals boarding the ark to avoid the floods two-by-two. Clever.
---------------
*Regan Smith has spent much of today's Daytona 500 running in a winning position.
That's no fluke, although typically the Furniture Row team is a start-n-park team. But not today -- and for good reason.
Smith "won" at Talladega a couple years ago but was disqualified because NASCAR officials ruled that he dived below the yellow line at the Start/Finish line, a no-no. You probably remember that race since Ryan Newman and Carl Edwards collected each other in that frantic run to the checkers, with Edwards' car dramatically going airborne into the catch fence along the front straight.
Smith is excellent at these restrictor plate races. He is capable of winning today.
---------------
*Typically cars at Daytona are almost pristine after the race because aerodynamics are so important. Cars in today's race, though, are battle-scarred, bent, creased and worn out. The tandem drafting is taking it's effect.
The noses of the cars, just like in Thursday's dual qualifying races, are completely worn out. The logos and paint are scraped off the front bumper of virtually every car, as each car has taken it's turn pushing the others in the first-time tandem drafting we've seen.
Most cars this late in the race are now adorned in "Bear Bond," a strong, roughly two-foot long/one-foot wide industrial piece of tape that is so durable that it helps hold bumpers, fenders and hoods together at speeds over 200 mph. These patches, though, can be a problem on the rear of a car. The finish of the tape is not smooth. The car that pushes needs the ability to slide across the bumper of the car in front. If you look at the cars with "Bear Bond" on the nose, most have worn deep gashes and scratches through the tape.
Typically we only see "Bear Bond" on cars trying to make laps to pick up a few points after having been wrecked. Or on the winner at the slam-bang races at Bristol. But not Daytona.
---------------
Dale Earnhardt Jr. Took the lead on the back stretch and brought his fans across the country to their feet. You could almost feel the ground rumble from Maine to California as the Junior Nation stomped their feet.
The problem is that if Junior wins, certain unknowledgeable media members and fans of other drivers will ridiculously charge that the race was fixed. Recall that it was 10 years ago that Earnhardt's father, seven-time NASCAR champ Dale Earnhardt Sr., died in a last-lap crash in the Daytona 500. The irony for these grassy-knoll conspirators will simply be too rich.
Even if he wins, Junior can't win.
---------------
The lead pack of cars coming down to the checkered flag will likely look like a pack of steam engines with plumes of steam shooting into the air.
With the tandem draft, the second car -- or push car -- has been battling over heating issues all day. In the final 10 laps, though, teams will forget about overheating. The overflow from the radiator is a valve right behind the hood on the right side of the car. Look for steam to be shooting out of the valve in the final laps as drivers focus on racing and don't worry about cooling the engine.
It's about to get hot.
---------------
*The crowd booed on the David Ragan black flag but sadly, as much as I like this kid, a rule is a rule. Ragan was a little perturbed at the ruling. But there was no mistaking that one.
---------------
Dale Earnhardt Jr. seems to have nothing but bad luck. He ran strong and was in a position to win. He even could be heard on the radio having a great time as he slid through the banking in turn one. Everything was clicking in perfection.
Until the green-white-checkered. He just got clipped that turned him into the back stretch wall.
Tough luck for Junior. Again.
---------------
That sound you hear is fans jumping on the Trevor Bayne bandwagon. The driver, whose only other NASCAR Sprint Cup start came at Texas in the AAA Texas 500 last fall, just turned 20 yesterday.
Jaime McMurray won the second start of his NASCAR career in Charlotte. Amazing.
---------------
It was 36 years ago that the Wood Brothers won the Daytona 500 in one of the most dramatic and historic races of all time. Hall of Famers David Pearson, driving for the Wood Brothers, and Richard Petty crashed just before the start/finish line. Pearson's crippled car slowly chugged across the line for the win.
February, 17, 2011
2/17/11
6:53
PM CT
By
Eddie Gossage
| ESPNDallas.com
DAYTONA BEACH, FLA. -- The new pavement at Daytona International Speedway was expected to change the style of racing for Sunday's Daytona 500, but nobody expected this.
[+] Enlarge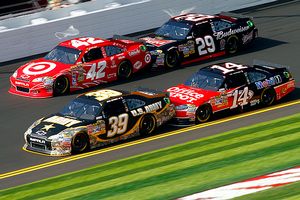 Jason Smith/Getty ImagesJuan Pablo Montoya (42), Kevin Harvick (29), Ryan Newman (39) and Tony Stewart (14) paired up to gain speed during the first qualifying race.
The fast way around the 2.5-mile speedway is to hook up in a two-car draft. The car in front is literally pushed by the following car at speeds around 200 mph. After Thursday's Gatorade Duels, the two qualifying races to determine the starting lineup for Sunday's Daytona 500, the logos on the front bumper of the cars were literally scraped off.
As a result, teamwork is mandatory if you want to have any success. Teammates with an ability to talk via in-car radios will have a significant advantage. Trouble has flared when either of the cars in a two-car draft makes a move the other does not expect. Trouble even occurred between teammates, as
Ryan Newman
went for a long, high-speed slide down the back straight after a minor miscalculation with teammate
Tony Stewart
. One car zigged slightly while the other zagged.
But if teammates can talk and tell each other when they plan to move right or left then those cars have an advantage. Look for that Sunday.
Former Cup driver
Ken Schrader
also pointed out the need for confidence when racing two cars that are closer together nose-to-tail at 200 mph than you park at the mall. With the second car touching the first, the driver in the second car cannot see past the spoiler of the car in front. Imagine being able to see only six feet ahead while traveling the distance of almost a football field per second. Nerve-wracking.
Drivers are still learning how to best approach this new style of racing. The look of the second Gatorade Duel was different from the first. Drivers in the second race studied the first race. Expect the second part of the Daytona 500 to be a bit different than the first part as the learning curve continues.
Also, expect wild moments to punctuate Sunday's race as well. It's that zig-zag thing again. It will happen just out of the blue.
The good news is racing will return to normal next week when the series goes to a different track, one that doesn't have new asphalt or require a restrictor plate.
But it will be different and pretty hairy on Sunday. Nobody saw this one coming.
February, 8, 2011
2/08/11
9:25
AM CT
By
Eddie Gossage
| ESPNDallas.com
Kevin Harvick was in town for the Super Bowl and stopped by my office to talk about the upcoming season before heading home. I had a chance to pick his brain about some of the things going on in NASCAR this year.
Q: What are your thoughts on Daytona with the repaving? You're the Daytona King. People say you can see the air. Are we going to see some side-by-side action?
Harvick:
It will be interesting. I think it will be an exciting race. The fans are really going to like it.
Q: But are you guys going to like it?
Harvick:
It doesn't matter. That's our job. Some forget they could be working in a gas station or doing something else.
Q: Yeah I don't know many people who work in gas stations that own private jets.

Harvick:
Yep. You just gotta go do your job, push the pedal down and shut up. I always tell people you could have a real job. We're all pretty lucky.
[+] Enlarge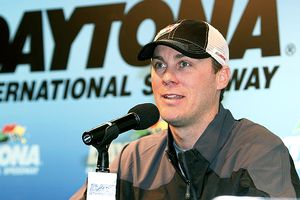 Jerry Markland/Getty Images for NASCARKevin Harvick sees pit-stop strategy becoming even more important this season. "You'll see more races won or lost on fuel mileage than you've seen in your whole life," Harvick said.
Q: So what do you think about the new rule about only competing for one championship? Is it going to change how many races you run?
Harvick:
No. The only reason we run them anyway is to win. It's not going to change anything.
Q: So what you're saying is running multiple series is just about racing?

Harvick:
Absolutely. If you can learn one thing for a Cup race, it's worth it. Especially now with the way the tires and the chassis are the same. The engines have a lot of power so it's not like it used to be, from car to car, but there are still a lot of similarities. The coolest thing about the new Nationwide cars is that they look badass.
Q: This ethanol stuff ... Is that a problem for you guys?

Harvick:
The fuel mileage is a little worse, but the biggest issue that you're going to instantly see is going to be the gas cans with no catch-can guy, because the flow of the fuel with the new head of the gas can is about a second-two seconds slower than the pit stops. So you're going to have this huge gamble of just taking off when the tires are tight or waiting on gas. Then the second problem is that it doesn't go very far into the car, so the gas man can't really feel it. And if it's cocked one way or the other, it just spills. As soon as you pull that can out, it creates an air bubble. And when you put it back in, it flows about two seconds slower.
You'll see more races won or lost on fuel mileage than you've seen in your whole life. It's going to be great on the strategy side, because people are going to wait on gas and if you have a green flag run, you're going to have all the guys that waited on gas sitting out there making laps and hoping for a caution. And then you'll have all the guys short-pitting that didn't fill up with gas. So it's definitely going to be interesting.
Q: Do you think race fans like strategy races? Because in my opinion, I don't like it when drivers win races by going slower because they're stretching out on fuel.

Harvick:
It's like any sports team coming back from a huge points deficit and winning the race. But strategy is always going to be an element of the sport. If you take out strategy, you're flirting with disaster. Everyone needs to wrap their arms around strategy in my opinion.